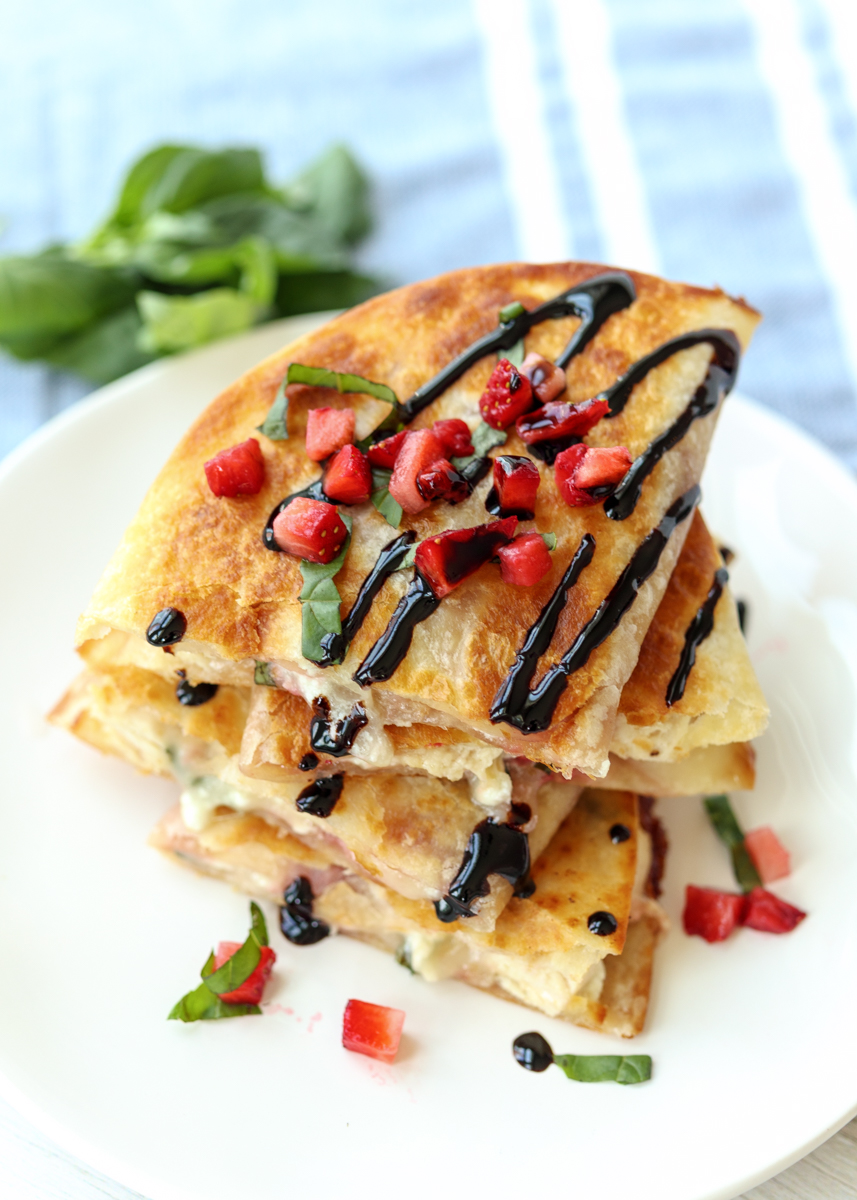 It finally has been feeling like summer and it's still strawberry season – life is good! Strawberries peak in May and June so when I was planning my calendar for the year I had come up with a bunch of recipes utilizing strawberries in June.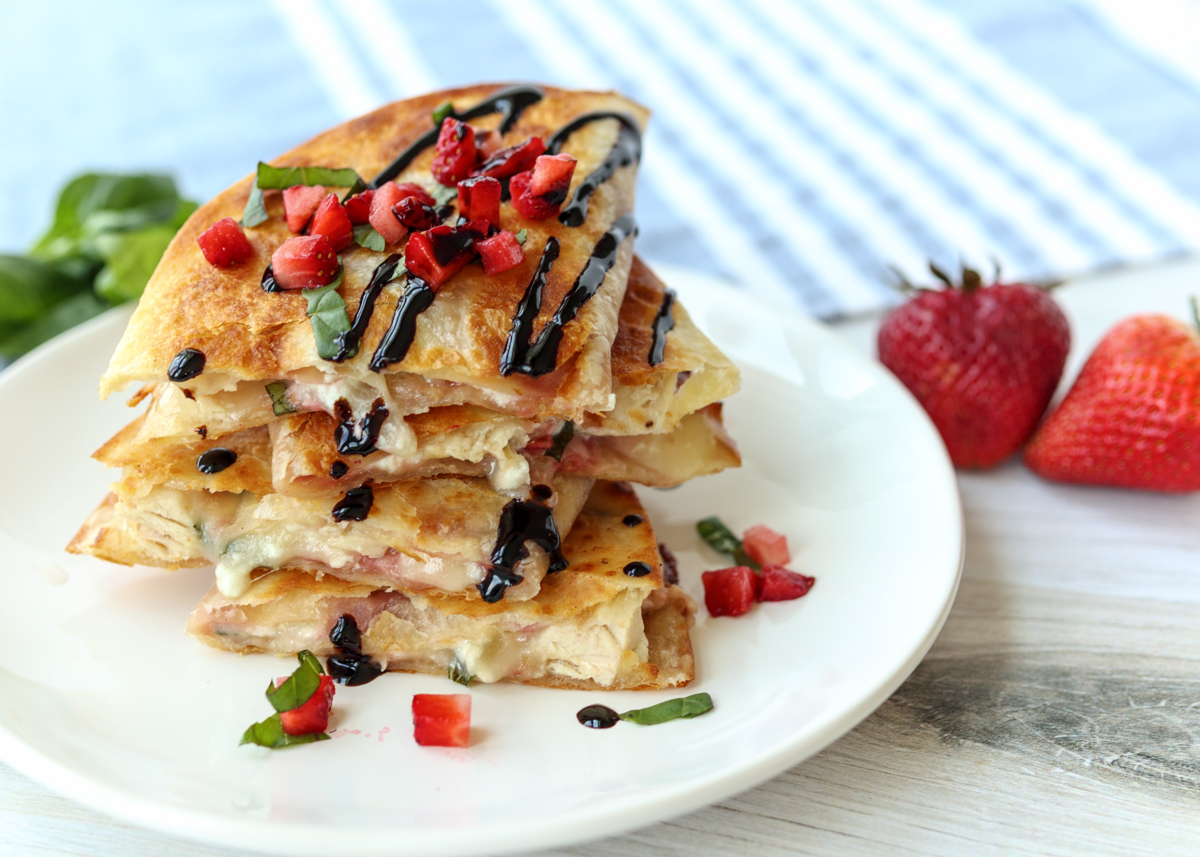 Strawberries are one of my favorite fruits, although I have a lot of favorite fruits, and I love using them in both sweet and savory dishes. It is hard to beat a peak fresh strawberry bursting with sweetness!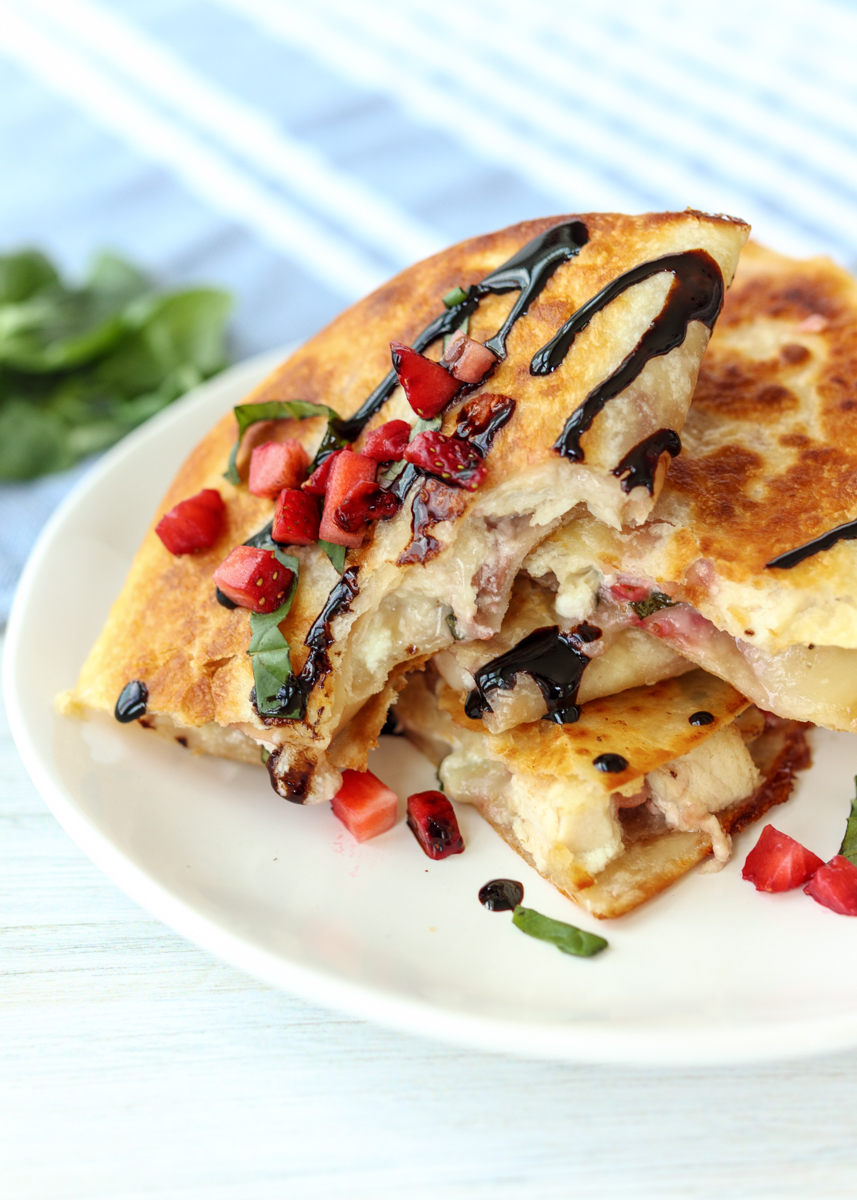 The inspiration for this recipe came from last year's Mini Strawberry Balsamic Pizzas with Chicken and Sweet Onions. I was am still so obsessed with the flavor combination that I decided they needed a reappearance this summer, this time in quesadilla form. The first component of these Chicken and Strawberry Quesadillas is the simple no-cook strawberry spread made with fresh strawberries. There is balsamic vinegar in the strawberry spread that helps balance the sweetness.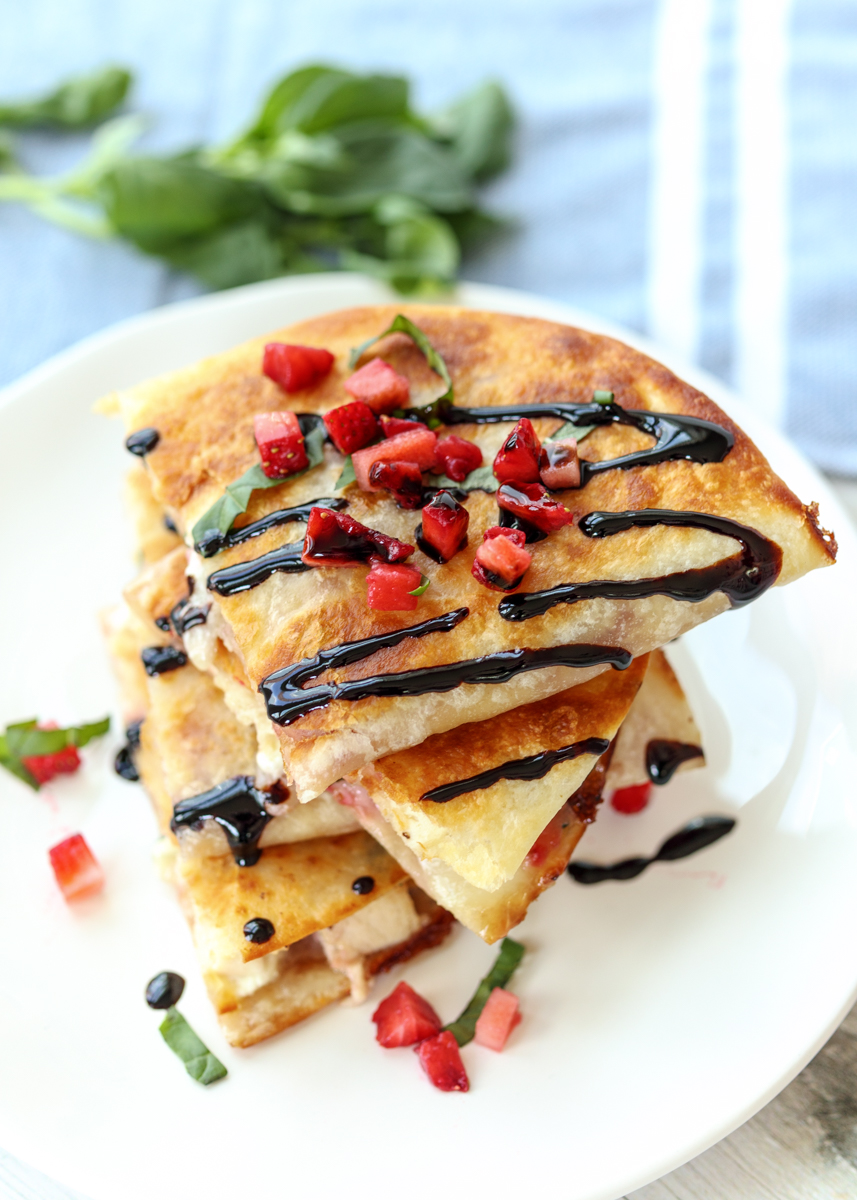 Next, the quesadillas have chicken and fresh basil. Finally, they are loaded up with melted, gooey mozzarella cheese and goat cheese. You can do all mozzarella cheese if you prefer, but I love the extra flavor the little pockets of goat cheese bring to the quesadillas and goat cheese and strawberries are a classic pairing.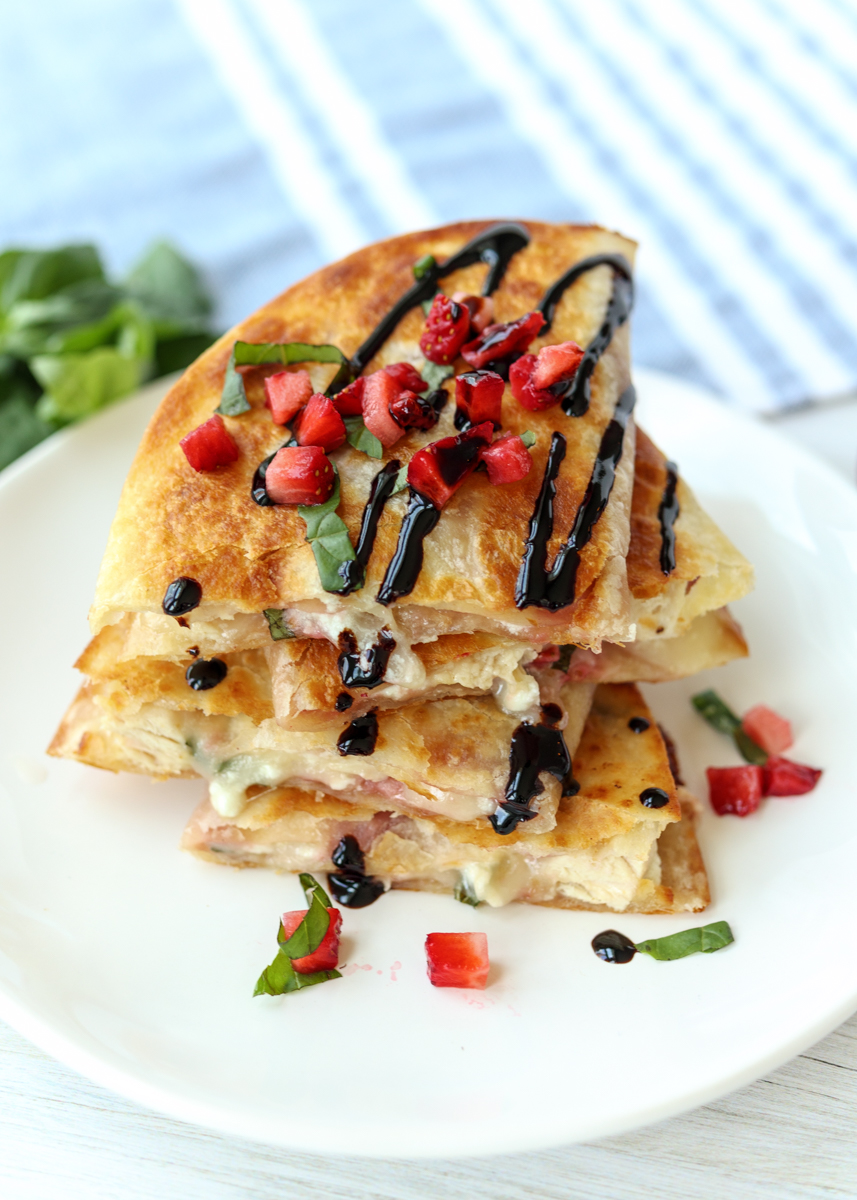 I topped my quesadilla wedges with a drizzle of balsamic glaze, some fresh strawberry chunks and a little fresh basil for some added strawberry flavor and because it makes them look extra fancy. The additional strawberries on top make the quesadillas more sweet so if you like your meals more savory than I would skip them, but I am all about that sweet and savory combo!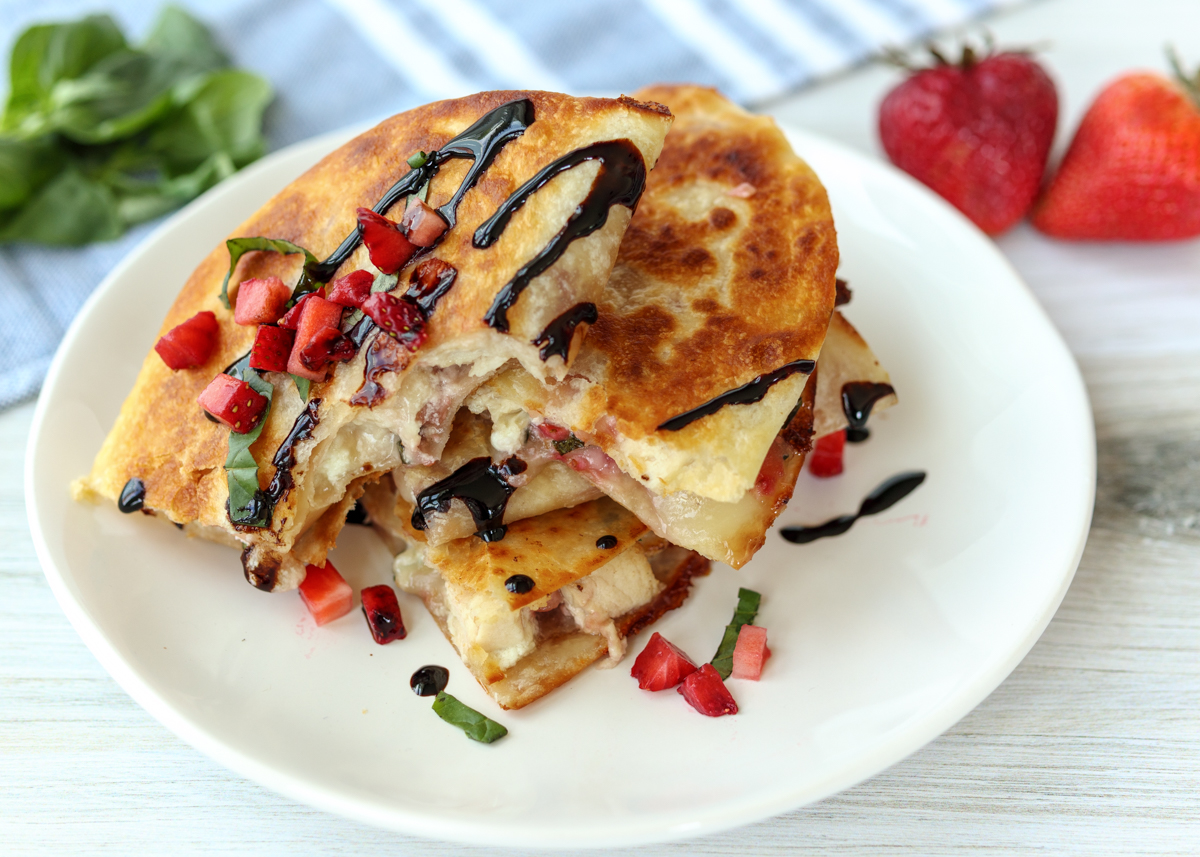 I have a ton of recipes on Lemon & Mocha that highlight fresh strawberries so I'm linking to a few of them below so you can get the most out of your strawberries this month. Enjoy!
Chicken and Strawberry Quesadillas
Ingredients
¼ cup finely chopped strawberries (about 2 large strawberries), plus more for topping
1 teaspoon honey
½ teaspoon balsamic vinegar
2 teaspoons vegetable oil, divided
2 flour tortillas
⅔ cup shredded mozzarella, divided
¼ cup crumbled goat cheese, divided
⅔ cup chopped cooked chicken (about ½ chicken breast)
2 tablespoons chopped fresh basil, plus more for topping
Balsamic glaze, for topping
Directions
Combine the strawberries, honey and balsamic vinegar in a small bowl. Let sit for 15 to 20 minutes then mash well with a fork or potato masher. Place the tortillas on a clean surface then divide the strawberry spread between them. Spread it around to coat the tortilla.
Heat 1 teaspoon of the vegetable oil in a frying pan over medium-low heat. Once hot, put in the tortilla with the strawberry spread side up. Sprinkle ⅓ cup of the shredded mozzarella all over the strawberry spread followed by 2 tablespoons of the goat cheese. Once the cheese has melted, put ⅓ cup of the chopped chicken and 1 tablespoon of the basil on one half of the tortilla. Carefully fold over the tortilla to cover the half with the chicken and increase the heat to medium-high. Watch the quesadilla carefully as it browns quickly; once browned carefully flip to the other side and let the other side brown. Once done, remove from the pan to a clean cutting surface. Let the pan cool slightly then lightly wipe out with the paper towel, heat the remaining teaspoon of vegetable oil and repeat the steps for the second quesadilla.
To serve, cut quesadillas then top with additional chopped strawberries, basil and balsamic glaze.