Beet Donuts with a Brown Butter Strawberry Rhubarb Glaze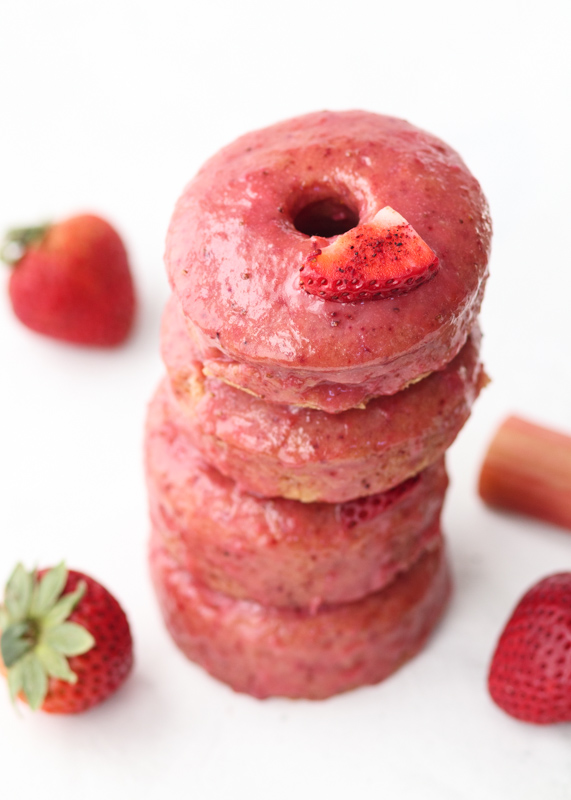 You guys (and gals)! I made donuts! Cute, little, glazed baked donuts! This was my first time making baked donuts and I am so happy with how they came out. When I go to a donut shop I prefer the fried old fashioned donuts over the cake ones, but if I'm making them myself I would rather not fry them. I was skeptical of baked donuts, but they are so delicious I can't believe I waited so long to try them. These are light, spongey and a perfect breakfast, or anytime, treat.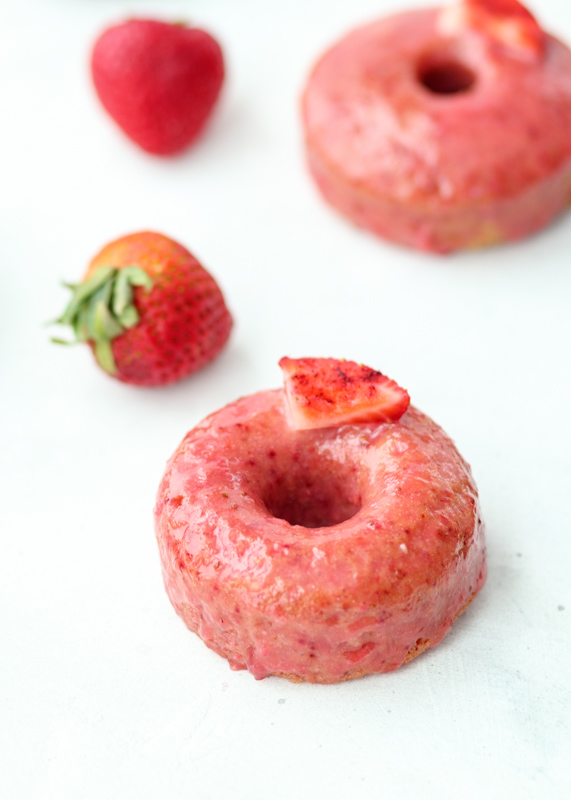 The inspiration for these donuts came from two places. The first is that I have been obsessing over strawberry rhubarb ever since I made the Strawberry Rhubarb Crumble Muffins so I've been trying to come up with another recipe to put them in before rhubarb's short season is over. The second source of inspiration was beets! Love Beets to be exact. I won a giveaway on Instagram a few weeks ago and one of the brands sponsoring the giveaway was Love Beets. Matt and I were super excited since we know the brand and have purchased their roasted beets quite a few times. When I found out I won and would be getting some beet powder sent my way, I started brainstorming how I could use it. I had never tried using beets in a sweet recipe before so I knew that's what I wanted to try. After giving it a lot of thought, I decided on beet donuts and ended up on the version you see in these photos.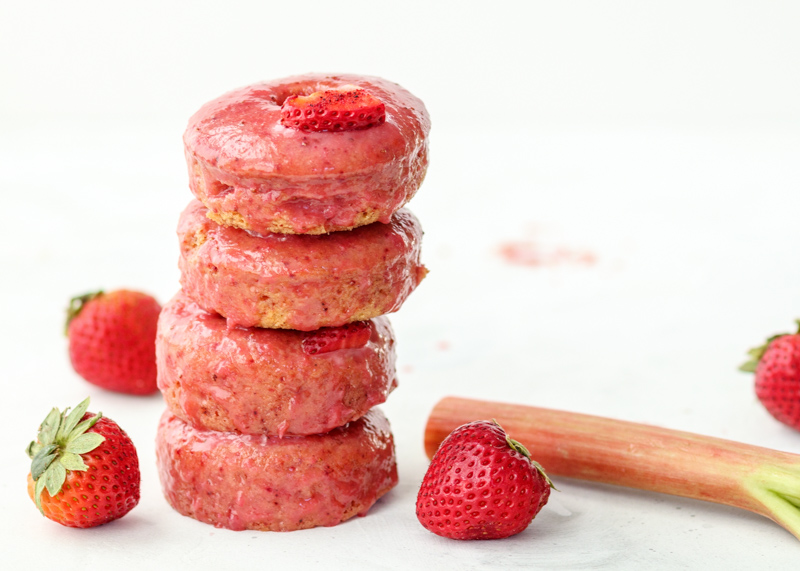 I love using the beet powder for this recipe because it gives the donuts a beautiful pink color and all of the added superfood benefits of beets without the actual taste of beets. No, this is not sponsored as I won the giveaway randomly (one of those like this page and that page then tag a friend in the comments), but I love Love Beets and I'm excited to share their products with you if you aren't already familiar with them!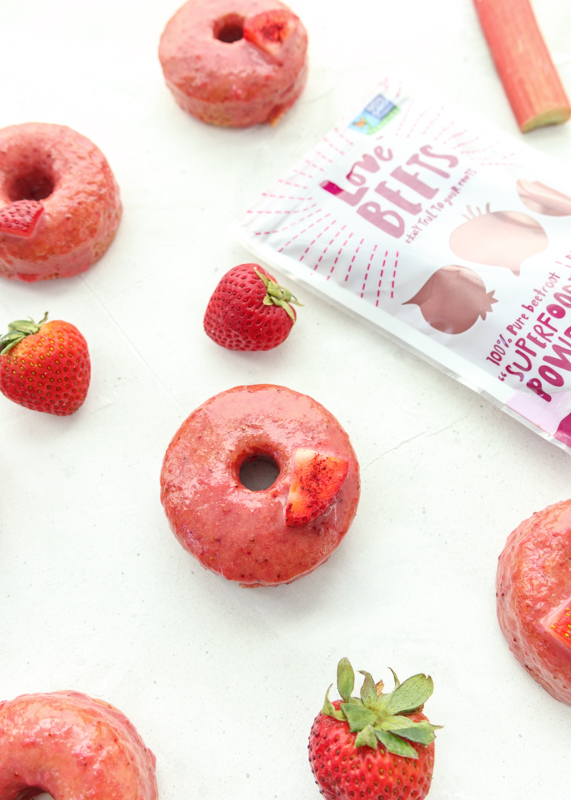 The donuts are moist vanilla cinnamon donuts, but the sweet and tart brown butter strawberry rhubarb glaze makes them. The glaze is fruity, sweet and has the right amount of punch to it from the rhubarb. It also has a deep richness from the browned butter, just like in my Perfect Chocolate Chip Cookies. Plus, how beautiful does that rich pink color look?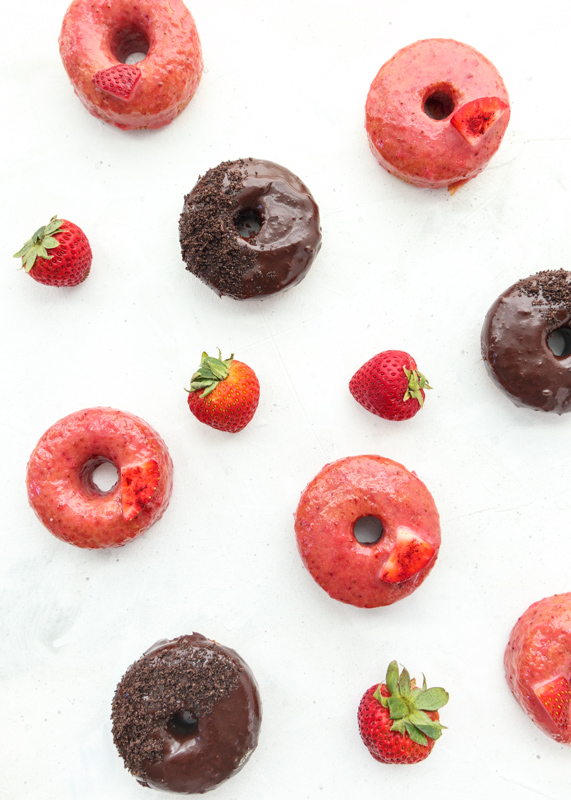 If you don't have a donut pan, I highly recommend these silicone pans. I did a bunch of research on the regular metal nonstick pans versus the silicone and while people had good things to say about both, I ultimately went with the silicone for ease of storing and ease of removing the donuts from the pan. The cute colors of the silicone pans also didn't hurt. Have you ever tried baking donuts?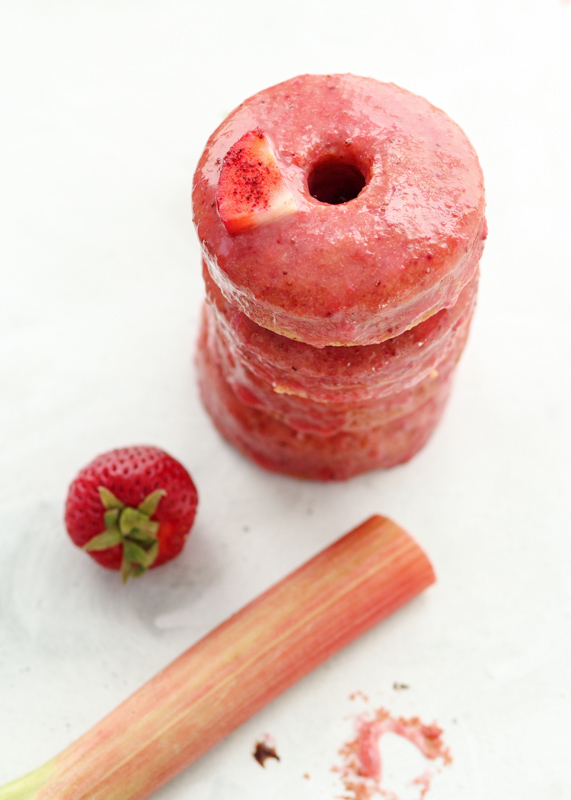 Beet Donuts with a Strawberry Rhubarb Glaze
Ingredients
for the donuts
1 cup all-purpose flour
⅓ cup granulated sugar
1 teaspoon baking powder
1 teaspoon beet powder, optional
½ teaspoon salt
¼ teaspoon ground cinnamon
⅓ cup plus 1 tablespoon milk
2 tablespoons unsalted butter, melted
1 teaspoon vanilla extract
1 large egg
for the glaze
1½ tablespoons butter
½ cup quartered fresh strawberries
¼ cup diced rhubarb
2 tablespoons milk
½ cup powdered sugar
Directions
for the donuts
Preheat the oven to 350 degrees F. Lightly spray a donut pan with nonstick cooking spray and set aside.
Sift together the flour, sugar, baking powder, beet powder, salt and cinnamon in a large bowl.
In a small bowl, whisk together the milk, melted butter, vanilla extract and egg. Add to the flour mixture and stir until just combined.
Using a pastry bag or a plastic sandwich bag with a corner snipped off, pipe the batter into the donut pan cavities. Fill each cavity about ¾ full and be sure to wipe any off that gets dripped onto the center stems. Bake for 12-14 minutes. The tops should be set. When they're cool enough to handle, remove them from the donut pan and let them cool completely on a wire cooling rack.
for the glaze
Melt the butter in a medium saucepan over medium heat. Continue to cook and swirl your pan to lightly brown the butter. Once the butter has started to foam and is a light golden color, add the chopped strawberries and rhubarb. Cook until soft, about 5 minutes, stirring occasionally.
Puree the fruit mixture with the milk in a food processor or blender. Stir in the vanilla extract then let sit until the mixture has cooled.
Once cooled, whisk in the powdered sugar until smooth. Dip the donuts in the glaze then let them sit on the cooling rack or plate for a couple minutes.
Notes
The glaze won't completely set because it is more of a syrup. If you want the glaze to set, you can melt 2 tablespoons of white chocolate chips into the pureed fruit mixture before letting cool. I made it both ways and thought it tasted good without the white chocolate so I didn't feel the need to add them just to make the glaze set more.
Donut recipe adapted from

As Easy as Apple Pie

.
Glaze recipe adapted from

Pillsbury

.
Some of the links above are affiliate links, which means I may receive a small commission for my referral. This does not affect the retail cost of the item. Thank you for supporting Lemon & Mocha!