Chicken Caesar Salad Meatballs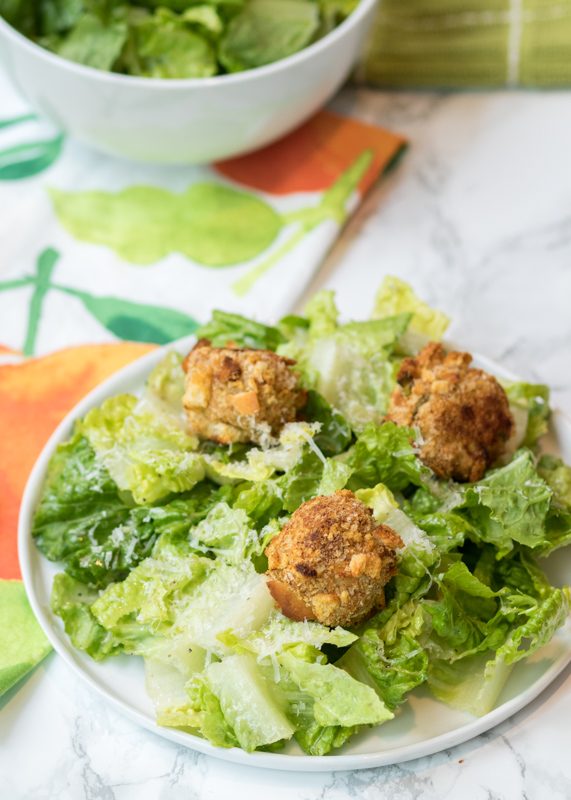 I don't remember how I stumbled across this recipe, but I am so glad I did. When I first saw it I knew I needed to make it immediately. The whole concept of Chicken Caesar Salad Meatballs is genius! Basically the crunchy chicken meatballs take the place of both the croutons and the protein in this Caesar salad. What?! I know, I'm boggling your mind right now.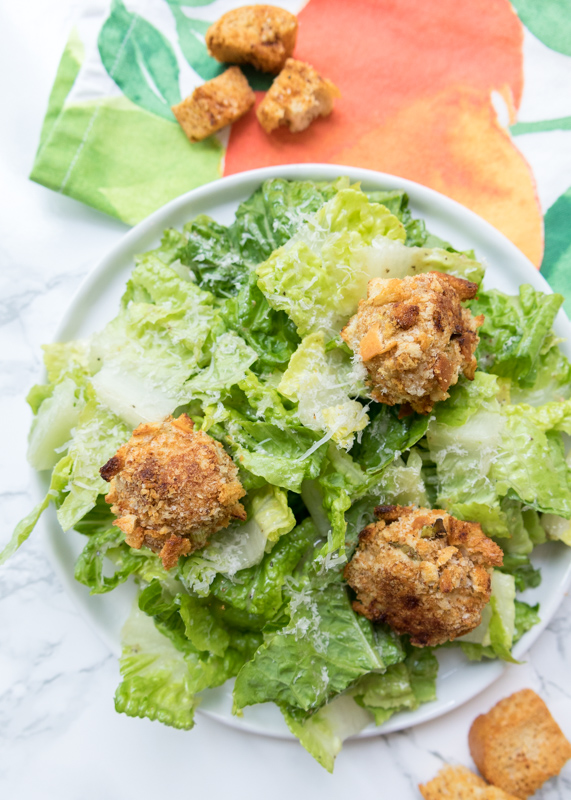 The chicken meatballs are rolled in crushed croutons before they are baked so they are crispy and full of crouton-y goodness. These are anything but ordinary chicken meatballs. In addition to the crispy exterior, the meatballs are loaded with all the makings of a delicious Caesar salad. Instead of breadcrumbs we use more crushed croutons and instead of egg or oil we use Caesar dressing. There's also Parmesan and scallions involved.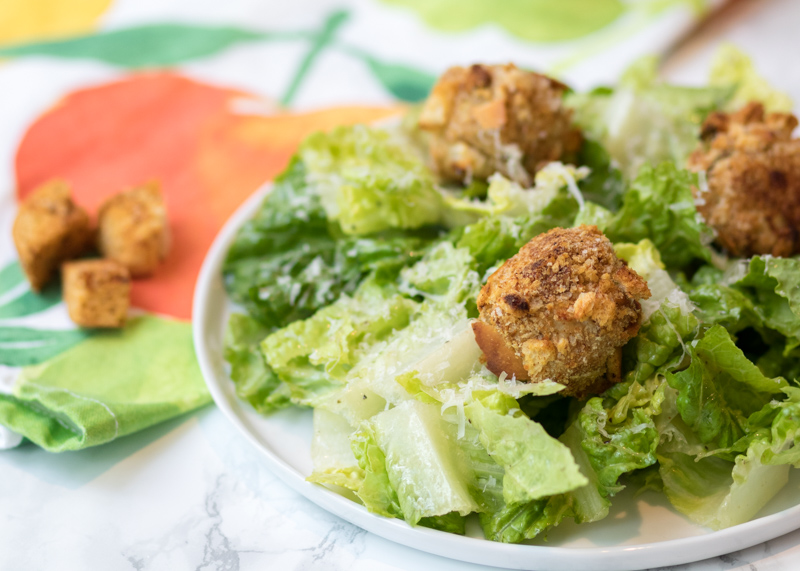 If you can't find ground chicken you can use ground turkey instead. I've made it both ways numerous times and it's always delicious. If you want to talk about a tried and true recipe, this is it. I've been making this dish regularly since 2009; that's almost 10 years of Chicken Caesar Salad Meatball perfection! I first made it for my roommates and we all devoured it. After college, it was immediately put on Matt's and my regular dinner rotation and has stayed that way ever since. I especially love this salad when the weather is warm like this and now that we have a big toaster oven I just make them in there instead of heating up the whole kitchen with the oven.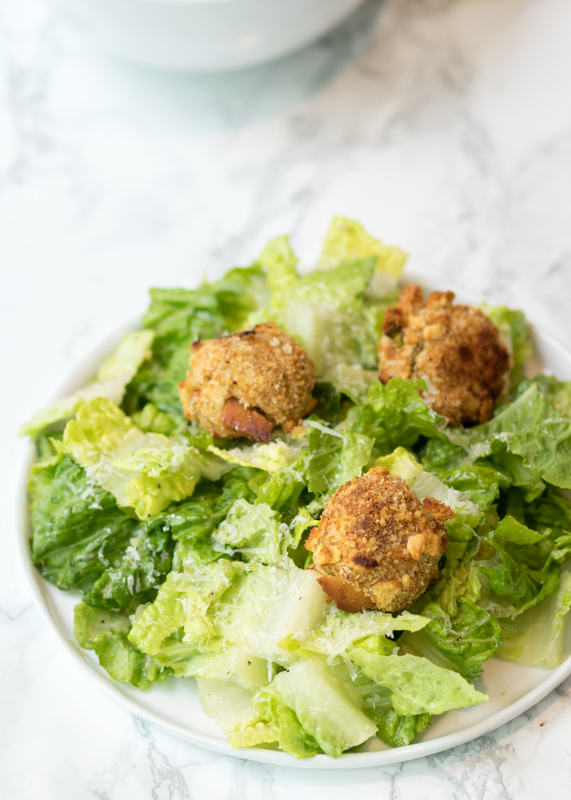 If you're having leftovers you can eat them cold, but I always heat the meatballs a little before putting them on top of the salad so you get a nice mix of the warm crunchy meatballs and the cold Caesar salad. Since you are using crouton crumbs both in the meatball and on the outside tasty croutons are key for this recipe. I love the Trader Joe's cheese and garlic croutons. They are so addictive! When I crush the croutons I like to keep a few bigger chunks since they add to the texture of the crispy outside. You might have noticed from the photos, but the Caesar dressing I usually use isn't the thick and creamy one you normally see, although you can certainly use that. These were made with the Trader Joe's Caesar dressing, which is a more oil-based Caesar dressing. Either way, I know they will be delicious!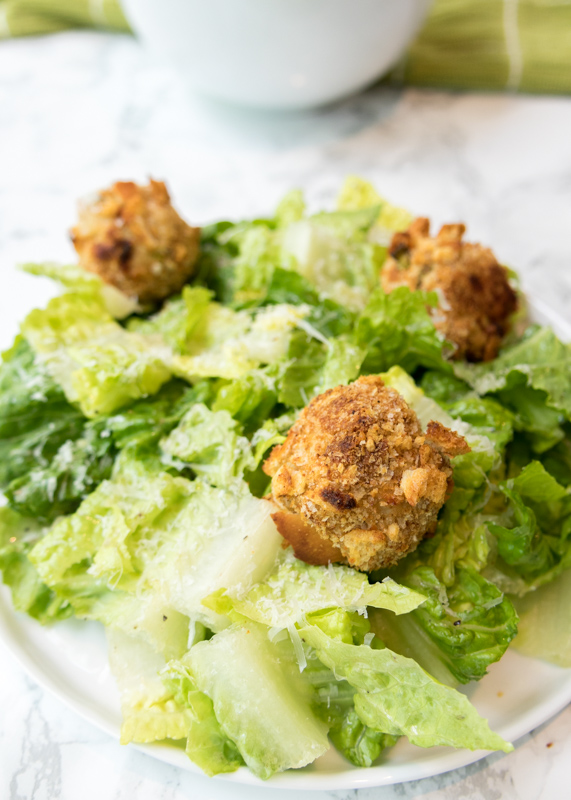 Chicken Caesar Salad Meatballs
Ingredients
for the chicken caesar meatballs
1 lb lean ground chicken
1⅓ cup crushed croutons, divided
⅓ cup grated parmesan cheese
3 tablespoons caesar dressing
2 scallions, sliced
⅛ teaspoon salt
⅛ teaspoon ground black pepper
for the salad
Romaine lettuce
Caesar dressing
Additional fresh grated Parmesan cheese
Directions
for the chicken caesar meatballs
Preheat the oven to 400°F. Line a baking sheet with aluminum foil and coat with cooking spray. Set aside. Place 1 cup of the crushed croutons in a small bowl and set aside.
In a large mixing bowl, combine the ground chicken, the remaining ⅓ cup of the crushed croutons, scallions, parmesan cheese, olive oil, salt and pepper, being sure not to overmix.
Divide the meat mixture into 4 sections. Use each section to roll out 3 chicken meatballs. Roll each meatball in the bowl of crushed croutons before placing on the baking sheet. Repeat until you have 12 chicken meatballs. They are big!
Bake the chicken meatballs for 15 minutes. Turn the meatballs over and bake for another 15 minutes.
While the meatballs are cooking, prepare the caesar salad. Cut and wash the lettuce then toss with the caesar dressing and extra parmesan cheese. I usually plan on 4 cups of romaine lettuce per person. The amount of dressing and additional Parmesan is up to you!
When the chicken meatballs are cooked, let them cool for 5-7 minutes before serving on top of the caesar salad.
Recipe adapted from blog Canaderican, which no longer exists.