Aunt Elaine's Dirt Cake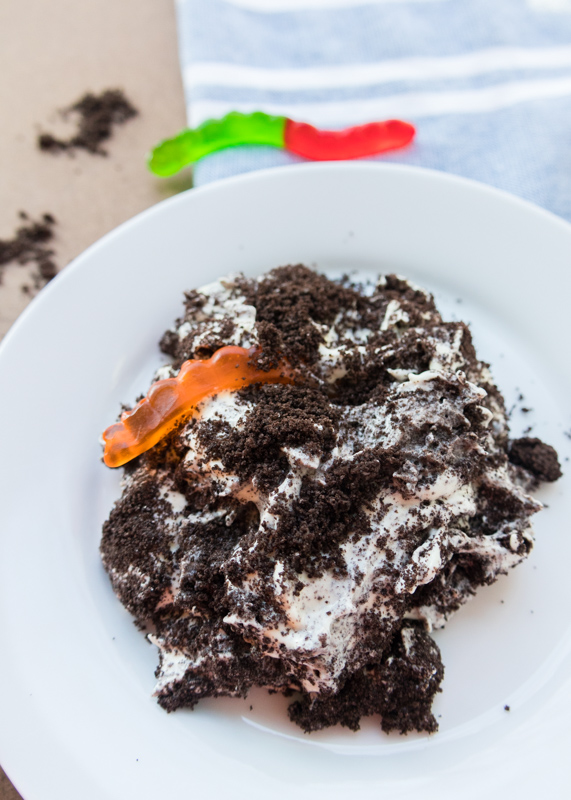 My Aunt Elaine's birthday is tomorrow and I wanted to post a special recipe to celebrate. When I was younger I would visit my Dad's older sister during the summer. Aunt Elaine was a teacher making summer the perfect time to get some girl time in. Although I certainly loved visiting or having her visit during the school year as well so I could help grade papers!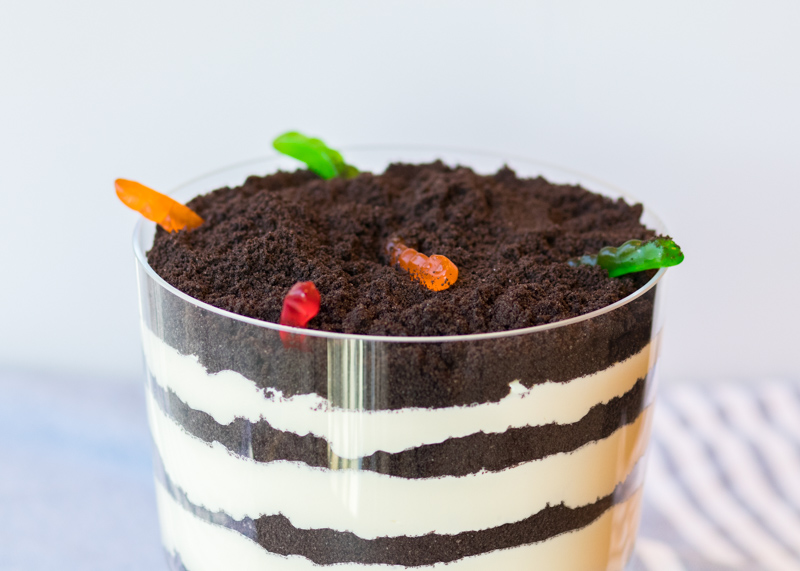 I have so many food memories with my Aunt Elaine. First of all, she was the person who brought me to my first ever Chik-Fil-A! Thank you for that, Aunt Elaine! It was years before I could have Chik-Fil-A anywhere other than visiting my aunt in Maryland. She also bought me my first ever Dippin' Dots when we were at a Science Museum. And yes, Dippin' Dots still exists, and yes, I'm still obsessed with them.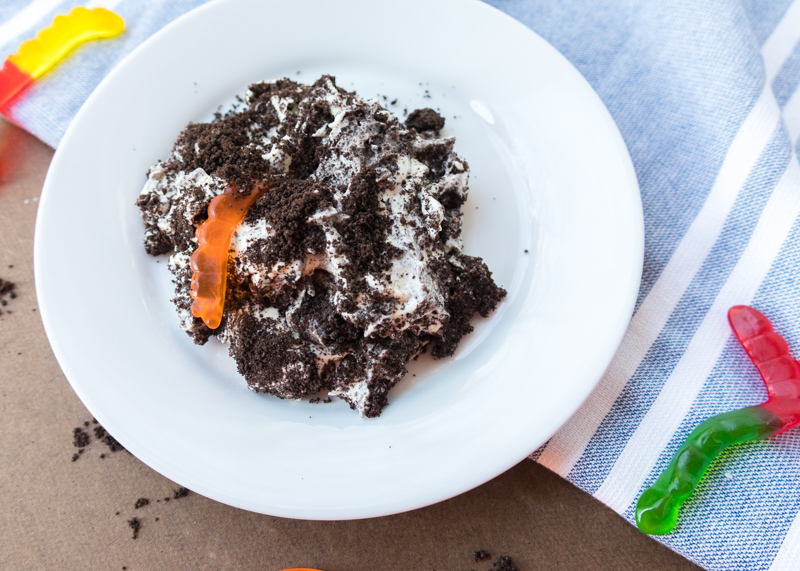 I also have so many dishes she makes that I associate with visits to her house or family beach weeks, including her breakfast casserole, coffee cake, potatoes gratin and her famous Heath Bar ice cream cake. However, the one dish that I will always, always think about when I think about my Aunt Elaine is this Dirt Cake.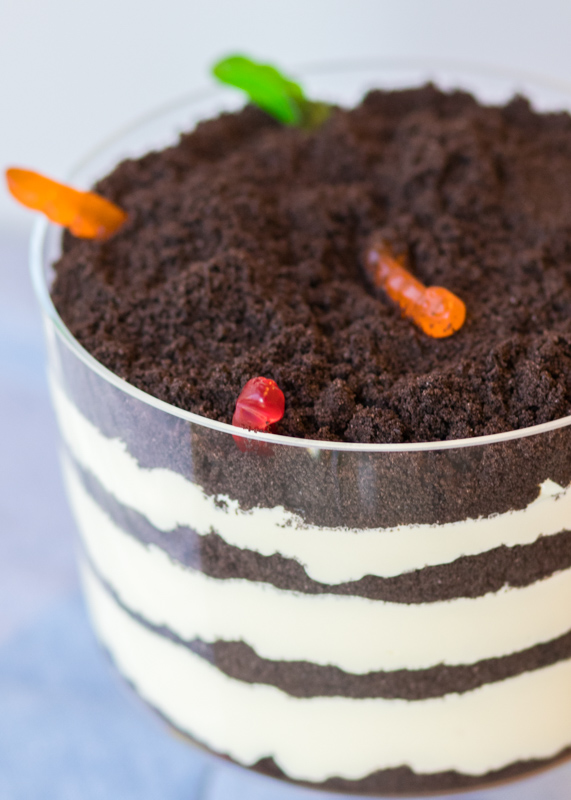 The first time my aunt made it for me she served it in a big flowerpot complete with a mini spade and fake flowers in the center. I thought it was the coolest dessert I had ever seen and I still get a kick out of it being served like that. I don't have all those fun tools so I layered mine in a trifle bowl instead, but go all out if you want the full Dirt Cake experience.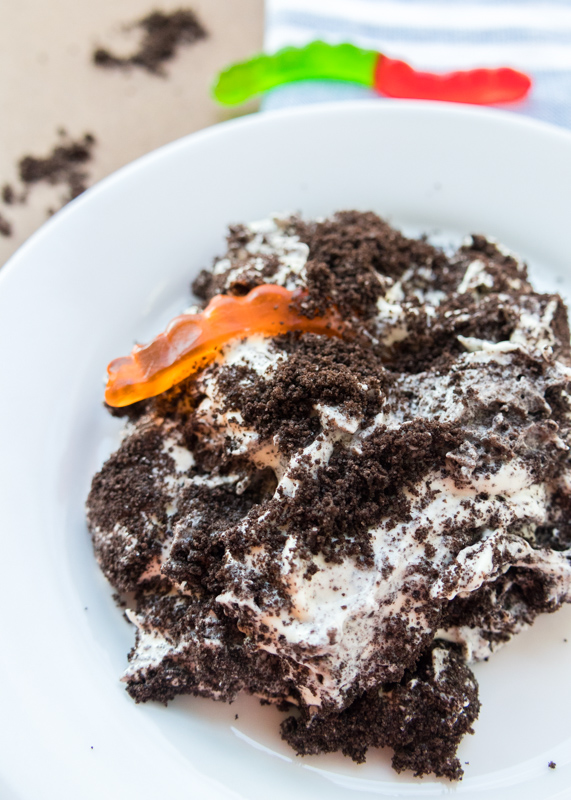 I'm sure most, if not all, of you have had something similar to this. It is vanilla pudding that has been made even better by being mixed in with a cheesecake-like mixture and whipped cream. The creamy pudding layer is layered with Oreo cookie crumbs and gummy worms to live up to its Dirt name. When you scoop some of it into a bowl and mix the Oreo cookie crumbs into the vanilla cream layer you will definitely find yourself going back for seconds!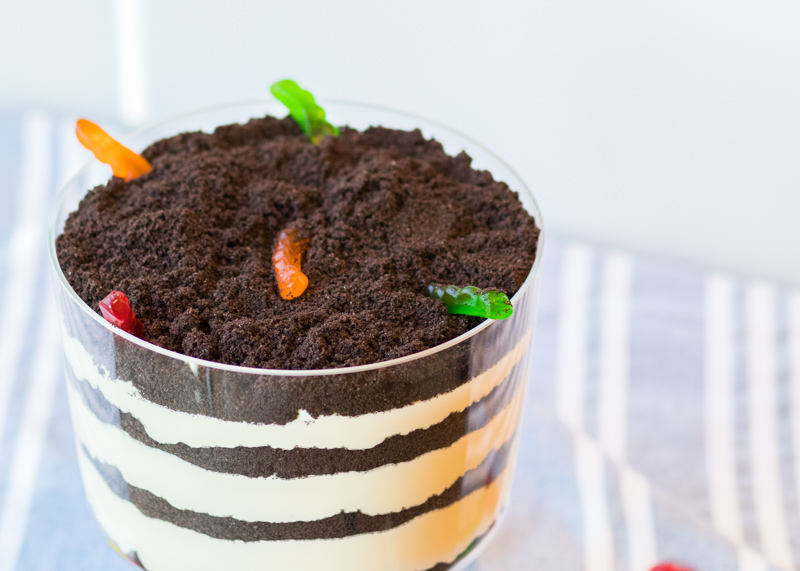 Aunt Elaine's Dirt Cake
Ingredients
1 family pack size of Oreos (1 pound 3.1 ounces)
½ cup butter, room temperature
8 ounces cream cheese, room temperature
1 cup powdered sugar
2 3.4-ounce small packs of instant vanilla pudding
3½ cups milk
12 ounces Cool Whip, thawed
Gummy worms
Directions
Process the cookies in a food processor until they are fine crumbs. Alternatively you could smash them in a freezer bag with the meat mallet or rolling pin, but they won't be as fine.
In the bowl of a stand mixer or in a large bowl with a hand mixer beat the butter, cream cheese and powdered sugar until fluffy and smooth, scraping down the sides as needed. Set aside.
In a large bowl, whisk together the pudding mixes and milk. Continue to whisk for several minutes until the mixture has thickened. Add the pudding mixture to the cream cheese mixture and stir to combine. Fold in the Cool Whip.
Make a layer of cookie crumbs in the bottom of your trifle bowl or flower pot. Make a layer of the pudding mixture on top. Continue alternating the layers, making sure you end on a cookie crumb layer. If you want gummy worms throughout your dirt cake make sure you are adding them as you go. If you just want the gummy worms on top, I added mine on the last pudding layer and then sprinkled the last "dirt" cookie layer around them to make it look like they were coming out of the dirt. Cover and refrigerate if not serving right away. Decorate with fake flowers and mini "garden spade" as desired.
Notes
I used reduced fat cream cheese, fat free milk and reduced fat Cool Whip. You can use whatever you have on hand or prefer.

Over the years I have seen many versions of my aunt's cake online. Some people say you can leave out the butter without a big taste difference. I haven't tried that so I can't personally suggest it, but if you try it without the butter let me know how it turns out.