Babu's Coffee Cake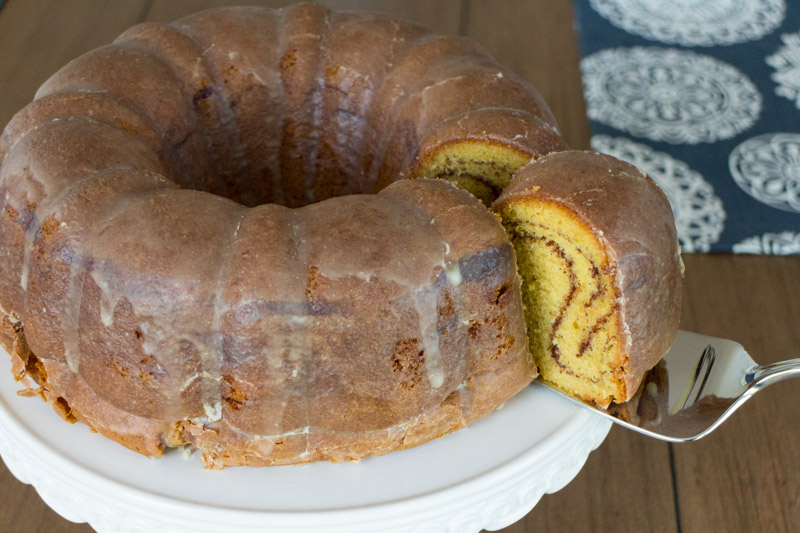 It is hard to believe that I am writing this post and it is even harder to write it. One month has passed since my family and I lost my grandma, Babu. For those of you who don't know me personally or haven't read my Vanilla Bean Ice Cream Mother's Day post, Babu and I were incredibly close. These past few weeks without my best friend have felt surreal. As most people who have dealt with loss have experienced, the ache does not get smaller, you just get better at handling it.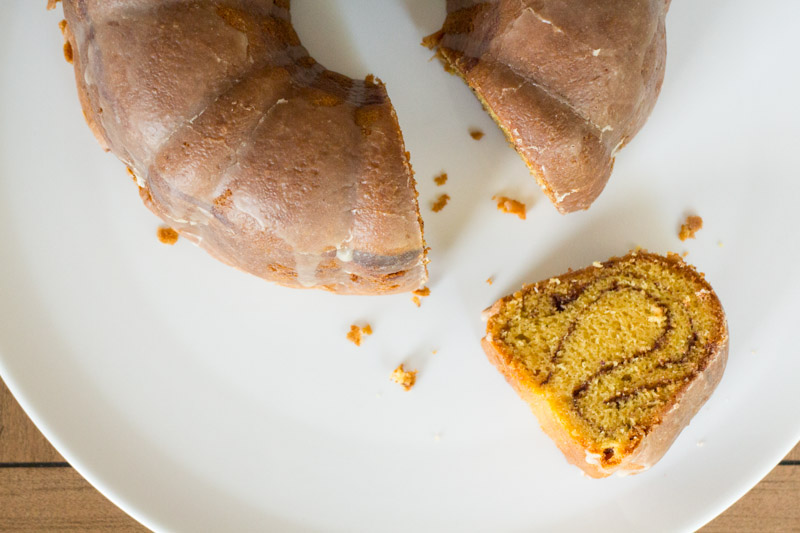 Babu loved hearing about my cooking and the food blog. She would always ask me what I was making for dinner and would listen to me read her my latest posts over the phone. Several times I had prints made of the food photos I knew Babu would like and mailed them to her. Babu would share them with her friends in her building and report back to me with which ones everyone wanted to try the most. Not only did Babu encourage me to follow my food passions, but she also helped foster those passions by baking with me and of course our many, many lunch dates.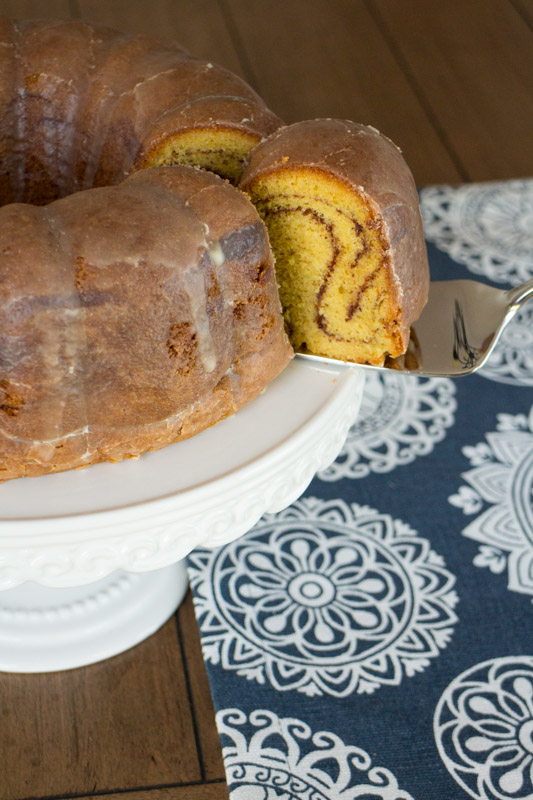 In my family it is hard to mention coffee cake and not think about Babu. When she lived with us she always made sure there were slices in the freezer. She would make a coffee cake, always waiting to let me help glaze it, then cut it into big slices, wrap them in plastic wrap and pop them in the freezer. I would come home from school, microwave a slice for 30 seconds and it would taste like it just came out of the oven. There would be one slice left and the next day the freezer would be stocked back up with a fresh cake.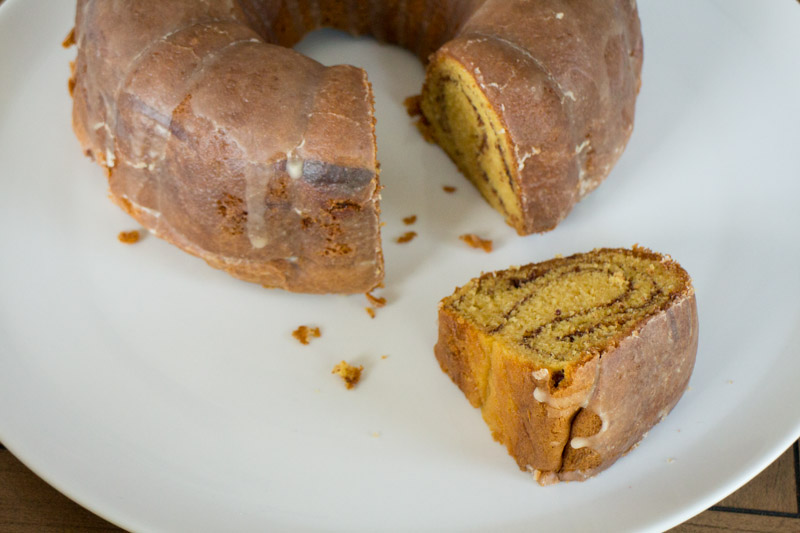 After Babu moved back down to Delaware I came to look forward to having some every time I went to visit, especially when we would do our annual beach trip. Since I always knew I would have some on these trips, I never made this cake on my own. When I was thinking of what I could make that would help celebrate Babu on Lemon & Mocha, once beach week started approaching I knew it had to be her coffee cake.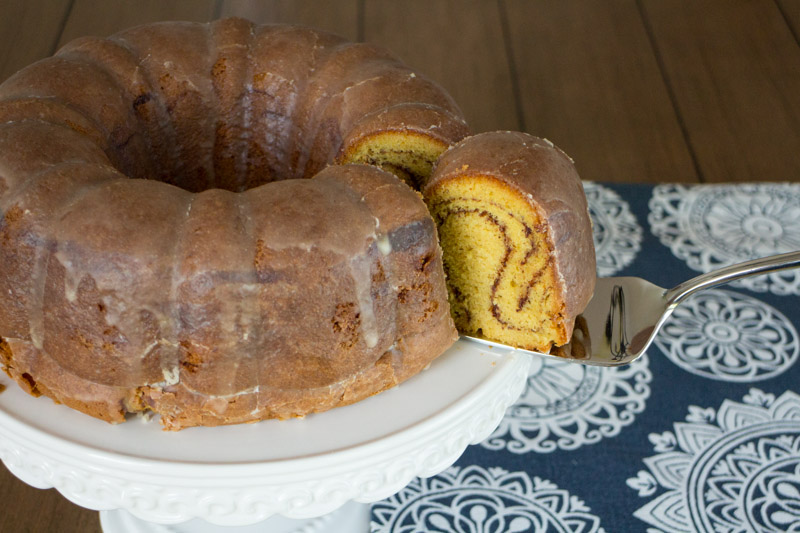 It was difficult knowing I couldn't ask Babu any questions before I started baking or knowing that this would be my first beach trip without her, but I know she was there with me the whole time- cheering with me when the cake came out of the Bundt pan perfectly and laughing with me when I totally left too much batter for the final layer. I hope that this simple cake can bring you as much joy as it has brought me over the years and that you can share it with someone special, too.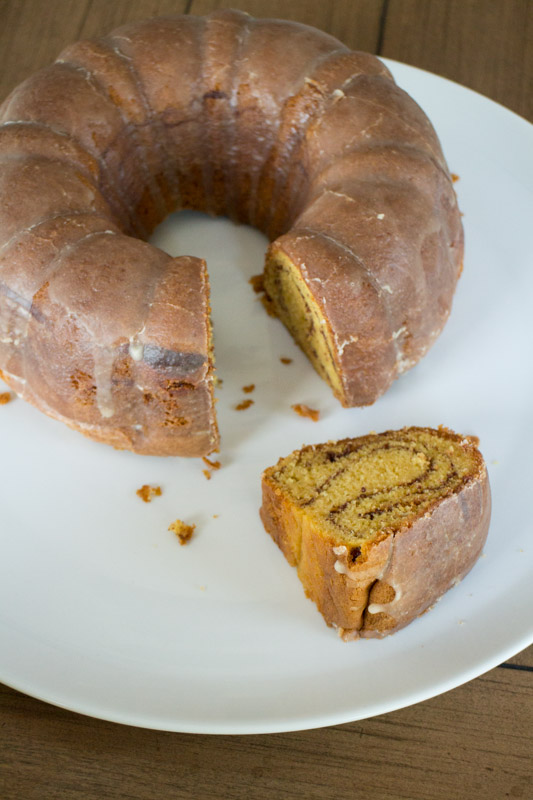 Babu's Coffee Cake
Ingredients
for the cake
1 Duncan Hines yellow cake mix
1 package instant vanilla pudding (3.4 ounce size)
4 large eggs
¾ cup vegetable oil
¾ cup water
2 teaspoons vanilla extract
¼ cup sugar
2 teaspoons ground cinnamon
for the glaze
1 cup powdered sugar
3 tablespoons milk
1 teaspoon vanilla extract
Directions
for the cake
Preheat the oven to 350 degrees F. Grease a Bundt pan and set aside.
Combine the cake mix, pudding mix, eggs, vegetable oil, water and vanilla extract with a hand mixer or in the bowl of a stand mixer. Mix until well combined.
In a small bowl, combine the sugar and ground cinnamon.
Evenly pour ⅓ of the batter into the prepared Bundt pan. Use a spatula to even the layer. Sprinkle half of the cinnamon sugar mixture evenly over the batter. Repeat with ⅓ of the batter and the remaining cinnamon sugar. Top with the last ⅓ of batter.
Bake for 40-50 minutes, or until a toothpick inserted in the cake comes out clean. Let cool in the pan for 10 minutes then transfer to a cooling rack. Apply the glaze while still warm, but not hot.
for the glaze
Combine the powdered sugar, milk and vanilla extract until smooth. Spoon or pastry brush the glaze over the warm cake.