No-Bake Red, White & Blue Lemonade Cheesecake Pie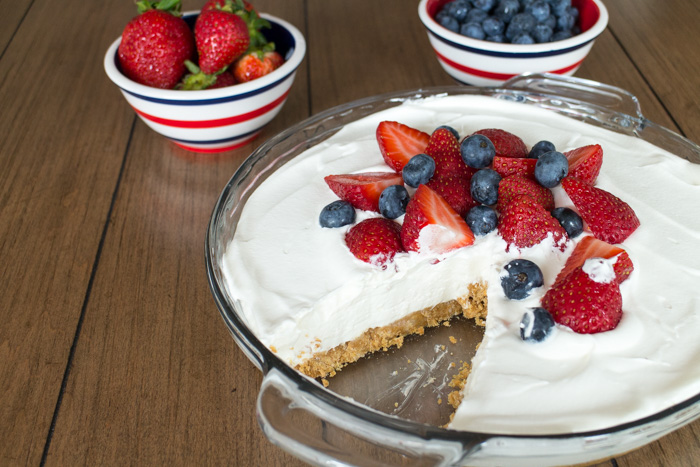 This summer has been slipping away! I had a recipe all planned to share with you for the Fourth of July, but suddenly it was the week before the holiday weekend and I hadn't cooked or photographed it yet.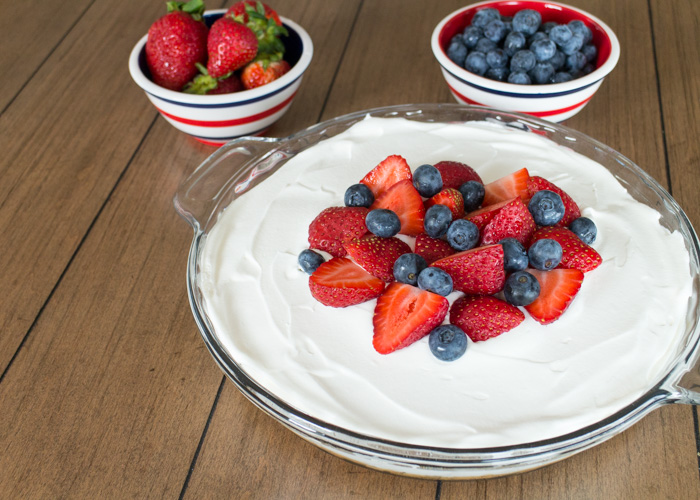 I knew I couldn't let the week pass by without providing some holiday-worthy red, white and blue inspiration so I grabbed everything I needed, whipped it together and snapped some photos. All for you. Don't you feel special?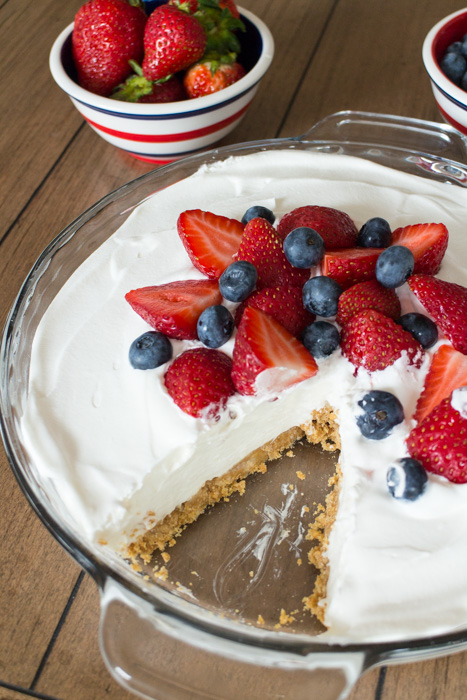 I first made this No-bake Red, White and Blue Lemonade Cheesecake Pie back in college. The recipe was actually in a Kraft ad in my Food Network magazine that summer and with my newly discovered lemon obsession I knew I had to make it for Matt and I.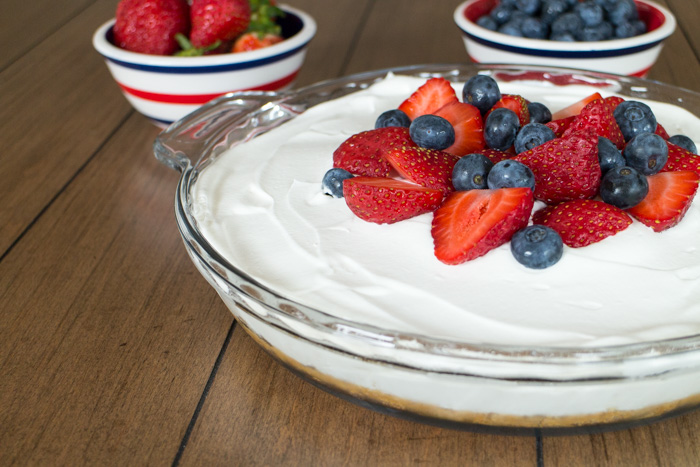 The pie was light, refreshing and super simple to put together.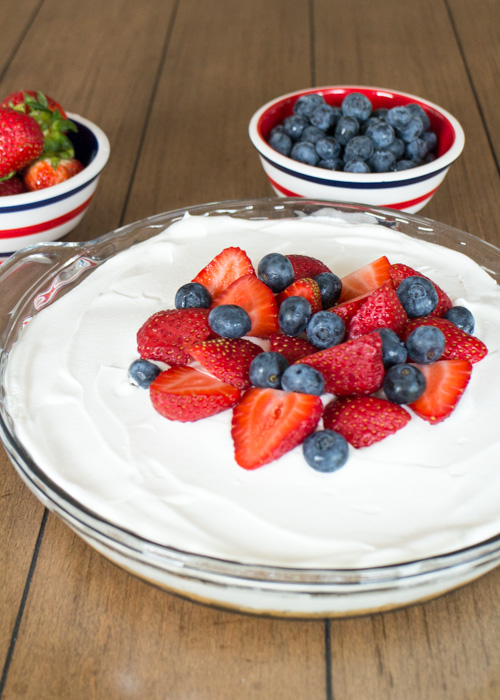 Somehow I forgot all about it until I was racking my brain for a creative red, white and blue dessert idea.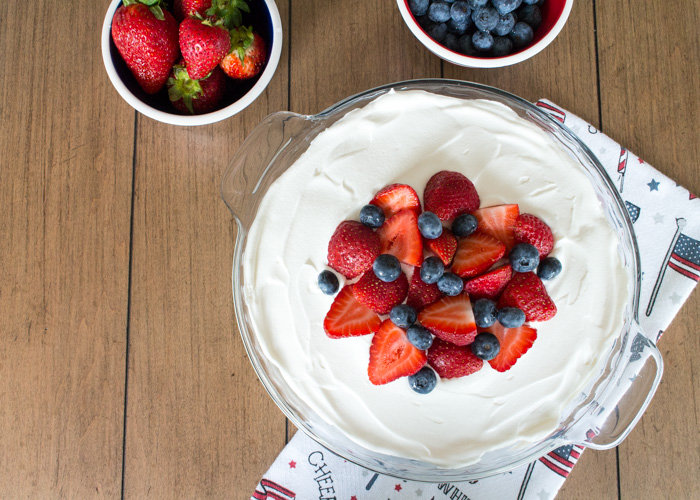 If you remember my Summer Berry Trifle blog post from the other year I am always looking for new spins on the traditional flag Fourth of July cake I used to make every year with my grandma.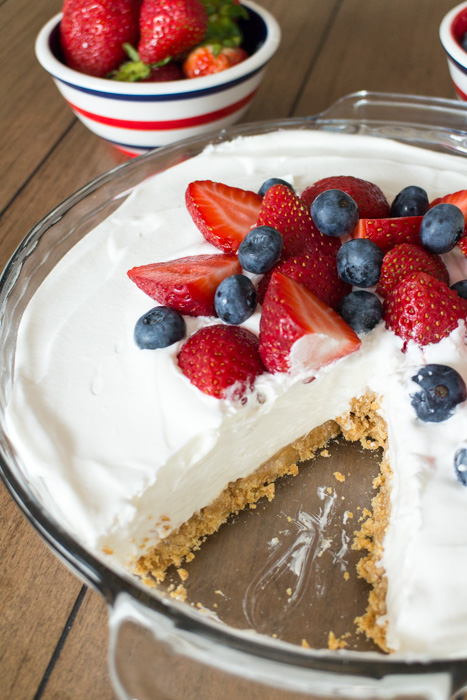 This No-bake Red, White and Blue Lemonade Cheesecake Pie is perfect and will make you the hero of your barbecue! Plus, did I mention that there's only 8 ingredients and NO BAKING? Enjoy!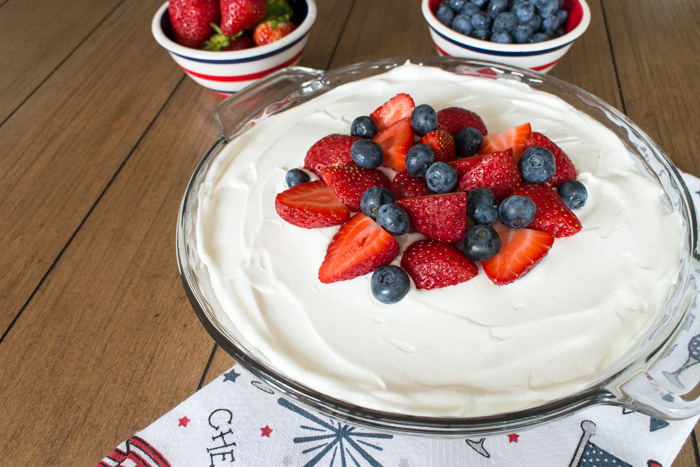 No-bake Red, White & Blue Lemonade Cheesecake Pie
Ingredients
10 graham cracker squares, crushed into crumbs (about 1.5 cups of graham cracker crumbs
⅓ cup sugar
6 tablespoons unsalted butter, melted
8 ounces cream cheese, softened
½ cup frozen lemonade concentrate, thawed
8 ounces Cool Whip, thawed
Halved strawberries, for topping
Blueberries, for topping
Directions
Combine the graham cracker crumbs, sugar and melted butter in a medium mixing bowl until they come together and resemble coarse crumbs. Press into the bottom and sides of a lightly greased 9-inch pie pan. Use the bottom of a measuring cup to make sure the crumbs are packed down tightly. Refrigerate for 2 hours before using.
In a medium bowl or the bowl of a stand mixer, beat the cream cheese until whipped and creamy.
Slowly add the ½ cup of lemonade concentrate (be sure not to add the whole can!) and beat after each addition. Once well combined, fold in two cups of the Cool Whip. Pour the mixture into the crust and refrigerate for four hours.
When ready to serve, top with the remaining Cool Whip, strawberries and blueberries. You could top with the fruit beforehand, but the red juice from the strawberries might run on the Cool Whip.
Notes
If you want to skip the first step simply use a pre-made graham cracker crust. I use light cream cheese and light Cool Whip, but regular or light works for this recipe. This pie (and crust) both freeze well.
Recipe slightly adapted from

Kraft Recipes

.