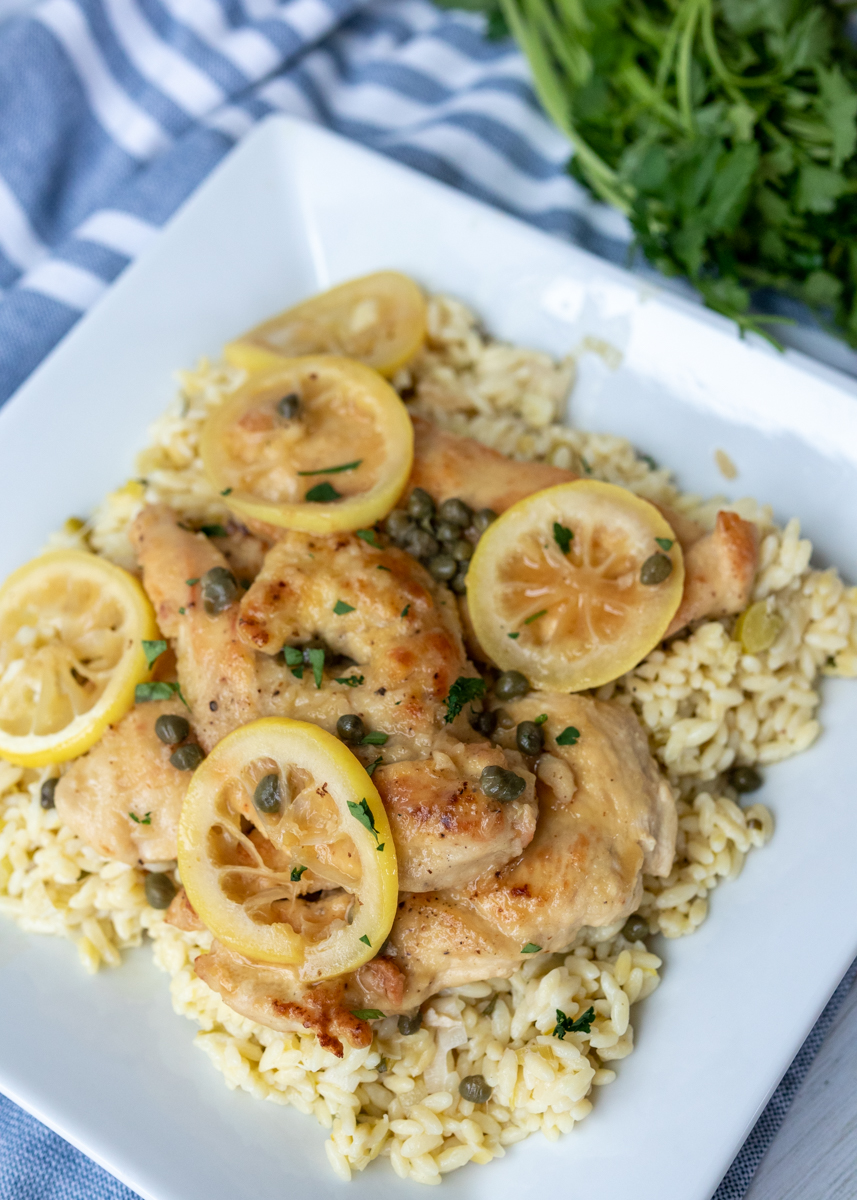 Dinner has arrived! While not quite as you still need to cook it, but this Chicken Piccata over Creamy Lemon Orzo is the perfect recipe for an easy and cozy meal that everyone will love. We're sautéing chicken cutlets and coating them with a fresh lemon and caper sauce. The best part is that the juicy chicken cutlets are sitting over a warm orzo and leek dish that's bursting with lemon flavor.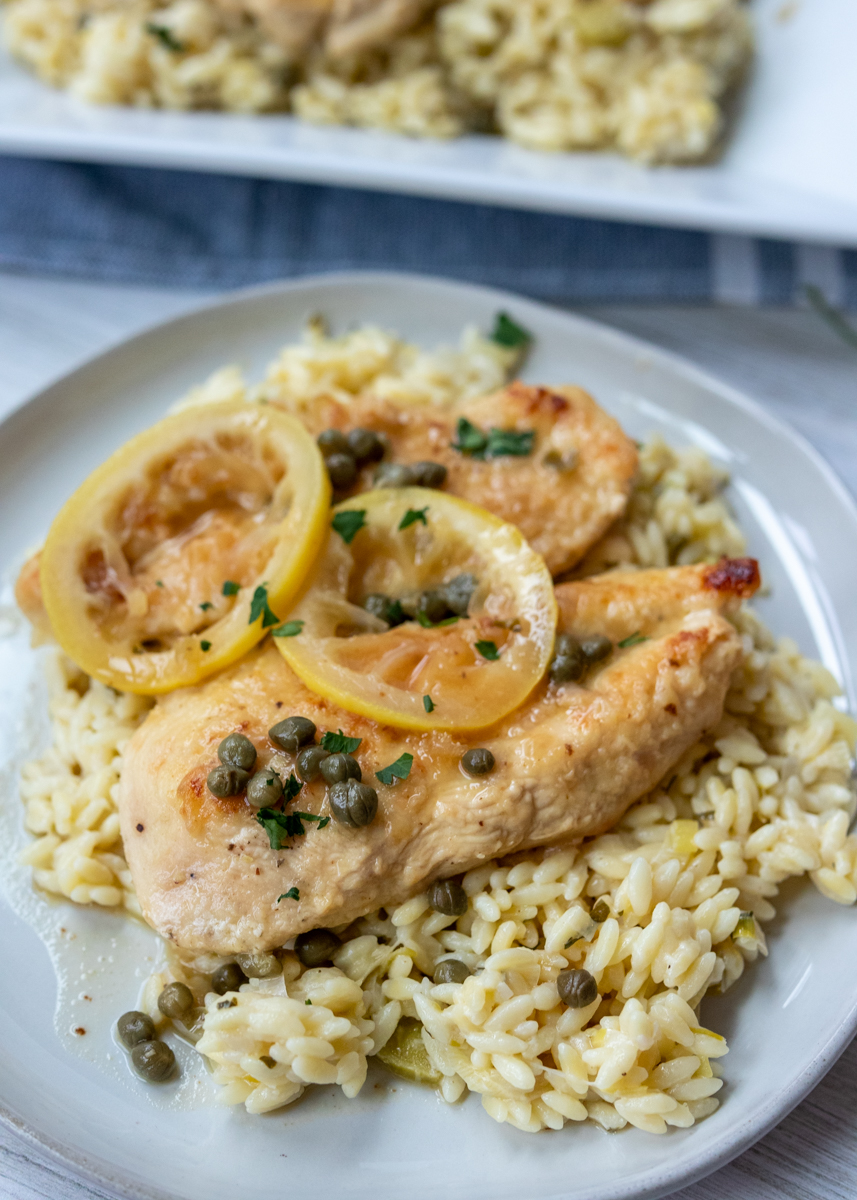 The smell of this meal cooking is going to have you sneaking bites off the stove. And by sneaking bites I mean scooping out a bowlful of the orzo and shoving it into your mouth like you haven't eaten in five days.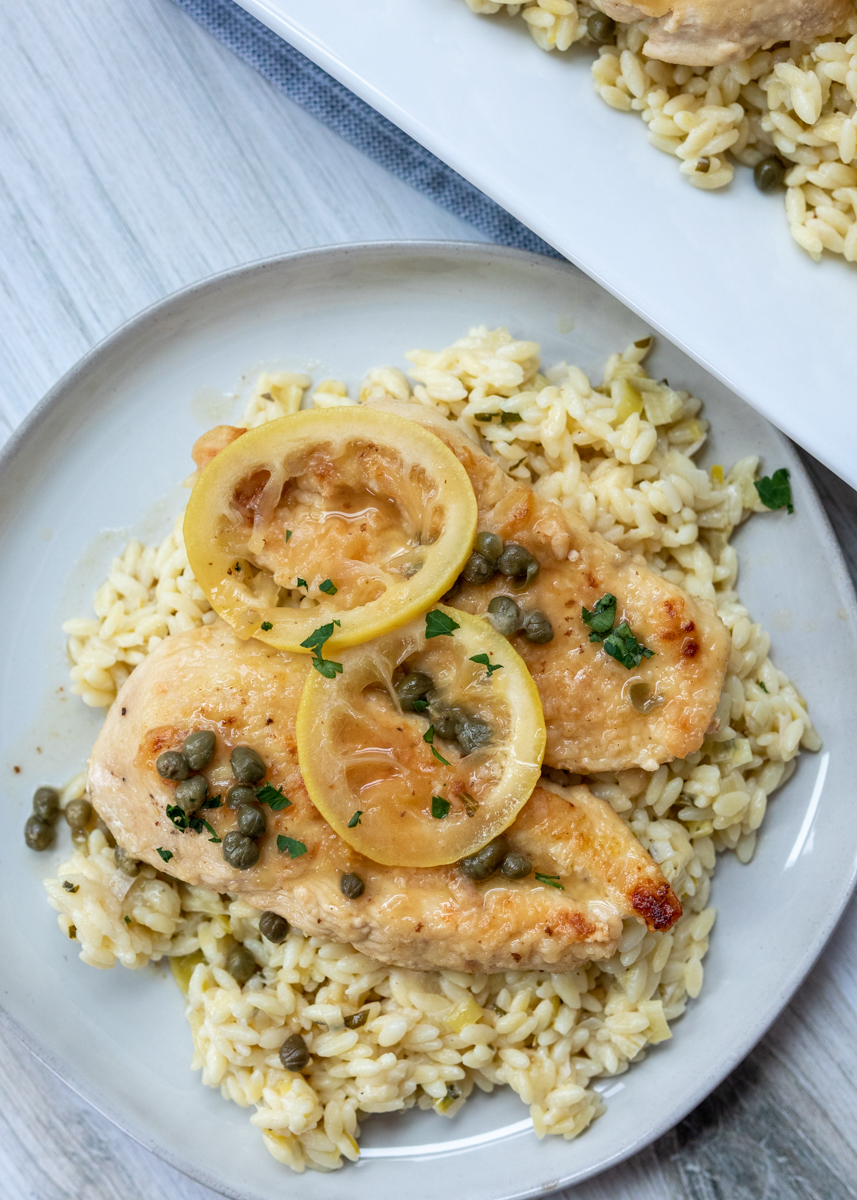 This is my favorite savory dish I've made in a while and I plan on making it many more times. It's simple enough that I can whip it up for Matt and I on a weeknight, but I would also totally make this for company. Add in a green salad and your meal is complete!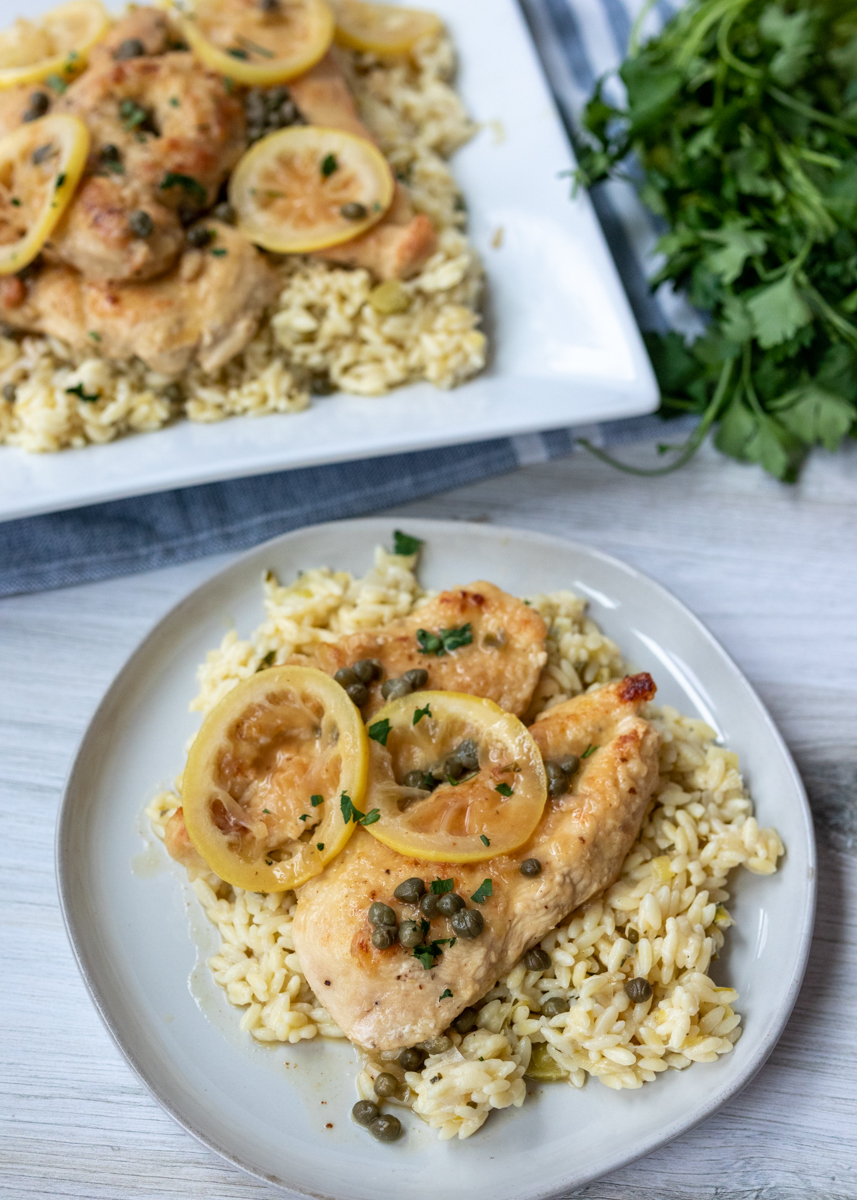 Matt and I like to have Valentine's Day dinner at home, so if you're like us and staying in tonight then I recommend making a quick trip to the store to get everything to make this Chicken Piccata over Creamy Lemon Orzo. Other than the bright lemon flavor, my favorite part of this dish is that it tastes rich and indulgent, but feels very light. You would never guess there's less than two tablespoons of butter across all four servings!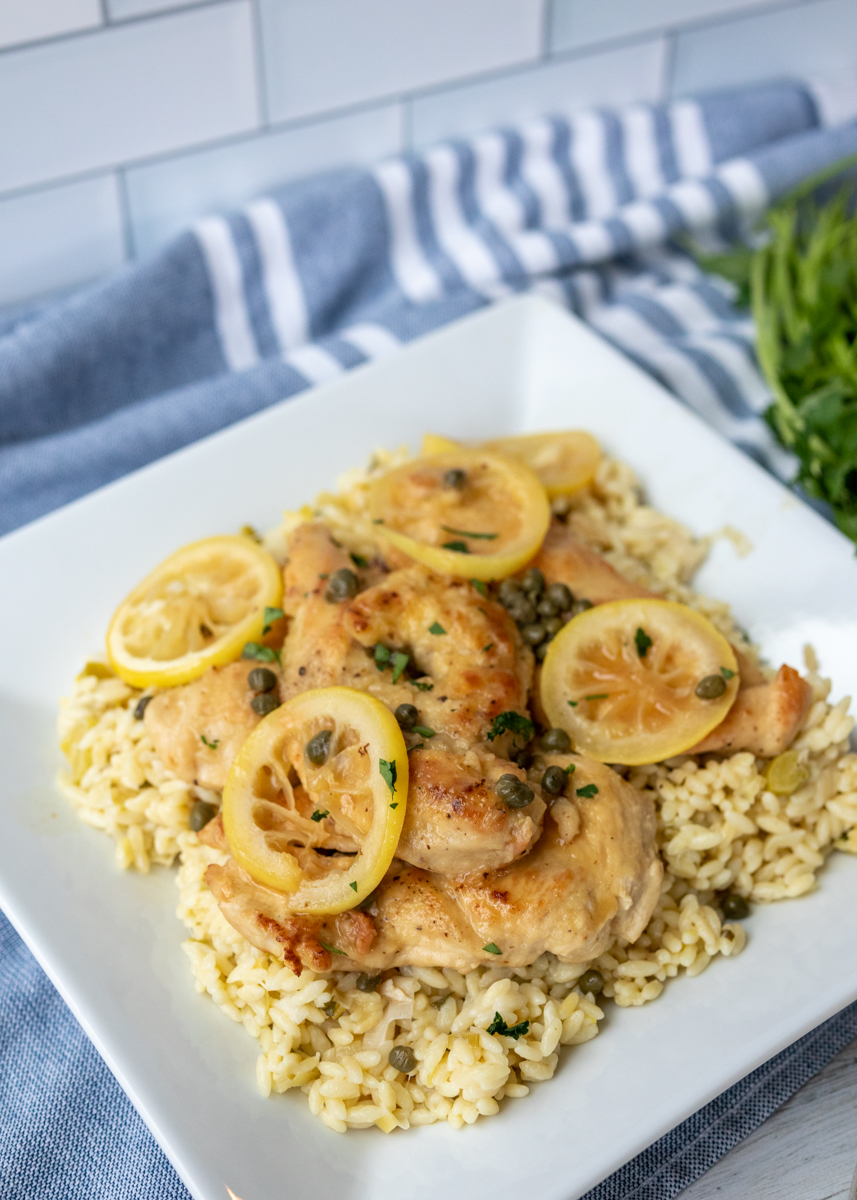 I hope you all enjoy this one and have a lovely Valentine's Day weekend!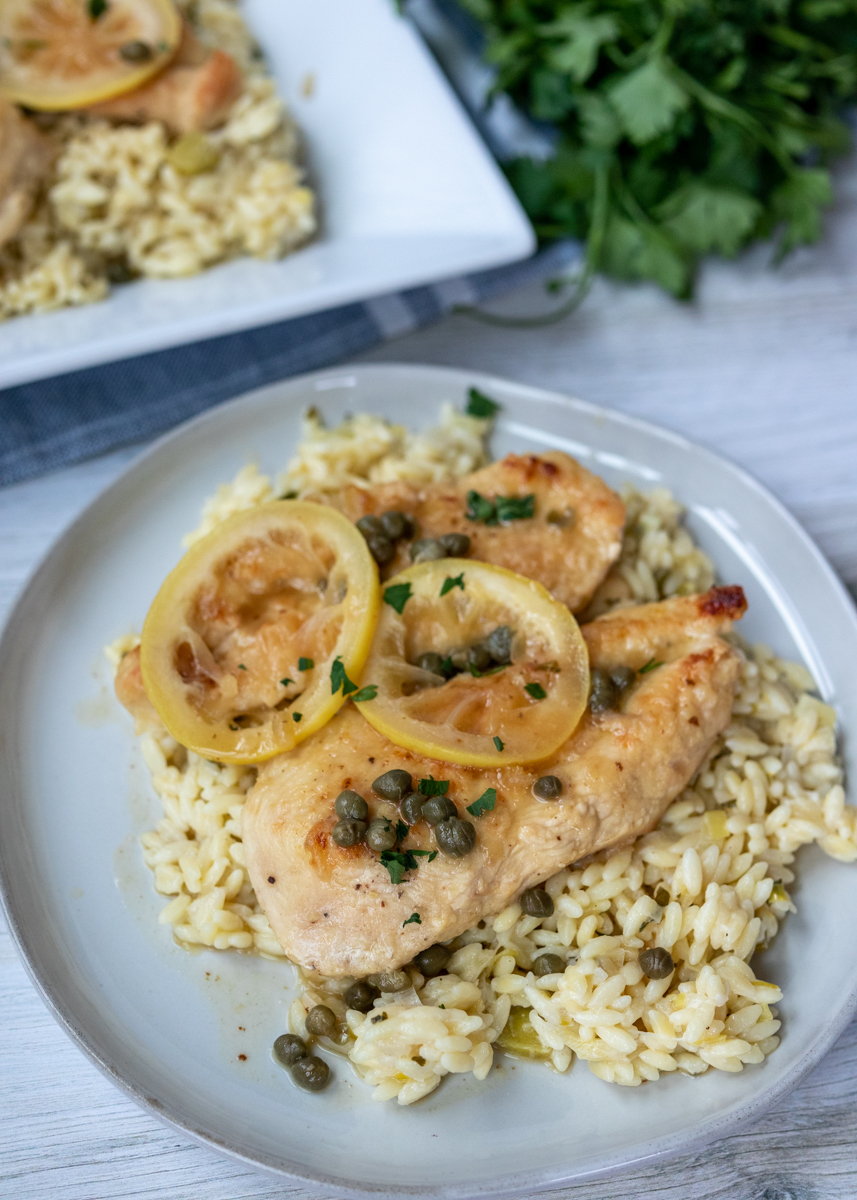 Chicken Piccata over Creamy Lemon Orzo
Ingredients
4 boneless skinless chicken breasts, sliced in half lengthwise to have 8 cutlets
½ cup all-purpose flour
3 cups low sodium chicken broth, divided
1 bay leaf
1½ tablespoons butter, divided
5 tablespoons olive oil, divided
1 leek (white and light green parts), halved lengthwise and thinly sliced (see note)
1 cup orzo
¼ cup half and half
1 clove garlic, minced
3½ tablespoons lemon juice, divided
3 tablespoons white wine
2 tablespoons capers
2 tablespoons chopped fresh parsley
Zest from ½ a lemon
Directions
Season the chicken cutlets with salt and pepper. Add the flour to a shallow bowl then coat the chicken cutlets completely, shaking off the excess. Put aside until ready to use.
In a small saucepan over medium heat or in the microwave, heat 2 cups of the chicken broth, ½ cup of water and the bay leaf until simmering.
Melt ½ tablespoon of the butter and 1 tablespoon of the olive oil in a medium saucepan over medium heat. Add the sliced leeks and cook for 4 minutes, stirring occasionally. Add the orzo then season with salt and pepper. Add the warmed broth mixture and bring it to a simmer. Add the half and half then keep at a simmer, stirring occasionally, for 8-10 minutes, or until most of the liquid is absorbed.
While the orzo is simmering, start the chicken. Heat 3 tablespoons of the olive oil in a large skillet over medium heat. Add the chicken and cook for 4-5 minutes per side, or until an internal temperature of 165 degrees F is reached. If your skillet is not big enough you will have to do this in two batches, just remove the pan from the heat and let cool slightly in between the batches. Remove the chicken once it's been cooked and set aside.
Heat 1 tablespoon of the butter and a tablespoon of the olive oil over medium heat in the skillet from the chicken. Sauté the garlic until fragrant, about 30 seconds, then add the remaining cup of the chicken broth, 3 tablespoons of the lemon juice and the white wine. Season with salt to taste. Whisk together and let come to a simmer. Add the capers. Add the chicken back to the skillet and let simmer for 5 more minutes.
When the orzo is done, remove the bay leaf. Stir in the remaining ½ tablespoon of butter, parsley and lemon zest. Serve with the chicken and sauce poured overtop.
Notes
Leeks harbor a lot of dirt so they need to be cleaned really well. Add the sliced leeks to a medium mixing bowl filled with water to separate and move around so the dirt sinks to the bottom and the leeks stay floating on the top. Scoop the sliced leeks out with your hand and place in a colander to lightly drain before putting in the saucepan.
 Orzo recipe adapted from December 2019 issue of Food Network Magazine
.
Recipe adapted from Eat This, Not That!.
Some of the links above are affiliate links, which means I may receive a small commission for my referral. This does not affect the retail cost of the item. Thank you for supporting Lemon & Mocha!