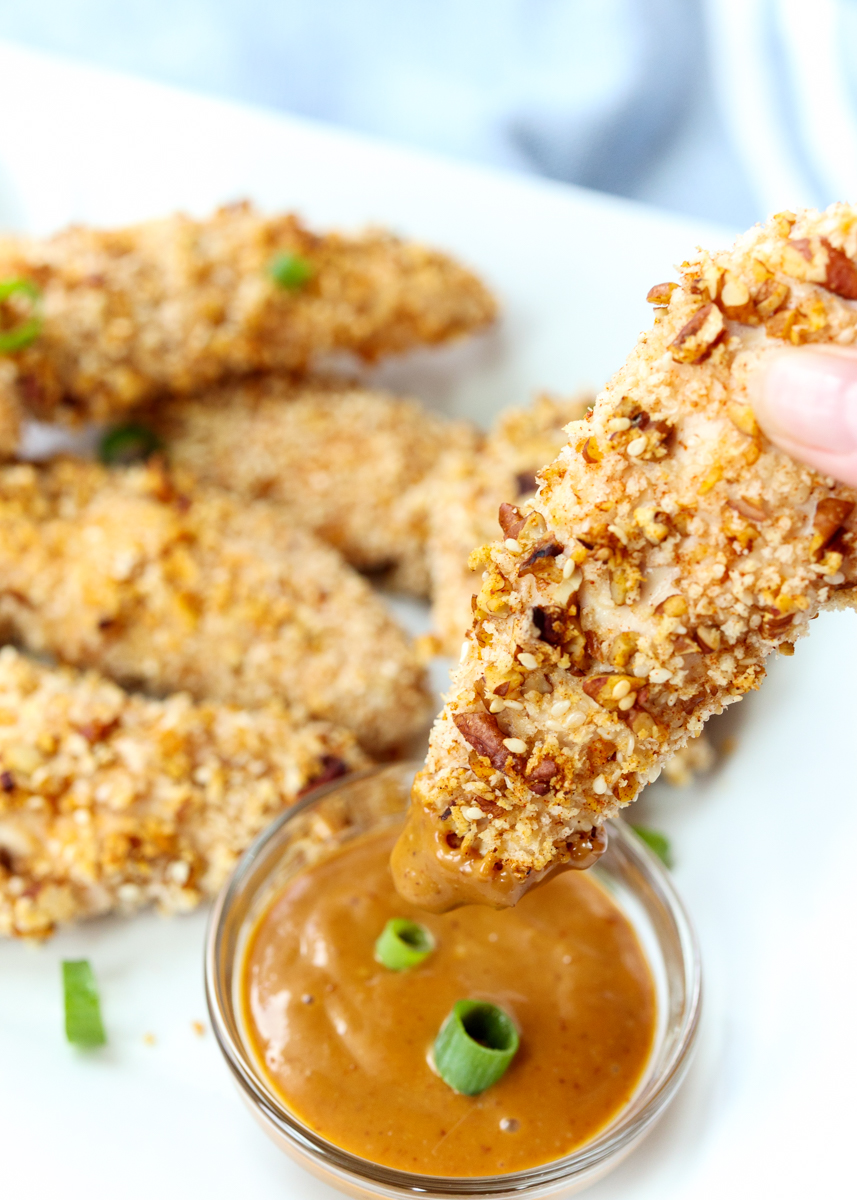 If you know me well then you know I love chicken fingers. They're crispy, crunchy, perfect for dipping and full of childhood nostalgia. I even mention them in my about Lauren section. Although I usually only have chicken fingers while I'm eating out, I do (attempt) to keep homemade panko crusted chicken bites in the freezer. I say attempt because the batch is usually gone before the week is over.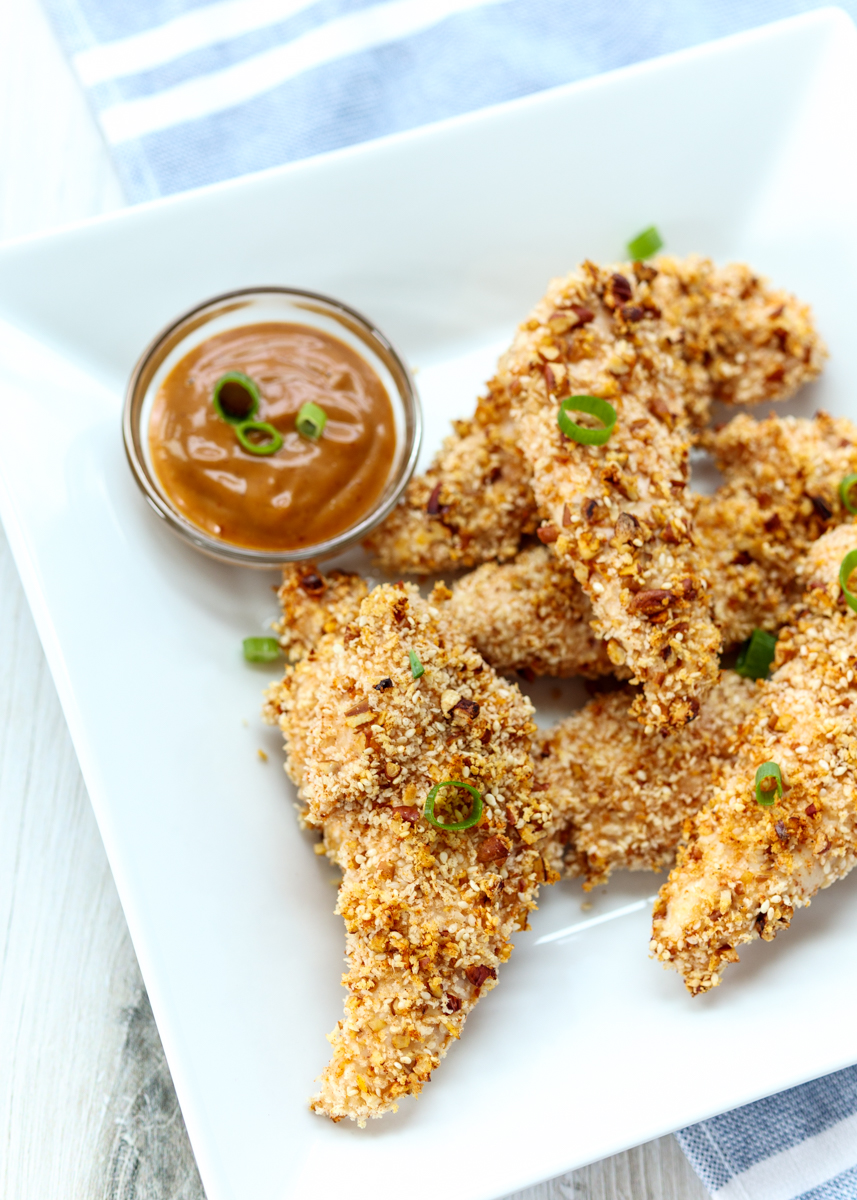 While going through my recipe binders that I mentioned in the Balsamic Roasted Sweet Potatoes with Gorgonzola and Walnuts post I came across these Crispy Sesame Pecan Chicken Tenders from a 2011 issue of Food Network Magazine. Their recipe calls for shallow frying the tenders, but I knew my baking method for my panko crusted chicken bites was tried and true for creating crispy coated chicken so I baked them instead.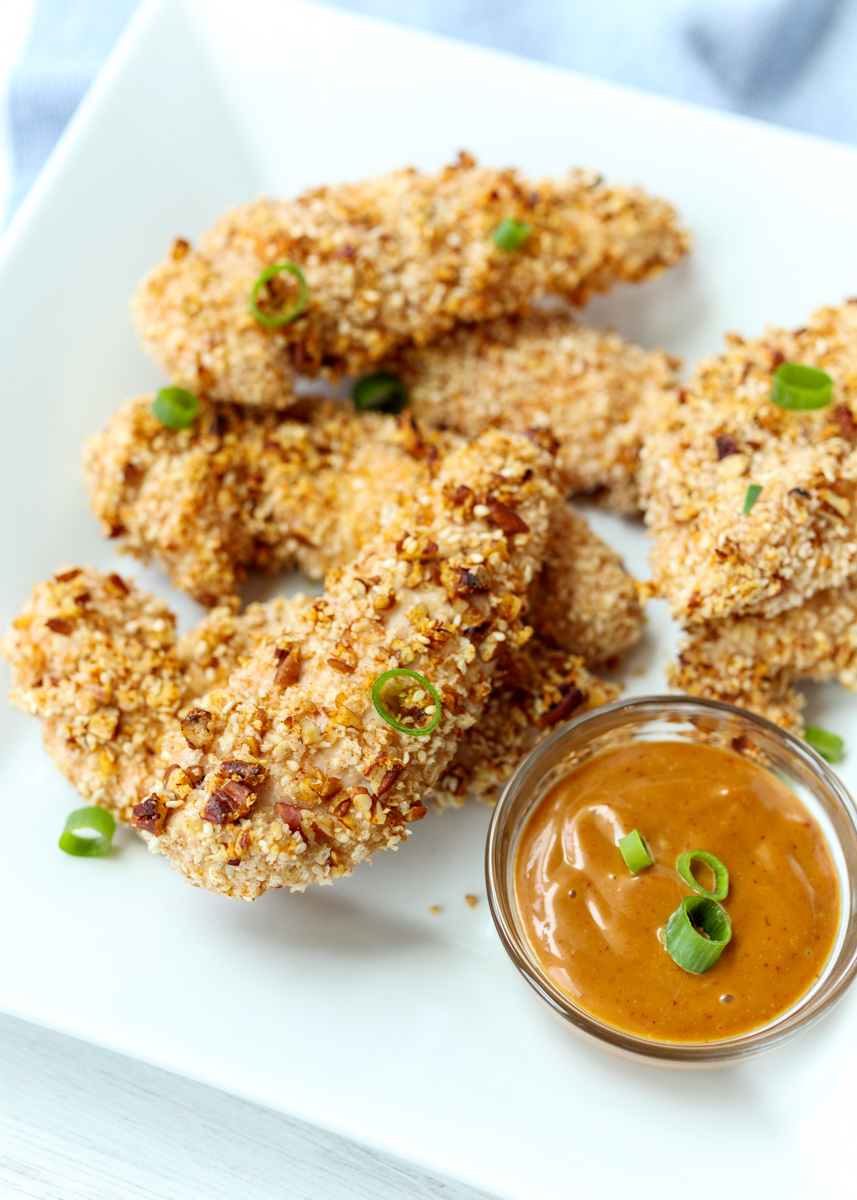 The chicken tenders get dipped in frothy egg whites and then are coated in a combination of panko breadcrumbs, finely chopped pecans, sesame seeds, paprika and salt. The key to achieving crispy chicken tenders in the oven is to place them on a wire cooling rack coated with nonstick cooking spray that you've placed on a large baking sheet. This is the same method used for my Baked Pistachio Crusted Chicken. The hot oven air circulates around all sides of the chicken tenders making sure every single bite is crispy – no air fryer needed!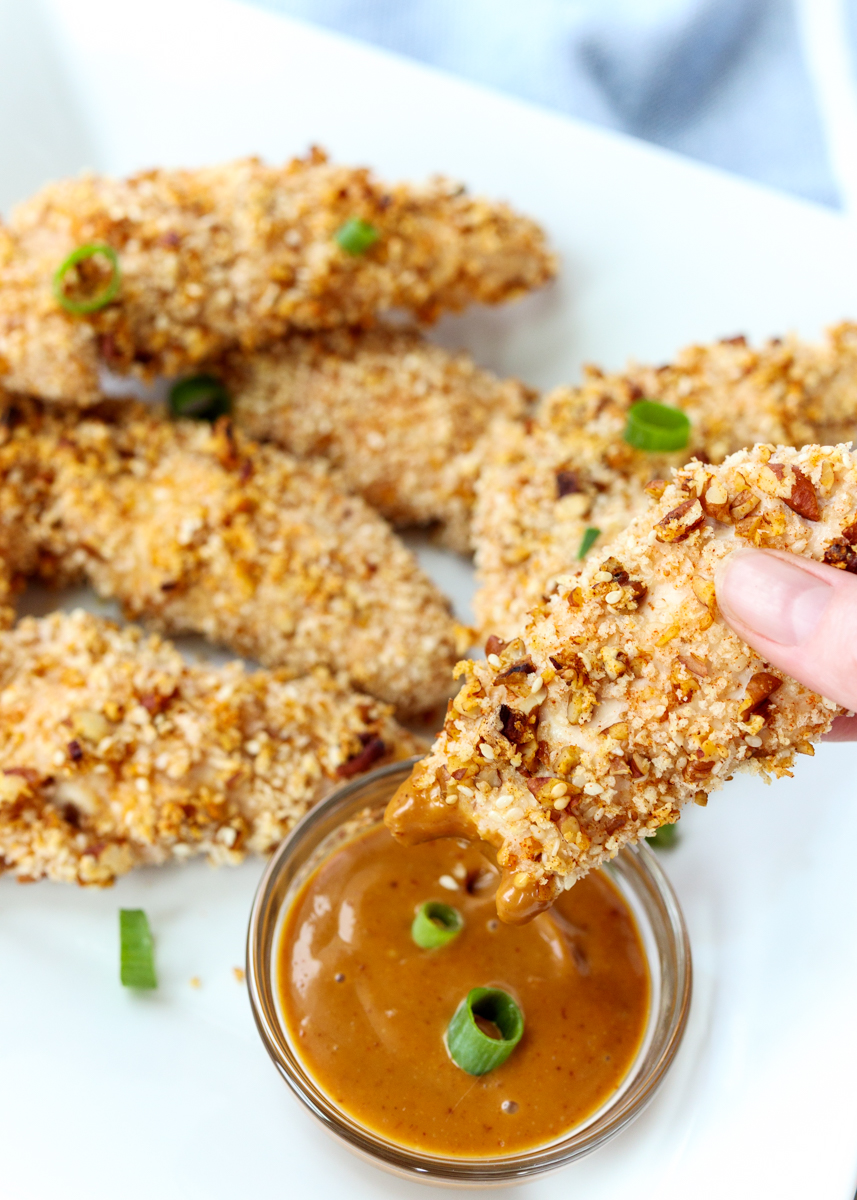 I was a little shocked at how obsessed I was with the panko-pecan-sesame combination. They taste so well together and provide a perfect crunch.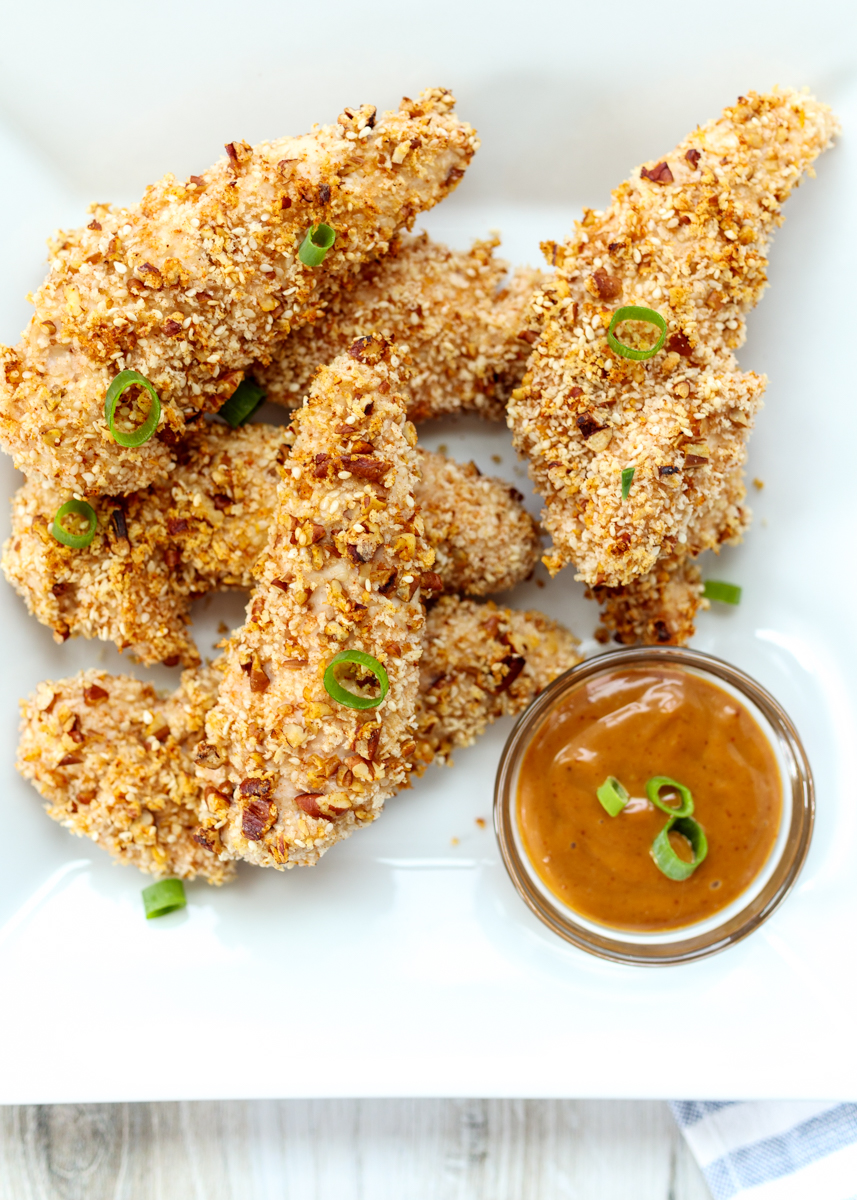 Since these aren't ordinary chicken tenders I thought they deserved a simple, but stepped-up dipping sauce. The sesame had me thinking of Asian flavors and since I still had hoisin in the fridge from the Hoisin Beef Kebobs I whipped up a quick dipping sauce of hoisin, mayonnaise and lime juice. It's creamy, sweet and a little tangy. I hope you love these Crispy Sesame Pecan Chicken Tenders as much as we do!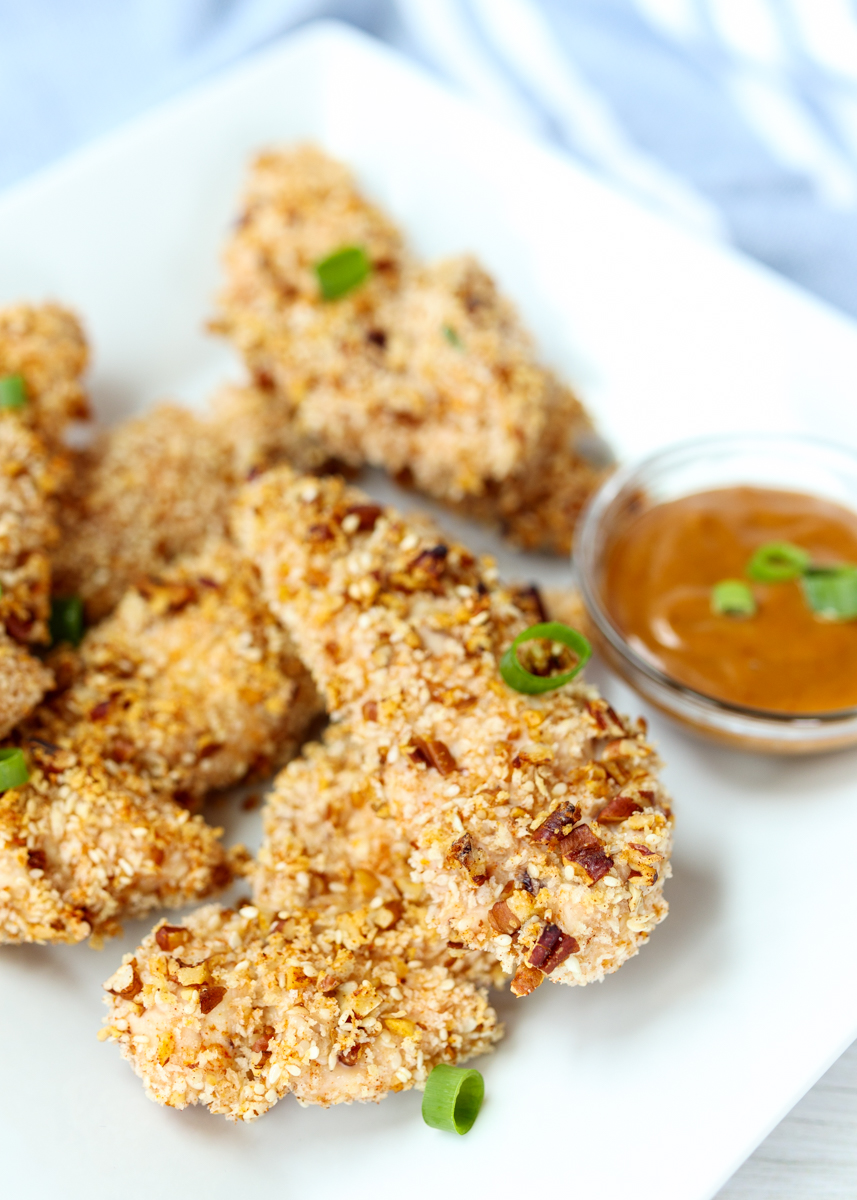 Crispy Sesame Pecan Chicken Tenders with a Hoisin Dipping Sauce
Ingredients
1 cup panko breadcrumbs
½ cup finely chopped pecans
¼ cup sesame seeds
1 teaspoon paprika
1 teaspoon salt
2 large egg whites
1½ pounds bone skinless chicken tenders, or breasts cut into 1" wide strips
2 tablespoons hoisin sauce
¼ cup mayonnaise
1 teaspoon lime juice
Cooking spray
Directions
Preheat the oven to 400 degrees F. Spray a wire cooling rack with nonstick cooking spray then place on top of a large baking sheet. Set aside.
In a shallow, wide bowl, combine the panko breadcrumbs, chopped pecans, sesame seeds, paprika and salt. Set aside.
In a medium bowl, beat the egg whites until frothy. Working with 1 tender at a time, dip the chicken in the egg whites then dip in the panko mixture to coat completely. Place on the prepared wire rack so the chicken tenders aren't touching. Lightly spray the top of the chicken with cooking spray (I use olive oil or coconut oil spray) then bake for 20-22 minutes. Chicken is done when it reaches an internal temperature of 165 degrees F. Keep on the wire rack until serving with the hoisin dipping sauce.
While the chicken is baking, make the hoisin dipping sauce. In a medium bowl combine the hoisin, mayo and lime juice.
 Recipe adapted from September 2011 issue of Food Network Magazine
.
Some of the links above are affiliate links, which means I may receive a small commission for my referral. This does not affect the retail cost of the item. Thank you for supporting Lemon & Mocha!