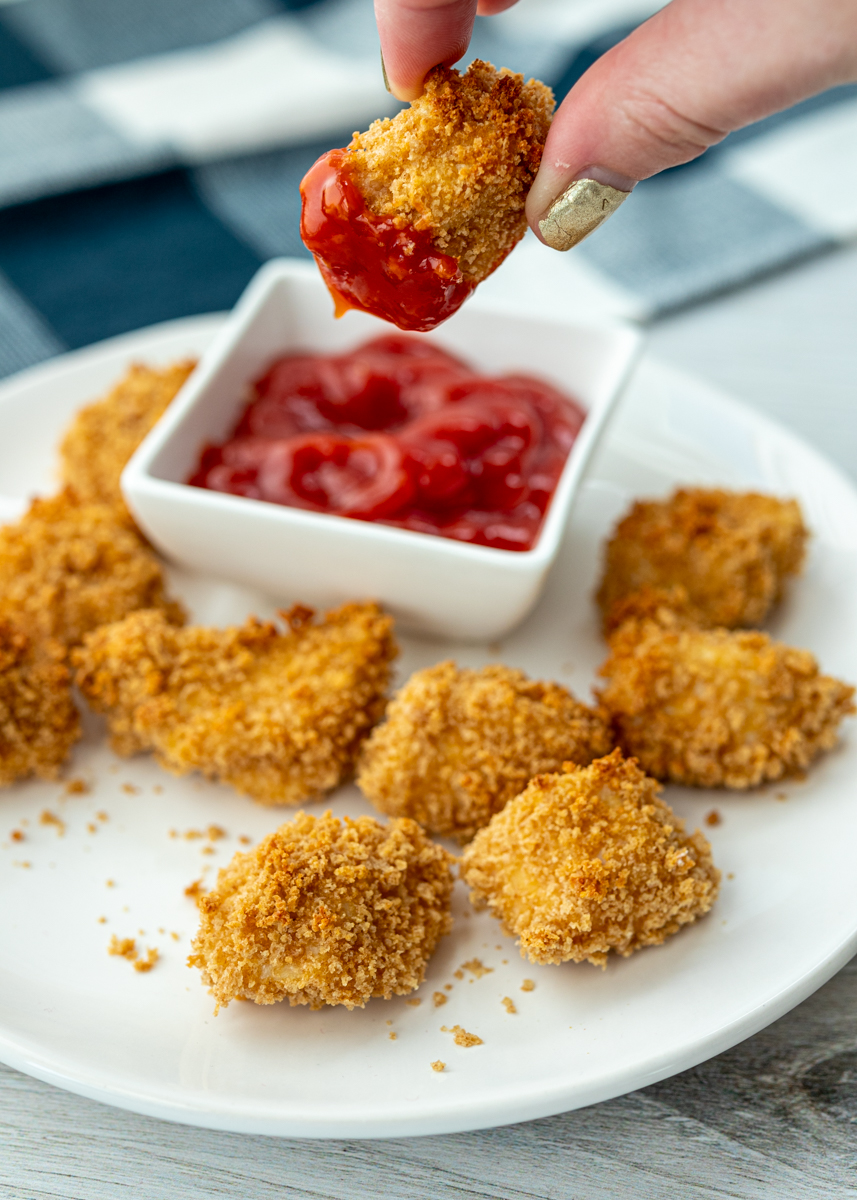 This is one of those simple recipes that I make regularly at our house and I'm finally getting around to sharing with you all. Whether you're a kid or an adult it's hard to beat a satisfying quick meal of crunchy chicken nuggets!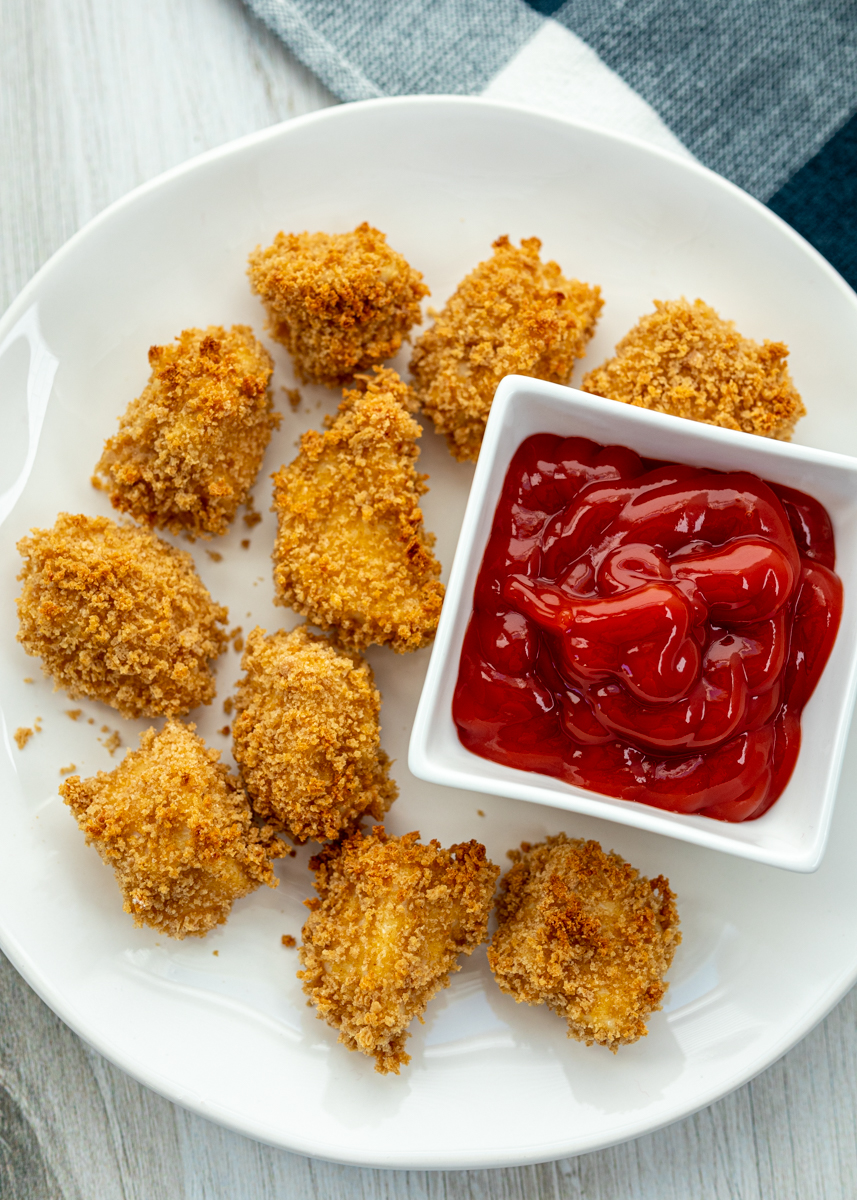 Although grocery stores are loaded with plenty of chicken nugget options, it's super easy to make a batch of homemade chicken nuggets to stash in your freezer for quick lunches and weeknight dinners. Baking them ourselves is also healthier and cleaner eating since we're using just four ingredients (if you don't count the seasonings).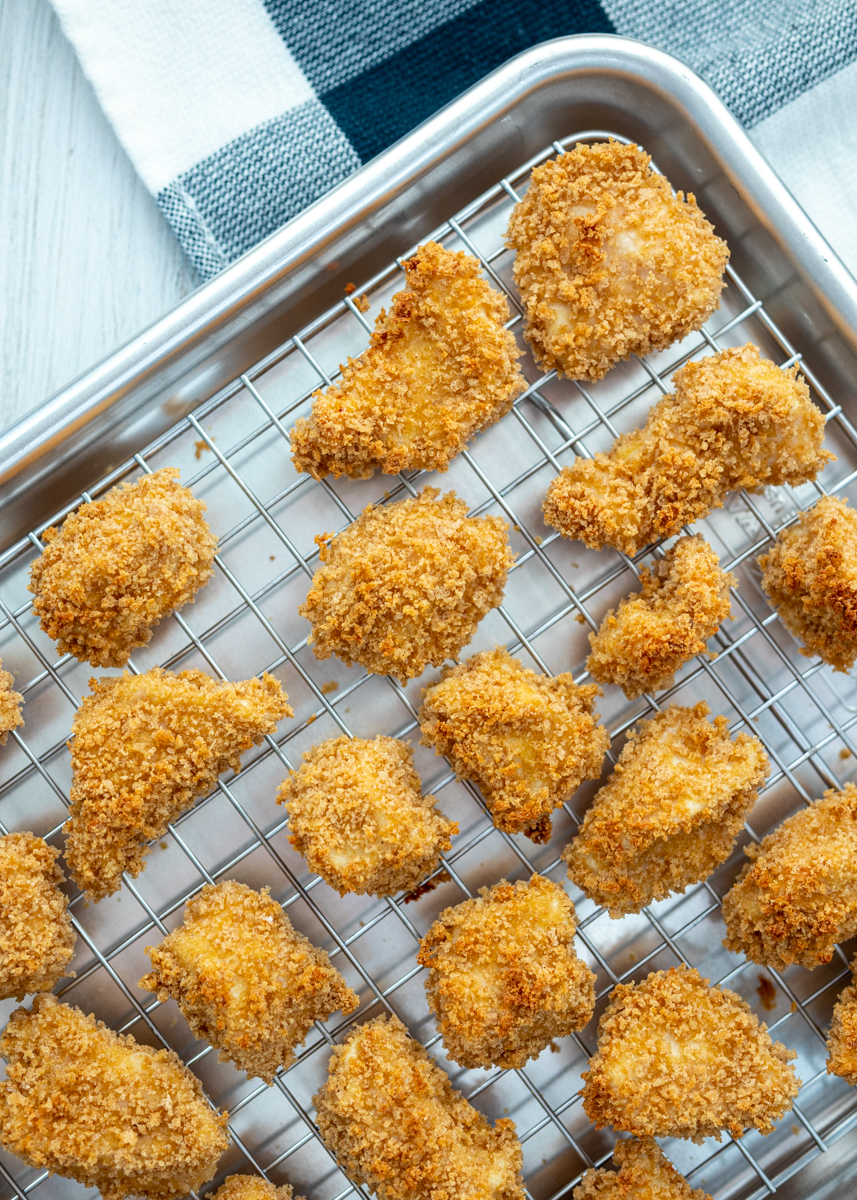 These little baked nuggets are crunchy, tender and ready for dipping into ketchup, honey mustard or whatever your preferred chicken nugget dipping sauce is! Now I'm sure most of you are curious about the crispiness and the freezing aspect so let's dive right in.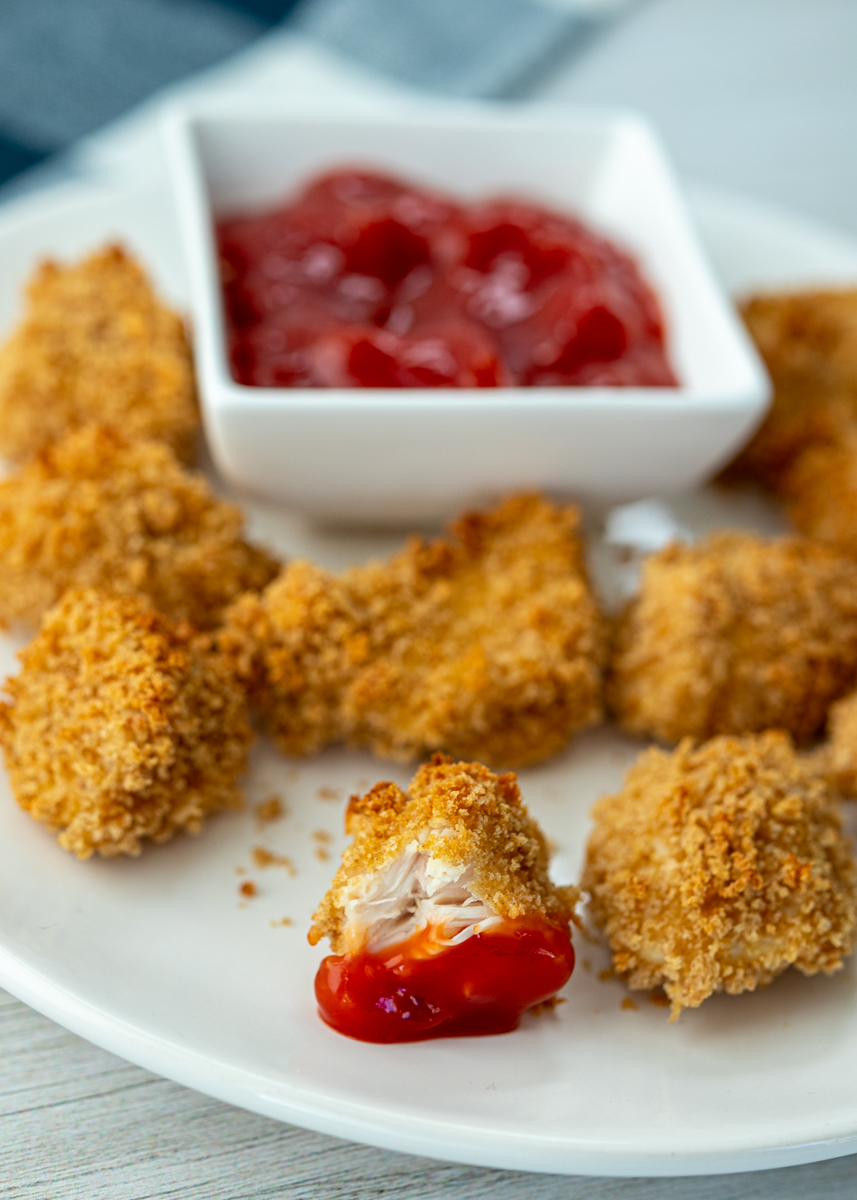 Are the chicken nuggets crispy?
Yes! So, so crispy! The nuggets get cooked on a wire cooling rack set on a baking sheet. The reason we do this is that, much like an air fryer, it allows the heat from the oven to circulate all around the chicken nuggets. This ensures the whole nugget is crispy. The nuggets are also crispy from the whole wheat panko breadcrumbs. Panko breadcrumbs are bigger, flakier and airier than regular breadcrumbs, giving the coating a great crunch. I like using whole wheat panko breadcrumbs for the chicken nuggets because they're a little healthier and because they have a nice golden color to them. If you use regular panko breadcrumbs the chicken nuggets will still taste just as good, but they will be very pale.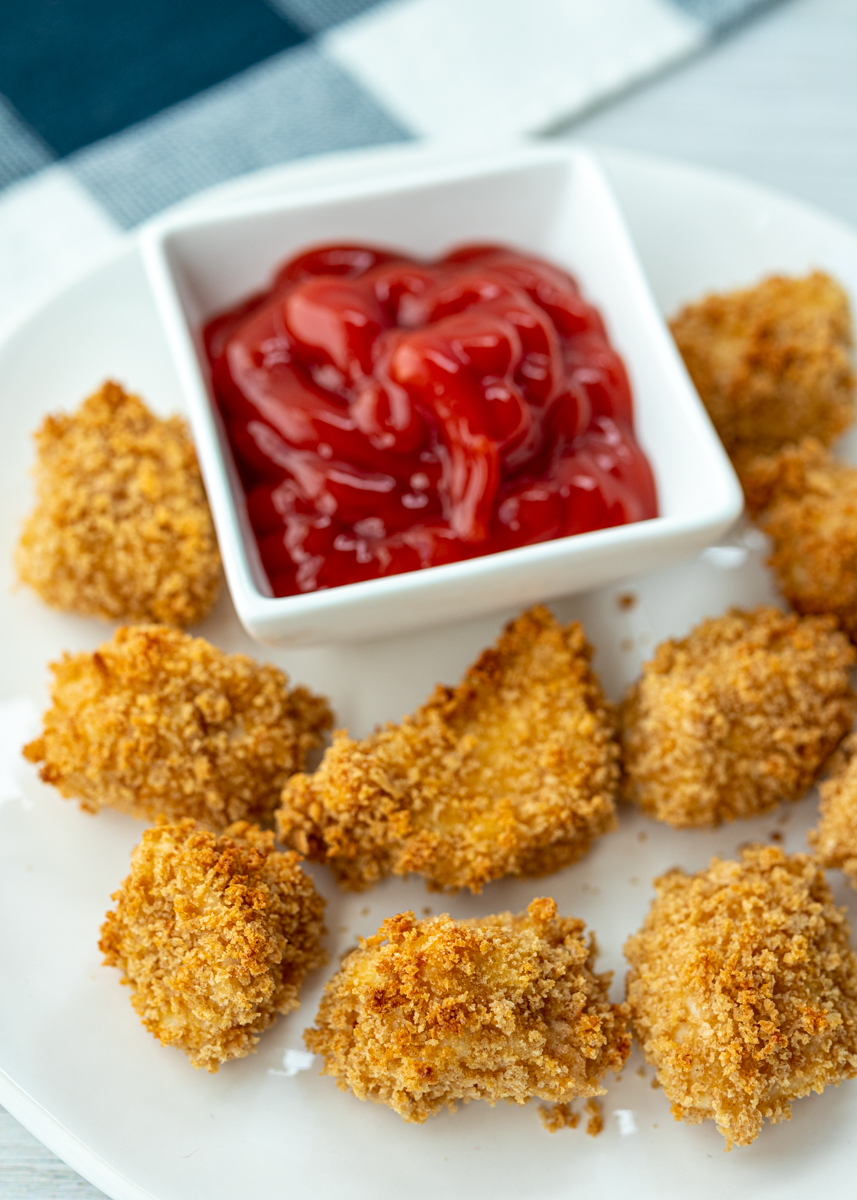 How do you freeze and reheat the chicken nuggets?
You can either freeze the chicken nuggets raw or cooked. I prefer to freeze them cooked to drastically cut down on reheating time since I make these for us to have as a quick meal. If you want to freeze the cooked chicken nuggets, let them cool completely then put in a freezer bag or freezer safe container. When you're ready to reheat the cooked nuggets, bake in a 400 degree F oven until warm, about 10 minutes. No need to do the whole cooling rack/baking sheet thing for reheating; simply reheat on a baking sheet. Or, since they're already cooked you could reheat them in the microwave for a super quick meal, but they will lose a lot of their crispiness. If you want to the freeze the nuggets raw, place the breaded nuggets on a parchment lined baking sheet then freeze until solid. Once frozen, place in a freezer bag or freezer safe container. To bake them raw from frozen, follow the same baking instructions, but you will have to add cook time to reach an internal temperature of 165 degrees F since you're baking them from frozen.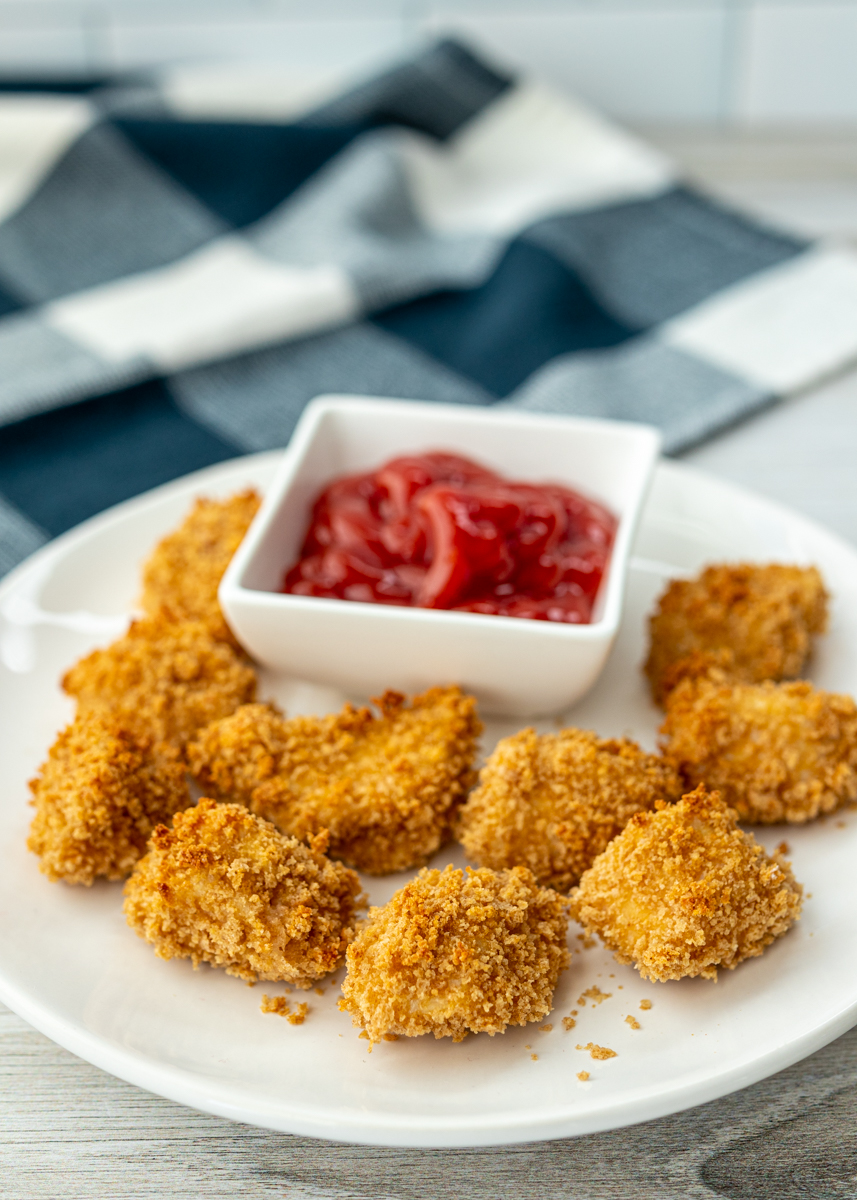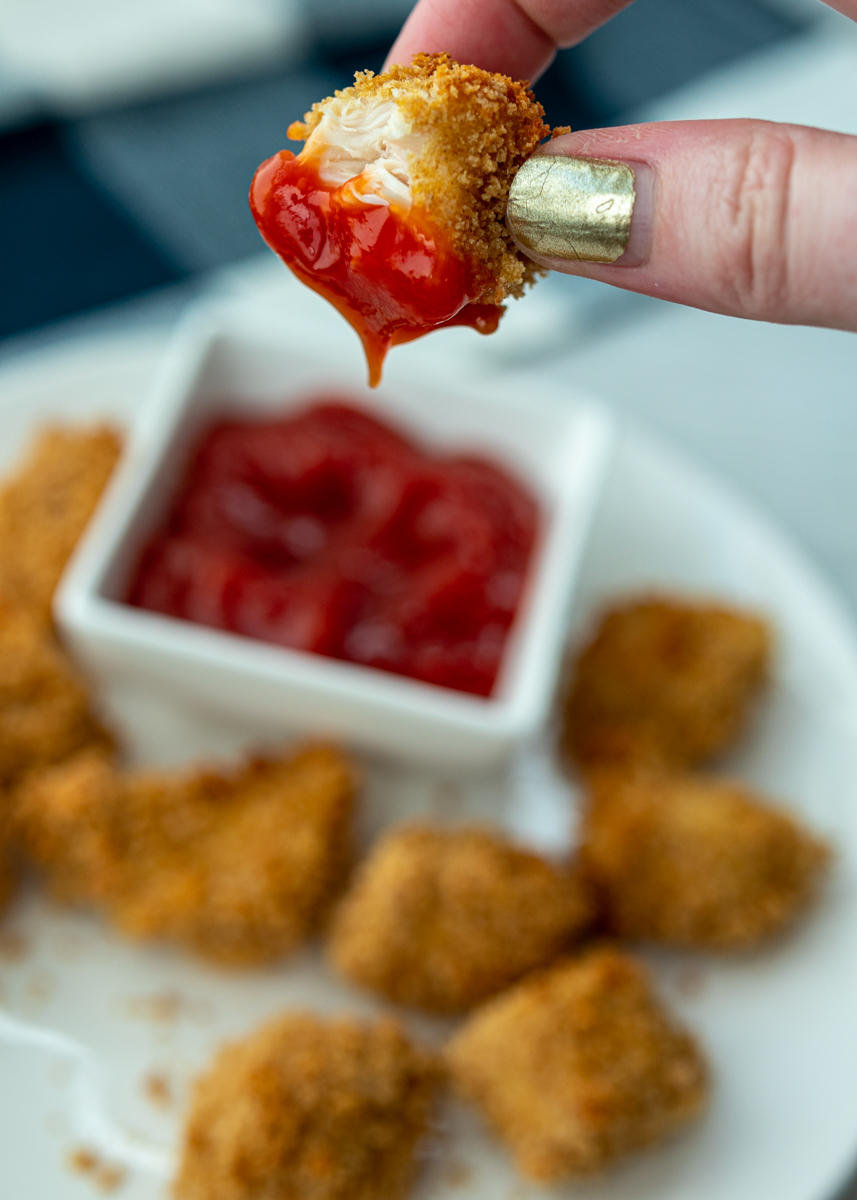 Freezer Friendly Easy Baked Chicken Nuggets
Ingredients
1 pound boneless skinless chicken breast, cut into cubes
2 eggs
1¼ cup whole wheat panko breadcrumbs
¼ cup all-purpose flour
Salt, pepper and garlic powder for seasoning
Directions
Preheat oven to 400 degrees F. Set a wire cooling rack over a baking sheet and spray with nonstick cooking spray. Set aside.
Set up your breading station. In one shallow bowl, beat the eggs. Place the panko in a second shallow bowl. In a third shallow bowl, add the flour then season with salt, pepper and garlic powder.
Bread the chicken nuggets. First, coat completely in the flour mixture, shaking off any excess. Then coat completely in the egg mixture, letting any excess drip off. Finally, coat completely in the panko mixture then place on the prepared wire rack. Repeat for the remaining chicken nuggets. I usually do about 6 pieces at a time. Bake the chicken nuggets for 20 minutes, or until they reach an internal temperature of 165 degrees F.
If freezing, let the nuggets cool completely. Then store in a freezer bag or freezer safe container. When ready to eat, bake on 400 degrees F until warm, about 10 minutes.