Leftover Halloween Candy Chocolate Lasagna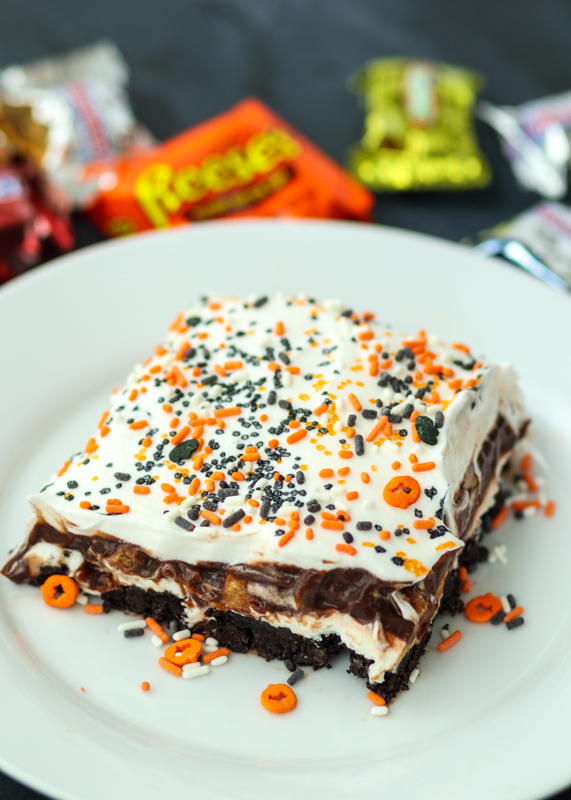 Happy Monday before Halloween! I don't love Halloween solely because of the candy, but all those Kit Kats and Reese's are definitely a big factor! No matter what age you are, you're bound to have leftover candy after Halloween. It may because your kids collected way more than they need so you snagged a stash for yourself. It may be because you bought several Costco size bags of candy, but no one in your neighborhood felt like coming to your house since it's on a "hill" – speaking from experience.
It may be because you went trick-or-treating at Disneyland's Mickey's Not So Scary Halloween Party, which Matt and I did two years ago and it was so much fun! Or maybe you just took advantage of all the after-holiday sales while you were hungry and felt at the time you really had to have all four bags of those fun size chocolate candy bars. Either way, now you have a bunch of candy and while it's great to eat on its own you can only do so much of that before you never want to look at a candy bar again.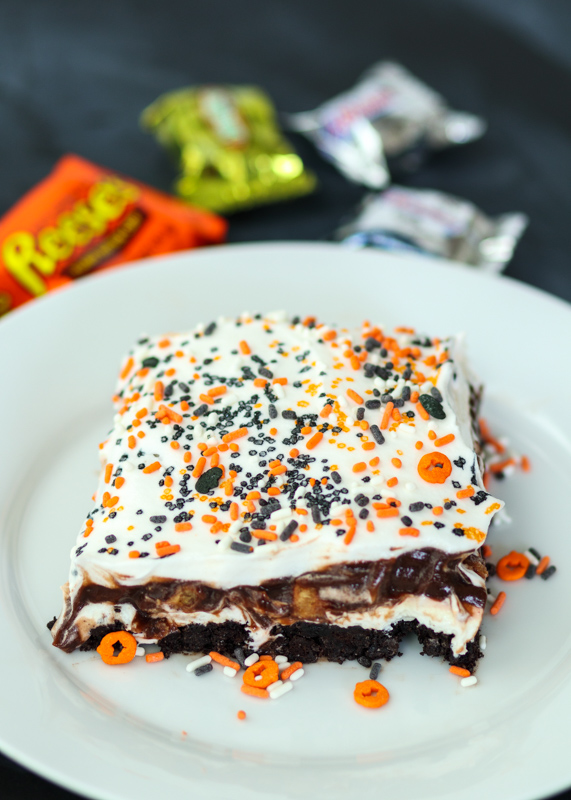 Enter this Halloween Chocolate Lasagna. I hesitate to call it a Chocolate Lasagna since I think the name makes people not want to try it, but according to the internet and Pinterest that is what this layered chocolatey dessert is called. The bottom layer is a no-bake Oreo crust. Next up we have a sweetened cream cheese layer that's been folded together with some whipped topping to make it light and fluffy. If you don't want to use store bought whipped topping you could always fold in some homemade whipped cream so I put those directions in the recipe as well. The next two layers are creamy chocolate pudding and then whipped topping. Don't forget the Halloween candy! You can use whichever chocolate candies you prefer. I chopped up Kit Kat, Reese's, Milky Way, Snicker's and 3 Musketeers and sneaked them in between the pudding layer.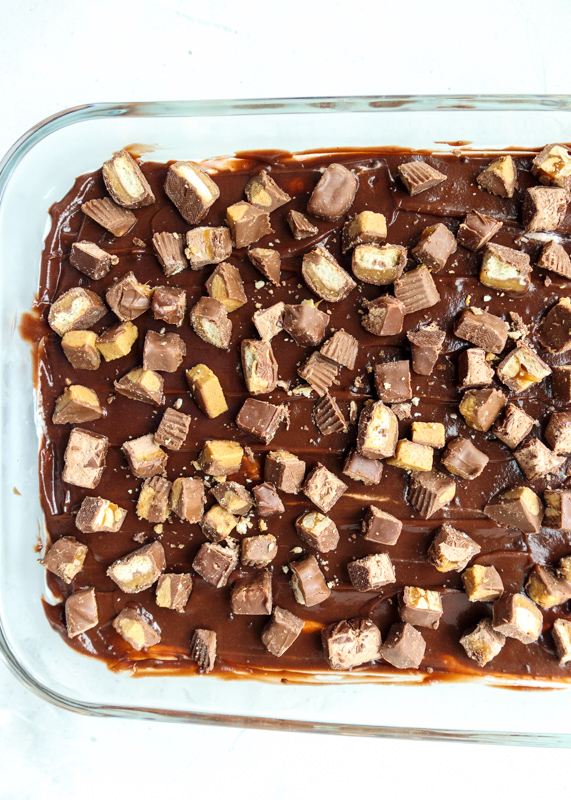 This dessert is addictive, especially with the candy added in as a fun surprise. It tastes incredibly light while you are eating it, but it's also very rich at the same time. Everyone who had this ate it up and they even each brought a bowl-full home.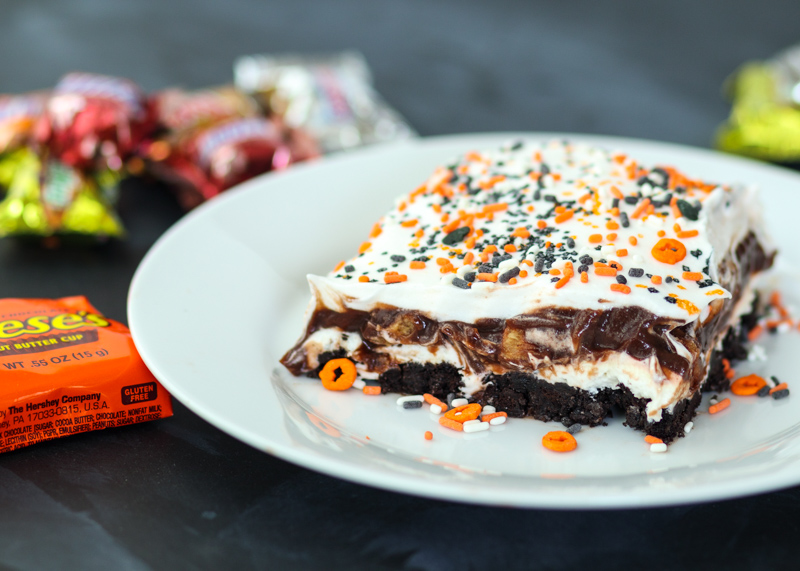 The first time I ever heard of Chocolate Lasagna was last year when Matt's mom made it for Christmas. The minute I saw all the whipped cream and chocolate I knew I was going to be in love. We kept the leftovers and by we I mean I may or may not have told Matt he couldn't have any 😂. When I thought of turning it into a leftover Halloween candy dessert I asked Matt's mom to send me the recipe so I could share it with all of you. And so I could get to eat it again since I had been dreaming about it since last Christmas. If you are looking for other leftover Halloween candy ideas, check out my Leftover Halloween Candy Cookies!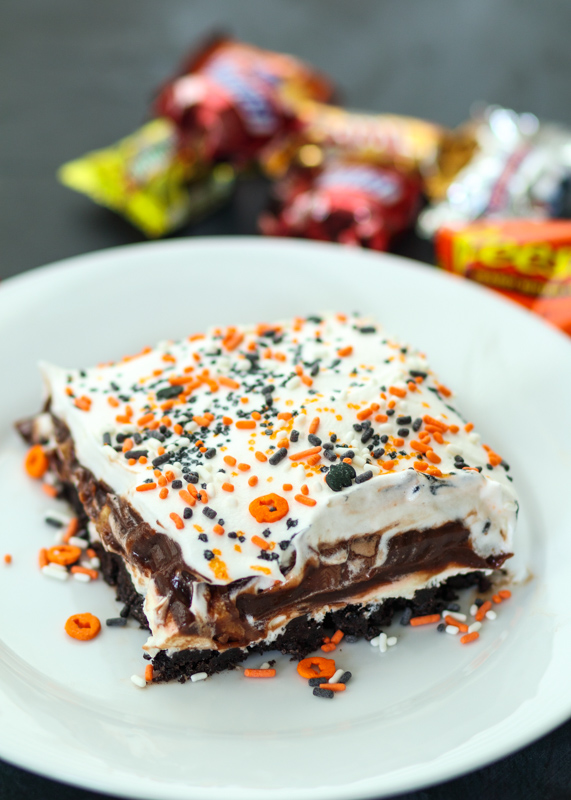 Leftover Halloween Candy Chocolate Lasagna
Ingredients
1 14.3-ounce package of Oreo cookies, about 36 Oreos (not double stuff)
6 tablespoons butter, melted
1 8-ounce package cream cheese, room temperature
¼ cup granulated sugar
2 tablespoons milk, cold (use any fat percentage of milk except non-fat)
12 ounces frozen whipped topping (Cool Whip), defrosted
2 4-ounce packages chocolate instant pudding
3¼ cups milk, cold (use at least 1% milk)
About 3 cups chopped leftover Halloween candy
Halloween sprinkles, for decorating
Directions
Crush the Oreo cookies using a food processor or by placing them in a large freezer bag and crushing them with a meat mallet or rolling pin. They don't need to be fine crumbs, but there shouldn't be any huge chunks of cookie. Pour the cookie crumbs into a large mixing bowl and stir in the melted butter until combined. Pour the crumb mixture into a 9x13 baking pan and press the crumbs to form an even layer on the bottom of the pan. Refrigerate while you work on the rest of the layers.
In the bowl of a stand mixer or in a large mixing bowl with a hand mixer, beat the cream cheese until light and fluffy. Add in the sugar and the 2 tablespoons of milk then beat until combined. Fold in 1¼ cups of the whipped topping and spread in an even layer over the Oreo crust.
In a medium mixing bowl (or the same one used for the Oreo crust), combine both chocolate instant pudding mixes with the 3¼ cups cold milk. Whisk until the pudding starts to thicken. This will take several minutes; be sure to scrape from the bottom as you whisk. Spread half of the pudding in an even layer over the cream cheese layer. Top with the chopped candies then pour over the remaining half of the pudding and smooth with a spatula. Let sit in the fridge for at least 5 minutes so the pudding can firm up more. Spread the remaining whipped topping over the pudding layer. Place in the fridge for 4 hours or the freezer for 1 hour before serving. Add the Halloween sprinkles right before serving (the colors on the sprinkles may run if you add them ahead of time).
Notes
If you would prefer to use fresh whipped cream instead of frozen whipped topping, follow this substitution. Beat 1¾ cups cold heavy cream (in a cold metal mixing bowl with a cold beater is preferred) with ¾ cup powdered sugar and 1 teaspoon of vanilla extract until you have stiff peaks. This will make about 4 cups whipped cream.
Recipe from

Genius Kitchen

.