Leftover Halloween Candy Cookies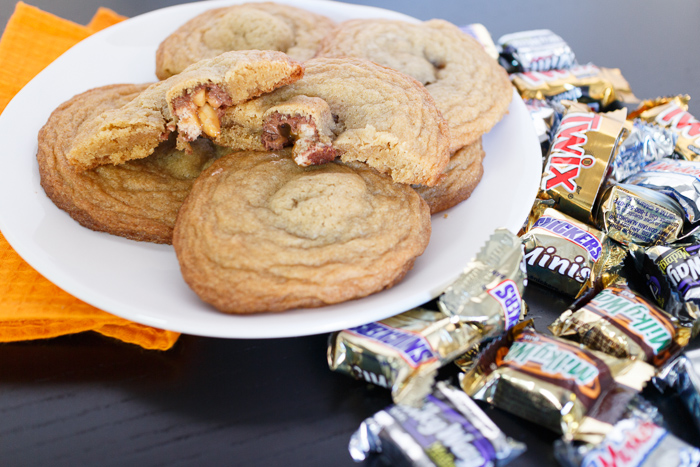 Happy Halloween! I wanted to post a recipe that would utilize leftover Halloween candy and I came across this idea in a magazine. Cookies are delicious, but what makes them even more decadent? Candy! Most people usually have leftover Halloween candy so you may find yourself in this very situation tomorrow. Maybe you didn't get that many trick-or-treaters this year or you bought too much because you were worried about running out. Or maybe you live in an apartment building with no kids, but bought a bag of Halloween candy anyways because you have serious chocolate addiction problems that you should really see someone about.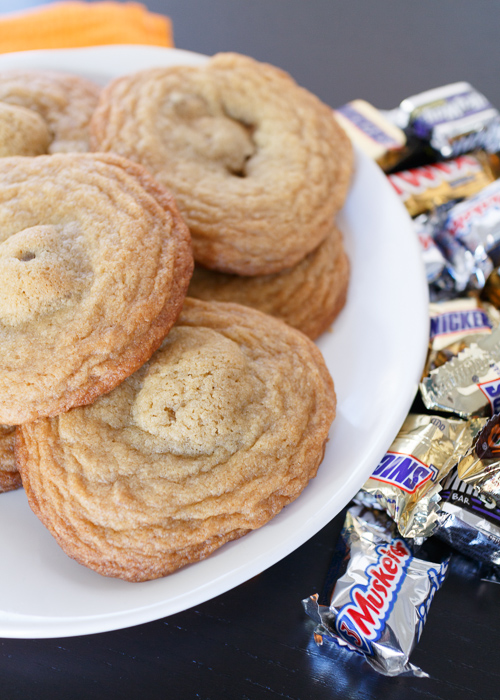 For all you leftover candy havers it's time to reinvent your candy. Sick of all those miniature Milky Ways? Transform them into cookies! Suddenly it's a whole new food group. For all those less fortunate folks who got picked clean from those neighborhood rascals, don't pout just yet. Now all the Halloween candy is on sale; unless they already replaced it with Christmas candy, which is both extremely possible and incredibly ridiculous. So go buy some so you can put it in these cookies.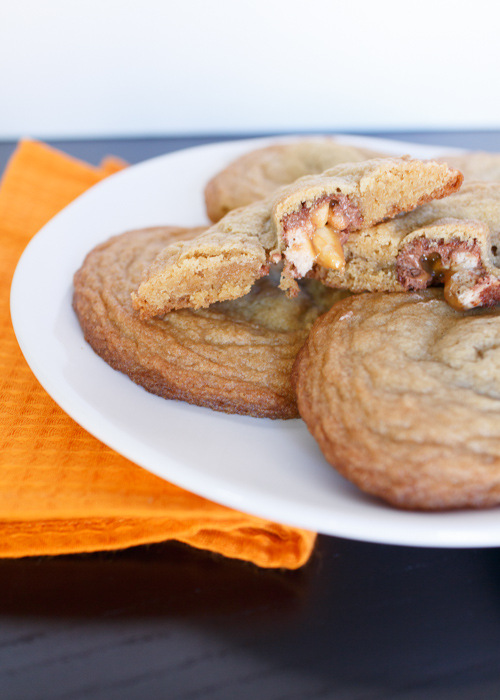 I used miniature candies for these, but if you're one of those houses that hands out the full size candy bars, first of all kids everywhere thank and applaud you. Second, you can just add an extra step and cut your large candy bars into one inch squares to use in this recipe.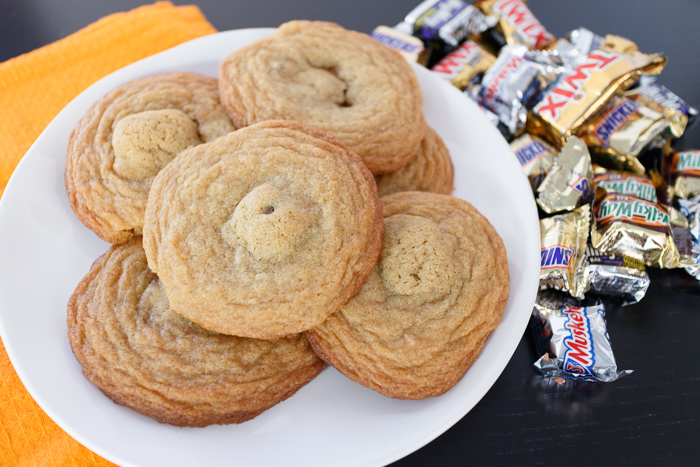 The cookies are soft and chewy, which nestles the gooey candy center perfectly. I used a chocolate chip cookie base without the chocolate chips, but if you're feeling extra devilish this Halloween you can always add one cup of chips to the batter. Muhahaha!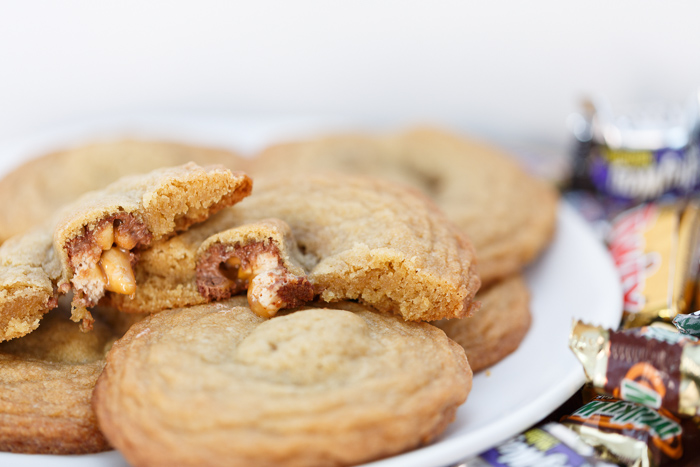 Leftover Halloween Candy Cookies
Ingredients
14 tablespoons unsalted butter
1 ¾ cups all-purpose flour
½ teaspoon baking soda
¾ cup dark brown sugar
½ cup sugar
2 teaspoons vanilla extract
1 teaspoon salt
1 large egg
1 large egg yolk
16 unwrapped miniature chocolate candies
Directions
Preheat the oven to 375 degrees. Line 2 baking sheets with parchment paper.
Melt 10 tablespoons of the butter in a small saucepan over medium-high heat.
While the butter is melting, whisk together the flour and baking soda in a medium mixing bowl.
When the butter has melted, keep it on the heat and swirl the pan until the butter is a golden brown. This should take 2-3 minutes. Remove the saucepan from the heat and stir in the remaining 4 tablespoons of butter. Continue to stir until completely melted then transfer to a large mixing bowl.
Add the brown sugar, sugar, vanilla and salt to the bowl with the butter. Whisk to combine.
Add the egg and egg yolk to the butter mixture. Whisk until the mixture is smooth.
Let the mixture sit for 2 minutes then whisk again for 30 seconds. Repeat this 1 more time so that the mixture is smooth and shiny.
Using a rubber spatula carefully stir the flour mixture into the butter mixture until just combined. If you were including chocolate chips you would add 1 cup of them to the batter after this step.
Scoop out about 3 tablespoons of batter and press one of the unwrapped candies into the center. Carefully form a ball with the batter and the candy in the center with your hands then place on the baking sheet.
Continue this process until you have 16 cookies total, 8 per baking sheet.
Bake 1 tray at a time for 8-10 minutes or until the edges have begun to set and the cookies are golden. Rotate the baking sheet halfway through the baking time.
Set the baking sheet on a wire rack and let sit for a few minutes then transfer cookies to the wire rack using a spatula to cool.
Recipe slightly adapted from May & June 2009 issue of

Cook's Illustrated

.
Inspiration from October 2011 issue of

Everyday Food

.