Prosciutto & Gruyere Pinwheels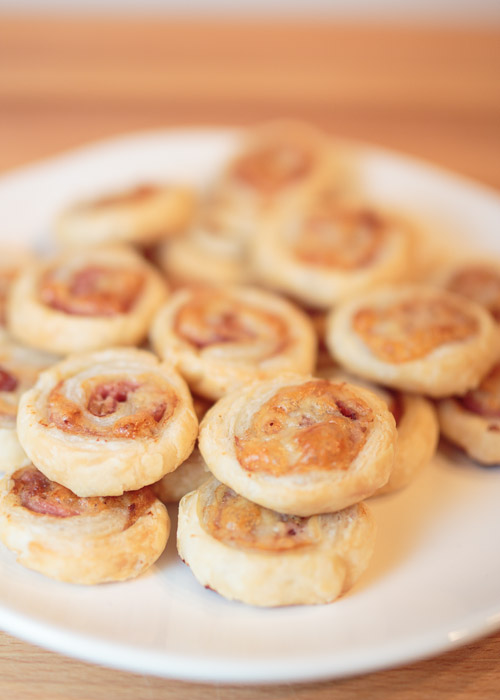 Sometimes the simple things in life are the most delicious. Especially when they involve cheese. And prosciutto; prosciutto makes everything better. These prosciutto and gruyere pinwheels made with puff pastry are simple, delicious and fitting for the next time you're cooking for guests.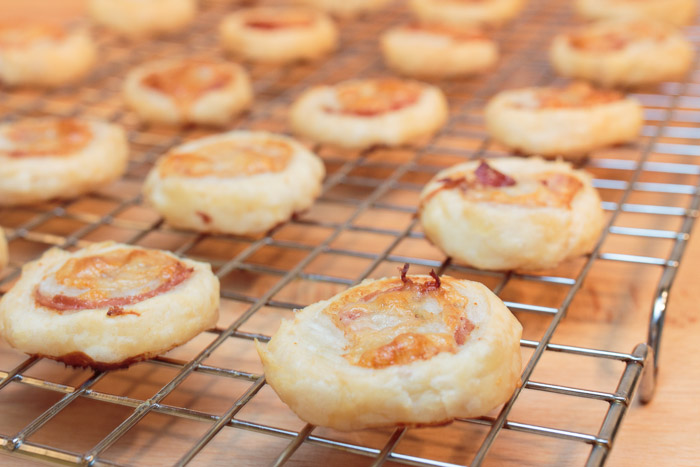 Every year my friend goes on a trip with the same group of women and for one of the nights they have an appetizer party. All the women bring a couple appetizers and they cook the miniature items up for dinner. Brilliant! Smaller sizes of candy is a total bummer. But bite sized food? Now that's a whole different ball game. The joy of appetizers is that you can have thirds, fourths and fifths. Just do a little drive by on your way to refill your wine glass and pop a pinwheel in your mouth. No one will be the wiser!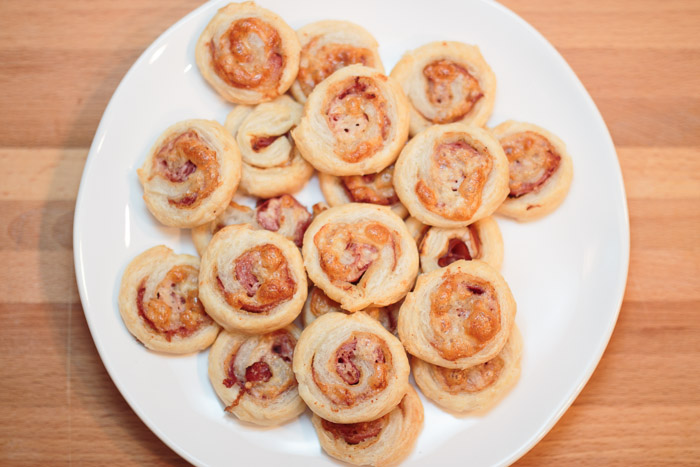 This year my friend commissioned me to make her appetizers and these pinwheels made it on the list. According to my friend the pinwheels were one of the favorites of the trip. I tried one and the buttery flakiness of the puff pastry with the saltiness of the prosciutto and the creaminess of the cheese made it an incredibly satisfying bite. A kind of bite you would pull an oh-I-don't-mind-if-I-do-definitely-not-my-sixth maneuver on.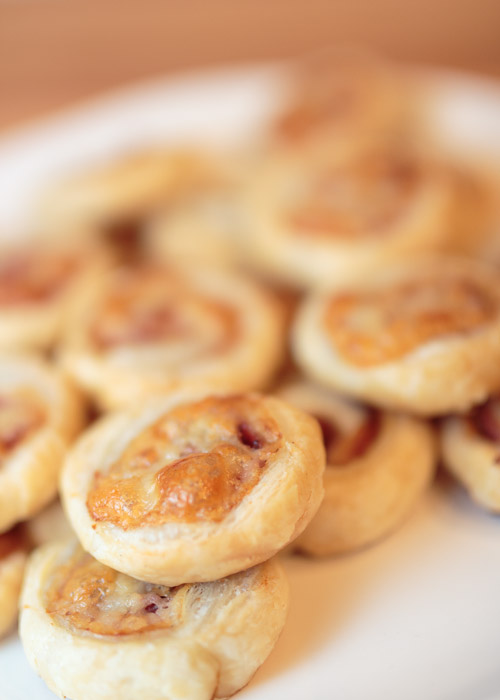 Except I couldn't do that. I could have one. As in singular. And that, my friends, is why I could never be a caterer. You make all this food, but aren't able to sit down and have a major snarf session when it's all done? Torture! So when you make these pinwheels cook up some extra so you and all your guests can have fifths and sixths.

Prosciutto & Gruyere Pinwheels
Ingredients
1 sheet frozen puff pastry
1 tablespoon dijon mustard
3 ounces thinly sliced prosciutto
1 cup shredded gruyere cheese
1 egg, beaten
Directions
Defrost both puff pastry sheets according to the directions on the package.
Preheat the oven to 400 degrees F and line a baking sheet with parchment paper.
Lay the defrosted puff pastry flat and evenly spread the mustard leaving a ½ inch border on 1 long side of the puff pastry.
Evenly place the prosciutto on the mustard topped puff pastry.
Sprinkle the shredded cheese evenly over the prosciutto.
Brush the beaten egg on the ½ inch border.
Roll the topped puff pastry up the long way starting at the long edge without the egg, similar to rolling a jelly roll. Make sure the roll is sealed.
Wrap the roll in plastic wrap and place in the fridge for at least 2 hours.
Take the roll out of the fridge and cut into ½ inch slices.
Place the slices on the prepared baking sheet and bake for 10-12 minutes. Cool on a wire rack.
Recipe adapted from 

Pepperidge Farms

.