Prosciutto & Gruyere Pinwheels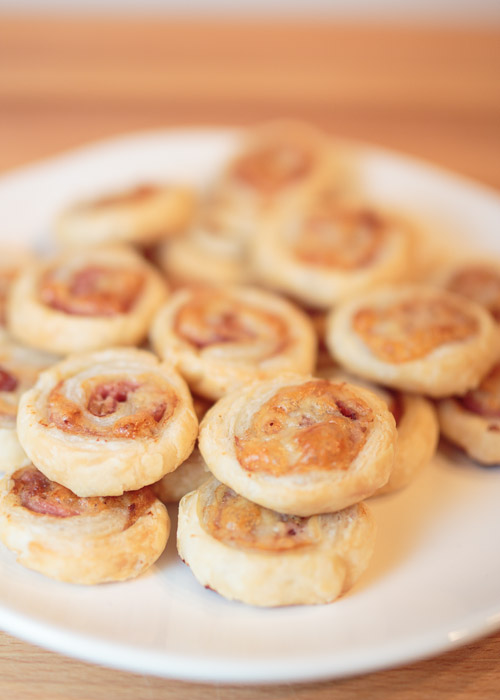 1 sheet frozen puff pastry
1 tablespoon dijon mustard
3 ounces thinly sliced prosciutto
1 cup shredded gruyere cheese
1 egg, beaten
Defrost both puff pastry sheets according to the directions on the package.
Preheat the oven to 400 degrees F and line a baking sheet with parchment paper.
Lay the defrosted puff pastry flat and evenly spread the mustard leaving a ½ inch border on 1 long side of the puff pastry.
Evenly place the prosciutto on the mustard topped puff pastry.
Sprinkle the shredded cheese evenly over the prosciutto.
Brush the beaten egg on the ½ inch border.
Roll the topped puff pastry up the long way starting at the long edge without the egg, similar to rolling a jelly roll. Make sure the roll is sealed.
Wrap the roll in plastic wrap and place in the fridge for at least 2 hours.
Take the roll out of the fridge and cut into ½ inch slices.
Place the slices on the prepared baking sheet and bake for 10-12 minutes. Cool on a wire rack.
Recipe by
Lemon & Mocha
at http://www.lemonandmocha.com/2013/10/29/prosciutto-gruyere-pinwheels/