Leftover Halloween Candy Cookies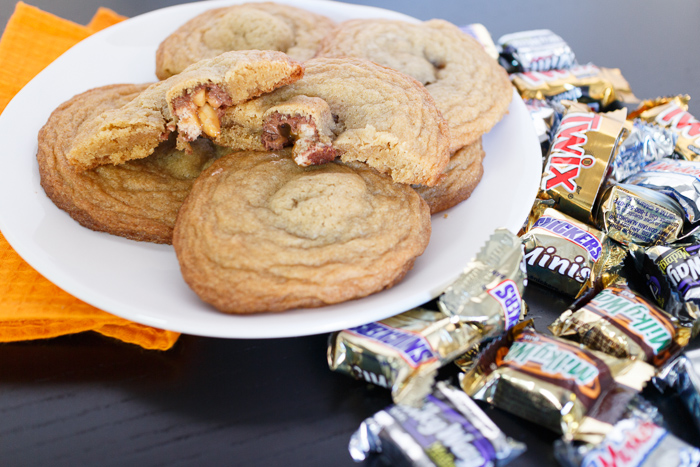 14 tablespoons unsalted butter
1 ¾ cups all-purpose flour
½ teaspoon baking soda
¾ cup dark brown sugar
½ cup sugar
2 teaspoons vanilla extract
1 teaspoon salt
1 large egg
1 large egg yolk
16 unwrapped miniature chocolate candies
Preheat the oven to 375 degrees. Line 2 baking sheets with parchment paper.
Melt 10 tablespoons of the butter in a small saucepan over medium-high heat.
While the butter is melting, whisk together the flour and baking soda in a medium mixing bowl.
When the butter has melted, keep it on the heat and swirl the pan until the butter is a golden brown. This should take 2-3 minutes. Remove the saucepan from the heat and stir in the remaining 4 tablespoons of butter. Continue to stir until completely melted then transfer to a large mixing bowl.
Add the brown sugar, sugar, vanilla and salt to the bowl with the butter. Whisk to combine.
Add the egg and egg yolk to the butter mixture. Whisk until the mixture is smooth.
Let the mixture sit for 2 minutes then whisk again for 30 seconds. Repeat this 1 more time so that the mixture is smooth and shiny.
Using a rubber spatula carefully stir the flour mixture into the butter mixture until just combined. If you were including chocolate chips you would add 1 cup of them to the batter after this step.
Scoop out about 3 tablespoons of batter and press one of the unwrapped candies into the center. Carefully form a ball with the batter and the candy in the center with your hands then place on the baking sheet.
Continue this process until you have 16 cookies total, 8 per baking sheet.
Bake 1 tray at a time for 8-10 minutes or until the edges have begun to set and the cookies are golden. Rotate the baking sheet halfway through the baking time.
Set the baking sheet on a wire rack and let sit for a few minutes then transfer cookies to the wire rack using a spatula to cool.
Recipe by
Lemon & Mocha
at http://www.lemonandmocha.com/2013/10/31/leftover-halloween-candy-cookies/