Boozy Pumpkin Nutella Hot Chocolate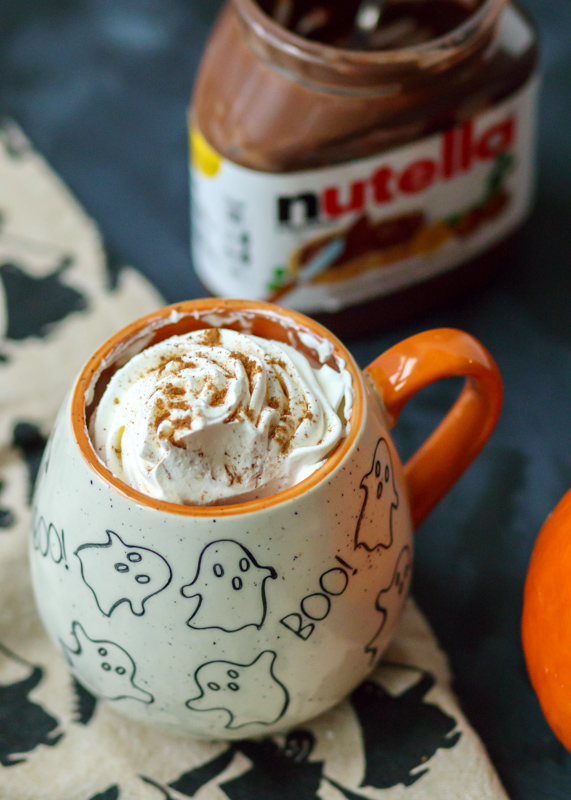 Happy Halloween, everyone! I wanted to send out a quick post to wish you all a Happy Halloween and to share an easy and creamy hot chocolate recipe. This Boozy (or non-boozy) Pumpkin Nutella Hot Chocolate is perfect for staying warm while passing out Halloween candy or for pouring into a to-go mug to sip on while taking your kids trick-or-treating.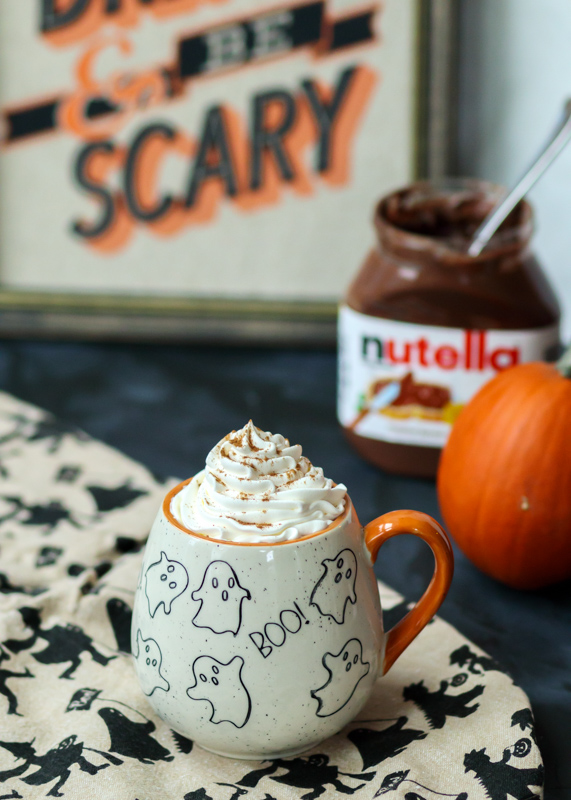 A couple years ago I shared my Spiked Hazelnut Hot Chocolate, also known as when I discovered you could combine hot milk and Nutella to make a irresistible homemade hot chocolate. Mind still blown!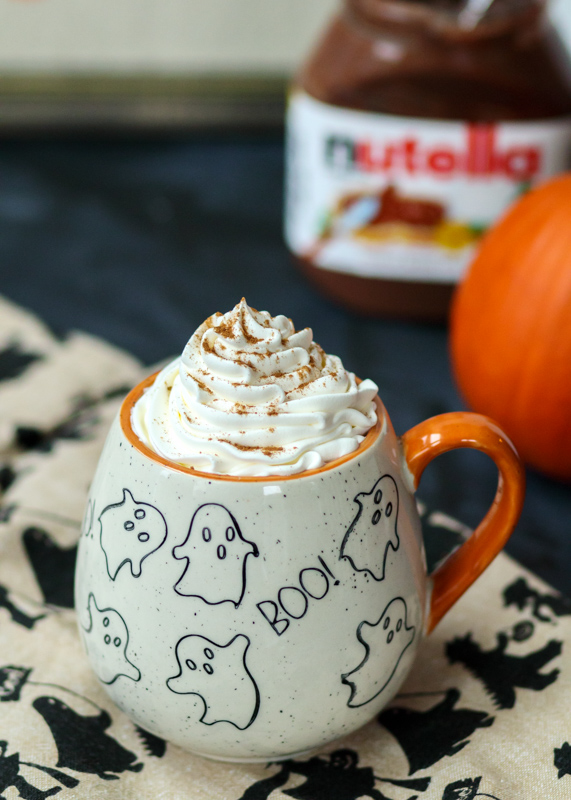 This year I've added some pumpkin puree and pumpkin pie spice since I'm about all things pumpkin in the fall. Both the chocolatey Nutella and the warming spice of the pumpkin come through and the whipped cream on top is key for making it extra cozy. I tried to slowly sip on mine to make it last, but as soon as it got cool enough next thing I knew my mug was empty. I love the extra depth of flavor the pumpkin adds to the hot chocolate so I'll probably be making this one all hot chocolate season long. Yes, hot chocolate season is a thing!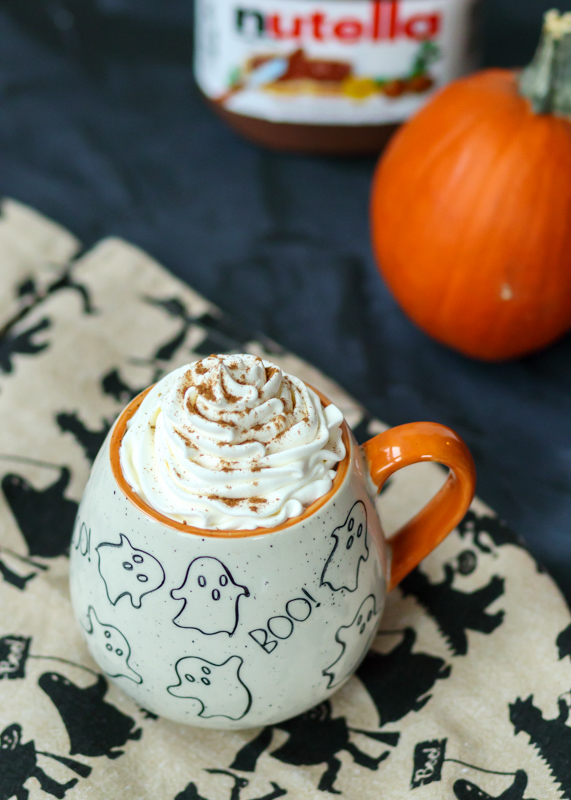 You can keep this drink alcohol free for the kids and non-drinkers or you can turn it into Boozy Pumpkin Nutella Hot Chocolate. My original Spiked Hazelnut Hot Chocolate recipe called for some hazelnut liquor, like Frangelico, but apparently there is a pumpkin spice Kahlua that tastes really good according to Adam Rippon that would taste so good in this boozy hot chocolate. The recipe below only makes one, but I have a feeling you're going to need to multiply that so you can share!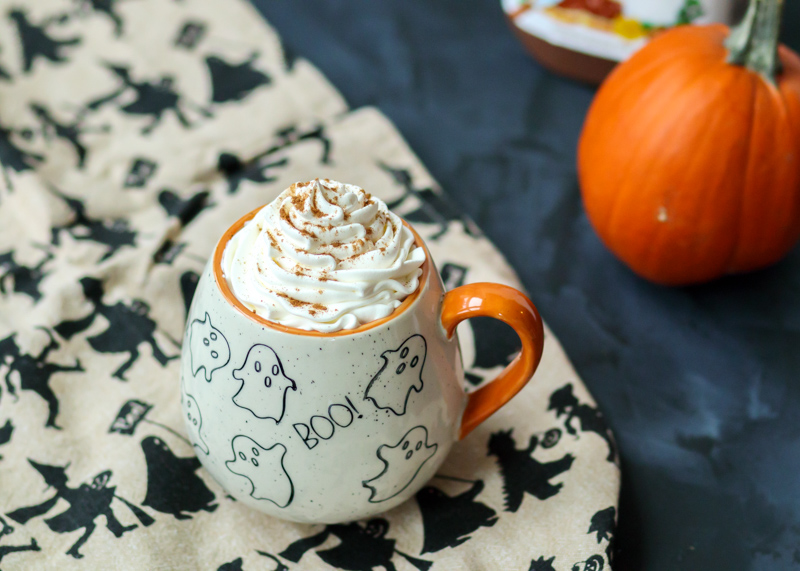 Just a reminder that I'll be in Japan starting today for the next week and a half so if I don't get to your comments or emails right away that is why. <Insert all the excited and sushi emojis here!!!> I hope you all enjoy today and tonight with your family and friends! What are your plans for Halloween? Let me know in the comments below! Maybe making this Boozy Pumpkin Nutella Hot Chocolate?!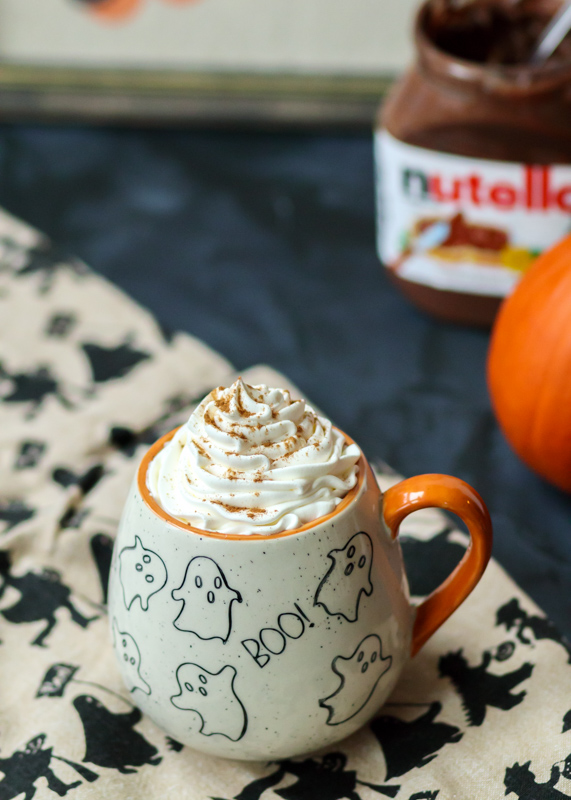 Boozy Pumpkin Nutella Hot Chocolate
Ingredients
1 cup milk
2 tablespoons Nutella
1 tablespoon pumpkin puree
1 tablespoon hazelnut liquor or pumpkin spice Kahlua, optional
¼ teaspoon pumpkin pie spice, plus more for topping
Whipped cream
Directions
Heat the milk on the stove top or in the microwave until lightly steaming. Add the Nutella, pumpkin puree, liquor (if using), and pumpkin pie spice. Whisk until smooth. Top with whipped cream and a light dusting of pumpkin pie spice.
Notes
You can use any type of milk that you prefer.