Leftover Halloween Candy Chocolate Lasagna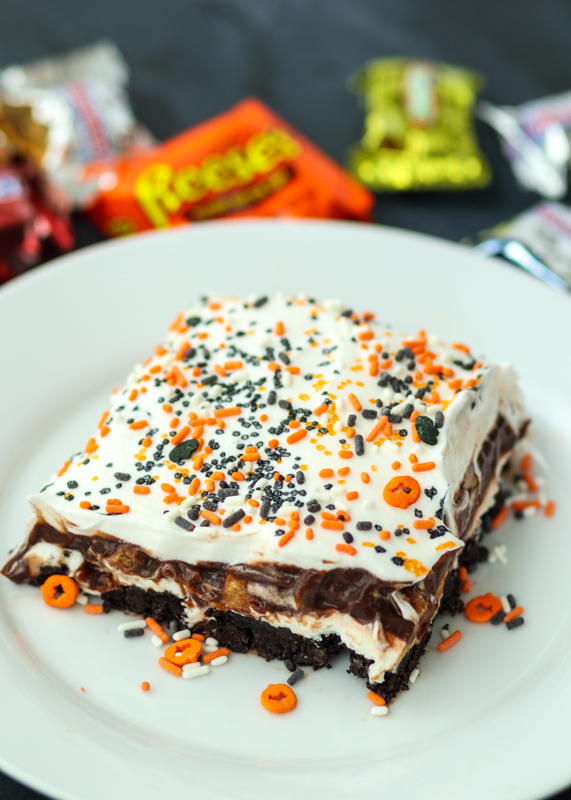 1 14.3-ounce package of Oreo cookies, about 36 Oreos (not double stuff)
6 tablespoons butter, melted
1 8-ounce package cream cheese, room temperature
¼ cup granulated sugar
2 tablespoons milk, cold (use any fat percentage of milk except non-fat)
12 ounces frozen whipped topping (Cool Whip), defrosted
2 4-ounce packages chocolate instant pudding
3¼ cups milk, cold (use at least 1% milk)
About 3 cups chopped leftover Halloween candy
Halloween sprinkles, for decorating
Crush the Oreo cookies using a food processor or by placing them in a large freezer bag and crushing them with a meat mallet or rolling pin. They don't need to be fine crumbs, but there shouldn't be any huge chunks of cookie. Pour the cookie crumbs into a large mixing bowl and stir in the melted butter until combined. Pour the crumb mixture into a 9x13 baking pan and press the crumbs to form an even layer on the bottom of the pan. Refrigerate while you work on the rest of the layers.
In the bowl of a stand mixer or in a large mixing bowl with a hand mixer, beat the cream cheese until light and fluffy. Add in the sugar and the 2 tablespoons of milk then beat until combined. Fold in 1¼ cups of the whipped topping and spread in an even layer over the Oreo crust.
In a medium mixing bowl (or the same one used for the Oreo crust), combine both chocolate instant pudding mixes with the 3¼ cups cold milk. Whisk until the pudding starts to thicken. This will take several minutes; be sure to scrape from the bottom as you whisk. Spread half of the pudding in an even layer over the cream cheese layer. Top with the chopped candies then pour over the remaining half of the pudding and smooth with a spatula. Let sit in the fridge for at least 5 minutes so the pudding can firm up more. Spread the remaining whipped topping over the pudding layer. Place in the fridge for 4 hours or the freezer for 1 hour before serving. Add the Halloween sprinkles right before serving (the colors on the sprinkles may run if you add them ahead of time).
If you would prefer to use fresh whipped cream instead of frozen whipped topping, follow this substitution. Beat 1¾ cups cold heavy cream (in a cold metal mixing bowl with a cold beater is preferred) with ¾ cup powdered sugar and 1 teaspoon of vanilla extract until you have stiff peaks. This will make about 4 cups whipped cream.
Recipe by
Lemon & Mocha
at http://www.lemonandmocha.com/2018/10/29/leftover-halloween-candy-chocolate-lasagna/