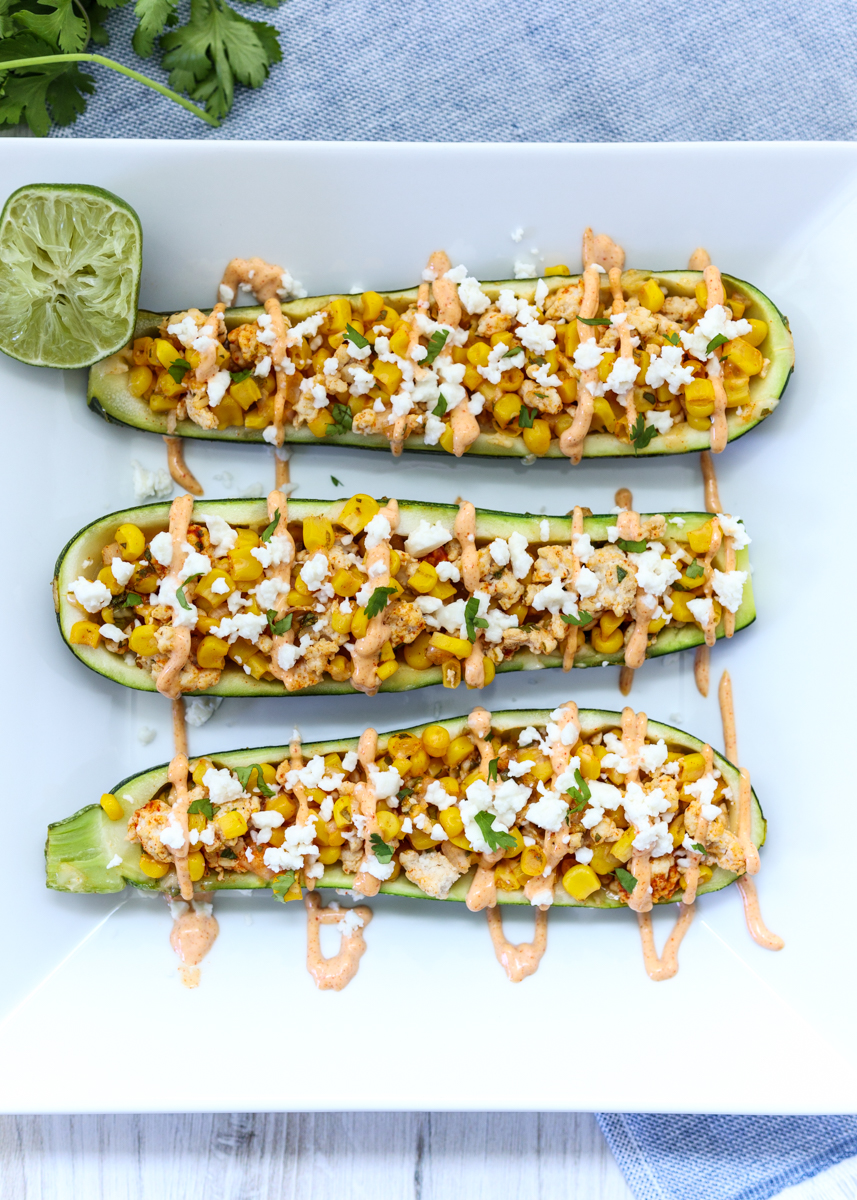 Another elote dish?! I know, I know, I just can't get enough of it during the summer! Elote, also known as Mexican street corn, is fresh, zesty, creamy, cheesy and everything you want in a summertime snack.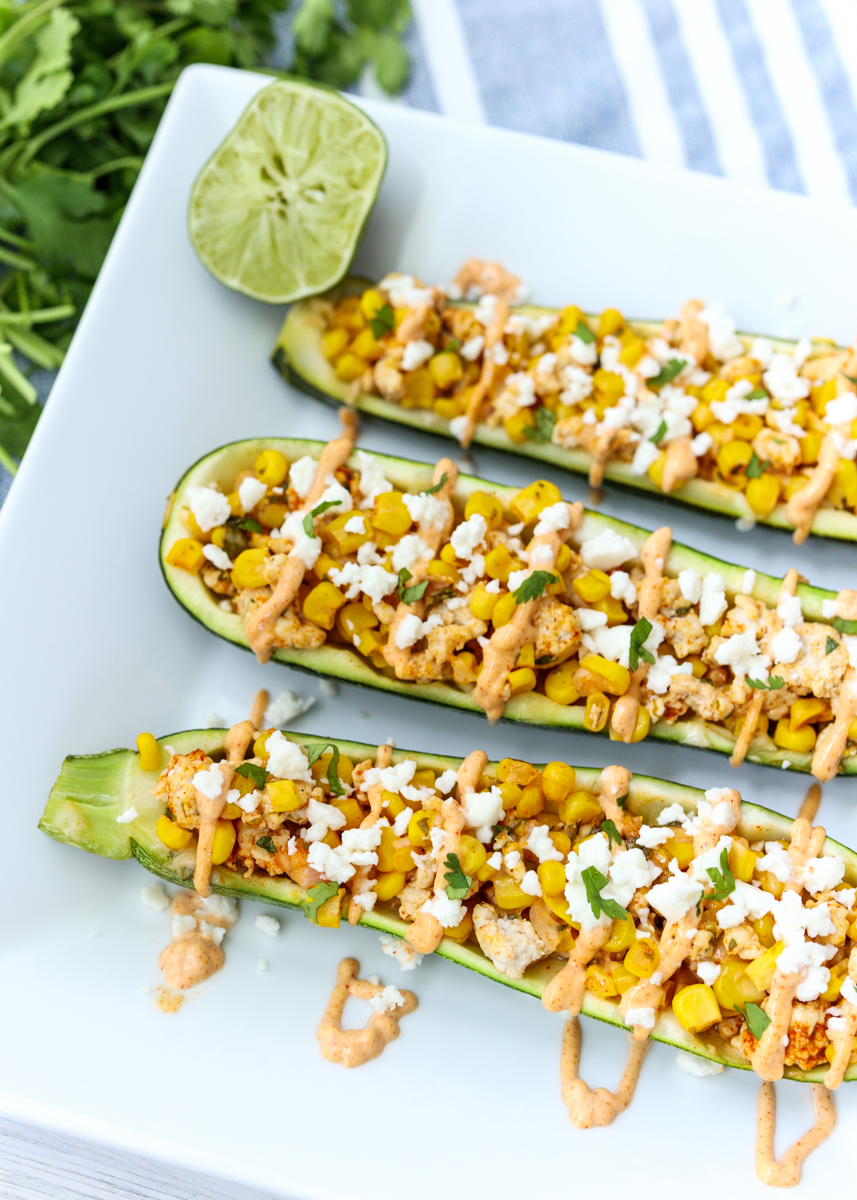 To recap, here on Lemon & Mocha I have recipes for Elote Wonton Bites, Elote Pizza, Elote Hot Dogs and Mexican Street Corn Pasta Salad. Now add in this dinner-worthy Elote Stuffed Zucchini. Zucchini and corn are already a classic summer pairing so it all made sense to hook them up together in this new elote twist.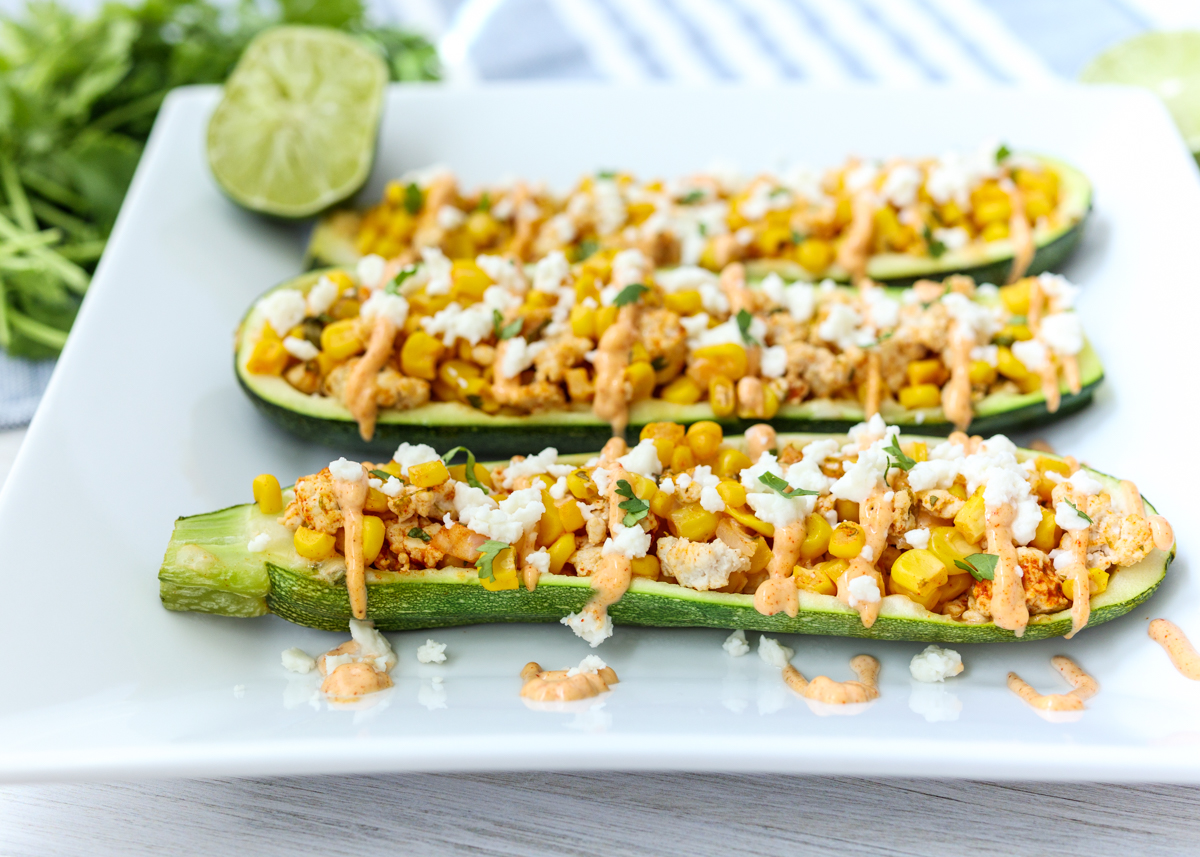 In addition to the traditional lime, chili powder, salt and cotija cheese, which is a crumbly Mexican cheese, I've added in ground chicken to make the meal a little heartier as well as some shredded mozzarella to make it extra cheesy. As always, feel free to increase the cheese quantities if you are a cheese fanatic.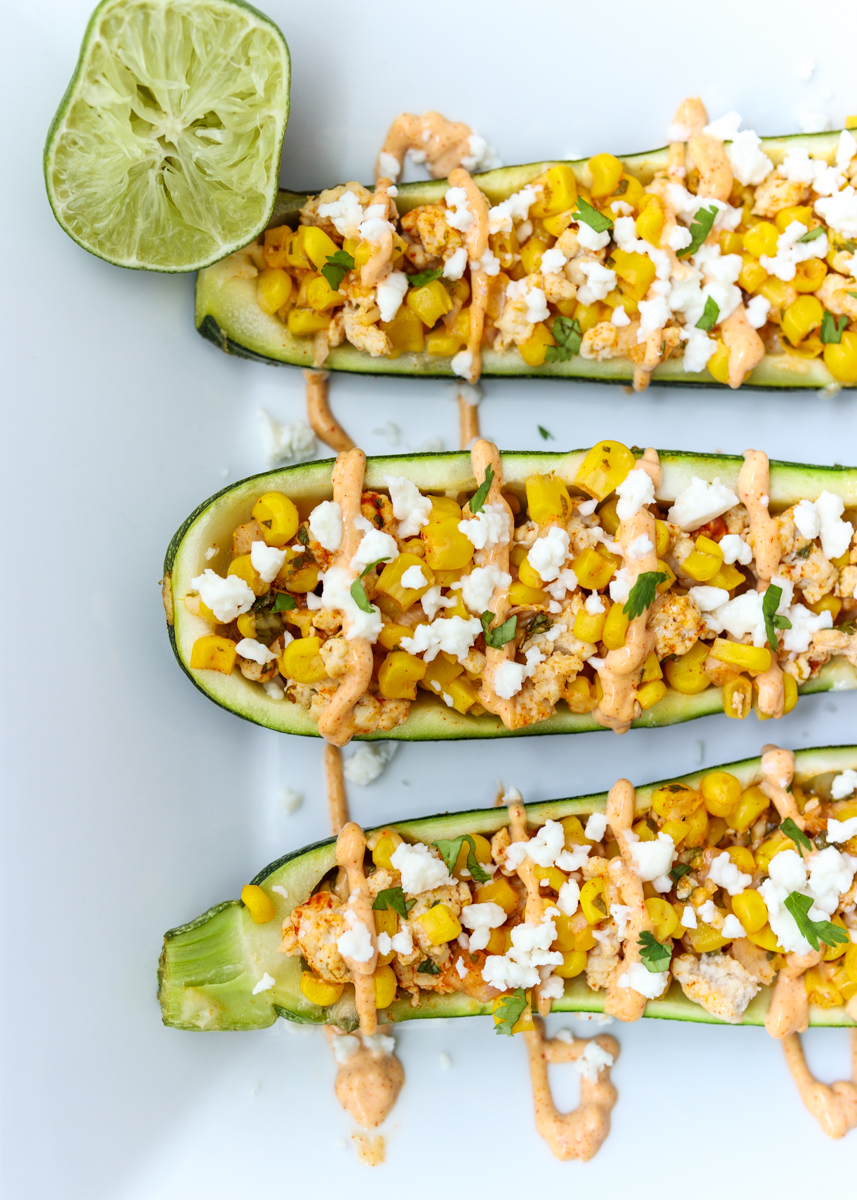 Of course, the best part, as with all elote dishes, is the toppings that get put on after the dish is done. For these stuffed zucchinis, we're adding plenty of salty crumbled cotija and a generous drizzle of a quick lime mayo after they come out of the oven. Yum!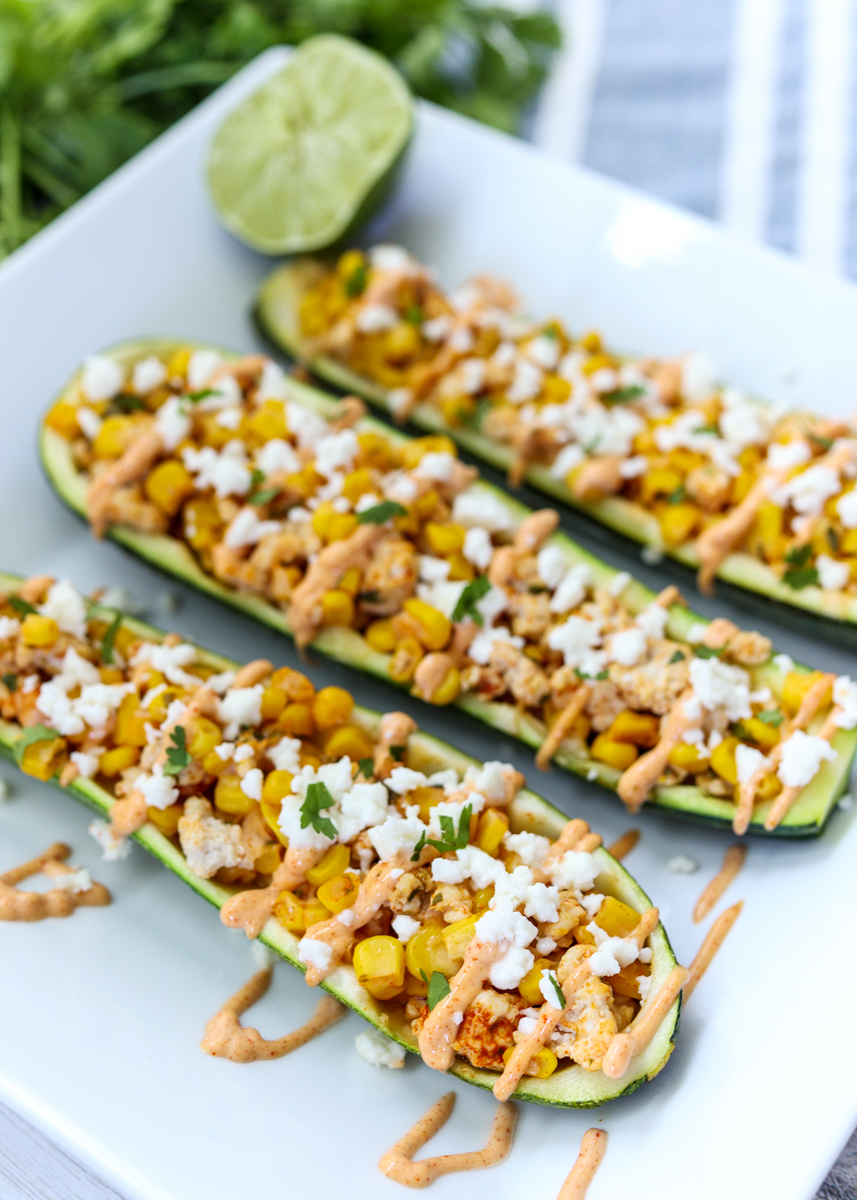 If you're looking for something to make with the extra zucchini flesh since we're scooping out the inside of the zucchini to make these you could follow my lead and make this Double Chocolate Zucchini Bread. I just grated up the little melon-balled zucchini chunks even though they were partially cooked and the bread still came out as moist, chocolatey and delicious as always. Elote Stuffed Zucchini for dinner and Double Chocolate Zucchini Bread for dessert? Yes, please!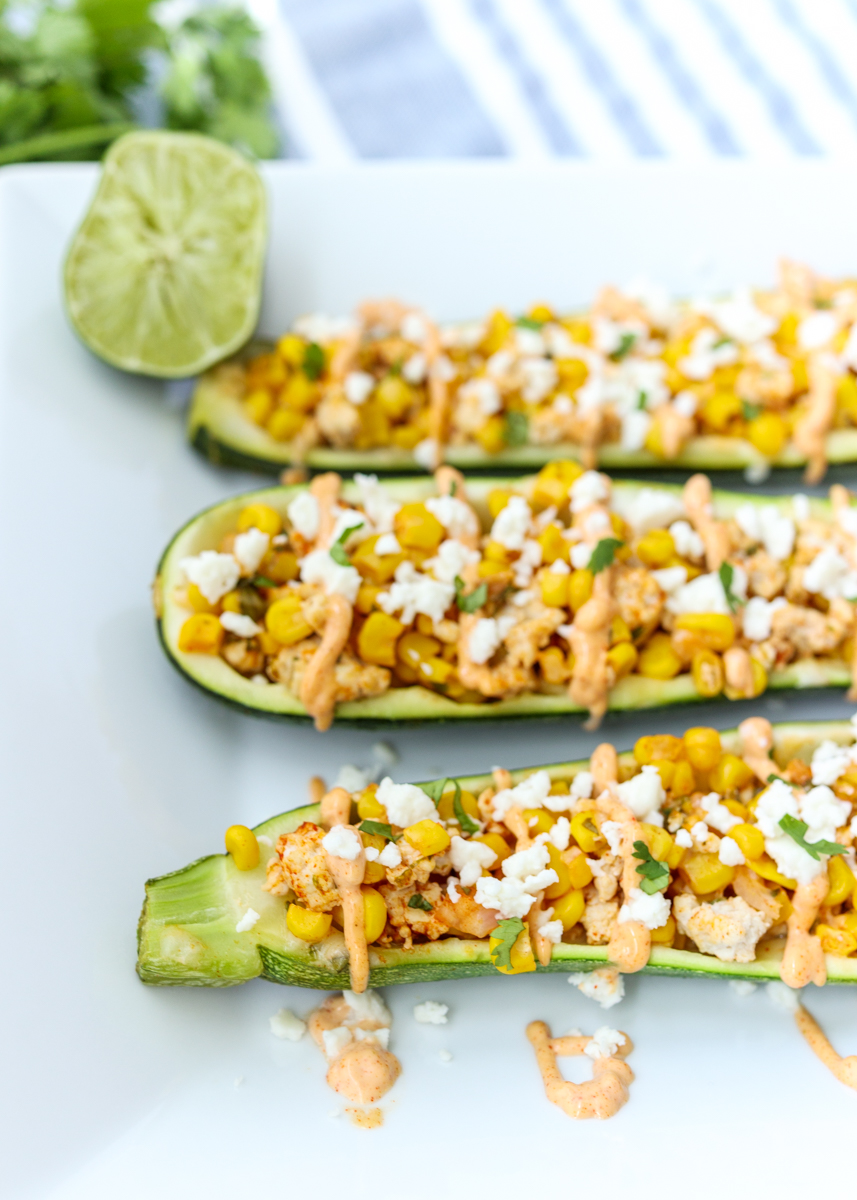 Elote Stuffed Zucchini
Ingredients
for the zucchini
4 medium zucchini, halved lengthwise
½ pound ground chicken
1 15-ounce can corn, no salt added (about 1½ cups corn kernels) drained
⅔ cup shredded mozzarella cheese
½ small red onion, finely diced
Zest from 1 lime
Juice from ½ lime
2 tablespoons chopped cilantro
½ teaspoon smoked paprika
½ teaspoon salt
Cotija cheese, for topping (see note)
for the lime mayo
¼ cup mayonnaise
1 teaspoon lime juice
¼ teaspoon smoked paprika
⅛ teaspoon ground cumin
Pinch chili powder
Directions
for the zucchini
Preheat oven to 350 degrees F. Lightly spray 13x9" pan with cooking spray. Lay the zucchini halves, cut side down, in the pan. Bake for 10 minutes.
While the zucchini is baking, sauté the ground chicken. Heat 1 teaspoon of olive oil in a frying pan over medium heat. Add the ground chicken, season with salt and pepper, and sauté until cooked through, breaking up as needed. Remove from the heat and add to a large mixing bowl. In the mixing bowl with the chicken, add the corn, mozzarella cheese, red onion, lime zest and juice, cilantro, smoked paprika and salt. Stir until combined.
Carefully flip over the zucchini halves so they are cut side up. I move a few at a time to a cutting board. Use a melon baller to scoop out the inside of the zucchini, leaving a ¼" border. Place the zucchini back into the pan, cut side up, then fill with the chicken and corn mixture. Add ½ cup water to the bottom of the pan, cover the pan with aluminum foil and bake for 20 minutes. Remove the foil and bake for an additional 5 minutes.
When the elote stuffed zucchini come out of the oven, carefully remove them from the pan to plates or a serving dish. Serve hot, topped with plenty of crumbled cotija cheese and a generous drizzle of the lime mayo.
for the lime mayo
Combine the mayonnaise, lime juice, remaining ¼ teaspoon of smoked paprika, ground cumin and chili powder in a small bowl. Pour into a squeeze bottle if you have one.
Notes
If you can't find cotija cheese, substitute queso fresco. If you can't find either, use feta cheese.