Skinny Chicken Broccoli Rice Casserole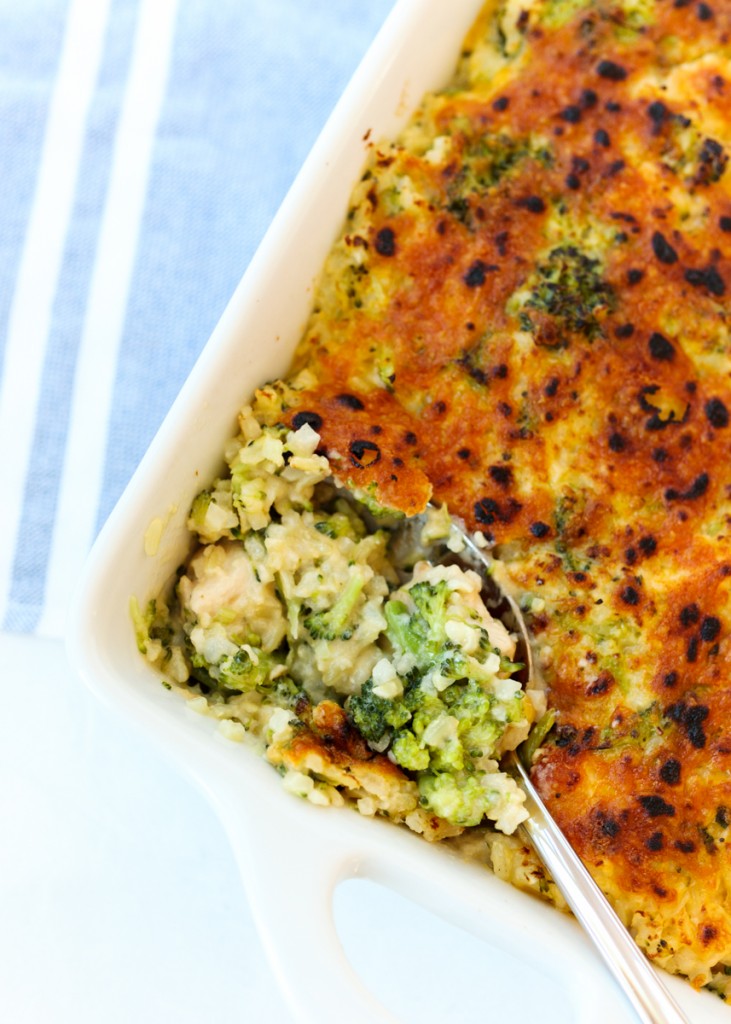 Skinny Chicken Broccoli Rice Casserole, my heart you have stole! Your greatness rivals a crispy egg roll. When eating you for dinner I lose self control! Sadly, after the last bite I was hard to console. Sorry for that, but I'm so excited about this dish that the only way I could express myself was through song. That's normal right?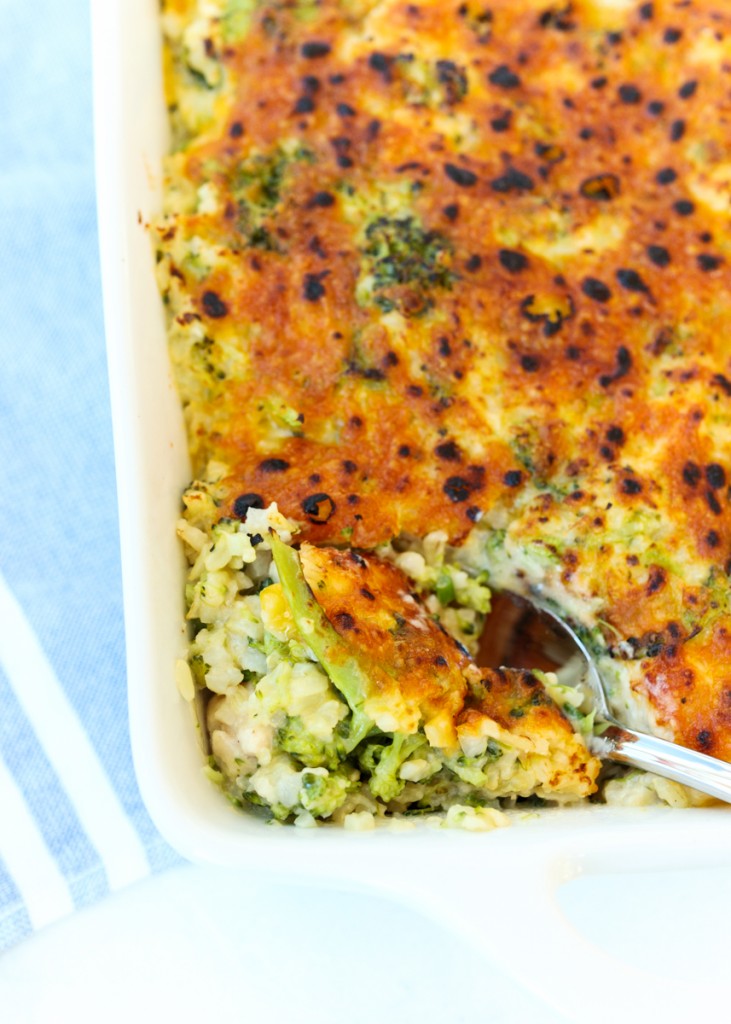 I first made this Skinny Chicken Broccoli Rice Casserole just last week and Matt and I were hooked after one bite. It's creamy, cheesy and full of comforting flavors. Plus, this healthy dinner dish is guilt-free! I swapped all the rice for a combination of half brown rice and half riced cauliflower. This half and half mix is great because you still get the hearty and chewy texture of the rice, while adding more vegetables and lightness with the tender riced cauliflower. You could always do all cauliflower rice or all brown rice if you prefer.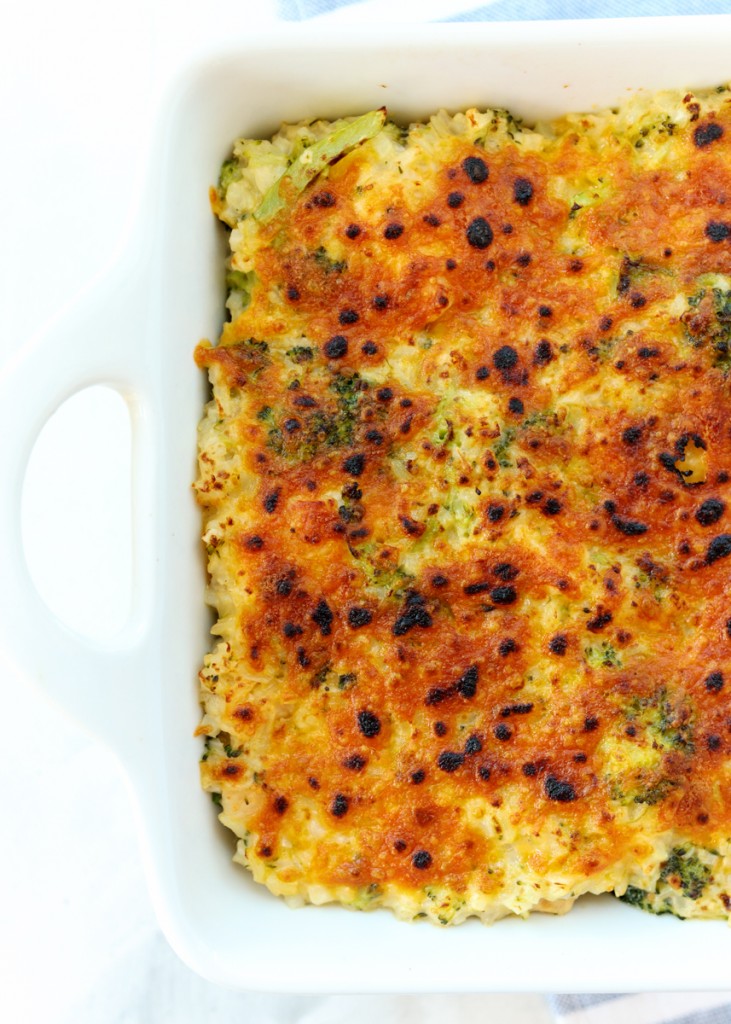 The broccoli has been doubled, which is perfect since Matt and I love broccoli. Each serving gives you a full cup of broccoli meaning you get some tender broccoli bits in every cheesy bite. The dish has also been lightened with nonfat milk and low-fat sour cream, although you can use Greek yogurt instead of the sour cream if you would like.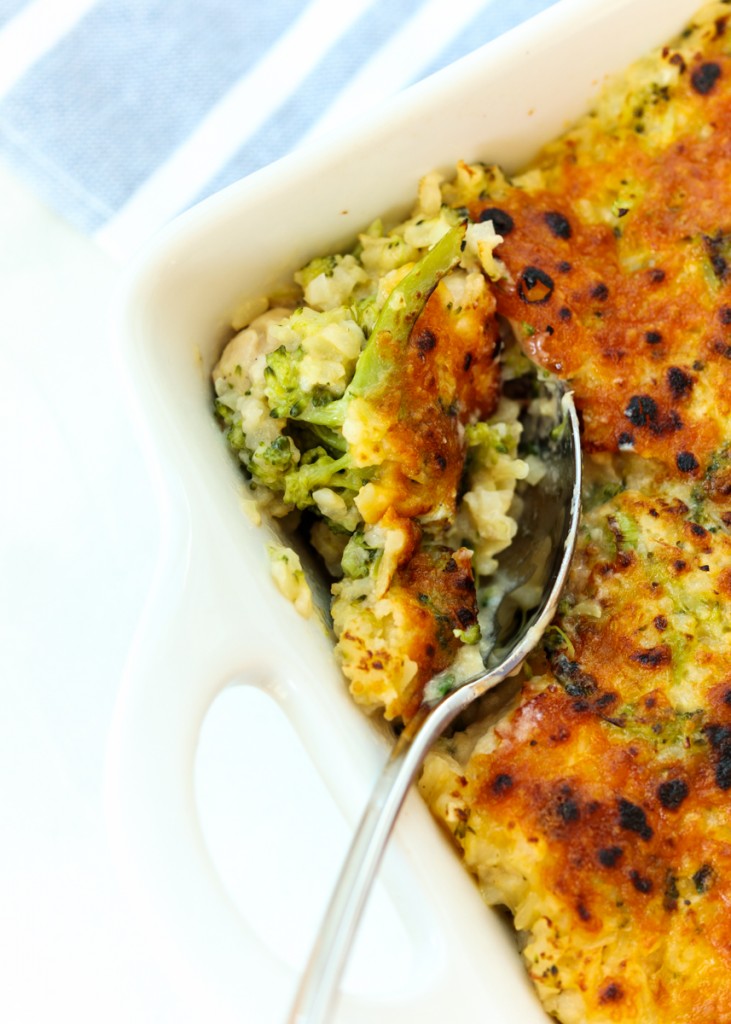 Every night Matt kept questioning if I was making up that it was a healthier dish since it's so creamy and delicious! It's incredible how cheesy it tastes, even though there's only 1/4 cup of cheddar per serving.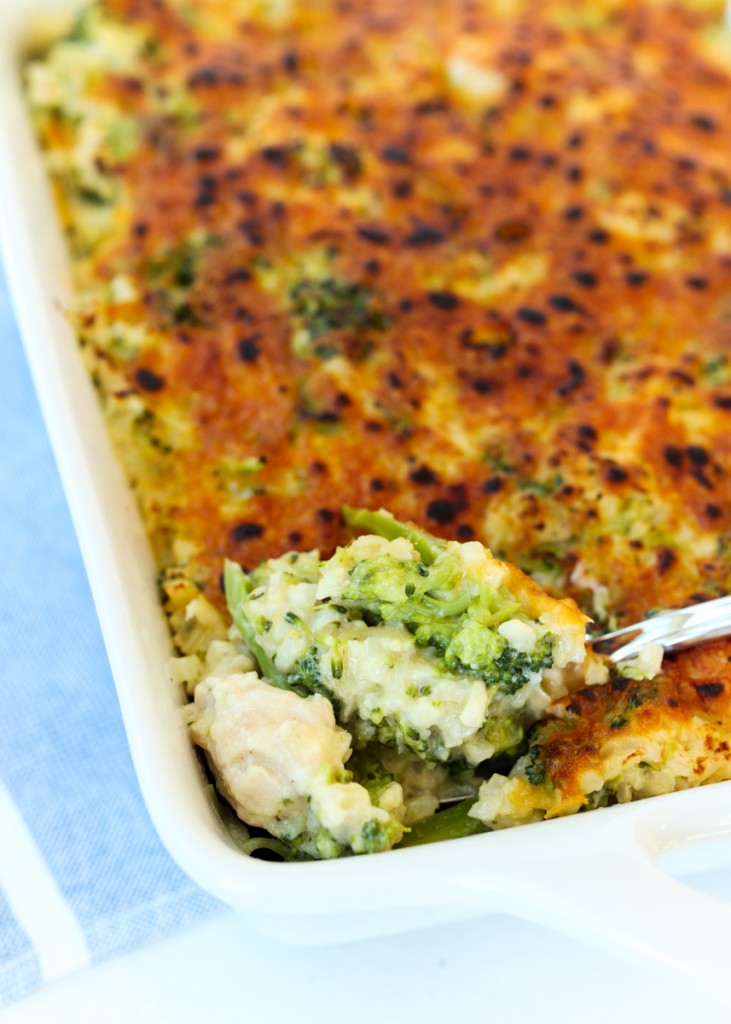 I'm sure this freezes well, although we never got around to trying it since we gobbled it all up! I did, however, sauté the chicken pieces ahead of time then freeze them so when I knew I wanted to make this dish I put the cooked chicken pieces in the fridge overnight to thaw and they were ready to pop into the casserole. I can imagine kids loving this dish so I'm sure this will be a family favorite for years and years to come. Enjoy!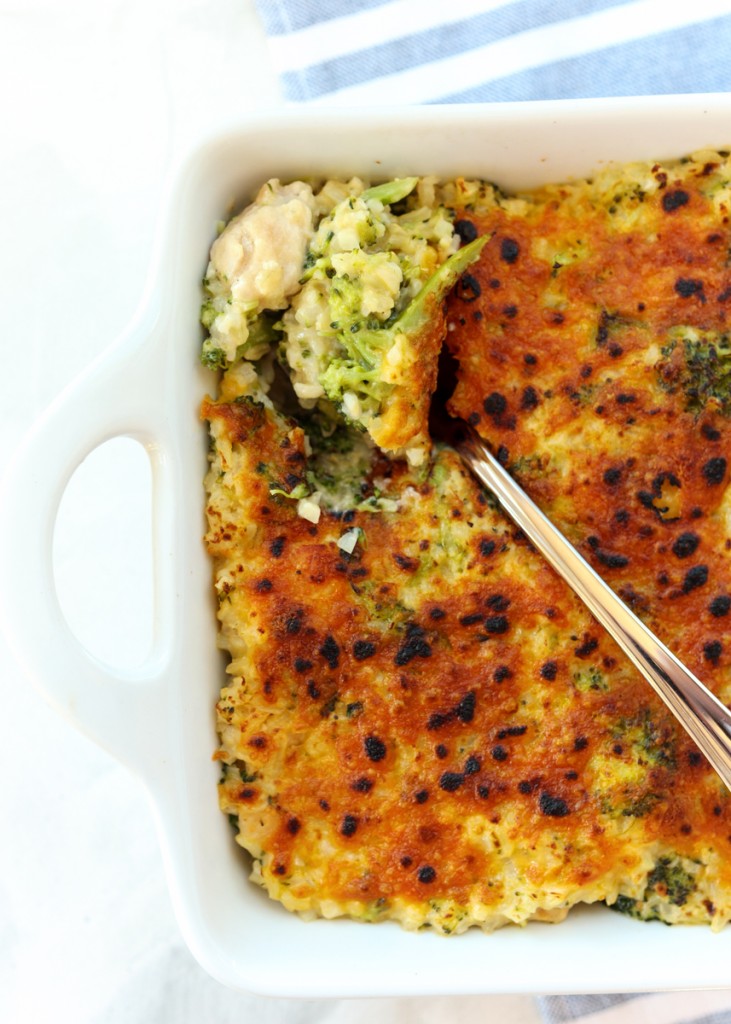 Skinny Chicken Broccoli Rice Casserole
Ingredients
2 cups chicken broth
1 cup brown jasmine rice
2 heads broccoli florets, about 8 cups
16 ounces boneless skinless chicken breasts, cut into bite size pieces
3 cups riced cauliflower
2 cups nonfat milk
1½ tablespoons all-purpose flour
8 ounces shredded sharp cheddar cheese, about 2 cups
⅓ cup light sour cream
¼ teaspoon salt
¼ teaspoon fresh ground black pepper
¼ teaspoon garlic powder
2 scallions, chopped
Salt and pepper for seasoning
Cooking spray
Directions
If you have a rice cooker with a steamer basket, see note. Otherwise, bring broth to a boil in a large pot (big enough to fit all the broccoli eventually). Add the rice, cover, reduce heat to low and let simmer for 30-35 minutes or until rice is tender. When the rice is 5 minutes away from being done, put the broccoli in the pot and cover to steam. Try not to let too much steam out while you're doing this or the broccoli will need to stay in there longer. Once the broccoli is tender, remove pot from the heat and add the contents to a large mixing bowl. Rinse and wipe the pot.
Spray a skillet with cooking spray then heat over medium-high heat. Add the chicken and season with salt and pepper. Cook for 5-7 minutes, turning and flipping occasionally. When they've reached an internal temperature of 165 degrees F, add the chicken to the large mixing bowl and wipe the skillet. Lightly spray the skillet with cooking spray again and cook the cauliflower rice until tender. It should only take a couple minutes; if you are using frozen riced cauliflower it usually says to sauté until there's no more liquid. Remove from the skillet and add to the large mixing bowl.
Heat the milk in the pot from the rice over medium heat until warm then whisk in the flour. Continue to whisk occasionally until thick, about 7-10 minutes, then remove from the heat. Add ¾ of the shredded cheese (about 1½ cups) and whisk until melted. Add the sour cream, ¼ teaspoon salt, ¼ teaspoon black pepper, ¼ teaspoon garlic seasoning and whisk until smooth. Pour into the large mixing bowl. Add the chopped scallions to the mixing bowl then stir until well combined.
Lightly spray a 9x13" pan with cooking spray. Add the contents of the mixing bowl and spread to an even layer. Sprinkle the remaining cheese (about ½ cup) on top. Broil until the cheese is melted; watch carefully because it melts very quickly. Let sit 5 minutes before serving.
Notes
Substitutions: You can use any fat percentage of milk you prefer. You can substitute plain nonfat or low-fat Greek yogurt for the sour cream.
Rice and Broccoli: I made it the way specified above for testing purposes since not everyone has a rice cooker, but for all future times I make this I will just use my Breville Risotto Plus to cook the rice and steam the broccoli at the same time since it's quicker and the rice comes out perfect every time.
Recipe adapted from

Iowa Girl Eats

.