Strawberry Kale Salad with Goat Cheese & Pecans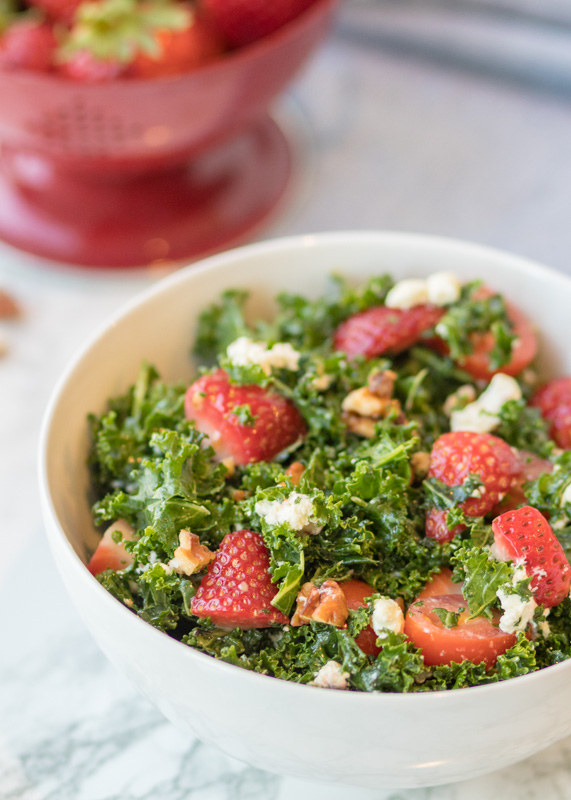 I have another healthy make-ahead lunch for you today! Before you run away, healthy can mean super tasty! And kale doesn't have to mean bitter, especially when it's been nicely massaged, but I'll say more on that later. As you know, I only like salads if they have lots of yummy goodies in them and this one delivers. Fresh sweet strawberries, creamy goat cheese and crunchy pecans bring this salad to a scarf-able level. We are still a little early for strawberry season, but as soon as it started feeling like springtime I had to run out to get some to make this salad.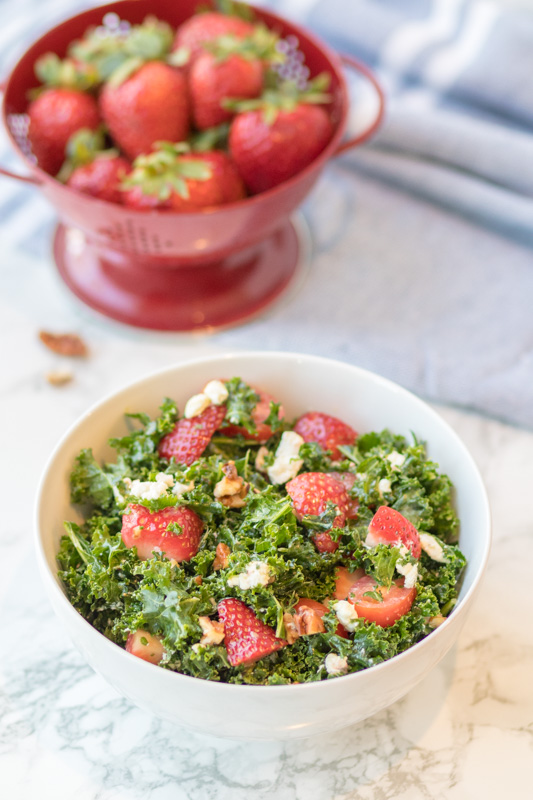 The other star of this dish is the simple, but delicious vinaigrette dressing. Made with just four ingredients the dressing has the right balance of acidity and sweetness to pair with the kale and strawberries. I use my uncle's awesome homemade honey, but I recommend using local honey since it can help ease seasonal allergies and it supports your local beekeepers!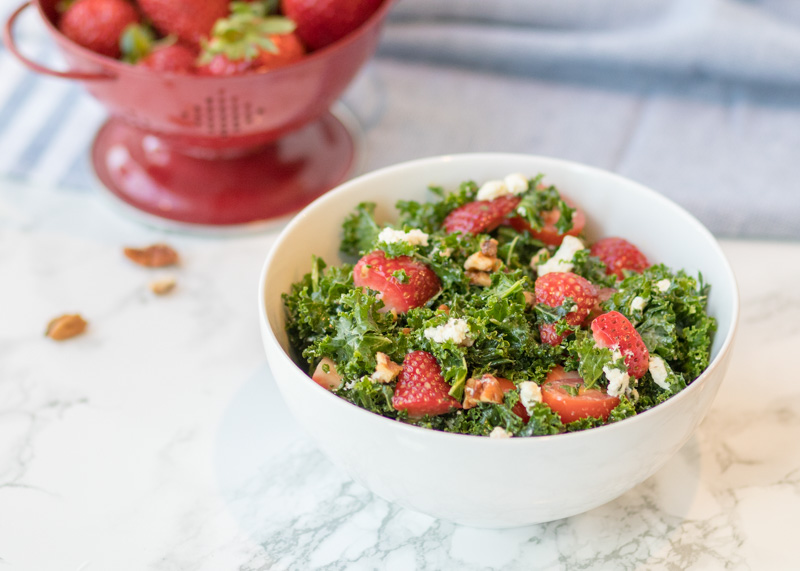 The reason this salad is a great make-ahead dish is because the kale tastes its best when it's been given time to marinate in the dressing. Kale is a tough green, but that's exactly why you have to baby it so much to bring out its best flavor. This is where the massaging comes in. A few years ago when kale was popping up everywhere I tried it at home a bunch of times with little success. Then I was out to dinner with a friend and ordered a kale salad to give it one final shot. I couldn't believe how tasty it was and when I mentioned this to the waitress she said it was because they massage the kale. Basically, this means ripping and scrunching the kale leaves continuously for about five minutes. Kale is naturally bitter, but massaging it breaks down the cellulose structure wilting and softening the kale.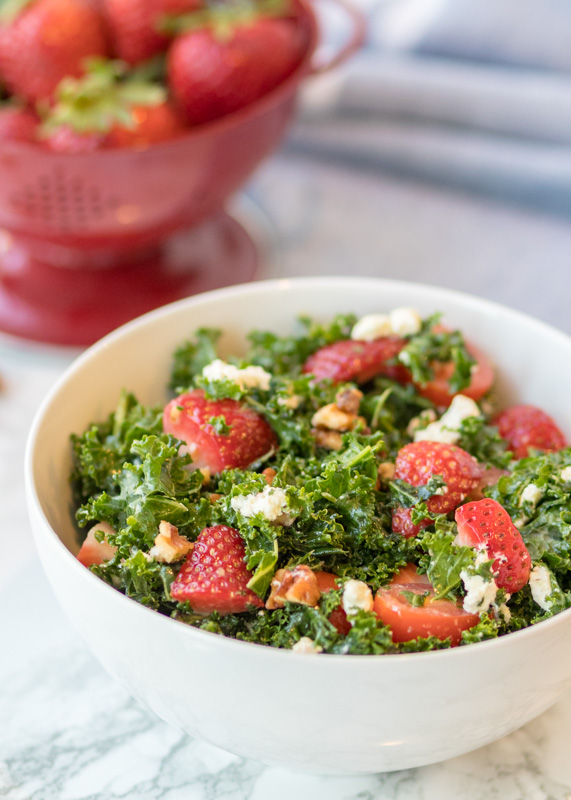 One batch makes four lunch salads and sometimes I pair them with grilled chicken or turkey burgers for added protein. I love serving this Strawberry Kale Salad with Goat Cheese & Pecans for cookouts, as well, since you can make it the night before and not have to worry about it while you're busy with your family and friends. I hope you enjoy this salad all summer long!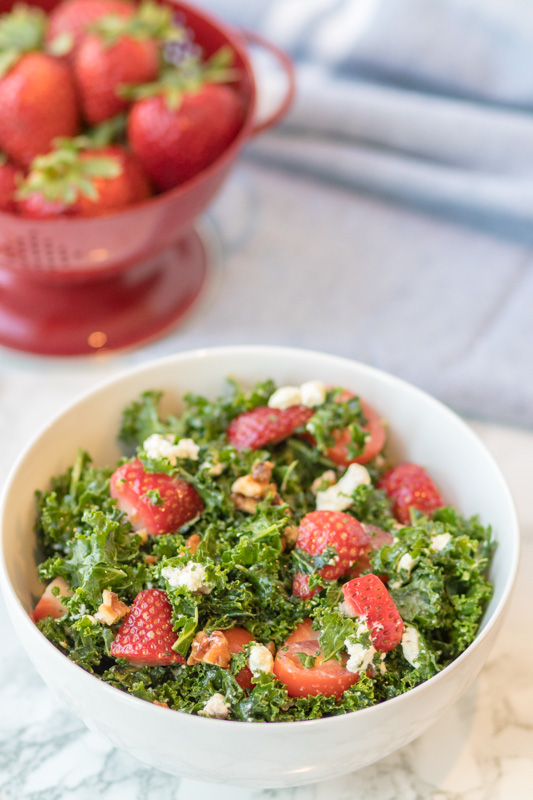 Strawberry Kale Salad with Goat Cheese & Pecans
Ingredients
for the salad
½ cup chopped pecans
8 ounces kale
8 ounces fresh strawberries, washed and stems removed
1 cup grape tomatoes
2 ounces goat cheese
for the dressing
3 tablespoons olive oil
1½ tablespoons apple cider vinegar
1 tablespoon Dijon mustard
1½ teaspoons honey
Salt and pepper, to taste
Directions
for the salad
Preheat the oven to 350 degrees F. Spread the pecans on a small baking sheet then toast in the oven for 5-10 minutes. Toss the pecans once during cooking and be sure to watch carefully so they do not burn. Set aside to cool.
If your kale wasn't pre-washed, wash and dry it. Remove all thick ribs and stems; roughly chop. Place in a large mixing bowl. Continue to tear and massage the kale for 5 minutes. To massage the kale scrunch it up with both your hands, release, and scrunch up some more, tossing and tearing as you go. This helps tenderize the kale and reduce its bitterness by breaking down the cellulose structure.
Quarter the strawberries. Slice the grape tomatoes in half. Add to the kale along with the toasted pecans and goat cheese. Gently toss to combine. Add the dressing and gently toss to coat. Let sit in the fridge for at least 30 minutes, or even better if overnight.
for the dressing
Whisk together the olive oil, apple cider vinegar, Dijon mustard and honey until combined. Season with salt and pepper to taste.
Recipe adapted from

The Smitten Kitchen Cookbook

.
Some of the links above are affiliate links, which means I may receive a small commission for my referral. This does not affect the retail cost of the item. Thank you for supporting Lemon & Mocha!