Grilled Steak with Creamy Gorgonzola Sauce & Grilled Asparagus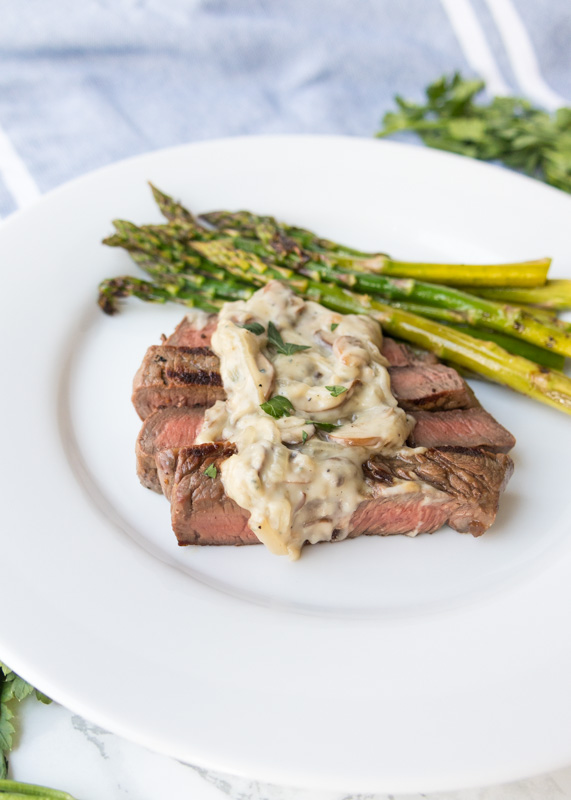 As you all know, I am an extreme planner so I have my posts planned out months in advance. And by months I mean all the way into January. Clearly I get a little carried away, especially when it comes to food. Then came along this glorious steak and sauce combination. It was completely unplanned and so outrageous that I moved a whole bunch of posts around just so I could share it with you sooner.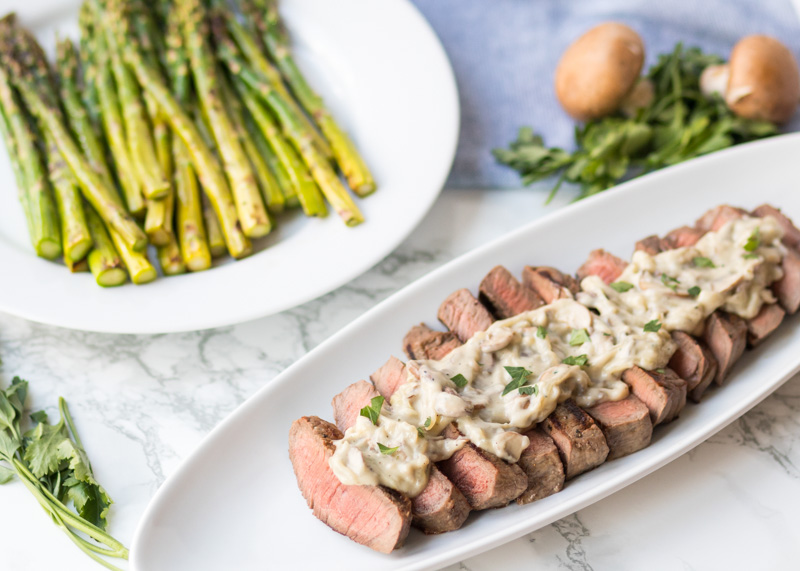 This dish has three main components: a grilled sirloin steak, grilled asparagus and a creamy Gorgonzola sauce. I feel like I'm going to have a hard time describing this sauce in complete sentences because every time I think about it my brain goes fuzzy and the next thing I know I have drool all over my chin. But bear with me. This sauce is cheesy, creamy, savory and salty. It's also loaded with thinly sliced mushrooms and sweet onion that have been cooked down so they melt in your mouth. Cliche, but fitting.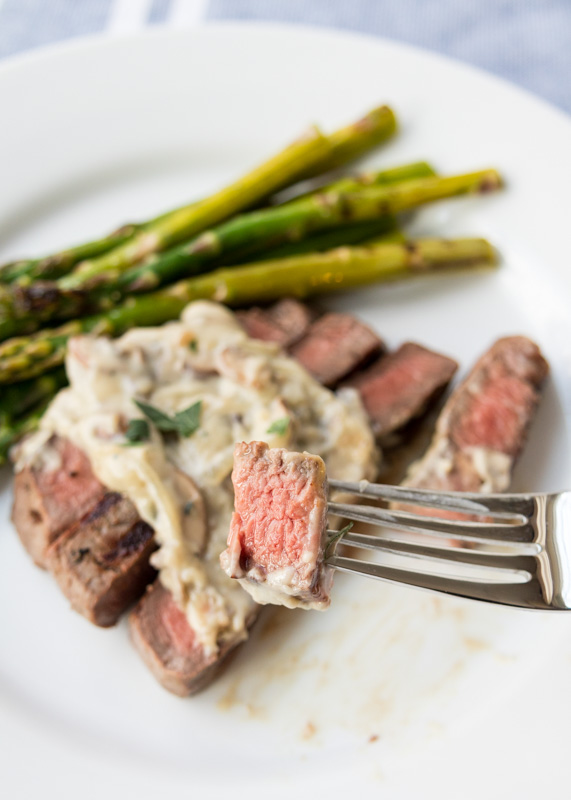 The inspiration for this recipe was born out of my own cravings and food indecisiveness. I had some leftover Gorgonzola crumbles from the Healthy Chicken Cobb Salad that I wanted to use up. When I think of what pairs well with blue cheese my mind immediately goes to steak and mushrooms. I went back and forth, unable to decide, until I finally came up with this delicious solution of pairing it with both.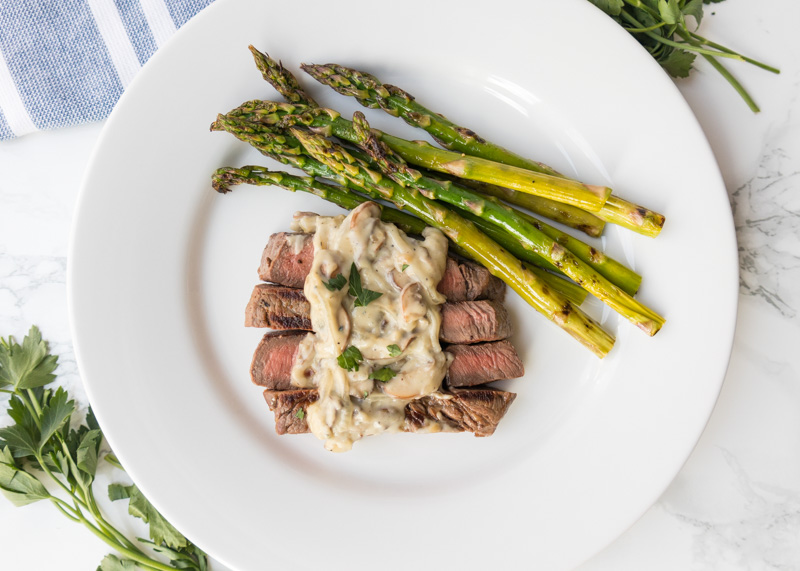 This sauce turns tender steak into a decadent treat that will have you swooning. Or guarding your plate if you are eating with others. When I recipe-test I'm usually the only one in the kitchen so I have the fortunate ability to be able to really savor that first bite. And the second, and the third, and so on.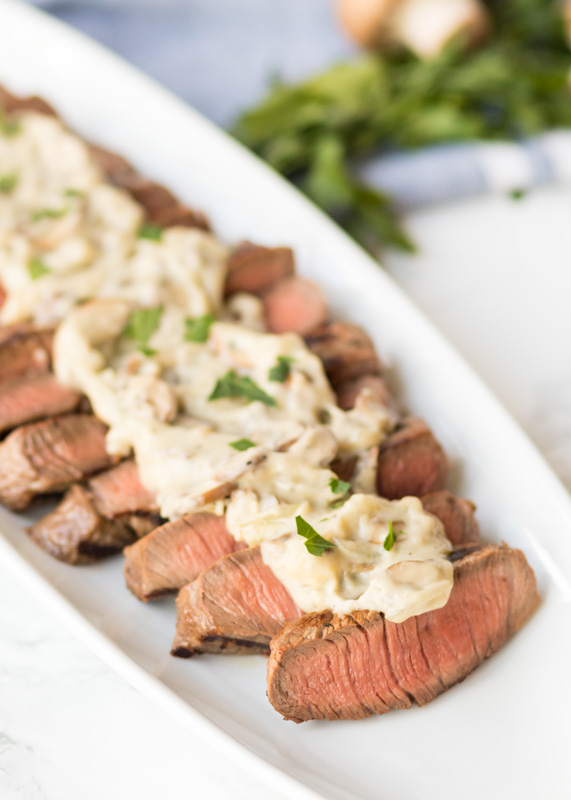 Since the sauce is rich, serving the steak with simple grilled asparagus is the perfect balance. Also, the crisp asparagus is great at swiping any excess sauce off your plate. Another reason I'm so jazzed up about this sauce is that I created it completely on the fly without referencing any recipes for ratios or inspiration, which can be a lot harder than it sounds. The fact that it tastes so bomb and I came up with it on my own makes me want to shout the recipe from the rooftops! So even if you're a planner like me and have your meals scheduled out for next week I highly recommend you move things around so you can make this dinner ASAP!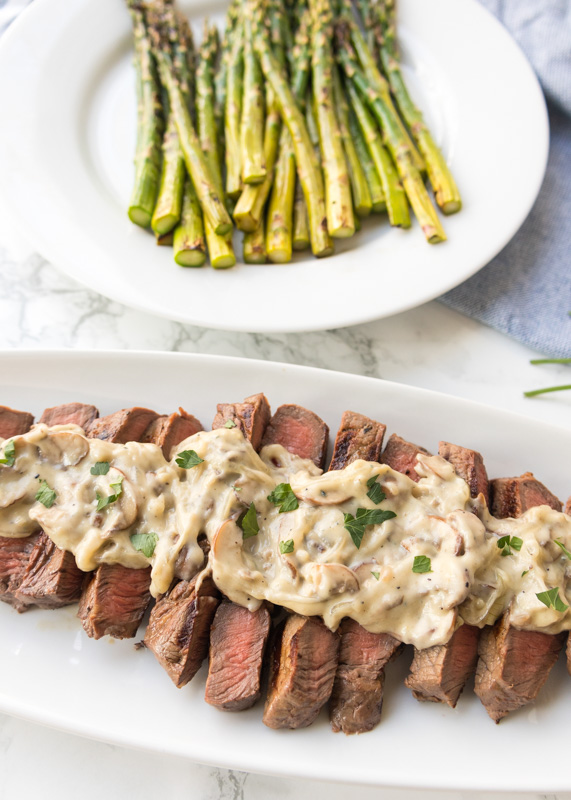 Grilled Steak with Creamy Gorgonzola Sauce & Grilled Asparagus
Ingredients
for the gorgonzola sauce
1 tablespoon unsalted butter
1 tablespoon olive oil
2 tablespoons all-purpose flour
½ medium yellow onion, thinly sliced
⅛ teaspoon ground black pepper
4 ounces cremini mushrooms, thinly sliced (about 2 cups sliced)
1 glove garlic, minced
¼ cup milk
1 cup gorgonzola crumbles
Salt and pepper to taste
for the steak
2 8-ounce sirloin steaks
1 tablespoon olive oil
Salt and pepper
for the grilled asparagus
1 pound asparagus
1 tablespoon olive oil
Salt and pepper
Directions
for the gorgonzola sauce
Melt the butter over medium-low heat. Add the olive oil and whisk together. Add the flour and continue to whisk until it has darkened slightly, about 2-3 minutes. Add the sliced onions and ground black pepper and stir to coat. Let cook, stirring occasionally, for 10 minutes. The onions should be soft. Add the sliced mushrooms and the minced garlic, stir. Cook for another 10 minutes, or until the mushrooms have softened, stirring occasionally.
Reduce the heat to low and stir in the milk. Once the milk has had a chance to warm, about 1 minute, add the Gorgonzola crumbles. Stir as the Gorgonzola melts into a thick cheese sauce. You can keep stirring until all the crumbles have melted or leave a few crumbles un-melted. If the sauce looks too thick you can add another tablespoon of milk. Remove from the heat and taste. Adjust salt and pepper according to taste, but remember that the steak will also be seasoned with salt.
for the grilled asparagus
Remove and discard the woody ends of the asparagus. If you lightly bend the asparagus stalk it will snap at a natural spot where the thick stem ends. Drizzle the asparagus with the olive oil then toss to coat. Season with salt and pepper. I usually do about 5-6 grinds each of our salt and pepper grinders (they are small).
Heat your grill or grill pan so it's at medium-high heat. Grill the asparagus for 5 minutes, tossing/turning once while grilling. If your asparagus stalks are very thin you may only need 3 minutes, if the stalks are thick you may need longer than the 5 minutes. If you are using a grill not a grill pan I would suggest using a grill grid or basket so the asparagus doesn't slip through the grill grates and adding about 5 minutes of grilling time.
for the steak
Let your steak sit out at room temperature for about 20 minutes before grilling. Lightly coat the steaks with the olive oil then season on both sides with salt and pepper.
Heat your grill to high heat or your grill pan to medium-high heat. Place the steaks on the hot grill or grill pan so they aren't touching and let cook for 4-5 minutes. Carefully flip the steaks and let cook for another 3-5 minutes for medium-rare or 5-7 minutes for medium. The internal temperature of the steaks when you pull them off the grill should be 135 degrees F for medium-rare or 140 degrees F for medium.
Let the steak rest for at least 5 minutes. Slice the steak and place on a serving dish then spoon the Gorgonzola sauce over top or serve alongside the grilled steak.
Notes
I used a grill pan for this dish. First I took the steak out of the fridge to come to room temperature. I chopped up my onion and mushrooms then I started cooking the sauce. While the sauce was cooking I grilled the asparagus in my grill pan, two batches at 4 minutes each. I placed them on a plate and grilled the steak. We like ours medium-rare so I did 5 minutes then flipped and did another 3 minutes. By the time the steaks were done resting, the sauce was done and it was time to eat!