Healthy Chicken Cobb Salad with Creamy Avocado Dressing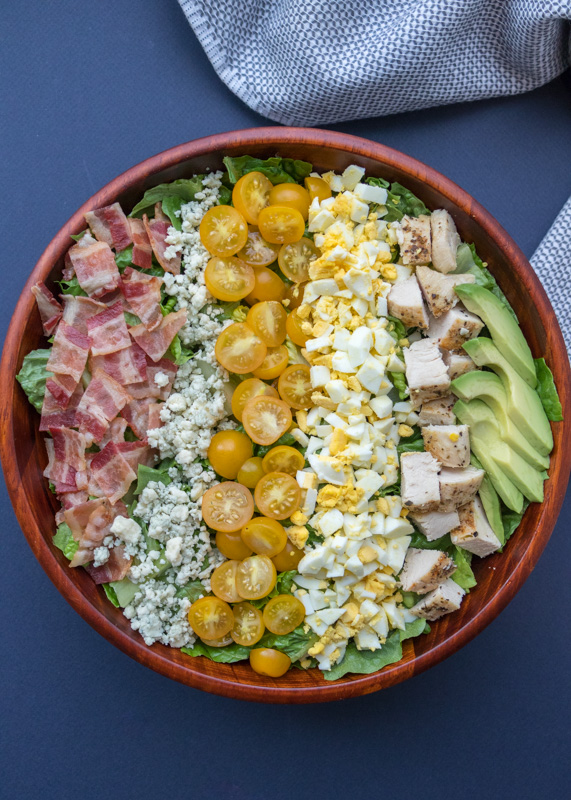 As you all know, I am not a huge salad fan, but I love a good cobb salad. Cobb salads have all the best yummy toppings! Bacon, avocado, hard-boiled eggs, blue cheese – so good!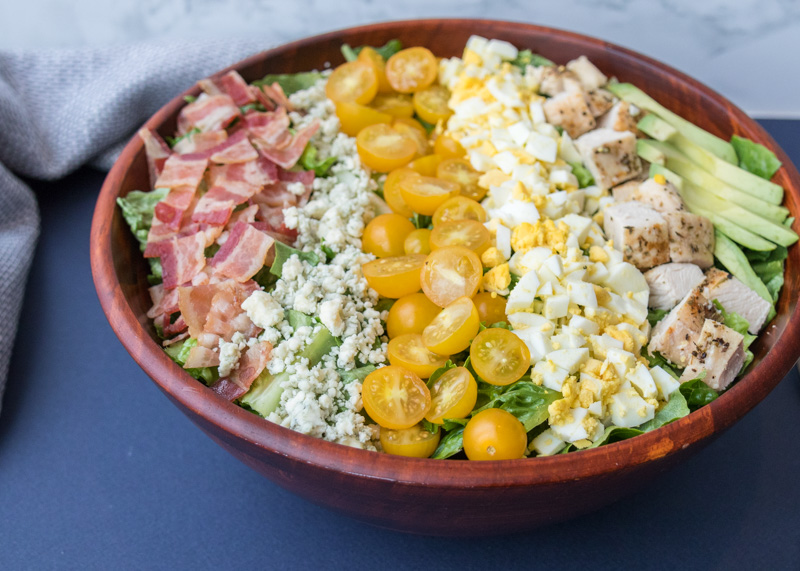 Most cobb salads are covered with unhealthy creamy dressings, but today we're switching things up. The dressing is still creamy, but it's fresh, preservative free and full of only good fats. The creaminess of the dressing comes from the avocado and it gets a nice acidic punch from the lime juice. In addition to this cobb salad, I've also used the creamy avocado dressing lightly drizzled over grilled chicken. It would also taste great tossed with warm roasted potatoes – the options are endless!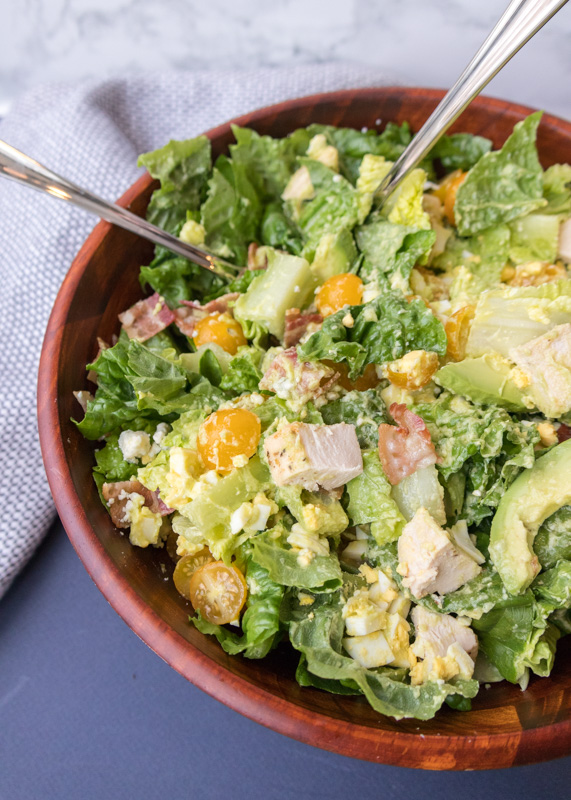 Looking at the list of ingredients you might think this salad isn't healthy, and I'm certainly not a nutritionist, but for me, this salad gets its healthy title from moderation. I would much rather have a small amount of real bacon than more of a "healthier" substitute. Plus, this salad is loaded up with greens and lean protein.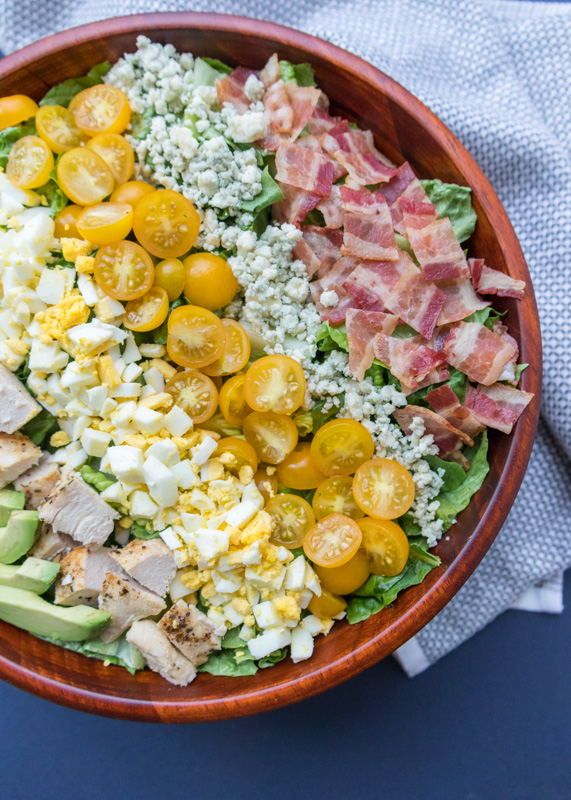 I love making this salad on a Sunday when Matt and I need to detox from the weekend. It makes four servings so the two of us are set for two lunches each.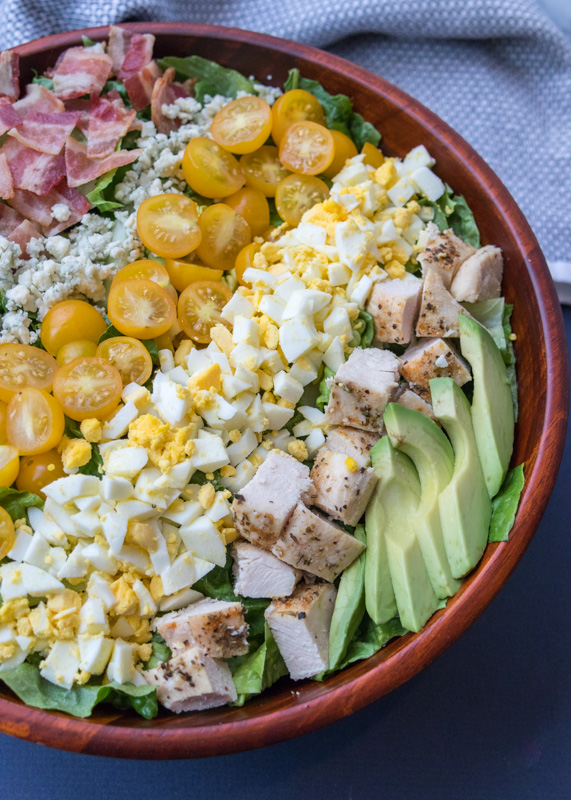 I especially loved having this recipe in my back pocket for the summertime when I was eating lunch outside. No microwave needed and the crunch of the romaine is so refreshing when it's warm out. I hope you enjoy!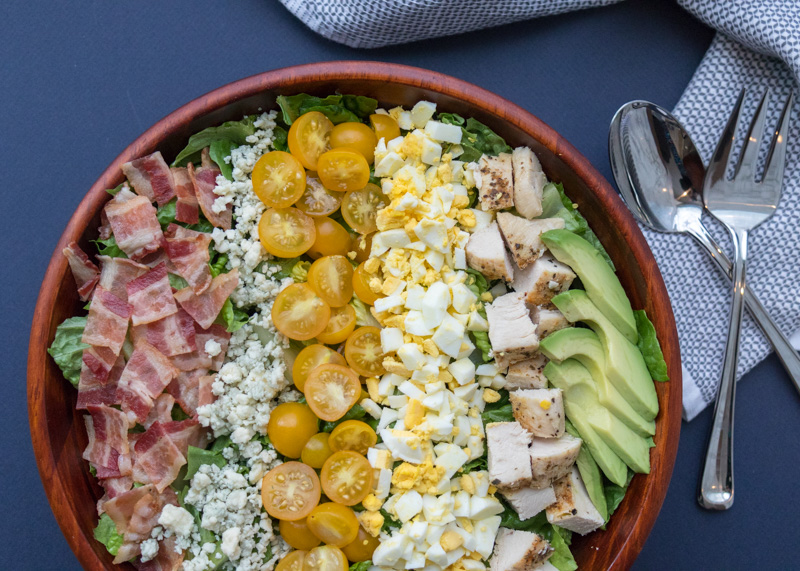 Healthy Chicken Cobb Salad with Creamy Avocado Dressing
Ingredients
for the salad
2 boneless skinless chicken breasts
Garlic powder, Italian seasoning, salt and pepper to season
8 heaping cups of chopped romaine lettuce, washed
2 hard-boiled eggs
2 slices bacon, cooked
½ an avocado
¼ cup blue cheese crumbles
for the dressing
3 tablespoons water, plus more as needed
2 tablespoons olive oil
1 tablespoon lime juice
½ an avocado
1 clove garlic
Salt and pepper to taste
Directions
for the salad
Preheat the oven to 350 degrees F. Line a baking sheet with nonstick aluminum foil and place the chicken breasts on it. Very lightly drizzle with olive oil then season generously with garlic powder, Italian seasoning, and pepper. Lightly season with salt. Bake the chicken for 25-30 minutes or until they reach an internal temperature of 165 degrees F. Let cool then chop and set aside.
While the chicken is cooking prep the rest of the ingredients. Slice the hard-boiled eggs. Crumble the bacon. Dice the avocado.
Divide the lettuce between 4 bowls or containers. Divide the chicken, egg, bacon, avocado and blue cheese between the 4 servings.
for the dressing
Combine all the ingredients in a blender and puree until smooth. Add more water if desired for a thinner consistency. Use roughly 2 tablespoons of dressing per salad.
Notes
If you want your salad even healthier you can omit the chopped avocado since there's already avocado in the dressing. You could also swap some of the romaine lettuce for a different green, such as spinach.