Zucchini Noodles & Chicken Sausage in Vodka Sauce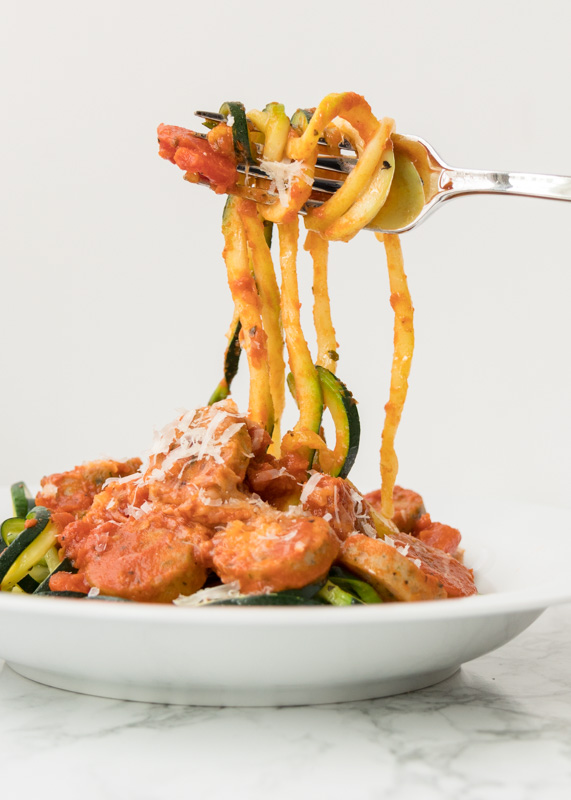 Happy Monday! This week I'm kicking it off with an easy and healthy dinner recipe – zucchini noodles (aka zoodles) and chicken sausage in vodka sauce! This was the very first recipe I made with my KitchenAid spiralizer attachment. Currently, this is the most used attachment I have for my mixer. I love noodling vegetables! Firstly, because this thing cranks out the veggie noodles so fast. Secondly, something about the noodle shape makes me want to eat all the veggies. Probably because I have a noodle obsession.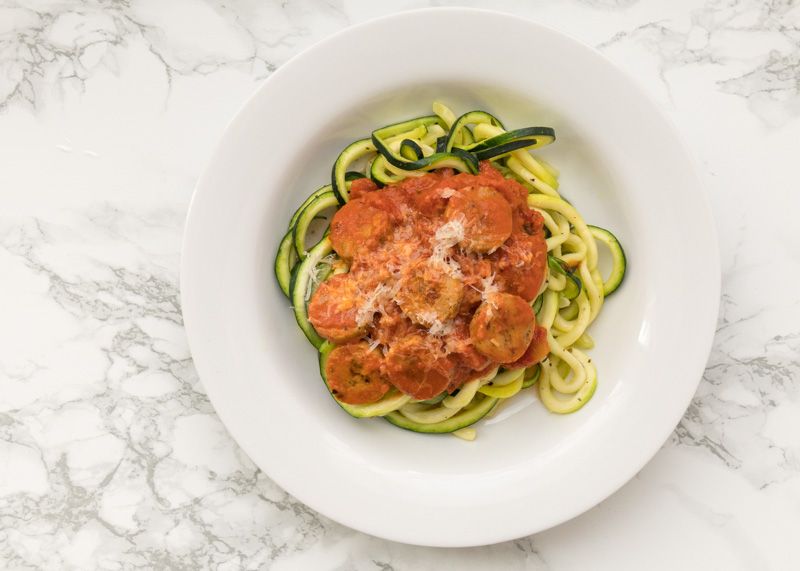 I've made curly-q potatoes, beet noodles, sweet potato noodles and even apple curly-q's, but zucchini noodles are the ones I go back to time and time again. The best part of this veggie noodle craze is that even if you don't have a spiralizer I've seen prepared spiralized veggies in every grocery store I've been in, from Whole Foods to Market Basket to Stop & Shop. So convenient! However, as with most prepared foods, they are pricier than buying the veggies whole and preparing them yourself so I would highly recommend getting a spiralizer, whether it's a hand held one or the KitchenAid attachment.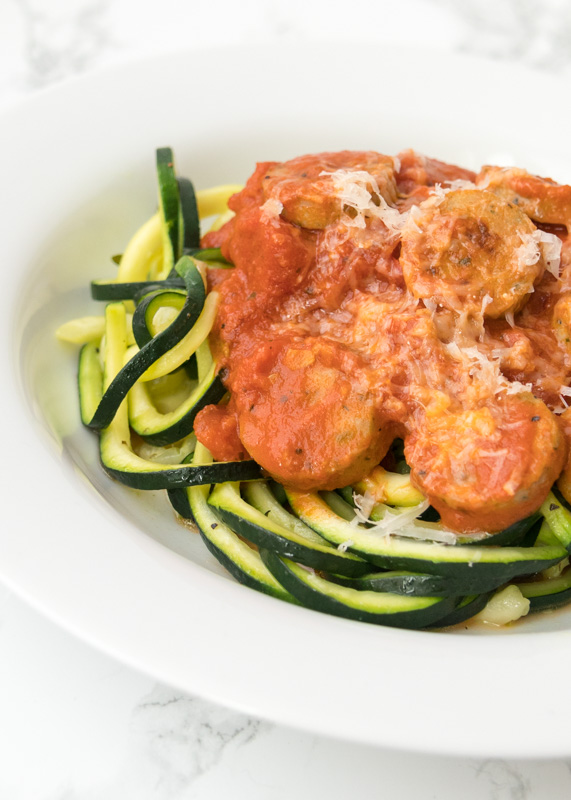 This dish is a great weeknight meal especially because it is made all in one pan. Check out this handy how-to graphic I made!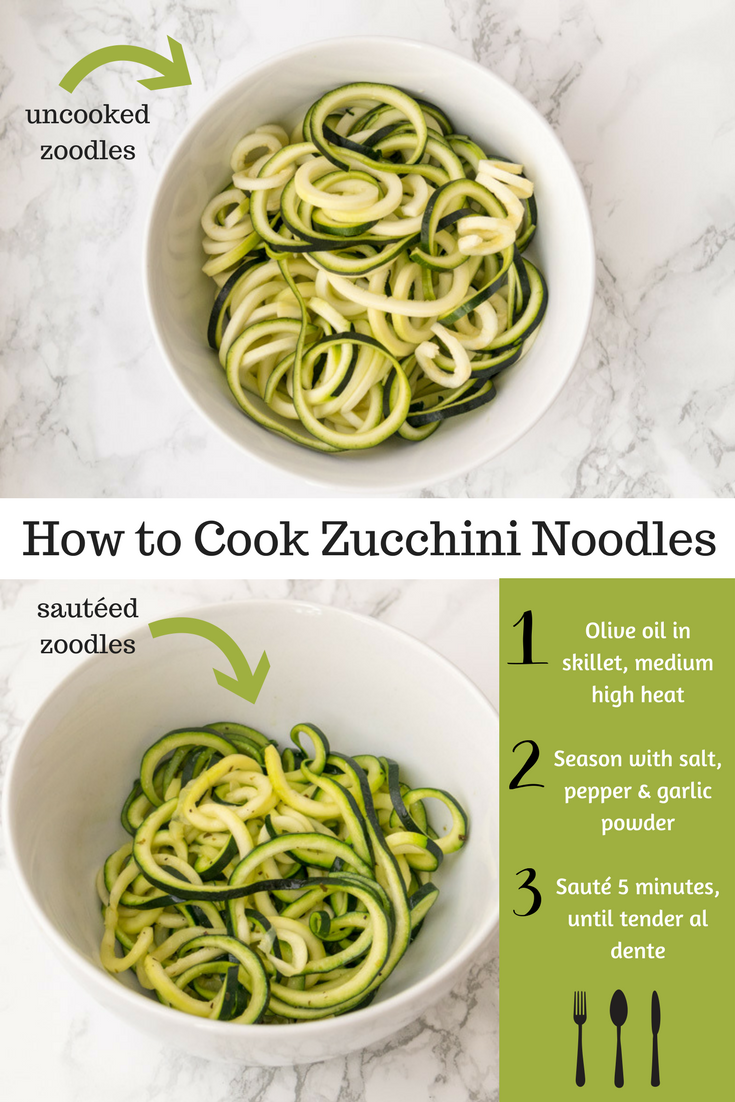 First, the zoodles get sautéed with some seasoning. It only takes a few minutes because they're so thin and noodly. After you take the zucchini noodles out, you sauté some sliced chicken sausage, add the vodka sauce to warm it up, toss with the zucchini noodles and serve. Done! After sprinkling with Parmesan, of course.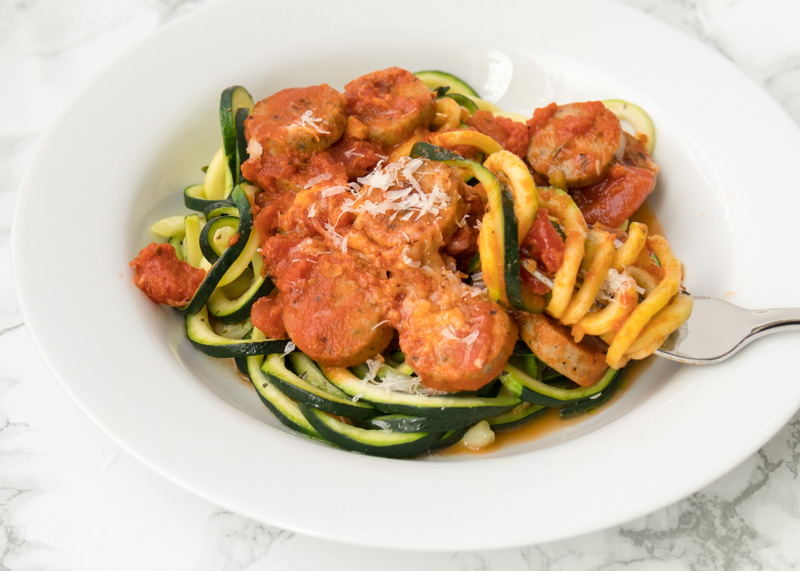 I promise that even the least experienced cook out there can nail this. I love cooking, but most weeknights I want dinner to be done as quickly as possible so Matt and I can have the rest of the night to get stuff done and relax. This meal is one of our go-to dinner recipes for a reason! Enjoy!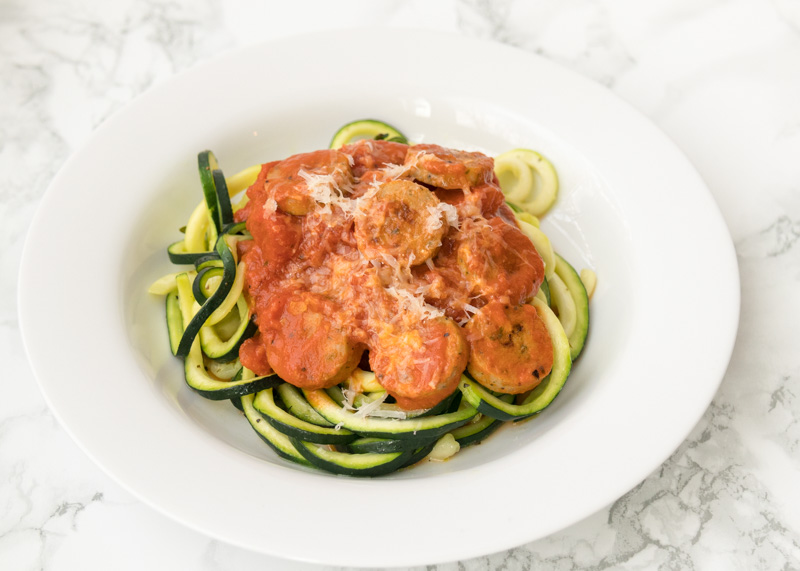 Zucchini Noodles & Chicken Sausage in Vodka Sauce
Ingredients
3 medium zucchinis, ends removed
3 teaspoons olive oil
¼ teaspoon garlic powder
2 chicken sausages (I use Trader Joe's Roasted Garlic Chicken Sausage)
¾ - 1 cup vodka sauce or preferred marinara sauce, depending on how saucy you like it
Grated Parmesan cheese, for topping
Directions
Wash and dry the zucchinis then spiralize them using your desired method. Heat 2 teaspoons of the olive oil in a nonstick skillet over medium-high heat. Add the zucchini noodles and season with the garlic powder. Season with salt and pepper to taste. Sauté the zoodles until cooked through, but still al dente, about 5 minutes. Remove the zoodles from the pan.
Drain and wipe any liquid from the pan then return it to medium heat with the remaining teaspoon of olive oil. Slice the chicken sausages and add to the pan. Cook until lightly browned. Reduce the heat to medium-low and add the vodka sauce. Stir and let warm then add the zucchini noodles. Toss to coat then divide between two bowls. Top with the Parmesan cheese and enjoy!
Notes
Zucchinis retain a lot of water so if you have leftovers they will most likely be watery when you reheat them. These are best eaten right after being prepared.