Churro Waffles with Raspberry Sauce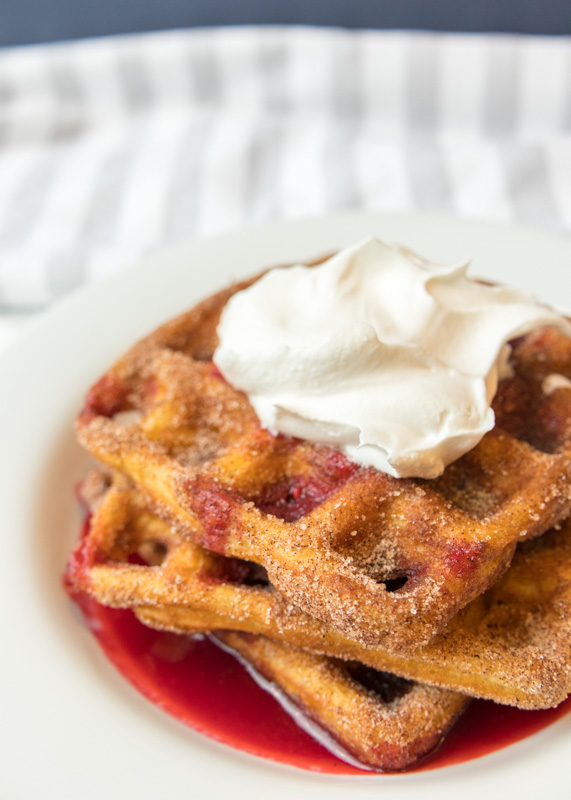 Churro waffles! Yes! If you thought waffles couldn't get any tastier just look at these photos. Crispy outside; soft inside; these waffles have been coated in cinnamon-sugar to channel some serious churro vibes. I stumbled across these insanely delicious waffles because last year for Matt's birthday my brother-in-law, Nick, was coming to visit and I wanted to come up with a special menu. Matt's birthday falls on the 5th of the month so I decided to deem the day Cinco de Matto and serve my spin on Mexican food all weekend.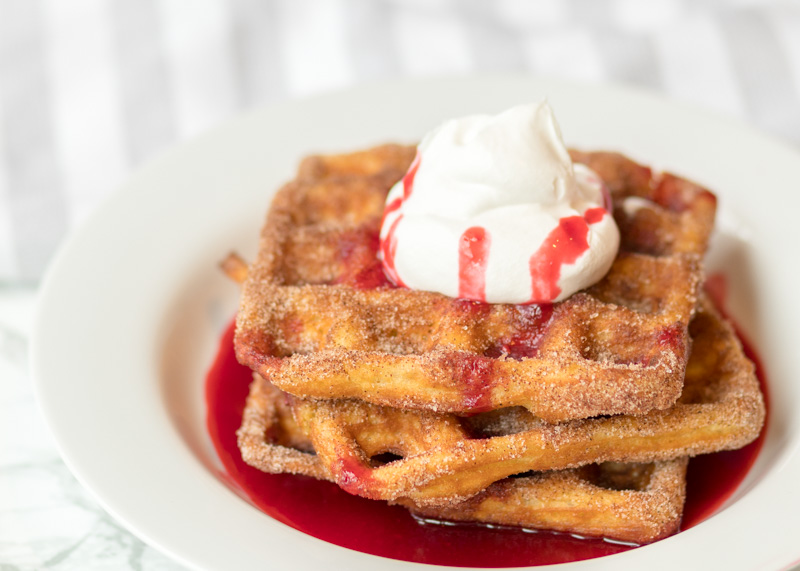 When deciding what to make for brunch, I immediately thought of churros since Matt loves them. I do too, I mean, who doesn't like fried dough covered in cinnamon-sugar?! When I saw the churro waffle recipe from one of my favorite food bloggers, Half Baked Harvest, I knew I had to make them.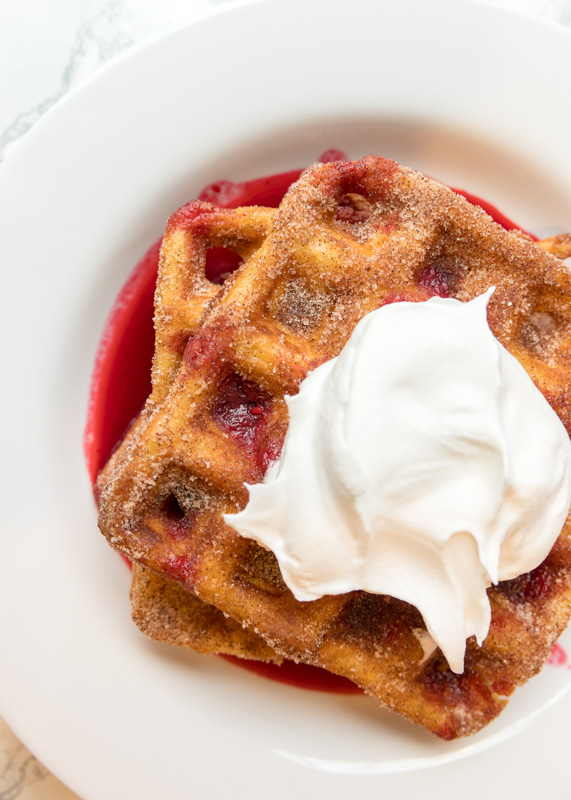 I wanted something to brighten up the waffles and Matt loves raspberries so I went with a raspberry puree. The acidity of the raspberry sauce cuts through the sweetness of the churro waffles and is a great accompaniment. Other than churro waffles, this raspberry puree would work with a lot of other recipes, from drizzling over cheesecake to mixing into plain Greek yogurt. But today, we are using it to amplify these already awesome churro waffles. I used my Perfect Buttermilk Waffle batter for these before coating them in the cinnamon sugar.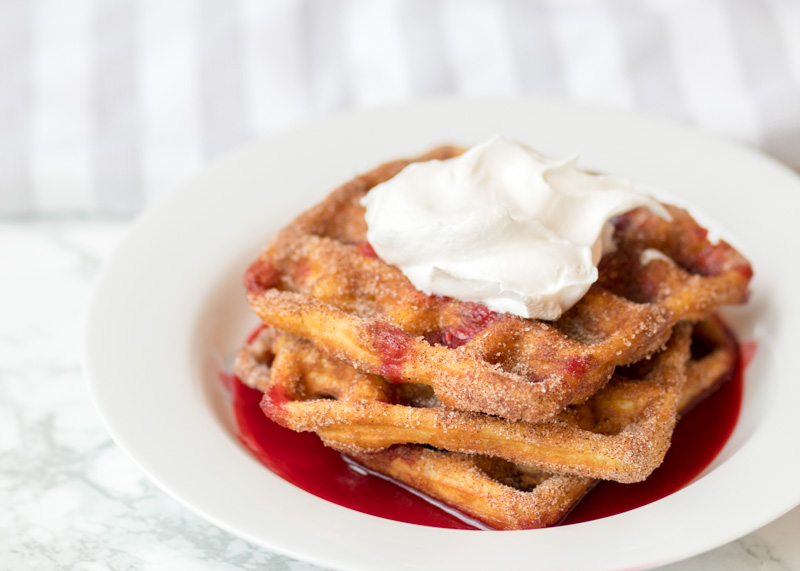 Another fun idea for kids, or adults who like to eat like kids sometimes, would be to cut the waffles into strips before coating in the cinnamon-sugar – perfect for dunking into little bowls of the raspberry puree! You could lightly toast the waffle strips after cutting them to make sure they hold up to the dunking. Now all I can think about are waffle strips and how I want to go make some, but I digress. I hope you try these Churro Waffles with Raspberry Sauce soon! Or today since it is Waffle Wednesday, folks!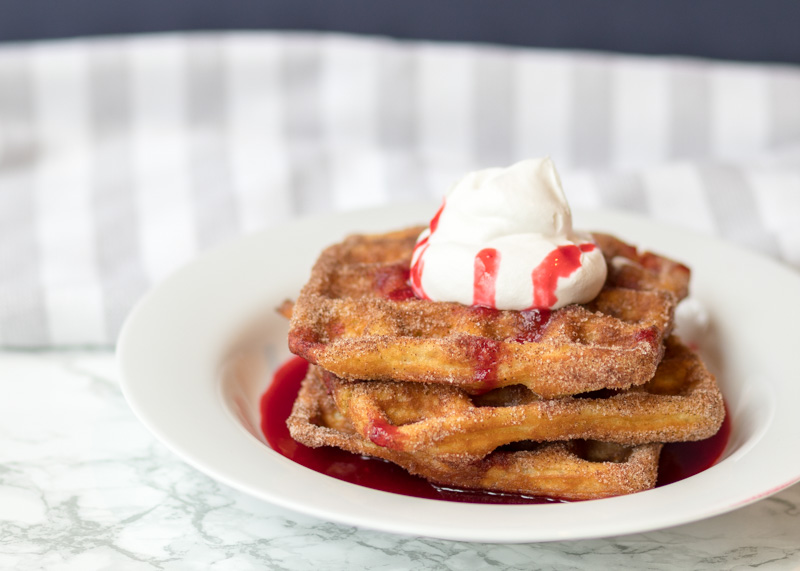 Churro Waffles with Raspberry Sauce
Yield:
8-10 waffles & ¾ cup raspberry sauce
Ingredients
for the waffles
½ cup unsalted butter, melted and cooled
1¾ cups all-purpose flour plus 1 tablespoon
2 teaspoons baking powder
1 teaspoon baking soda
1 teaspoon sugar
½ teaspoon salt
3 large eggs, room temperature
1½ cups buttermilk, room temperature
1 teaspoon vanilla extract
½ cup sugar
1 tablespoon cinnamon
4 tablespoons unsalted butter, melted
Pinch of salt
Whipped cream and fresh raspberries, for topping
for the raspberry sauce
12 ounces frozen unsweetened raspberries
¼ cup sugar
½ teaspoon lemon juice
Directions
for the waffles
Turn on the waffle iron to get it hot and spray with nonstick cooking spray, depending on manufacturer's instructions.
Sift the flour, baking powder, baking soda, sugar and salt into a large mixing bowl. Stir to combine then create a well in the center for the liquid ingredients.
Add the eggs to the cooled butter mixing bowl and beat until frothy. Add the buttermilk and vanilla extract. Beat again until well-combined. Pour the buttermilk mixture into the well in the dry ingredients. Stir with a wooden spoon until just combined. The buttermilk and leavening will create a batter full of air bubbles. Pour the batter onto your waffle iron in batches and cook according to manufacturer's instructions. If working in batches, place the cooked waffles directly on the rack of your oven or toaster oven on a low heat to stay warm.
Combine the sugar and cinnamon in a wide shallow bowl. Brush the warm waffles with the melted butter then dip in the cinnamon sugar to coat. I used my hands to sprinkle more on to make sure there was cinnamon-sugar in every nook and cranny. Repeat for all the waffles. Serve with the raspberry sauce, whipped cream and fresh raspberries.
for the raspberry sauce
Thaw the raspberries in the microwave or on the stovetop. Once thawed, place a fine mesh strainer over a small saucepan. Press the raspberries through the strainer by pressing with the back of a spoon. Scoop the seeds off the strainer as needed. When all the raspberries have been pushed through and left only the seeds, all the sugar and lemon juice to the sauce pan. Heat over medium-low heat and stir until the sugar has dissolved and the raspberry sauce is heated through. Serve warm.
Churro waffle recipe adapted from

Half Baked Harvest

.
Raspberry sauce recipe from

Joy of Baking

.