Perfect Buttermilk Waffles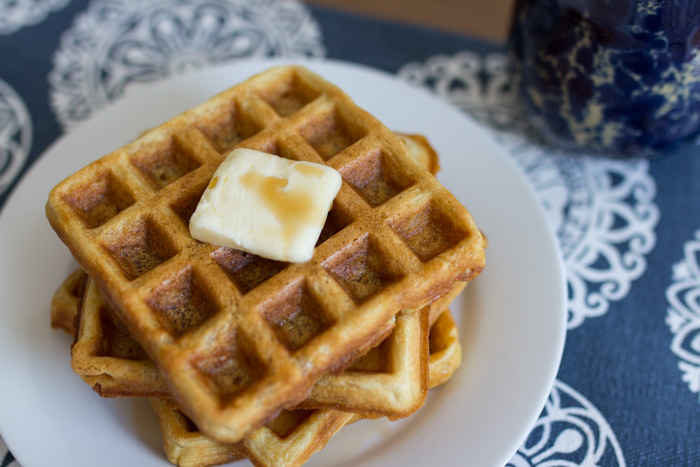 Waffles. Just typing the word makes me want to shout with excitement. WAFFLES! There, that's better. Great waffles are crispy on the outside with a soft, subtly sweet interior. Who doesn't love great waffles? Pile them high with butter and maple syrup, layer them with whipped cream and fresh fruit, smother them in melted Nutella and banana slices… the combinations are endless. And you know how I feel about flavor combinations.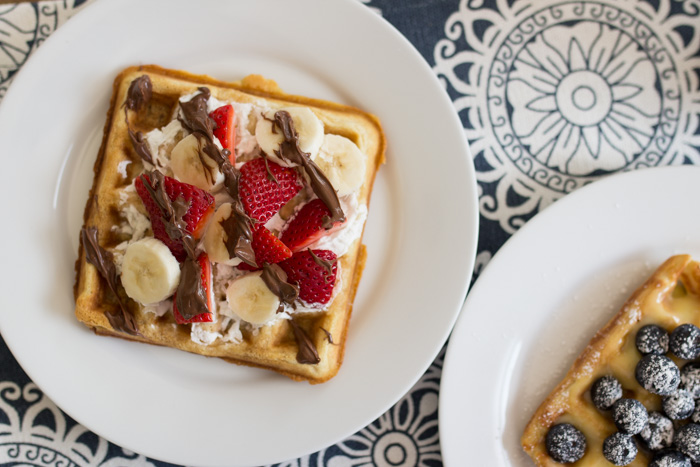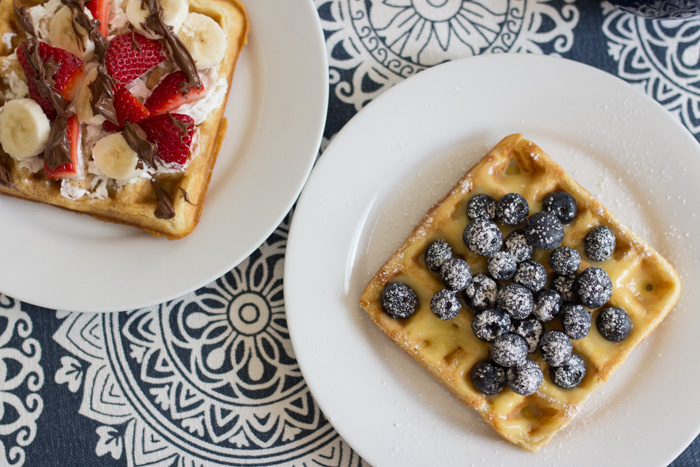 We can all agree that great waffles are, well, great. But what if you want more? What if you want your waffles to overachieve, to be the best of the best, to reach for the stars?! Then you need to be able to strip the waffle platter down, remove all the syrups, fruits and toppings, and be left with just a damn perfect waffle that can stand on its own. As I'm sure you've seen from the title, these, my friends, are Perfect Buttermilk Waffles.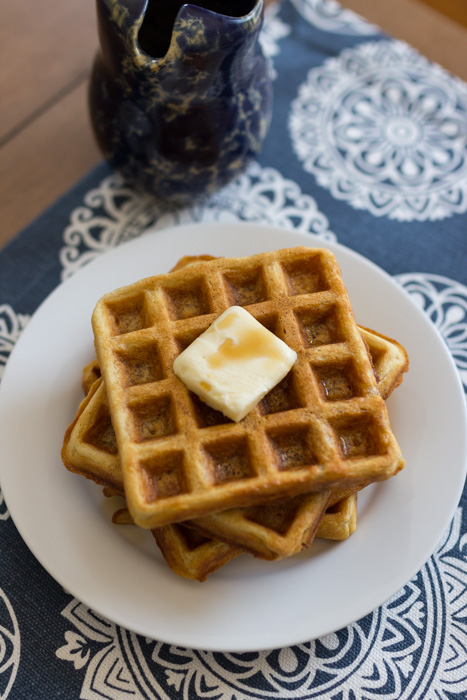 My dad shares my waffle love. Breakfast is his favorite meal so whenever we go out we do it right. Over-easy eggs, bacon, toast, sausage, hash browns, omelets, English muffins; we order it all. And yes, I did mean all those items at the same time. No matter what else we order, my dad and I always, always order a waffle to share.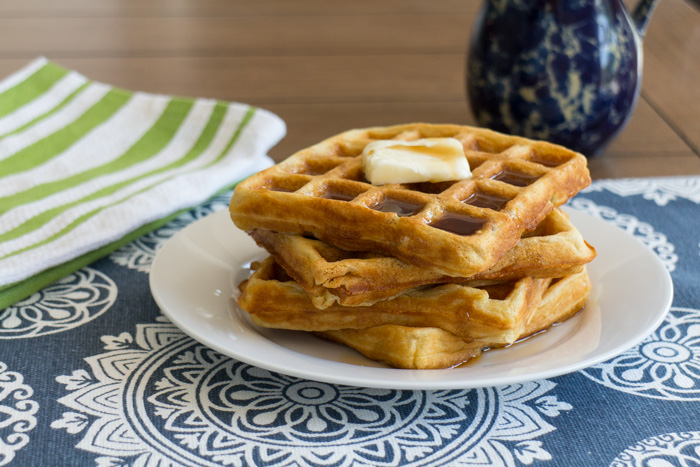 We've been questioned on the volume of our breakfast order, we've been told we will never finish everything and one surly waitress even made us shift to a larger table, huffing that our food order would never fit! We laugh at their remarks and then dive in, waitstaff eyes wide as we do serious damage on the spread in front of us. We always judge a breakfast place by its waffle and if these Perfect Buttermilk Waffles came out of the kitchen it would go right to the top of our list.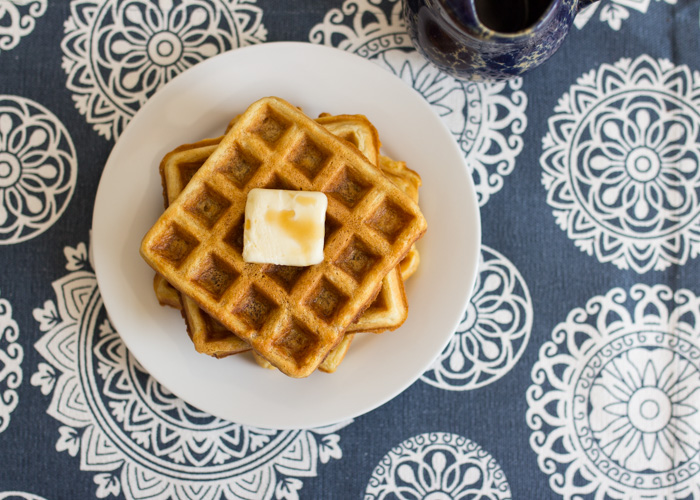 If you don't have a waffle iron, this Cuisinart is the one we currently have in the Lemon & Mocha kitchen and we use it at least every few weeks. If you aren't looking to start up Waffle Wednesdays (it's a thing!) in your kitchen, simply thin the batter slightly with milk to make crispy outside, fluffy inside pancakes.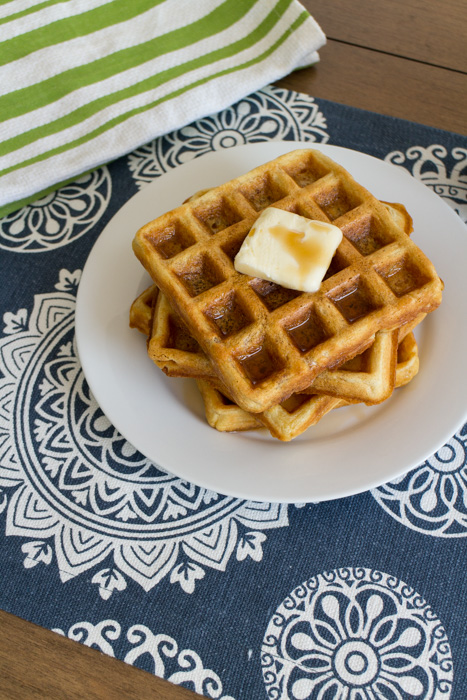 Perfect Buttermilk Waffles
Yield:
8-10 waffle squares
Ingredients
½ cup unsalted butter, melted and cooled in a medium mixing bowl
1¾ cups all-purpose flour
2 teaspoons baking powder
1 teaspoon baking soda
1 teaspoon sugar
½ teaspoon salt
3 large eggs, room temperature
1½ cups buttermilk, room temperature
1 teaspoon vanilla extract
Directions
Turn on the waffle iron to get it hot and spray with nonstick cooking spray, depending on manufacturer's instructions.
Sift the flour, baking powder, baking soda, sugar and salt into a large mixing bowl. Stir to combine then create a well in the center for the liquid ingredients.
Add the eggs to the cooled butter mixing bowl and beat until frothy. Add the buttermilk and vanilla extract. Beat again until well-combined.
Pour the buttermilk mixture into the well in the dry ingredients. Stir with a wooden spoon until just combined. The buttermilk and leavening will create a batter full of air bubbles.
Pour the batter onto your waffle iron in batches and cook according to manufacturer's instructions. If working in batches, let waffles rest on a cooling rack after they are cooked, or place them directly on the rack of your oven or toaster oven on a low heat to stay warm.
Notes
If you don't have buttermilk handy, you can use the following substitution. Put 1 tablespoon of lemon juice in a liquid measuring cup. Fill the measuring cup with milk (I use skim, any milk-fat percentage should work) until it equals 1½ cups. Let sit for 5 minutes before using in the recipe.
Recipe from

Food.com

.