How to Host a Waffle Bar Brunch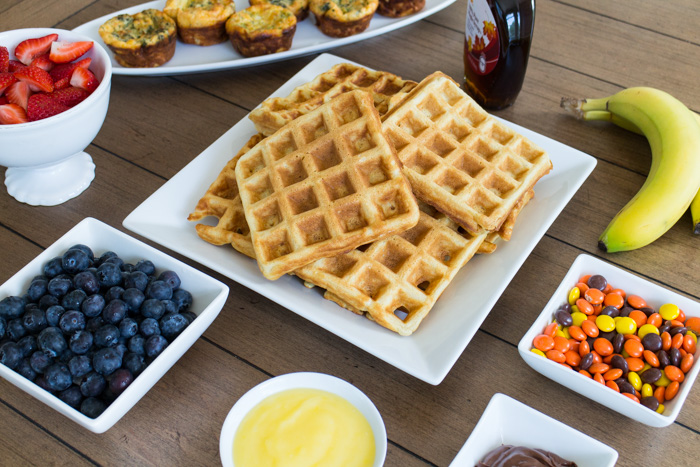 I am still not done talking about those Perfect Buttermilk Waffles from last week! They are so full of crispy-fluffy goodness that I needed to drag them into a second post. And what better way to put waffles on a pedestal than by hosting a waffle bar? A waffle bar is an easy (and delicious!) way to impress your guests, whether you're hosting a friend get-together, a baby shower or even celebrating a waffle-lover's birthday.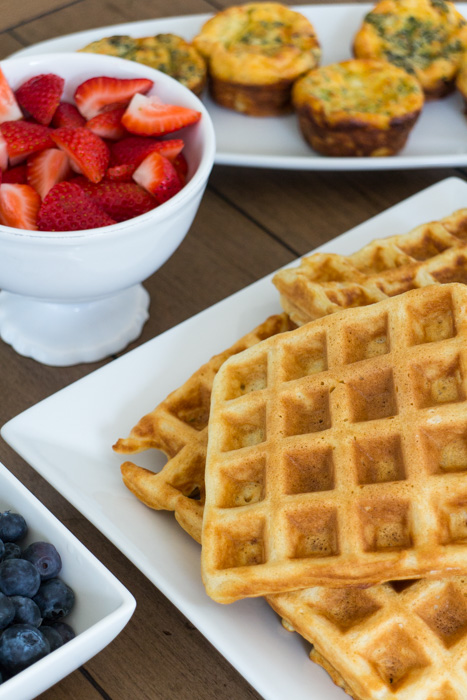 I threw my first waffle bar the other month for breakfast following a girls night and it was a big success. To provide a break from the sweetness I also made mini broccoli, ham and cheddar quiches, which can be made the night before and reheated in the microwave.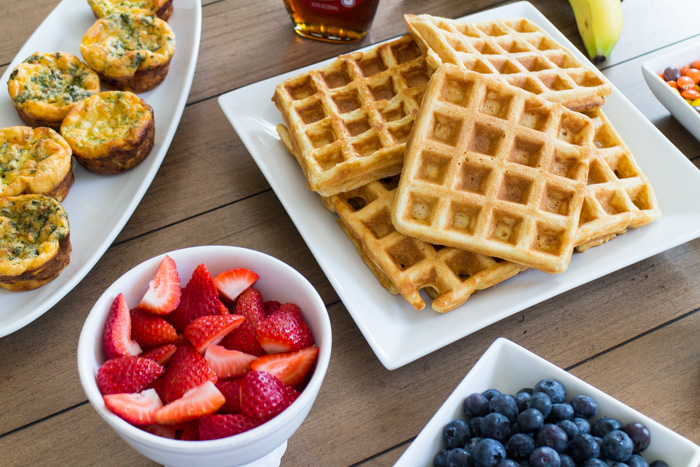 To allow yourself more time to hang with your guests I would suggest doing as much prep as possible before they arrive. You're going to need quite a few serving dishes so pulling those out along with the serving utensils ahead of time will help. Certain ingredients that can be left out, such as the candies and nuts, can be poured into their serving dishes and covered until you're ready to eat.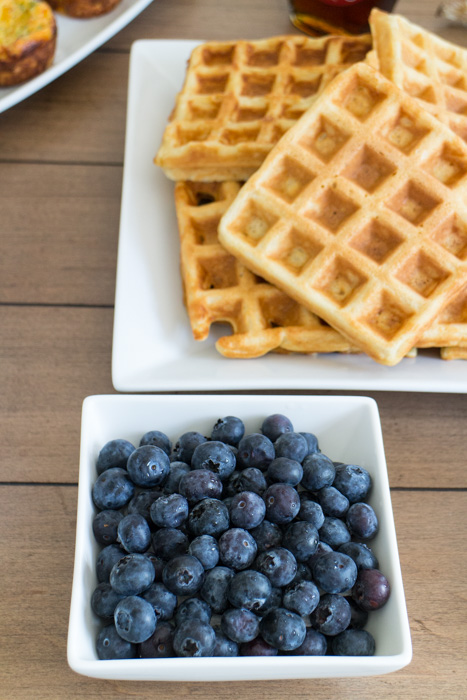 Once the guests arrive it's waffle making time! Make sure to keep waffles warm in the oven until you're ready to eat- they will lose their crispiness if you keep them warm on a covered platter. I factored two waffles per person, but it depends on the group.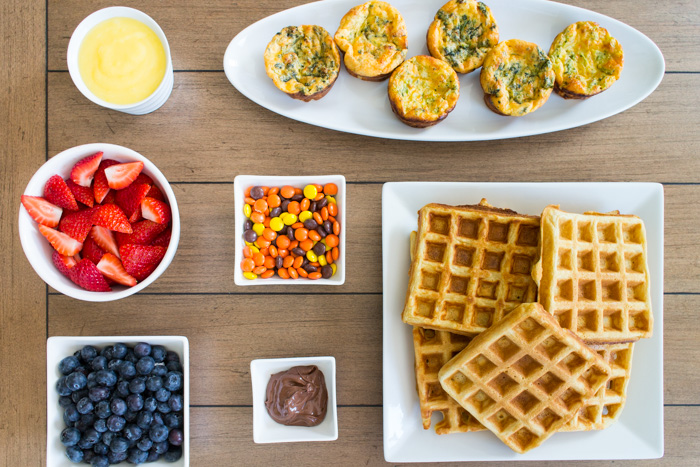 A full list of ideas is below. Pick a fun mix of each of the three categories for a delicious waffle brunch!
Fresh Fruit
Bananas, whole
Blackberries
Blueberries
Cherries, pitted
Kiwi
Peaches, sliced
Raspberries
Strawberries, quartered
Toppings
Caramel sauce
Chocolate Ganache
Chocolate syrup
Fruit jam or syrups
Greek yogurt
Honey
Lemon curd
Maple syrup
Nutella, warmed
Peanut butter, warmed
Whipped cream
Add-ons
Almonds
Browned Butter Peaches
Coconut flakes
M&Ms
Mini chocolate chips
Oreo crumbles
Peanut butter cup pieces
Pecans
Reese's Pieces
Sprinkles
Toasted walnuts
Vanilla Bean Ice Cream
To inspire you even more, here are a few of my very own waffle bar combinations: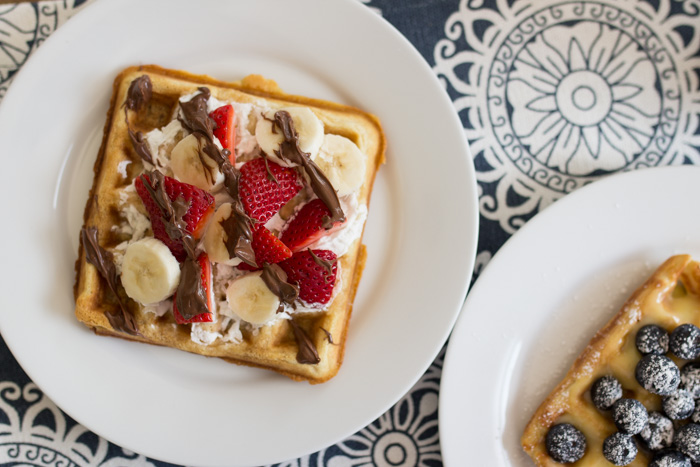 Strawbanana Love: strawberries, bananas, whipped cream, Nutella
Lemon Blueberry Blast: lemon curd, blueberries, sprinkled with powdered sugar
Ice Cream Sundae: chocolate syrup, whipped cream, cherries, rainbow sprinkles (and actual ice cream if you have any!)
Peanut Butter Cream Pie: peanut butter, chocolate syrup, peanut butter cup pieces, whipped cream
The Vermonter: blackberries, toasted walnuts, maple syrup
Coco for Waffles: raspberry jam, coconut flakes, raspberries
Health Nut: Greek yogurt, blueberries, almonds, maple syrup
Trust Me: strawberry syrup, strawberries, Reese's Pieces, whipped cream
How would you top your waffle?!?