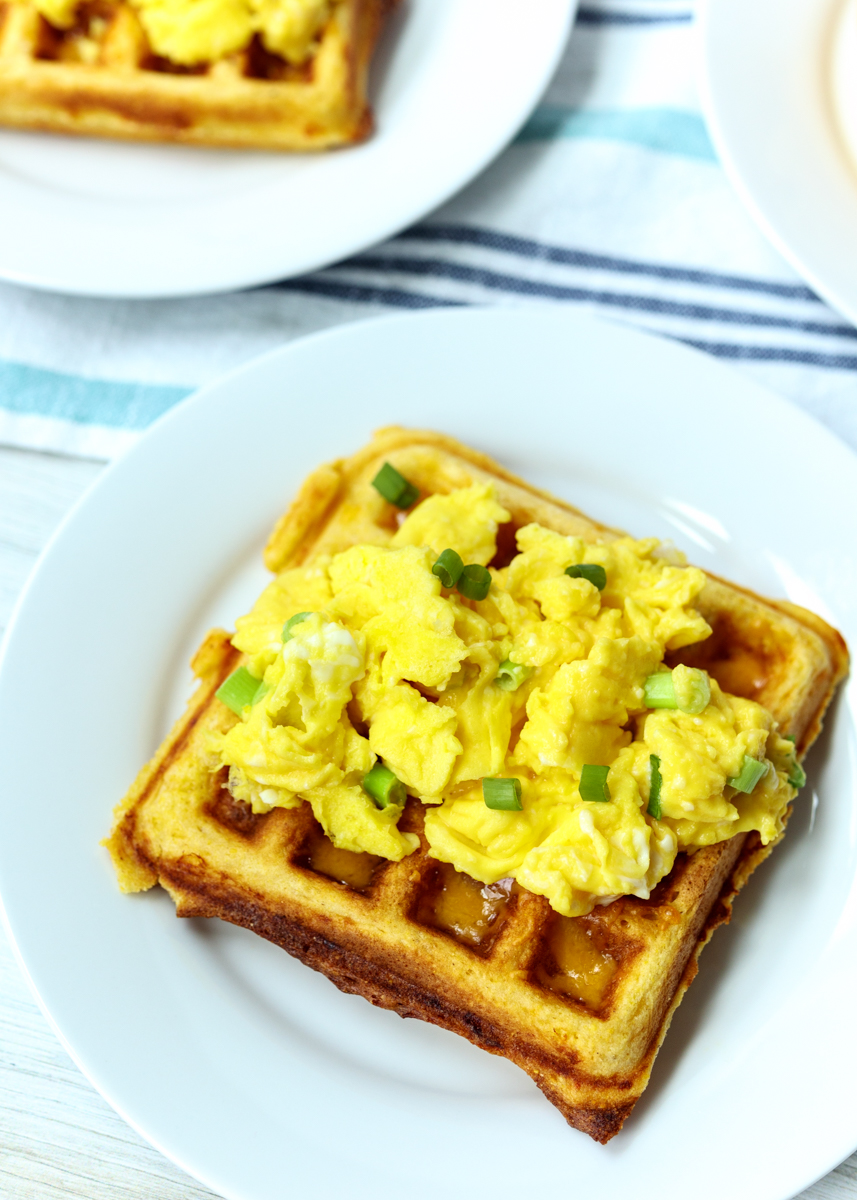 Tomorrow is National Waffle Day! I know I've been mentioning a lot of these national food holidays around here, but it's hard to ignore a day that celebrates waffles!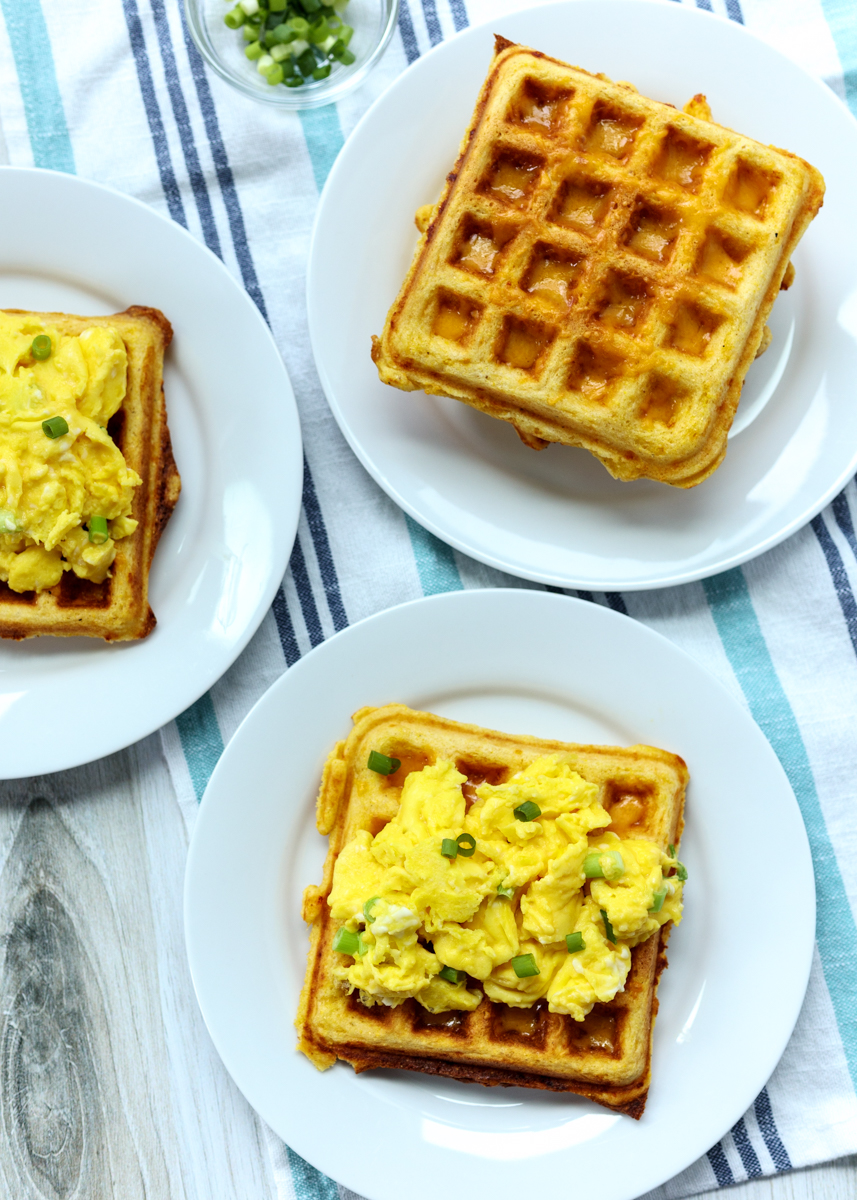 Waffles hold a special place in my heart because a) they are delicious, b) they remind me of breakfasts with my Dad and, c) they make me think of Shrek, which seeing that in theaters is a whole other classic family memory that I won't get into right now.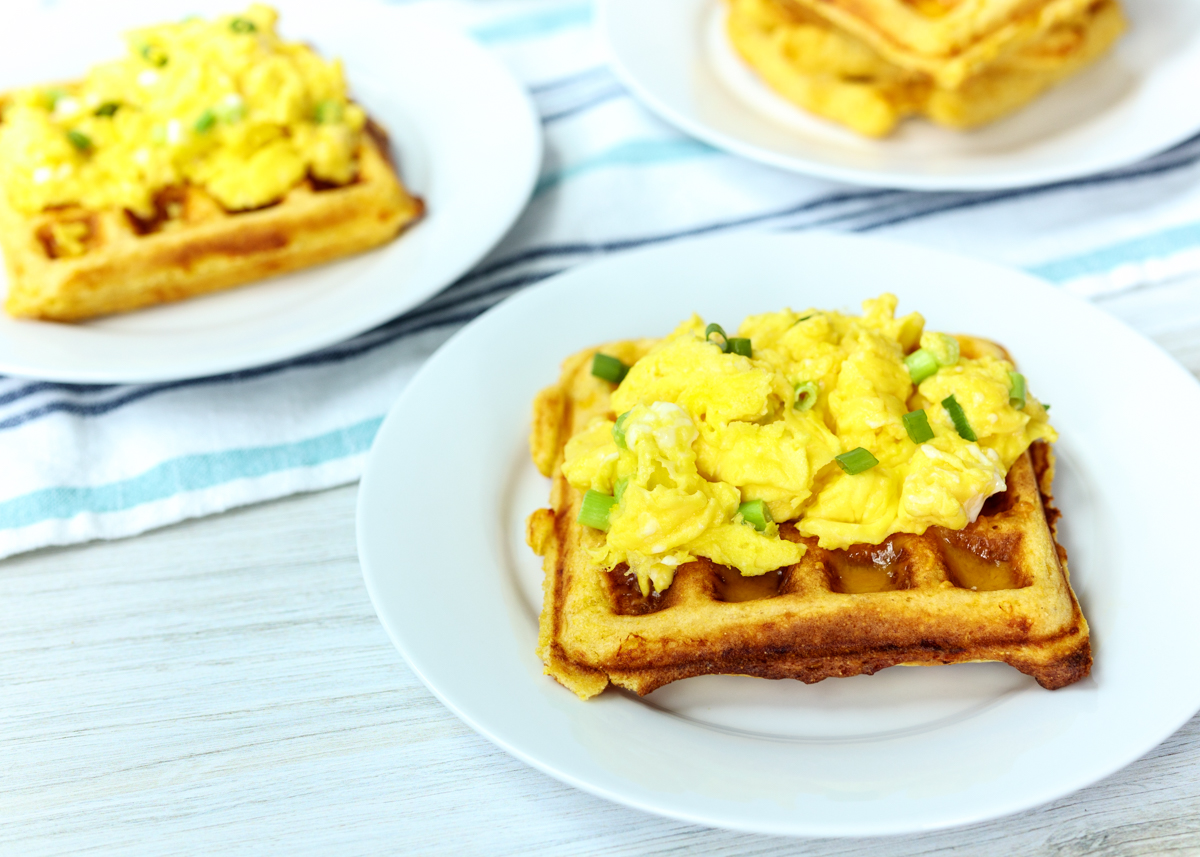 Waffles are usually sweet and if that's what you're in the mood for I have my Triple Berry Waffles and Churro Waffles with Raspberry Sauce recipes posted on the blog. However, savory waffles are equally as delicious, as I discovered with my eggs benedict cheddar scallion waffles. Since I've been busy making a lot of dessert recipes lately I figured Matt and I should celebrate National Waffle Day with something savory. I dug into my Food Network Magazine binder archives and found the recipe for these Cornbread Cheddar Waffles with Scrambled Eggs from Kelsey Nixon.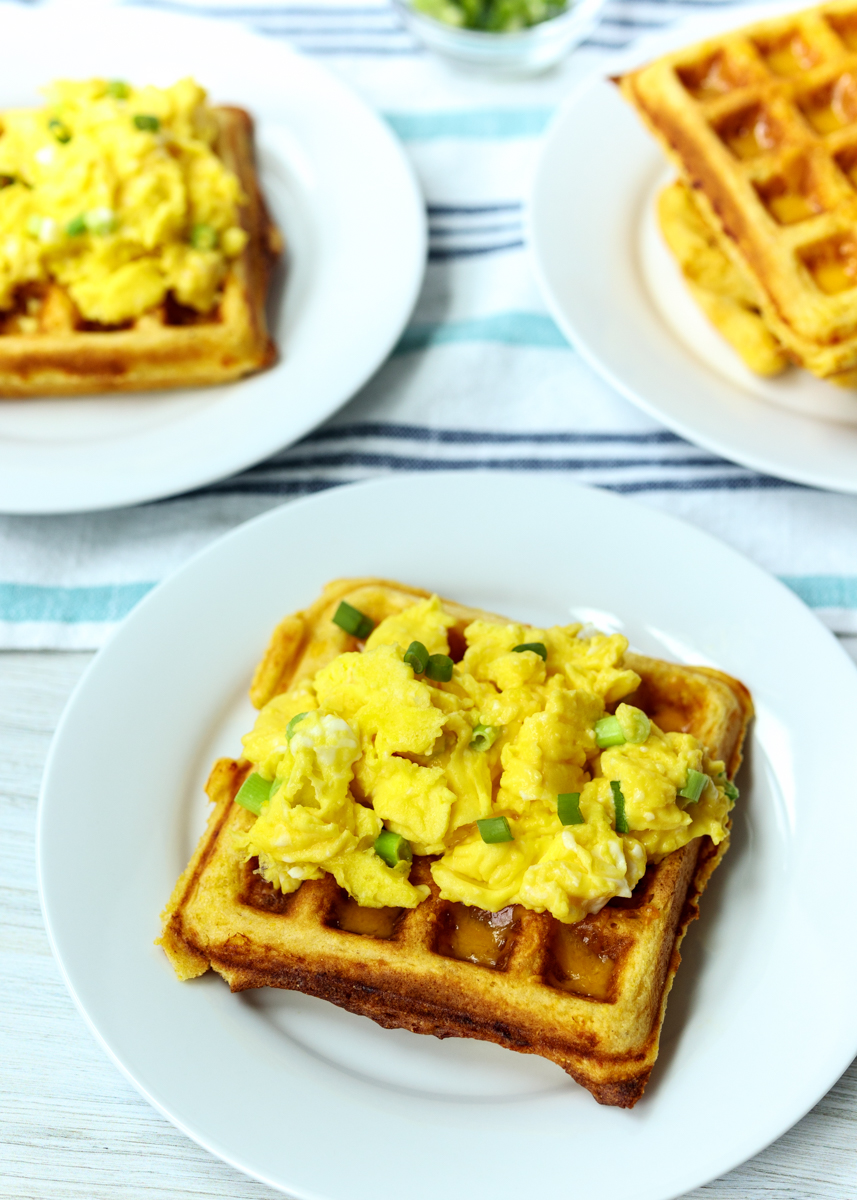 I love the addition of cornmeal in these waffles! It's so smart and such a perfect way to help waffles cross over into the savory category. I'm even thinking of going back to my eggs benedict waffle recipe and experimenting with adding cornmeal. The cornmeal also adds a nice texture to the waffles. Sharp cheddar gets mixed into the waffle batter as well, although we are setting aside some for the top of the waffle to get all melted and gooey under the scrambled eggs.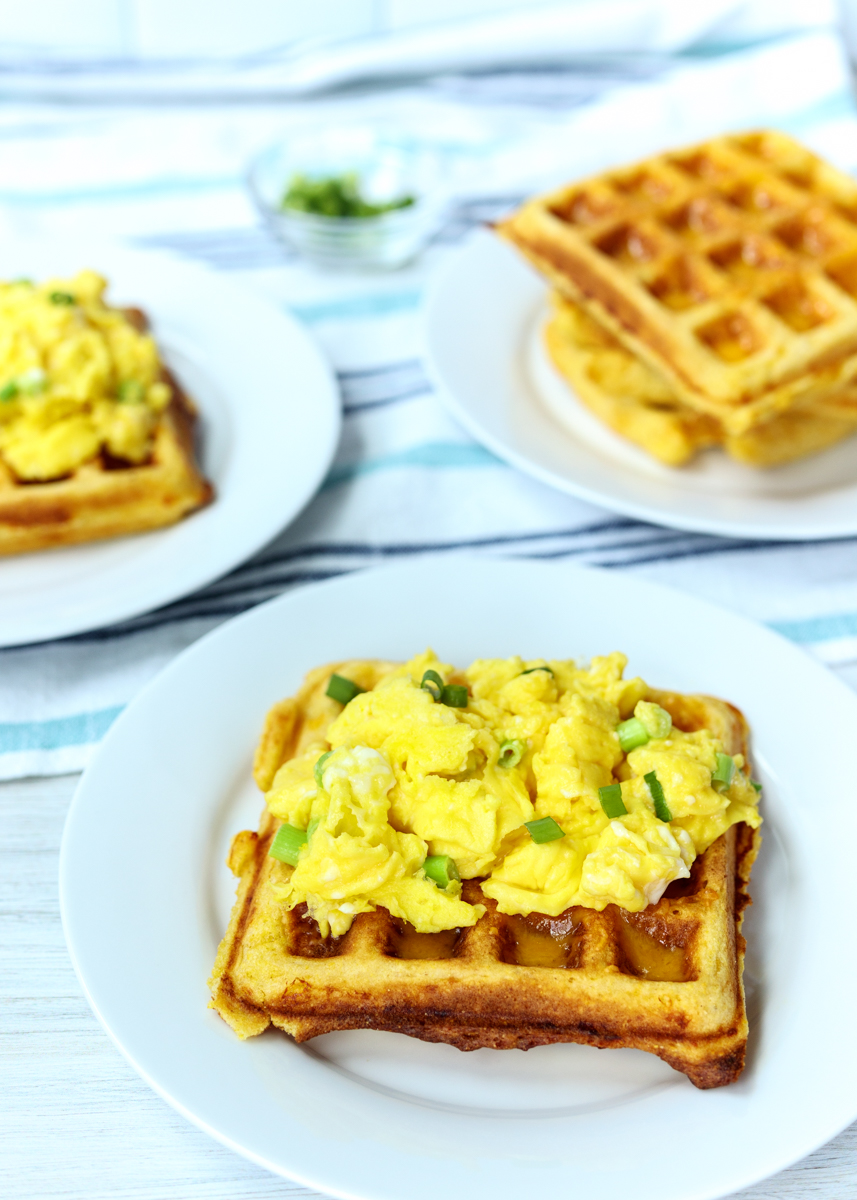 The scrambled eggs are soft with scallions cooked in to give them some extra flavor. I also like to add a little milk or cream cheese when I'm scrambling eggs to keep them moist and fluffy. If you have never had eggs piled high on a savory waffle then you are missing out! What's your favorite way to eat waffles?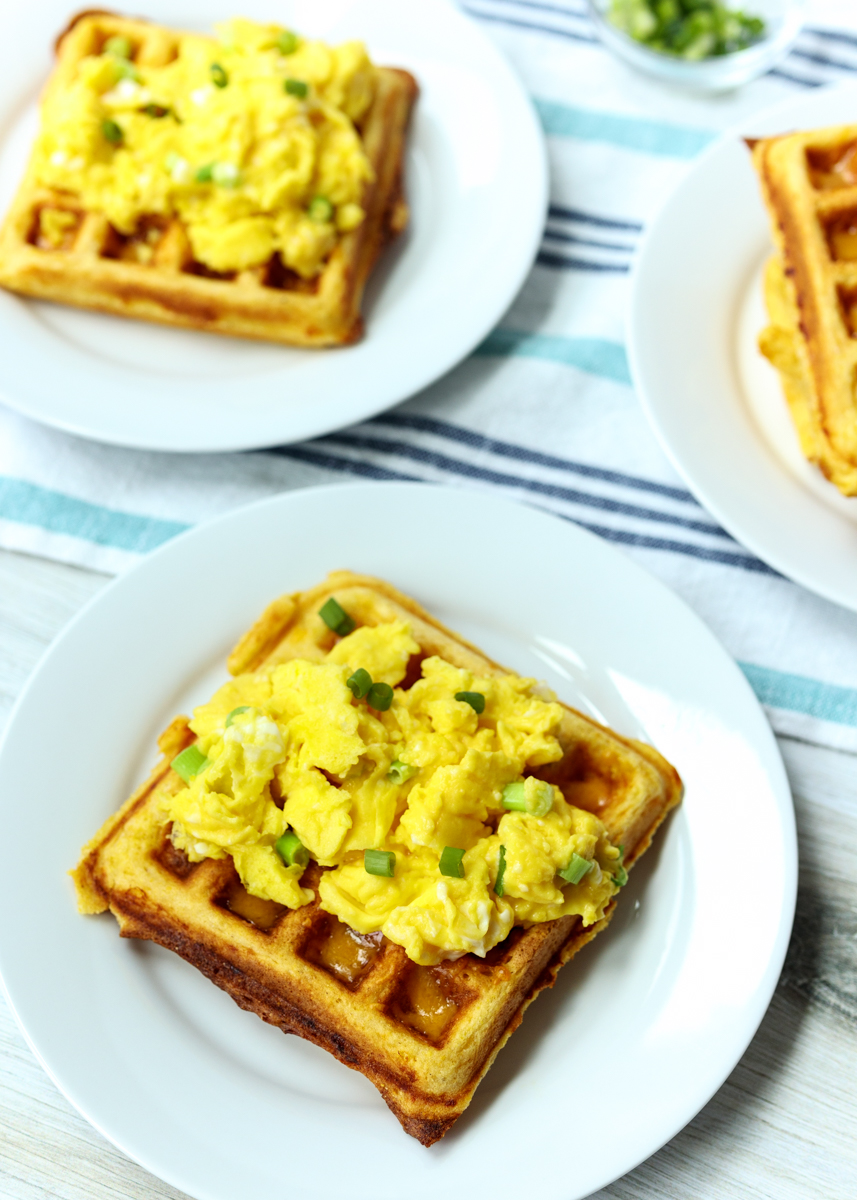 Cornbread Cheddar Waffles with Scrambled Eggs
Ingredients
1 cup all-purpose flour
1 cup cornmeal
1 tablespoon sugar
1 tablespoon baking powder
½ teaspoon salt
2 cups grated sharp cheddar cheese, divided
10 large eggs
1¼ cups buttermilk (see note)
¼ cup vegetable oil
1 tablespoon milk or cream cheese, optional
1 tablespoon unsalted butter
1 scallion, thinly sliced
Salt and pepper
Cooking spray
Directions
In a large mixing bowl, sift together the flour, cornmeal, sugar, baking powder and salt. Mix in 1 cup of the cheddar cheese. In a medium mixing bowl, beat 2 of the eggs until small bubbles form. Whisk in the buttermilk and vegetable oil. Add the wet ingredients to the large mixing bowl with the flour and stir until just combined.
Coat waffle iron with cooking spray and preheat. Pour enough batter to fill the waffle iron without it overflowing and cook until golden brown. Repeat with the remaining batter. Place cooked waffles on a wire cooling rack so they don't get soggy.
When the waffles are almost done, make the scrambled eggs. Whisk the remaining eggs in a large bowl until small bubbles form. Whisk in the milk or cream cheese, if using. Melt the butter in a large nonstick skillet over medium-low heat. Add the beaten eggs and the scallions. Season with salt and pepper. Cook, stir and flip with a spatula until just set. Remove from the heat and cover to keep warm.
When the waffles are done, preheat the broiler. Place the waffles on a baking sheet then scatter the remaining cheddar cheese over top. Broil until the cheese melts, about 1 minute. Remove from the oven and top with the scrambled eggs. Serve warm.
 Recipe from September 2017 issue of Food Network Magazine
.
Some of the links above are affiliate links, which means I may receive a small commission for my referral. This does not affect the retail cost of the item. Thank you for supporting Lemon & Mocha!