Goat Cheese Spinach Pesto Egg Sandwiches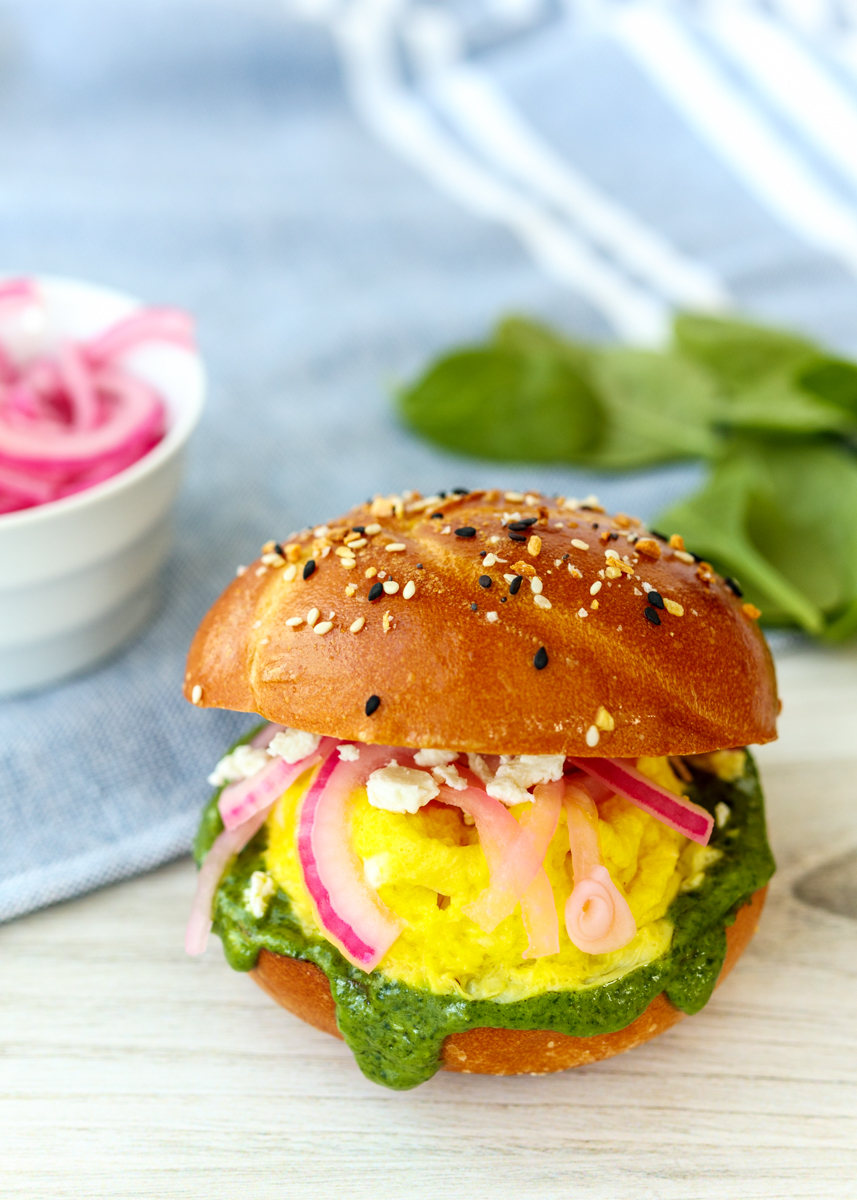 4 cups spinach leaves
⅓ cup nuts, see note
1 clove garlic
½ teaspoon salt
½ cup olive oil
1 ounce goat cheese, plus more for topping
2 kaiser rolls
3 eggs
Everything but the bagel seasoning
Pickled red onions, for topping
Cooking spray
Puree the spinach, nuts, garlic and salt in a food processor. Add the olive oil and continue to pulse until smooth. Add the goat cheese and pulse until smooth. Set aside.
Beat 1 of the eggs in a small bowl then add 1 tablespoon water. Brush the tops of the buns then top with everything but the bagel seasoning. Toast in your toaster oven or oven.
Spray 2 small ramekins or microwave-safe bowls with cooking spray. Beat each of the remaining 2 eggs in their own ramekin and season with salt and pepper. I usually add a splash of milk. Lightly cover and microwave for 1 minute.
To make the sandwiches, spread the bottom of each bun with some of the goat cheese spinach pesto. Carefully remove the egg from the ramekin and place on top along with the pickled red onions and additional goat cheese, if desired.
You can use whichever type of nut you prefer in pesto; I would recommend toasted pine nuts, almonds or walnuts. Alternatively, you could use 3 tablespoons of pumpkin seed butter instead as that is what I used for this recipe.
Recipe by
Lemon & Mocha
at http://www.lemonandmocha.com/2019/03/20/goat-cheese-spinach-pesto-egg-sandwiches/