Barbecue Meatloaf Sandwiches with Caramelized Onions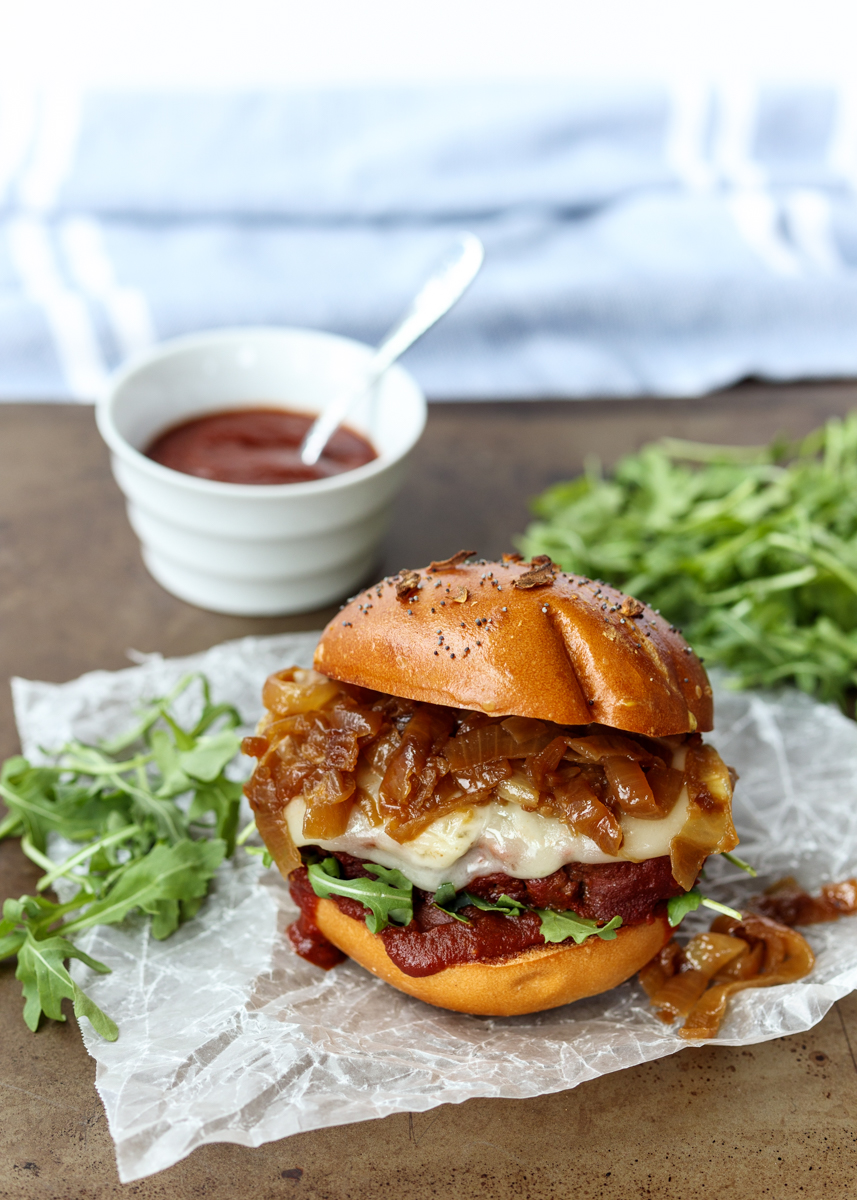 Before I dive into these epic meatloaf sandwiches, I forgot to tell you all last week how the February cookbook recipe went! Matt and I made the Angel Hair Frittata from the Half Baked Harvest Cookbook. It was loaded with broccolini, roasted red peppers, sun-dried tomatoes and pesto. The flavor was really good and I think we'll make it again, but we weren't one hundred percent sold on the angel hair pasta in it. We love pasta and we wanted to be able to taste it more so since we couldn't really taste it we might just make it without the pasta next time.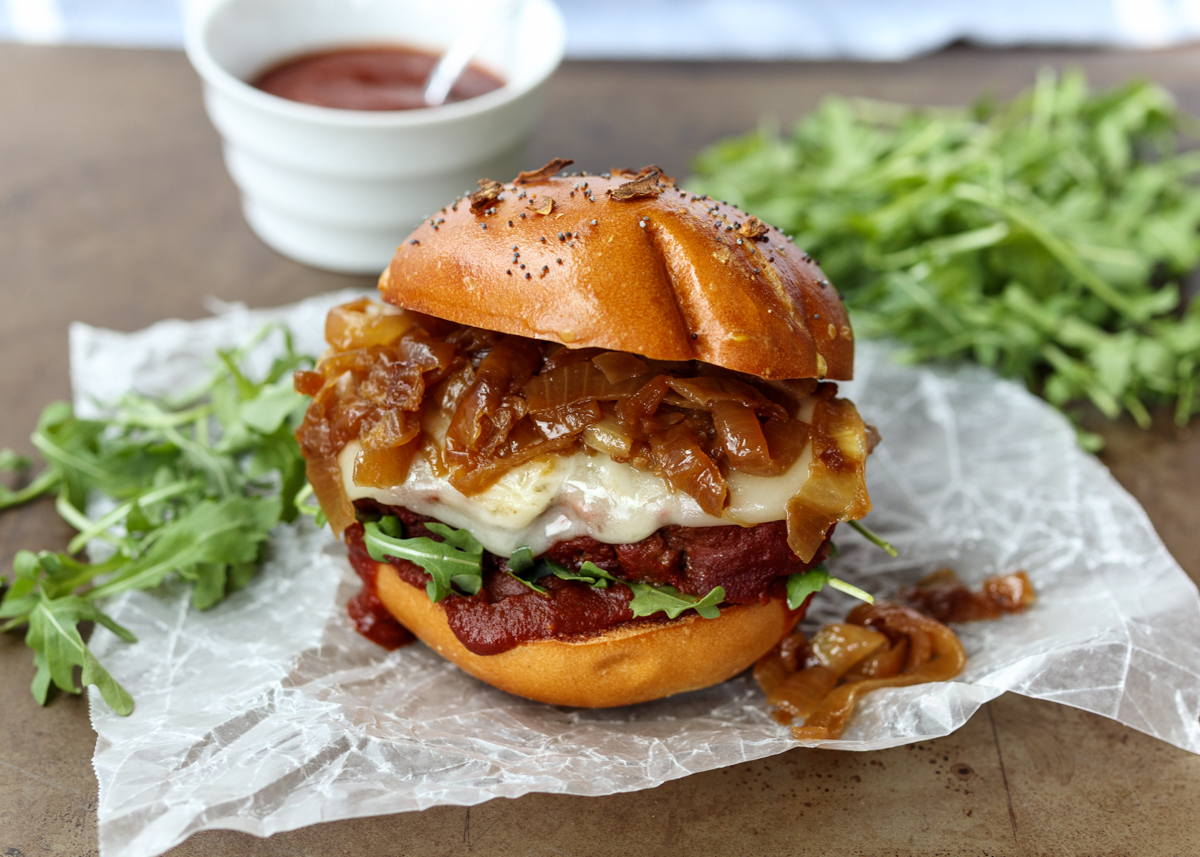 Now, back to these Barbecue Meatloaf Sandwiches with Caramelized Onions. Matt's birthday is tomorrow so I wanted to make him a special meal last week to celebrate. Yes, a week early because that's what happens when you're a food blogger! Matt loves meatloaf and while this meatloaf on its own is amazing I knew I needed to kick it up a notch to make it birthday meal worthy. Enter toasted bun, melted provolone cheese, fresh arugula and rich caramelized onions!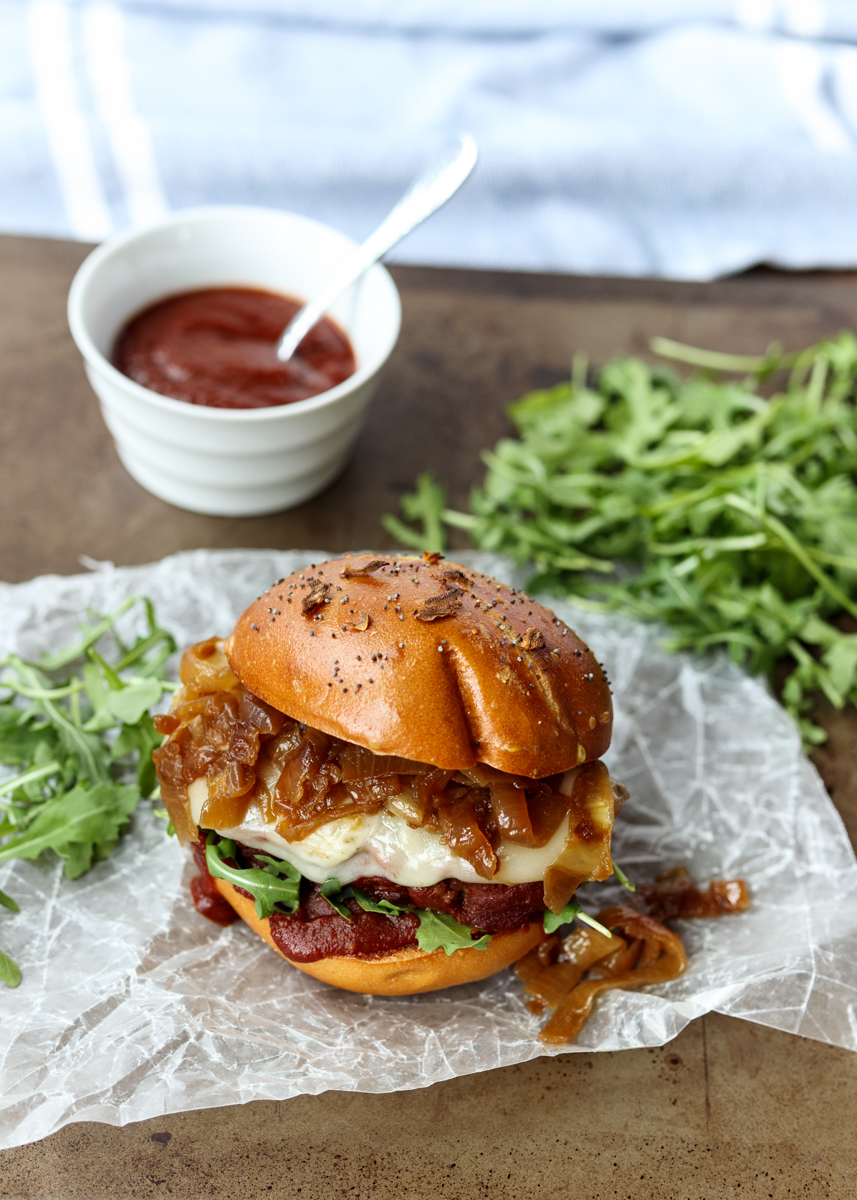 These sandwiches ate like a burger except multiply the tender factor and the flavor level by at least ten. Trust me, it's a scientific fact. The key to a tender meatloaf is making sure you have enough fat and enough moisture. I used 80% lean ground beef and added moisture with barbecue sauce, an egg, Dijon, and balsamic. To take it even further, I added bread that had been soaked in beef broth. If you add bread crumbs all they will do is take moisture away from the meat.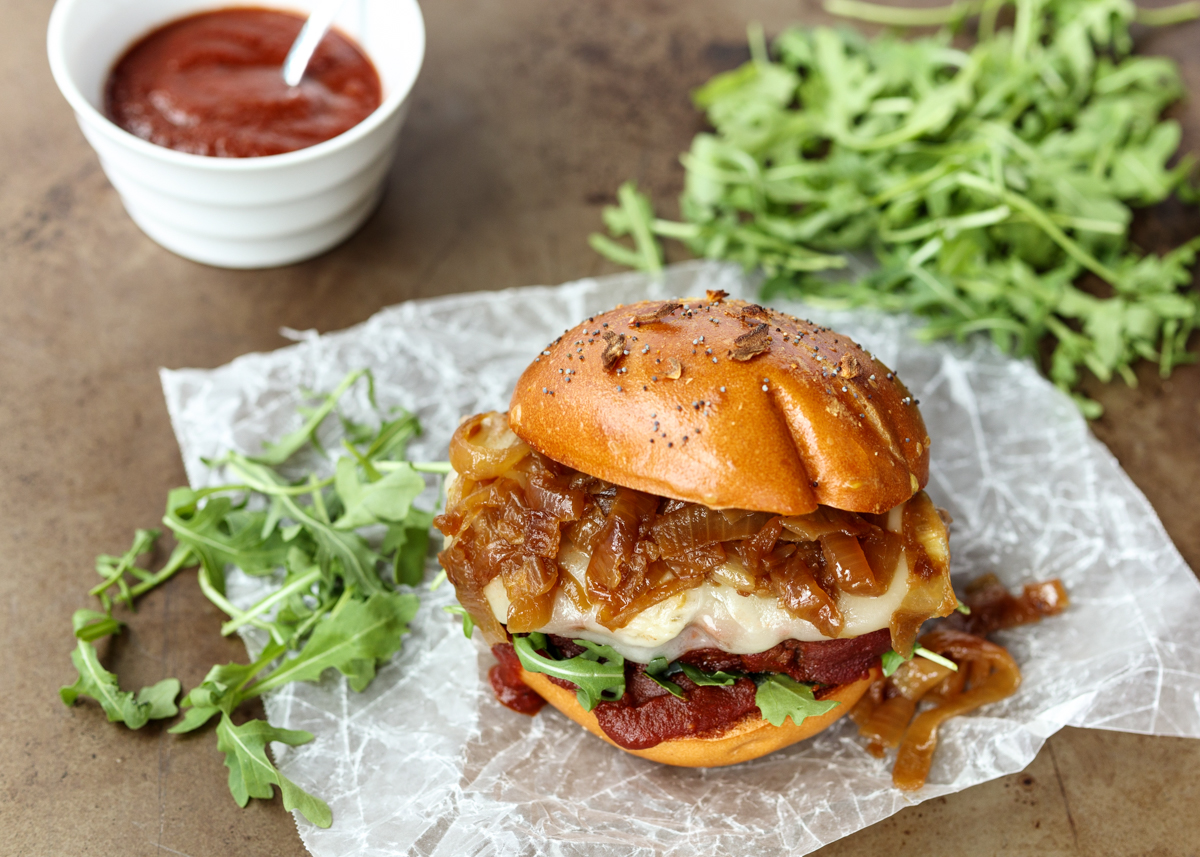 To get an even richer flavor I added some sautéed mushrooms and onions. Raw veggies are great, but anytime you get a chance to sauté them it really brings out an unbeatable depth of flavor. Finally, cook the meatloaf low and slow freeform on a rimmed baking sheet so that all the barbecue sauce slathered sides get a chance to caramelize. Yum!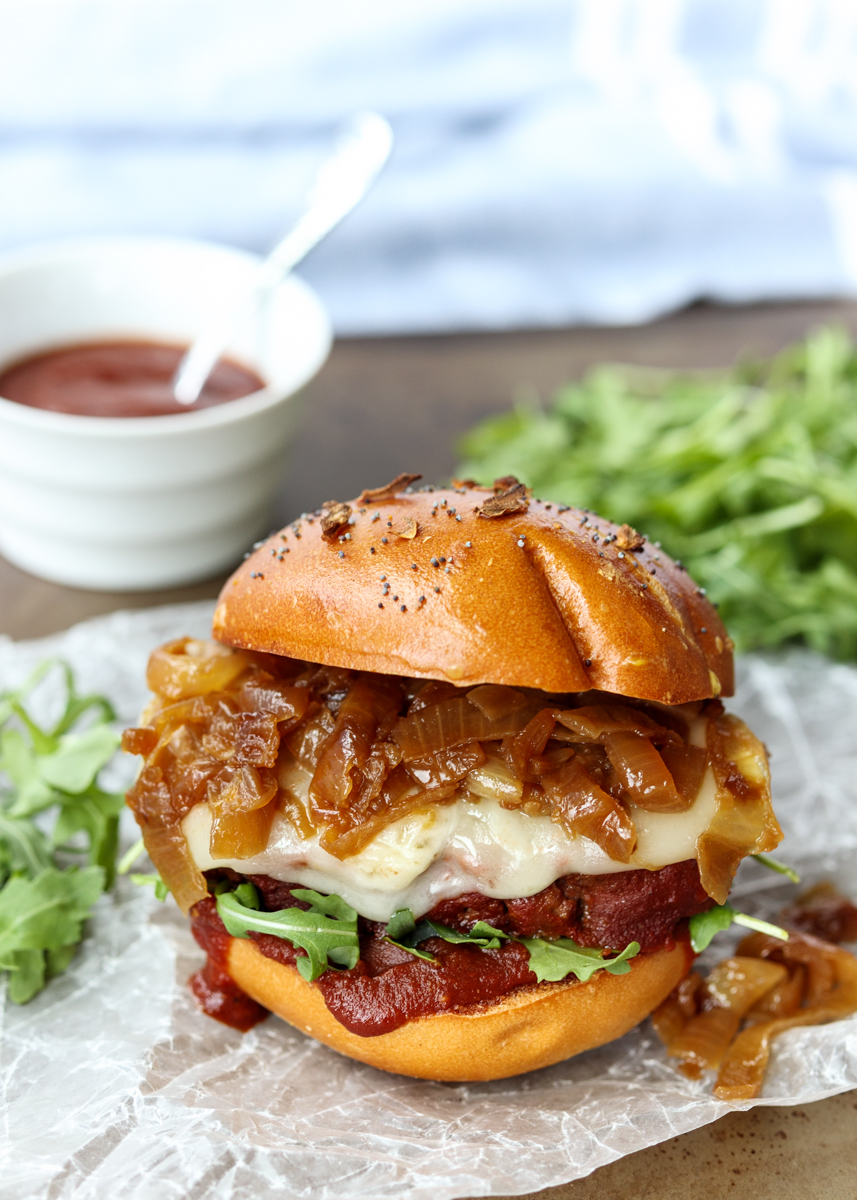 Every time I've ever made meatloaf I've made it slightly differently because I've used whatever I have on hand in the fridge and I always add ingredients by feel. If the meatloaf is sticking to the bowl then it needs more liquid ingredients. Now that I finally wrote down a recipe I can recreate it exactly next time Matt says make that really good meatloaf again! I will definitely be making it for these sandwiches again because this has got to be the most ultimate way to eat meatloaf for dinner.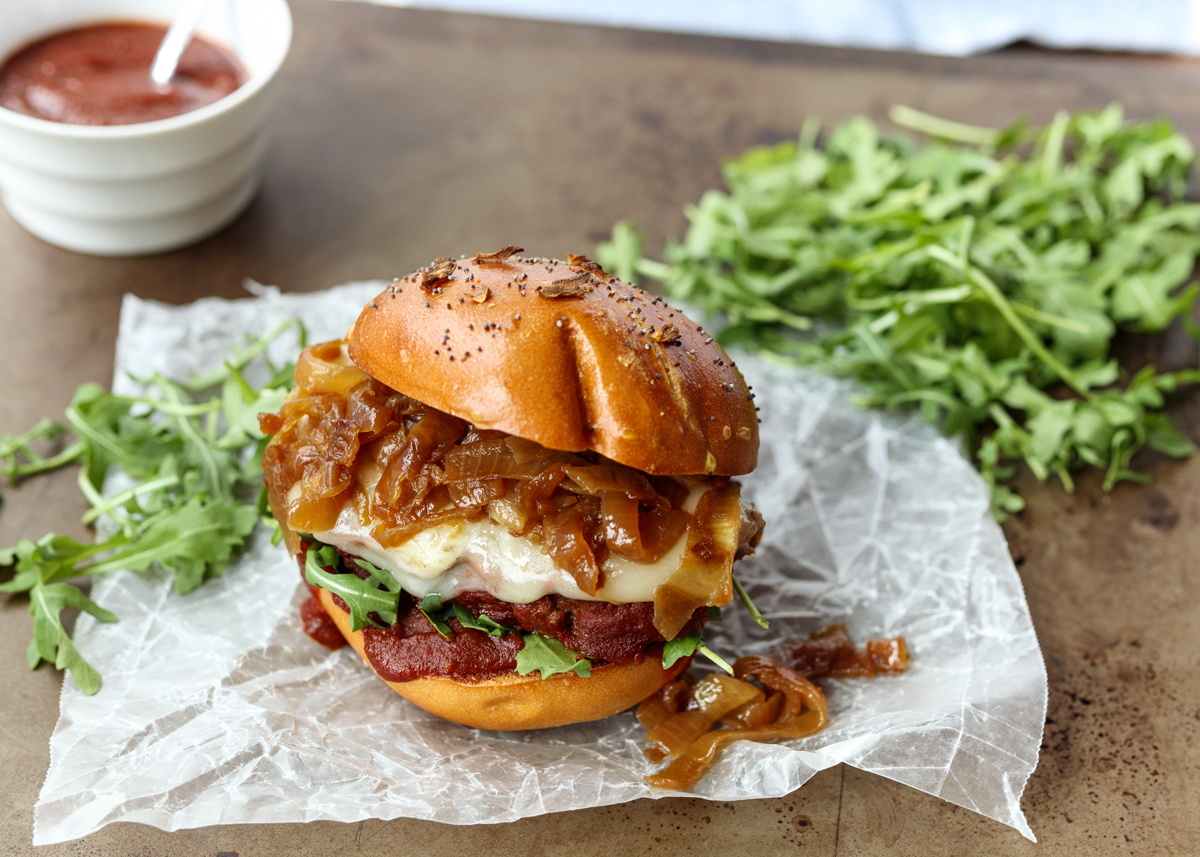 Also, I normally dread taking photographs of burgers and sandwiches because they're really hard to make look appetizing, but I'm so excited with how my photos came out and they're really doing justice to these epic sandwiches! Enjoy!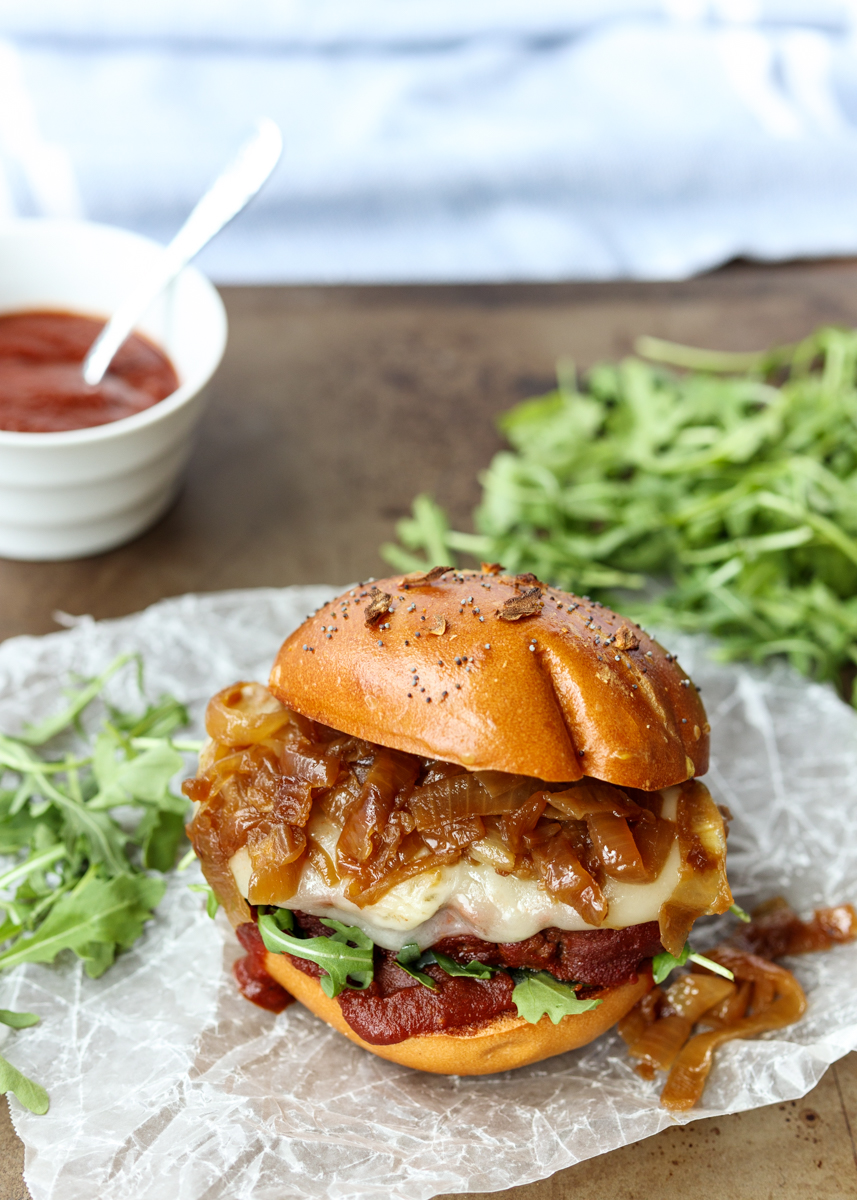 Barbecue Meatloaf Sandwiches with Caramelized Onions
Ingredients
for the meatloaf
1 tablespoon olive oil
½ small onion, small diced
4 ounces sliced cremini mushrooms, roughly chopped
Salt, pepper and Italian seasoning
1 egg
1 slice bread (I used potato bread), torn into pieces
½ cup beef broth
1 cup barbecue sauce, divided
1 tablespoon balsamic vinegar
1 tablespoon Dijon mustard
1 teaspoon garlic powder
½ teaspoon salt
¼ teaspoon ground black pepper
2 pounds 80% lean ground beef
for the sandwiches
4 medium onions, halved then sliced
1 tablespoon plus 1 teaspoon olive oil
Salt
10 kaiser or brioche buns, cut in half
10 slices provolone cheese
Arugula, for topping
Barbecue sauce, for topping
Directions
for the meatloaf
Preheat oven to 325 degrees F. Line a rimmed baking sheet with nonstick aluminum foil and set aside.
Heat the olive oil in a medium skillet over medium-high heat. Add the onions and mushrooms then season with salt, pepper and Italian seasoning. Cook until tender and slightly caramelized, about 7 minutes. Remove from the heat.
Beat the egg in a large mixing bowl. Soak the bread pieces in the beef broth for a few minutes then add the soaked bread pieces to the mixing bowl; they will be really mushy. Add ½ cup barbecue sauce, balsamic vinegar, Dijon, garlic powder, salt and black pepper. Add the sautéed onions and mushrooms then mix everything together. Add the ground beef then use your hands to incorporate everything together, being sure not to over-mix (see note). It will come together more on the baking sheet. Scoop the meatloaf mixture onto the prepared baking sheet and form it into a long log, making it roughly the width of your kaiser buns, a couple inches high and then however long it needs to be. Mine was about 12-inches long. Cover the outside of the meatloaf completely with the remaining ½ cup of barbecue sauce.
Bake until it reaches an internal temperature of 165 degrees F, about 1 hour and 5-10 minutes. Let it rest for a couple minutes before taking the temperature of the meatloaf. Once it's 165 degrees F, let rest for 10 minutes before slicing.
for the sandwiches
Caramelize the onions. Heat the oil in a large saucepan over medium-low heat. Add the onion slices then toss to coat. Season with salt. Cook the onions, stirring every few minutes for 35-40 minutes. Towards the last 20 minutes if they start getting burnt in spots add a little more water (no more than a tablespoon at a time). If you want them really caramelized, you can continue cooking for an additional 10 minutes, but you will want to stir very frequently to make sure they don't burn. Remove from the heat when done.
Toast the buns. If desired, brush the tops of the buns with an egg wash (1 beaten egg with 1 tablespoon water) then top with poppy seeds and dried onion flakes before toasting.
Melt the provolone over the meatloaf slices then place on the toasted burger buns along with some caramelized onions, arugula and barbecue sauce.
Notes
I recommend using one of the following methods to help keep the meatloaf mixture from sticking to your hands (because you're able to better incorporate everything without over-mixing if you use your hands): coating your hands with cold water, lightly coating your hands with olive oil or using disposable gloves.
Some of the links above are affiliate links, which means I may receive a small commission for my referral if you purchase something. This does not affect the retail cost of the item. Thank you for supporting Lemon & Mocha!