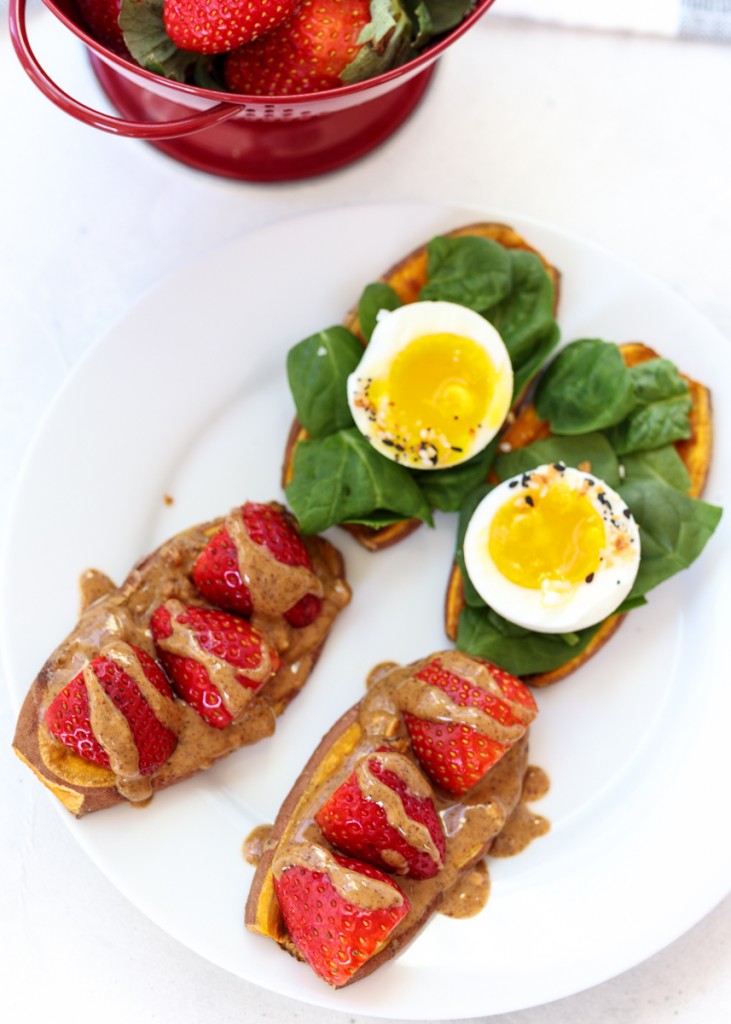 It's our second healthy breakfast Friday! Last Friday's breakfast was all sweet, but today we're all about the sweet and savory combo breakfast. Do you have a preference of sweet breakfasts or savory breakfasts? I can never decide since I love them both so I love doing these combos, especially with toast. I'm not sure if you've seen them on Instagram over the last year, but there's a new toast in town: sweet potato toast!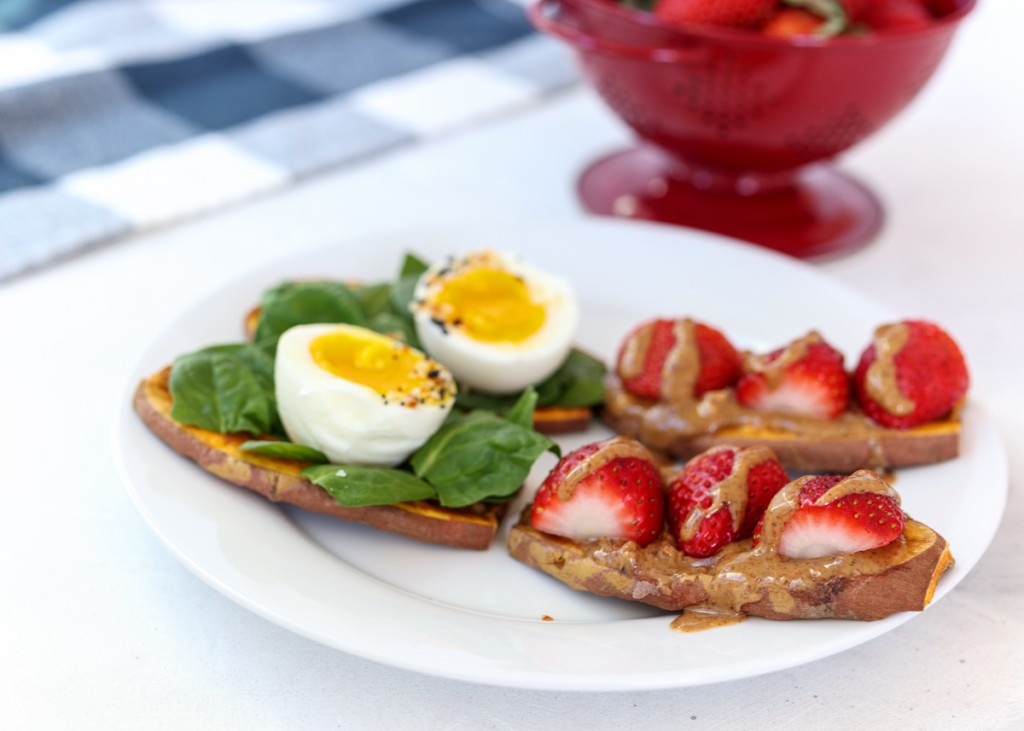 Slice a sweet potato into 1/3-inch thick slices before baking them until cooked and crispy. Then you're ready to top them with whatever you want! One of the reasons these toasts are so great is that you can make a bunch of them ahead of time and then when you're ready to eat them for breakfast you just reheat the sweet potato toasts in your toaster oven or toaster like regular toast. Genius!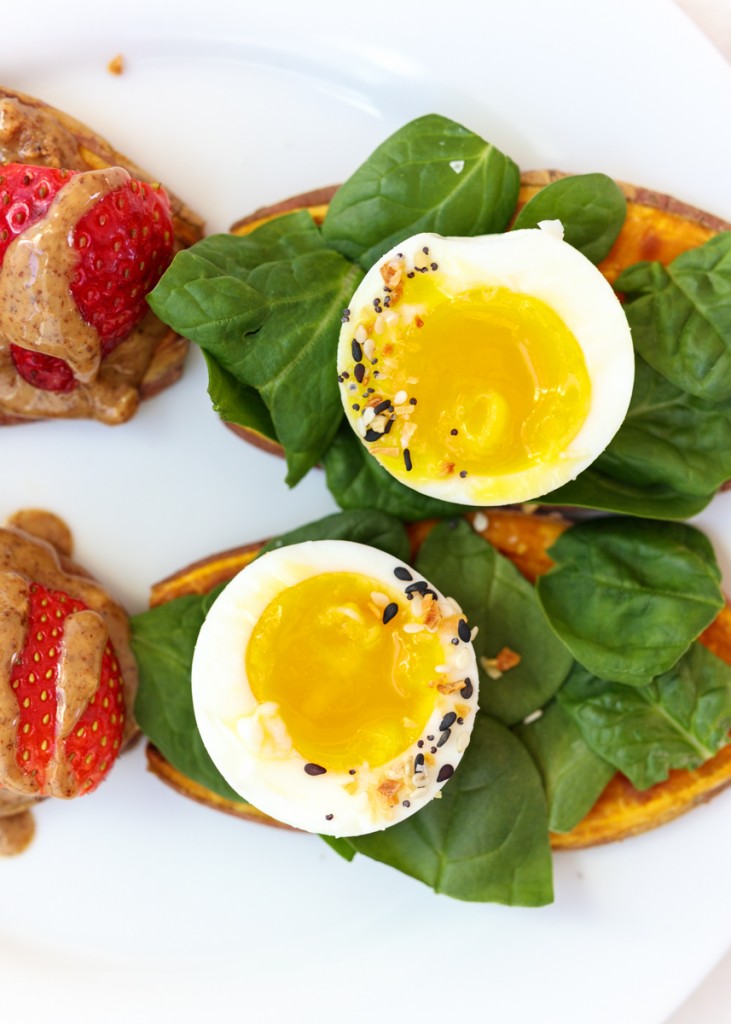 I already knew I liked sweet potatoes for breakfast, but I love having them as toasts because it's way more fun and there's so much room for toppings. The savory sweet potato toast is topped with some spinach, a soft boiled egg and Trader Joe's Everything but the Bagel seasoning. The yolk in the soft boiled egg is the perfect jammy texture and the seasoning adds just the right amount of salt and flavor.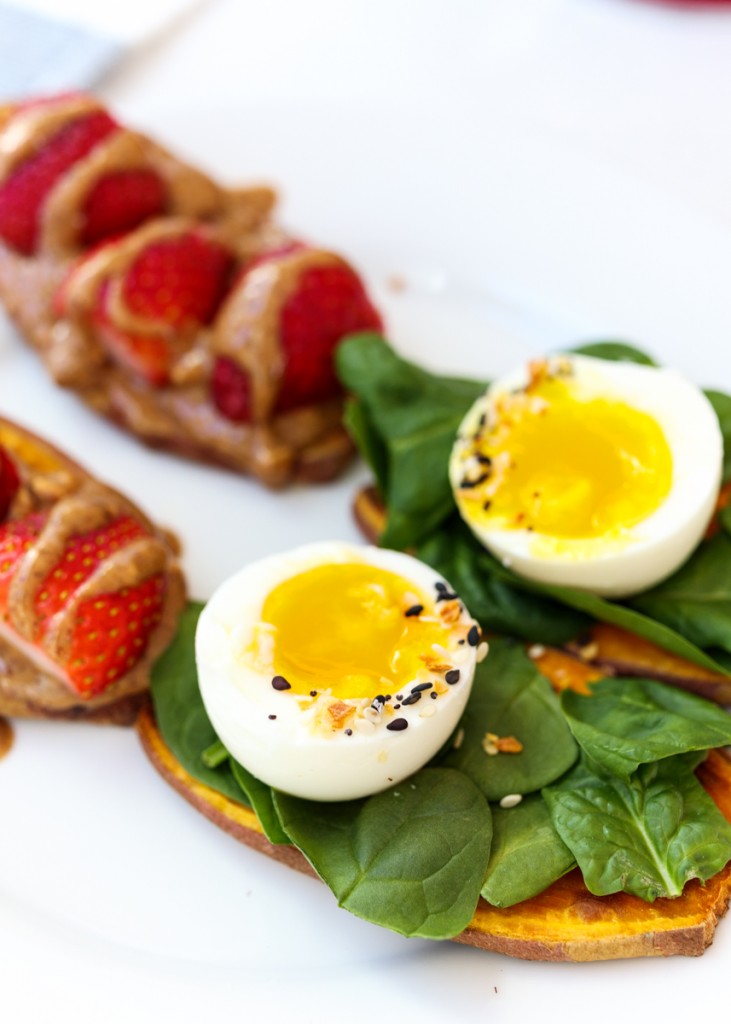 I had never made soft boiled eggs before starting to make them for sweet potato toasts and now I'm hooked! If you've never made them before they're actually very easy and similar to hard boiled eggs. You bring a pot of water to a boil then add the eggs in their shell for six and a half minutes. Carefully place them into an ice water bath for two minutes then peel and eat. Even better, you can make them up to three days ahead of time and just reheat them before eating; more details are in the notes section of the recipe.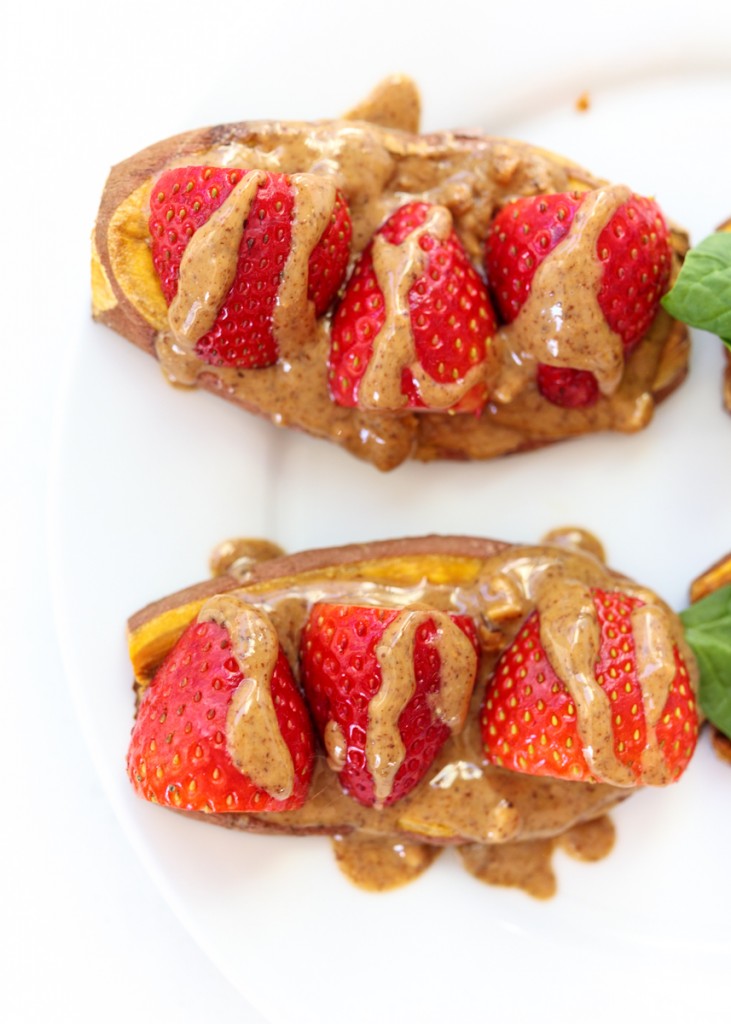 Okay, on to the sweet toast! Have you ever had almond butter or peanut butter with sweet potato? If not, you are seriously missing out! Spread on some nut butter then top with strawberries, or your berry of choice. Yum! You can eat these toasts with a fork, but mine were crispy enough to pick them up, toppings and all, and eat them like a regular piece of toast. Enjoy and happy Friday, everyone!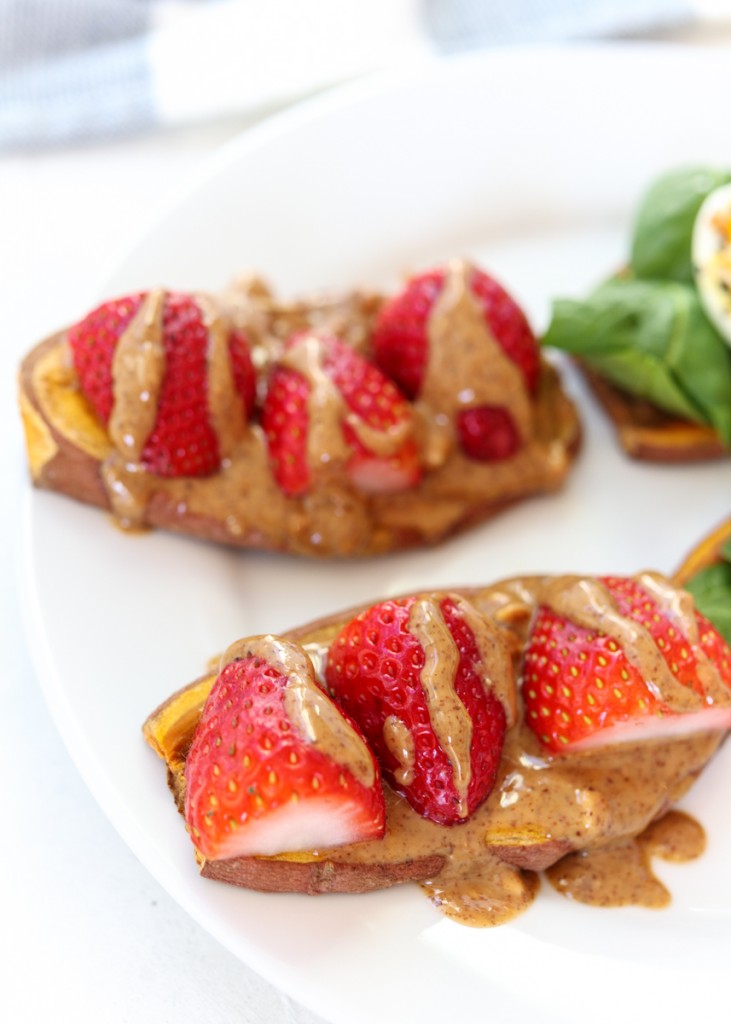 Sweet and Savory Breakfast Sweet Potato Toasts
Ingredients
1 sweet potato
1 egg
Everything but the bagel seasoning, for topping
⅓ cup spinach or greens
1 tablespoon almond butter
3 strawberries, stems removed and cut in half
Directions
Preheat the oven to 425 degrees F. Line a baking sheet with nonstick aluminum foil and set aside.
Cut off the ends of the sweet potato so that you can stand it up steadily. Carefully cut the sweet potato into ⅓-inch thick slices, which should get you roughly 6 "toasts." Place on the baking sheet and bake for 30 minutes, flipping them halfway through.
To make the soft boiled egg, bring a small saucepan with enough water to cover an egg to a boil. Once boiling, add the egg in its shell and cook for 6 minutes and 30 seconds. While the egg is boiling, fill a medium bowl with ice and cold water. When the time is up on the egg, carefully remove it from the saucepan and place in the ice water for 2 minutes. After the 2 minutes, remove from the ice water, dry, gently peel and carefully cut in half. Sprinkle everything but the bagel seasoning over top.
When the toasts are out of the oven, place 4 of them on a plate. Save the other 2 for later (or eat all 6 now if you're extra hungry!). Top 2 of them with the spinach and then place 1 half of the soft boiled egg on each spinach toast. For the other 2, divide the peanut butter between them and spread on top. Top with the halved strawberries.
Notes
Sweet potato toasts can be made ahead and then reheated in the toaster or toaster oven.
Soft boiled eggs will keep unpeeled in the fridge for 3 days. When ready to eat, reheat in boiling water for 1 minute then peel or peel then microwave for 15-20 seconds.