Birch Benders Pancakes Four Ways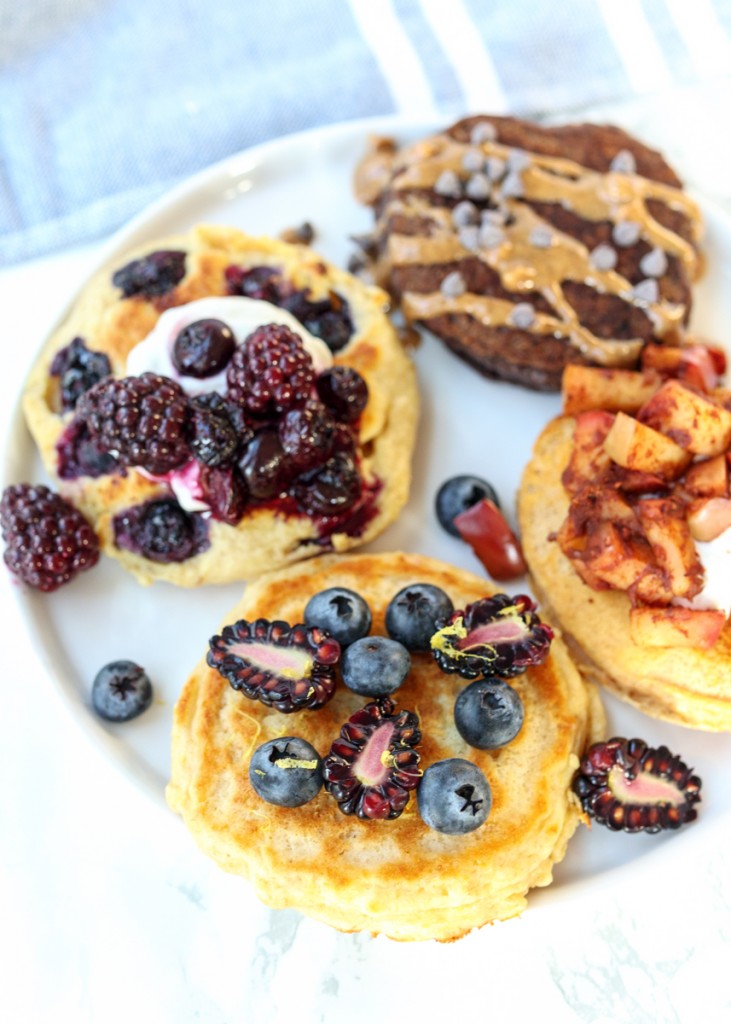 It's the first Friday of 2019 and we're celebrating with four new recipes! Here on Lemon & Mocha not only is this January all about healthy recipes, but every Friday is going to feature a healthy breakfast dish. My go-to breakfast is usually a Greek yogurt and some fruit, but it's not the most filling breakfast and it definitely gets boring after a while. One of my favorite discoveries in 2018 was Birch Benders Protein Pancake Mix. This post is not sponsored; I just wanted to share a product I've been loving for a while now.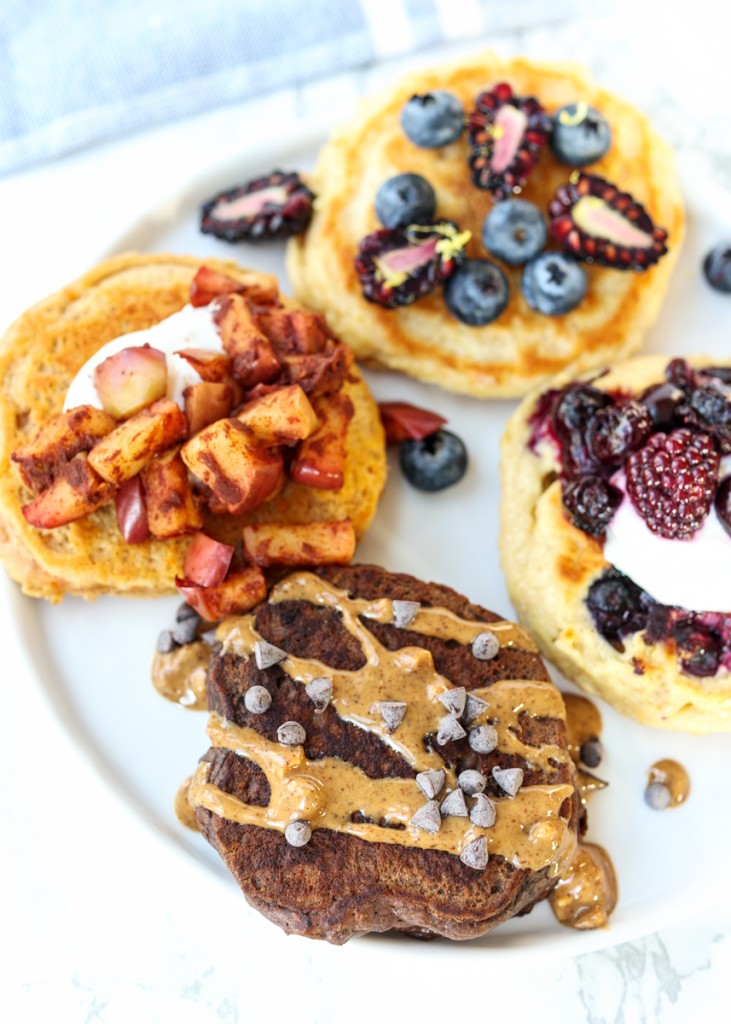 The mix is packed with 16 grams of protein per serving and every time I have this meal I stay full all the way until lunchtime. The pancakes are fluffy and the best part is you only need to add water to make them! After making them a few times and getting my little routine down, I can get my three pancakes on the table at the same time Matt is just sitting down with his coffee. I typically have them plain and top them with 88 Acres Dark Chocolate Sunflower Seed Butter and fresh berries, but I have been experimenting with the base mix so today I'm sharing my four favorite variations.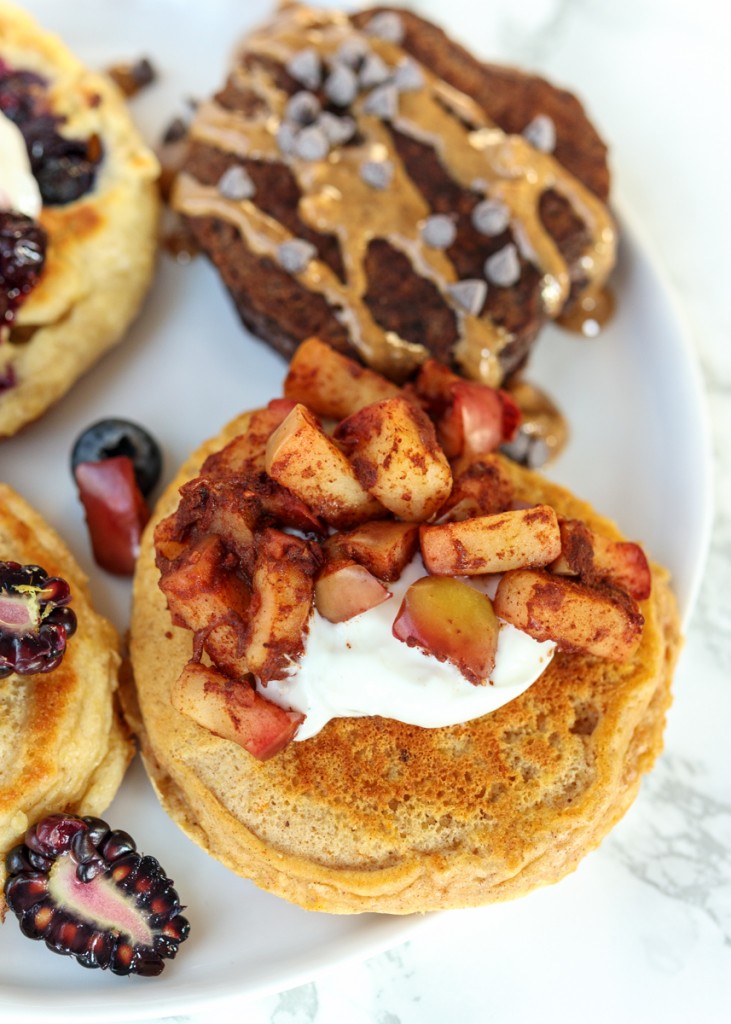 First up is pumpkin spice pancakes topped with spiced apples and vanilla yogurt. The apples gently cook down in a small skillet with some ground cinnamon and pumpkin pie spice and are done by the time the pancakes are ready.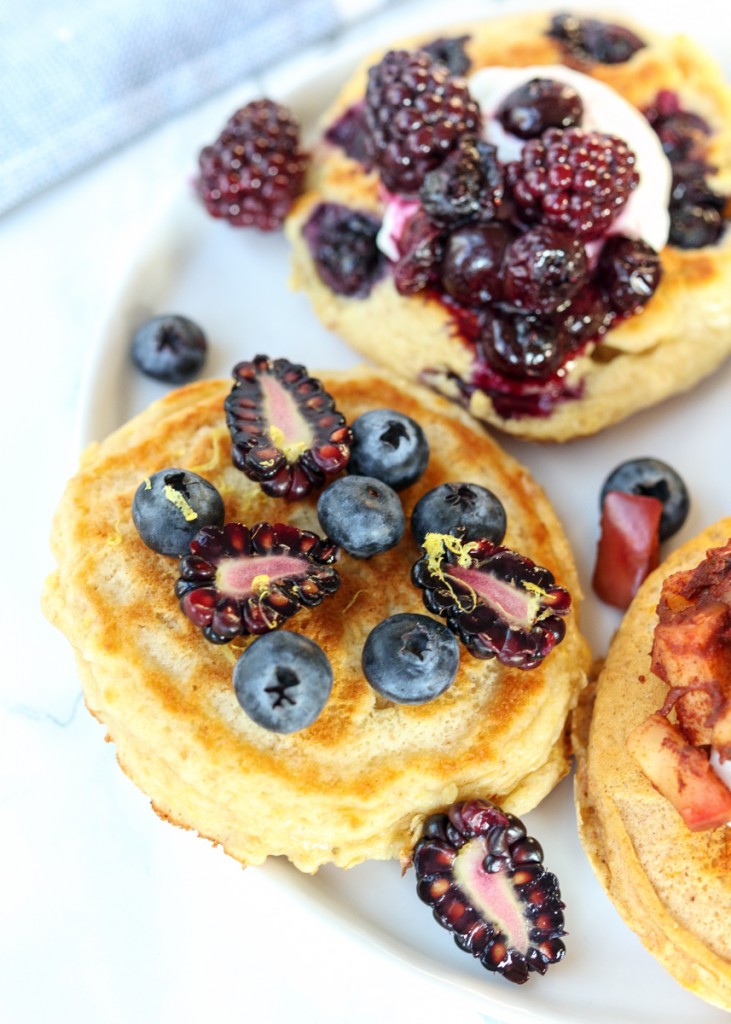 Next up, we have lemon pancakes! I love lemon so it wasn't long before I added some lemon zest and juice to this mix to bring out my favorite flavor, which also happens to be delicious with fresh berries.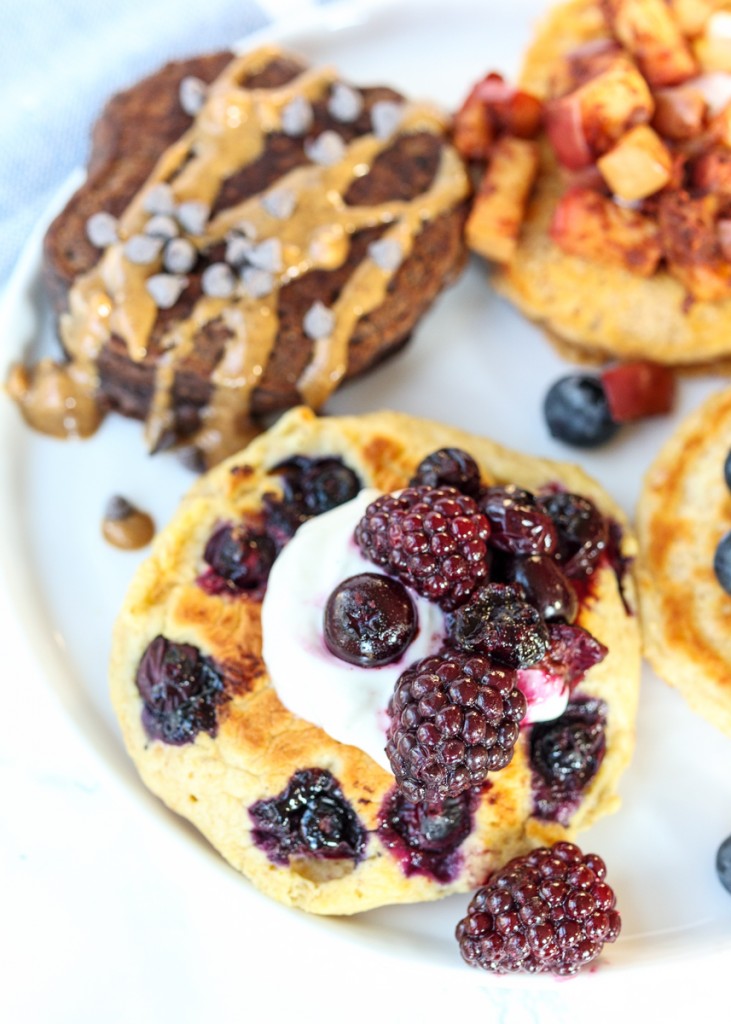 Blueberry pancakes topped with warmed berries are one of my favorite variations. The berries get slightly cooked down with a little maple syrup and ground cinnamon. I put blueberries in my pancakes, but you could use any berry you prefer.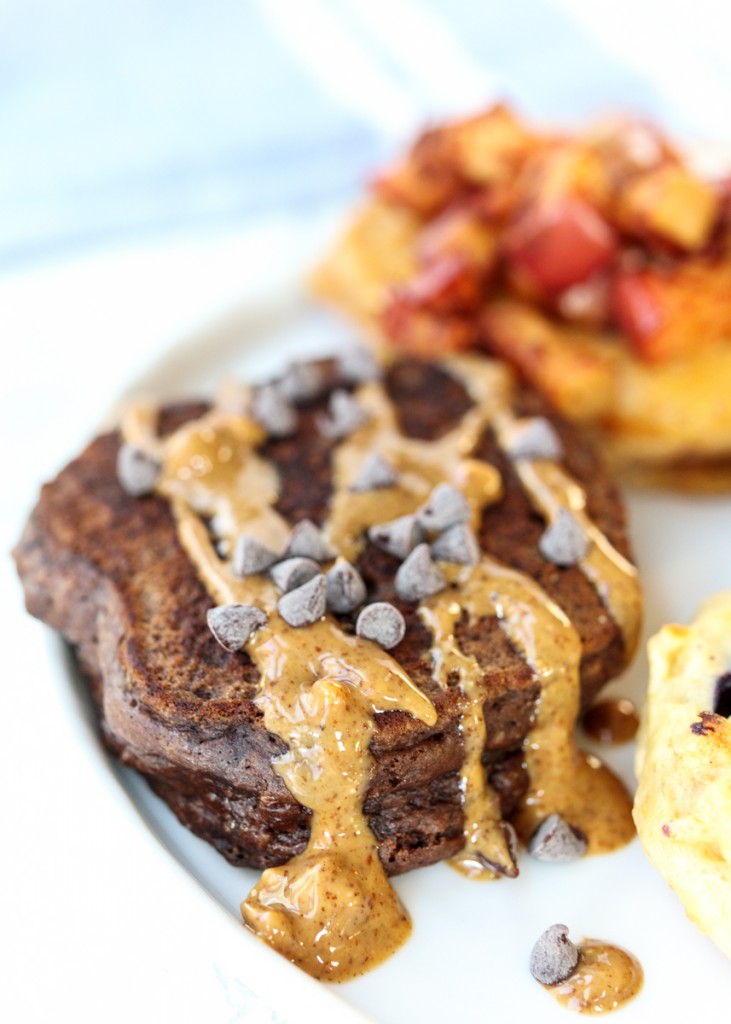 Last, but definitely not least, we have peanut butter chocolate pancakes. Look how fluffy these got! Don't forget the drizzle of peanut butter and mini chocolate chips on these because it definitely makes them. Which one do you think you'll try first?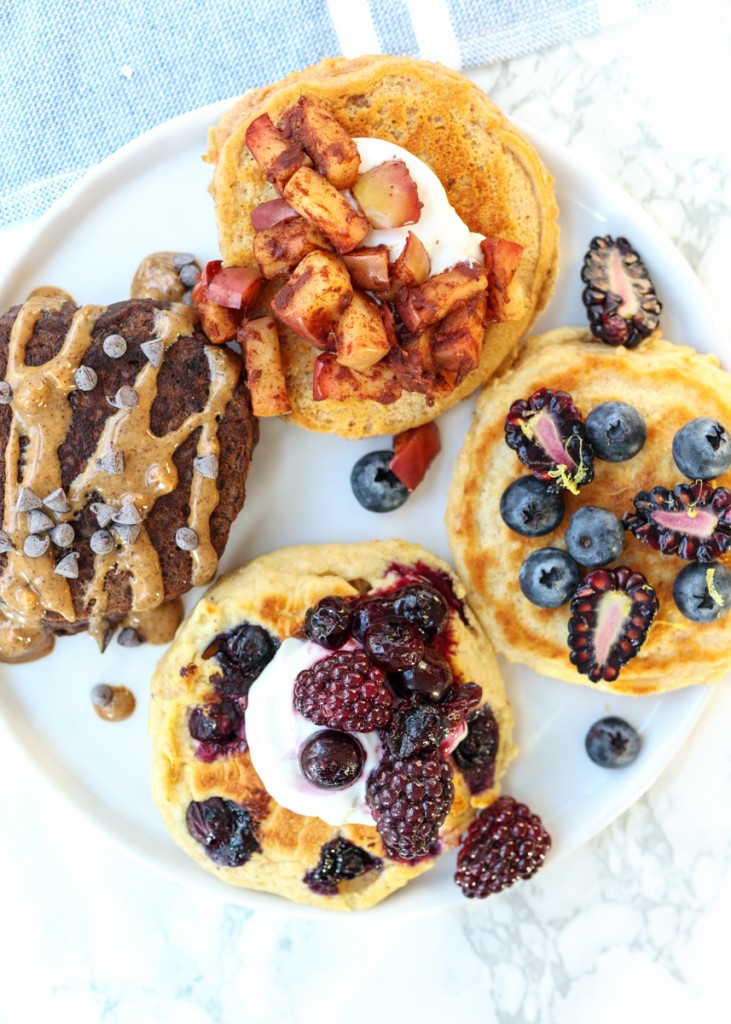 I've found the best price for this pancake mix to be Amazon or Target, but you can also find them on the Birch Benders website, Whole Foods, Wegmans and probably lots of other grocery stores. If you don't have the Birch Benders Protein Pancake Mix, you could always use the variations below as inspiration to experiment with your favorite pancake mix.
Extra Tips:
Do not over-mix the batter. Over-mixing any pancake or waffle batter makes them lose their fluffiness.
Do not put too much water in the batter. For each of the recipes below, the batter should be thick and scoop-able, not liquid and runny. If it's too runny, add a little more mix and use less water next time.
I use a 1/4 cup measuring cup to scoop out 1/2 cup of the pancake mix; it fits more easily into the bag of mix and then I have it ready to use for the water I need to add. I stir the batter with my regular sized

Wilton batter spoon

then use that same spoon to scoop it into the pan to cook them. Side note: I love the

Wilton batter spoons

for pancakes, cupcakes and muffins!
I use a tablespoon of ground flaxseed meal in my pancakes because they add some omega-3s and fiber. If you want to skip the flaxseed meal, just add slightly less water.
Some of the links above are affiliate links, which means I may receive a small commission for my referral if you purchase something. This does not affect the retail cost of the item. Thank you for supporting Lemon & Mocha!