Italian Kale Salad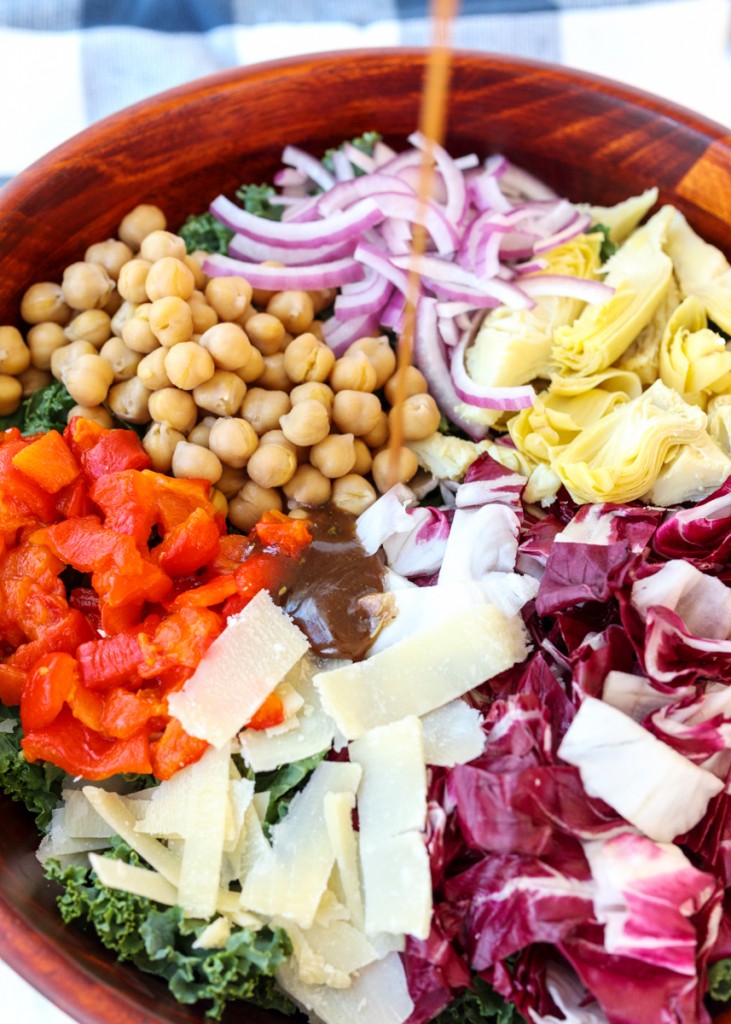 Happy Monday, everyone! I hope you all had a great weekend. Matt and I spent the weekend visiting family and we had a food-packed day in Philadelphia on Saturday. If you saw my stories on Instagram then you will know just how much food we consumed! Whenever I have a few days of heavy eating I immediately start craving a salad. The key is that the salad needs to be satisfying enough that you can eat it as your meal and not feel like you need to dive into a bag of chips after.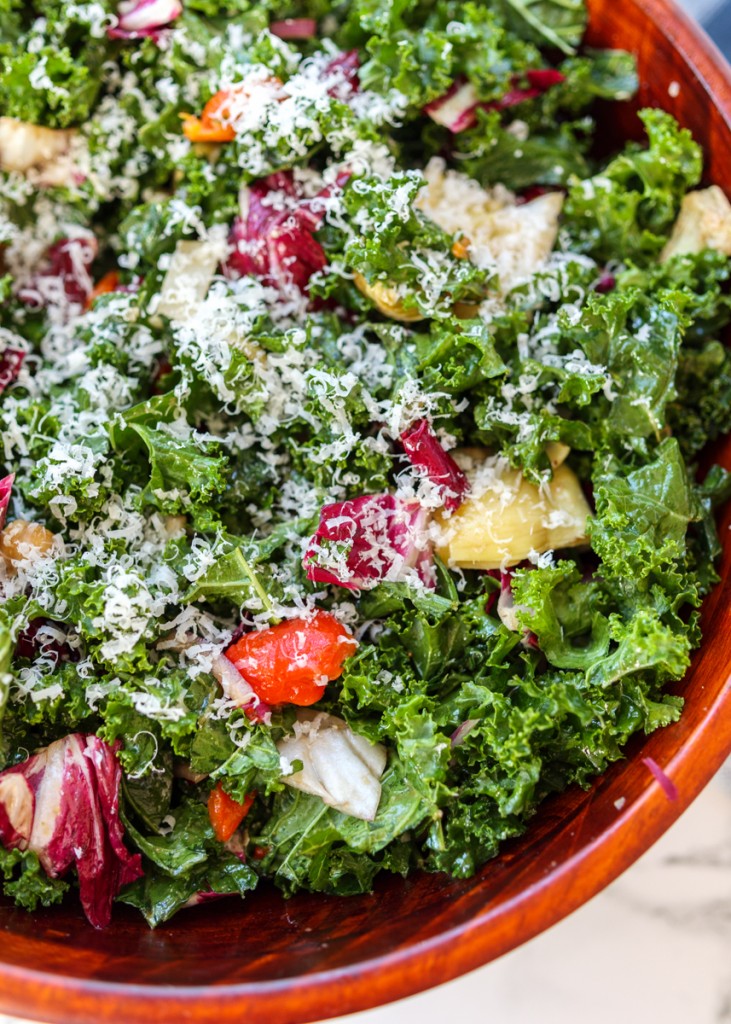 This Italian Kale Salad is loaded with all kinds of delicious toppings and the dressing packs the perfect balsamic punch. Along with the kale and radicchio, there's chickpeas, artichoke hearts, roasted red peppers, red onion and Parmesan.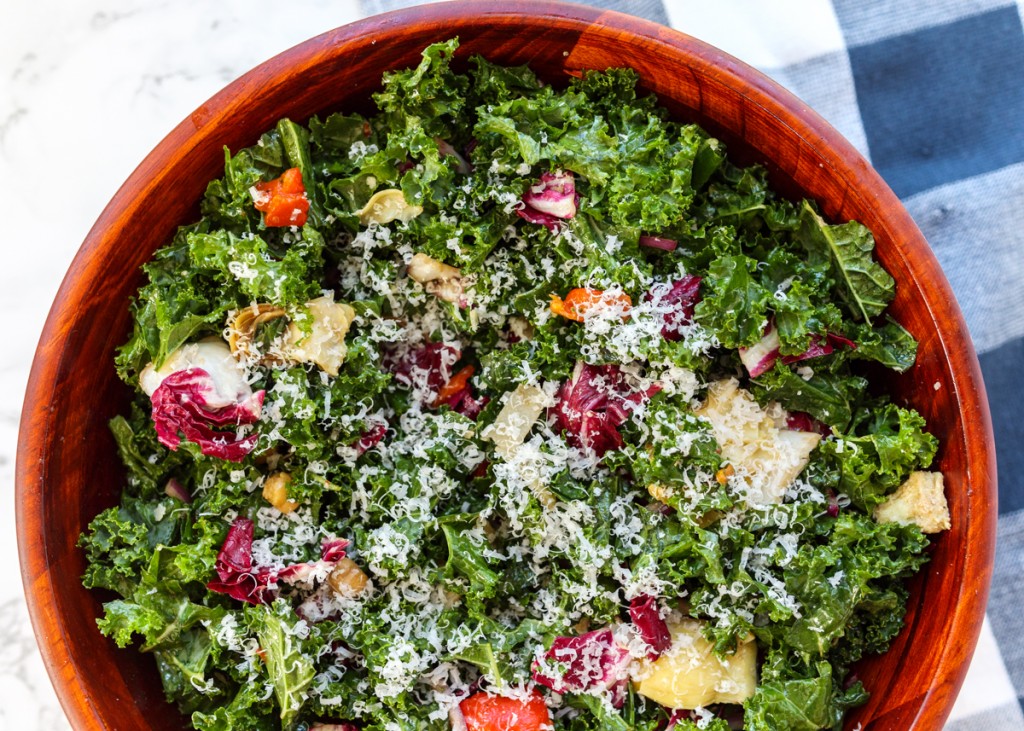 I first came up with this salad in December to post for the healthy January we're doing here and we loved it so much that I served it at Christmas dinner as well. I've also made it almost every week since first making it because we just can't get enough. I actually just ate some for lunch with a soft boiled egg on top for some protein!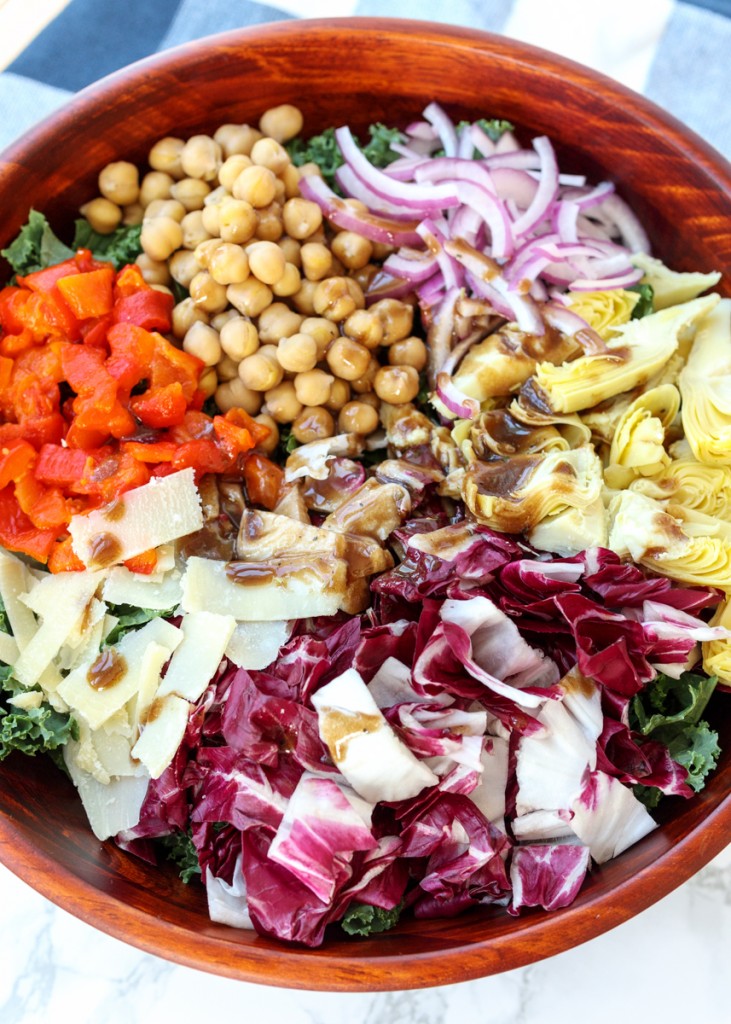 I love kale salads because you can dress them ahead of time and the greens never taste wilted; in fact they often taste even better after sitting for a bit. The key with kale salads, which I talked about previously in my Strawberry Kale Salad with Goat Cheese and Pecans post, is that you need to tear and scrunch the leaves for about five minutes to break the greens down and get rid of their natural bitterness. My Dad and Diane have always said they don't like the taste of kale, but I am happy to report that they were both fans of this salad at Christmas.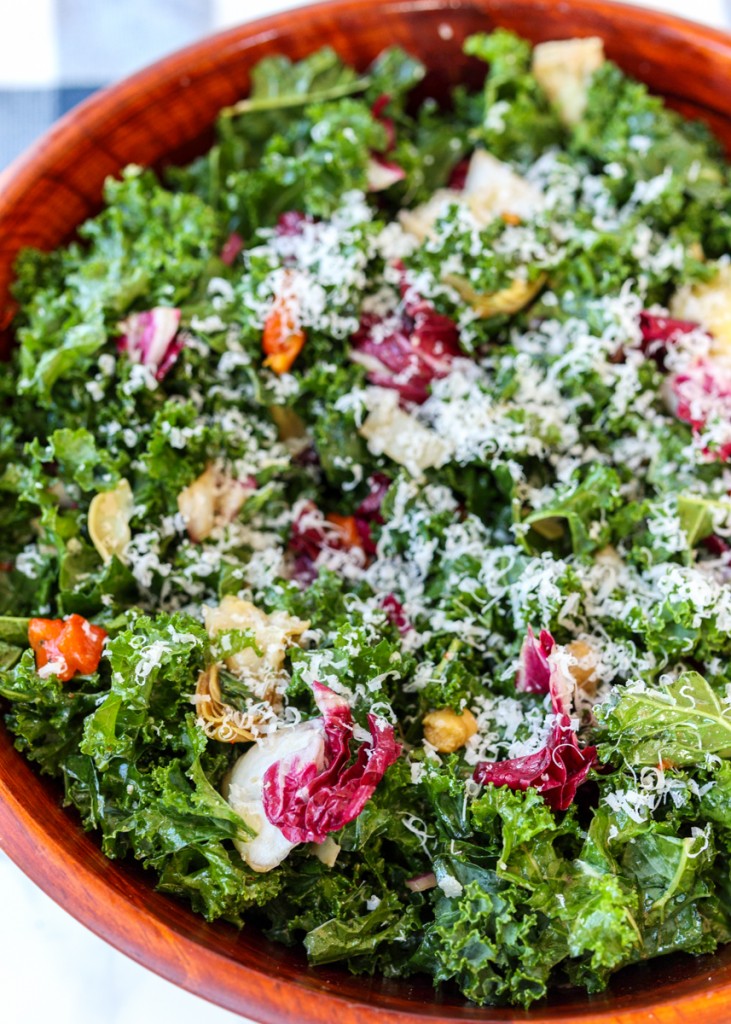 You could serve this Italian Kale Salad along with dinner or have it as a main dish with some grilled chicken or shrimp on top. I hope you all love this one as much as we do and I cannot wait to share Wednesday's recipe with you all!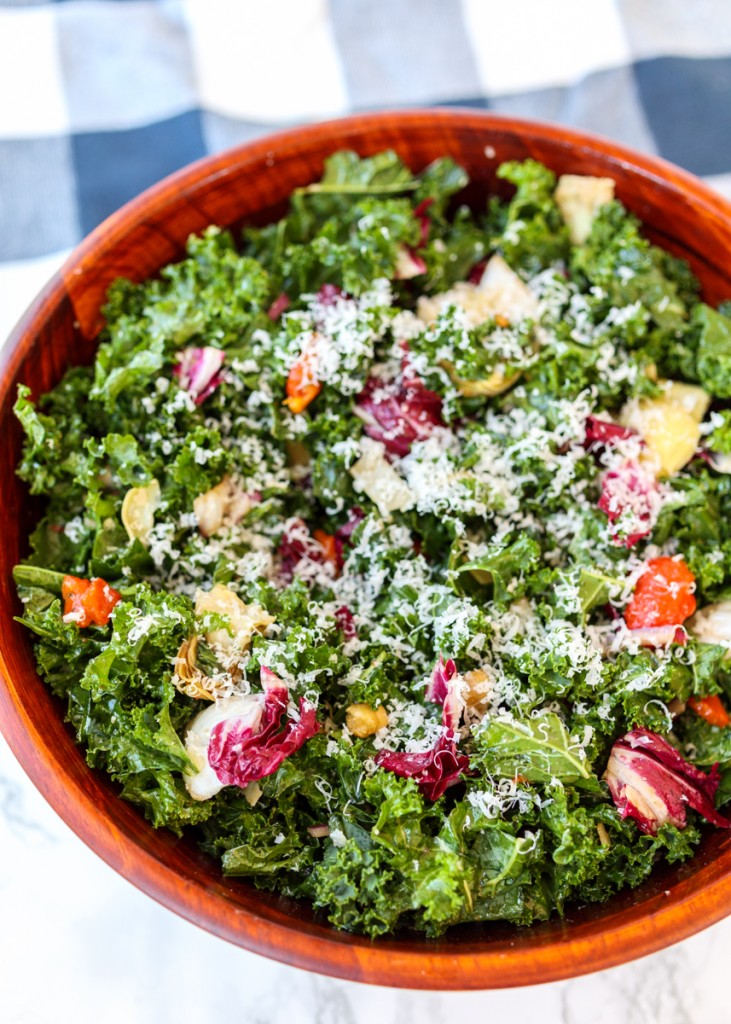 Italian Kale Salad
Yield:
4 servings as a main dish
Ingredients
for the salad
8 ounces kale, thick stems removed
1 cup chopped radicchio
¾ cup chickpeas, drained and rinsed
½ cup canned artichoke hearts, quartered (about 2 artichoke hearts)
⅓ cup chopped roasted red pepper
¼ cup thinly sliced red onion
Fresh grated or shaved Parmesan, for topping
for the dressing
3 tablespoons olive oil
1½ tablespoons honey
1½ tablespoons balsamic vinegar
1 tablespoon Dijon mustard
¼ teaspoon Italian seasoning
Salt to taste
Directions
for the salad
Make sure all thick ribs and stems are removed from the kale. If the kale isn't already chopped, roughly chop then place in a large bowl. Tear and massage the kale for about 5 minutes. To massage the kale scrunch it up with both your hands, release, and scrunch up some more, tossing and tearing as you go. This helps tenderize the kale and reduce its bitterness by breaking down the cellulose structure.
Add the radicchio, chickpeas, artichoke hearts, roasted red pepper and onion. Toss to combine. Add the dressing and toss to completely coat. Top with the Parmesan. If you aren't serving right away, cover and refrigerate until serving. Toss again before serving.
for the dressing
In a small bowl or liquid measuring cup, whisk together the olive oil, honey, balsamic vinegar, mustard and Italian seasoning until combined. Season with salt to taste.
Notes
To roast the red pepper: Spray a baking sheet or aluminum foil covered baking sheet with nonstick cooking spray. Wash and dry the red pepper then place on the baking sheet. Bake at 400 degrees for 20 minutes, flip the pepper over then bake for 20 more minutes. When the pepper is cool enough to handle, remove and discard the skin, stem and seeds. You need roughly 1 whole red pepper for this recipe.