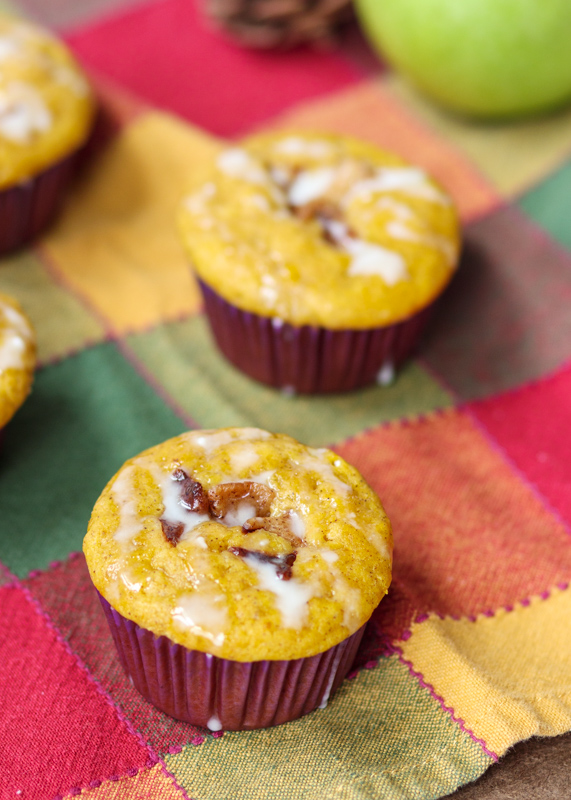 Happy October! October is my favorite month of the year for multiple reasons. First, it's full of all kinds of fun dates, like my wedding anniversary, my birthday and Halloween (my second favorite holiday after Christmas). Second, especially for us New Englanders, the crisp weather and colorful foliage is seriously on point. Third, the weather has cooled off enough, but it's not busy holiday season yet, which means time for making all the fall treats!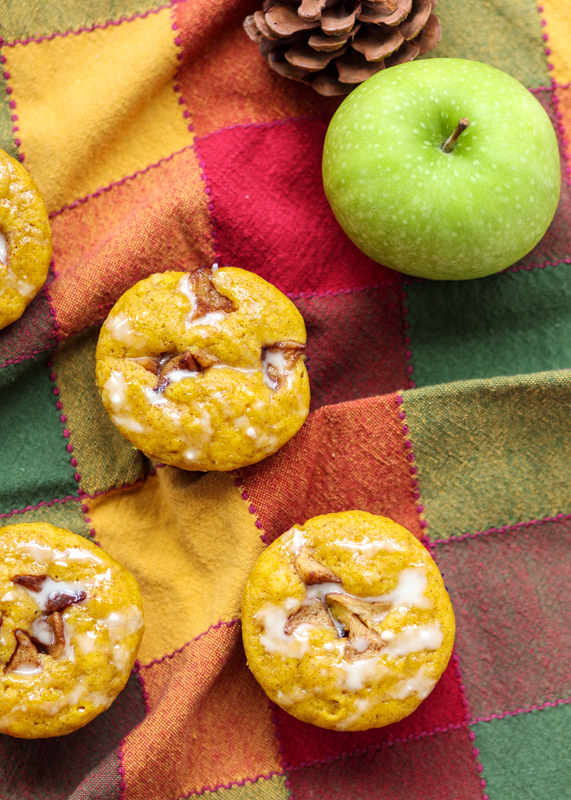 I was loving the Food Network Magazine's concept for the October muffins – Apple Pumpkin Muffins. Pumpkin muffins are topped with some cinnamon spiced apples and a vanilla glaze. I have to be honest that these muffins were a bit of a letdown for me. I loved the apples and the texture was great, but it was missing one very important thing – pumpkin!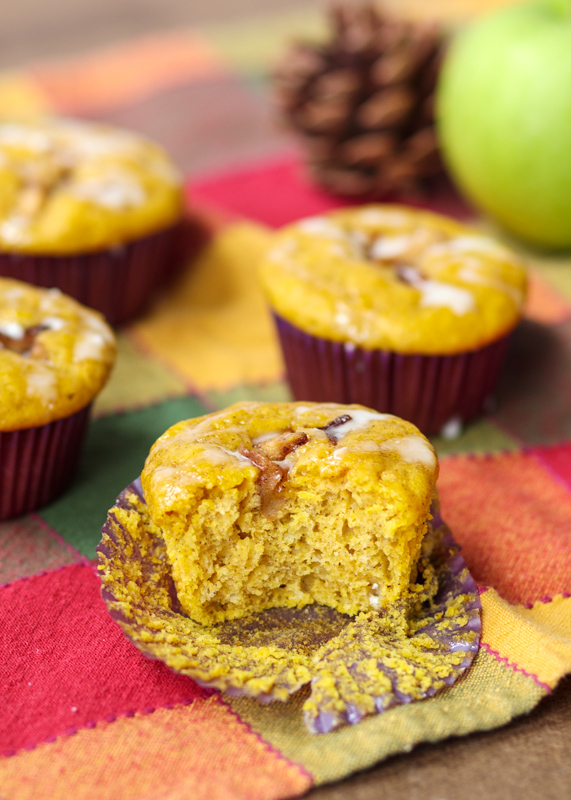 If I'm eating a pumpkin baked good I want it to immediately have a strong pumpkin taste, not a subtle, "I think this is pumpkin…" taste. I'm not surprised that the pumpkin flavor was so light since the recipe only uses half a cup of pumpkin. If I was to make these again I might try substituting an additional quarter cup of pumpkin puree for one of the eggs.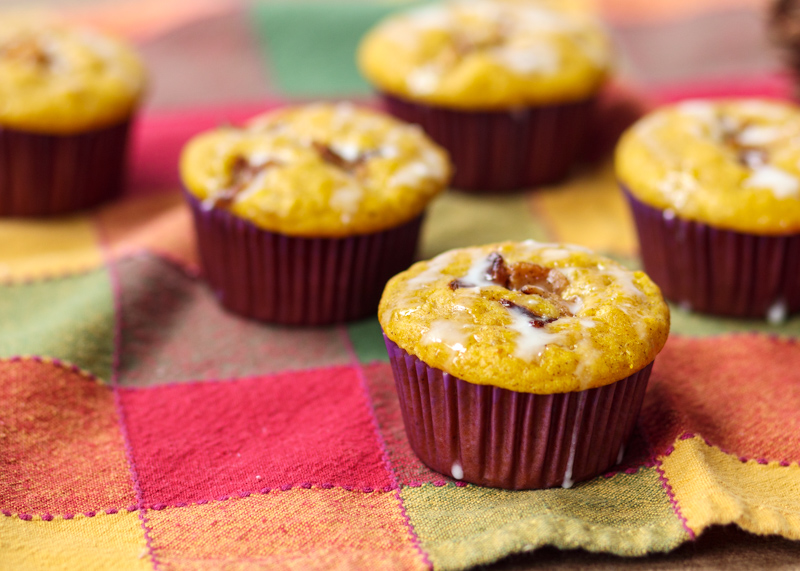 I might even use a different pumpkin muffin recipe entirely, but I would definitely keep the buttery cinnamon cooked apples on top. These apples would also be really good in last month's Peanut Butter and Jelly Muffins instead of the jelly since apples and peanut butter taste so well together. Case in point – these Peanut Butter Apple Bars. The Apple Pumpkin Muffins might be a good recipe to make for someone who isn't a big pumpkin fan and won't be offended by the lack of pumpkin punch because they still taste good, I just had extra high hopes.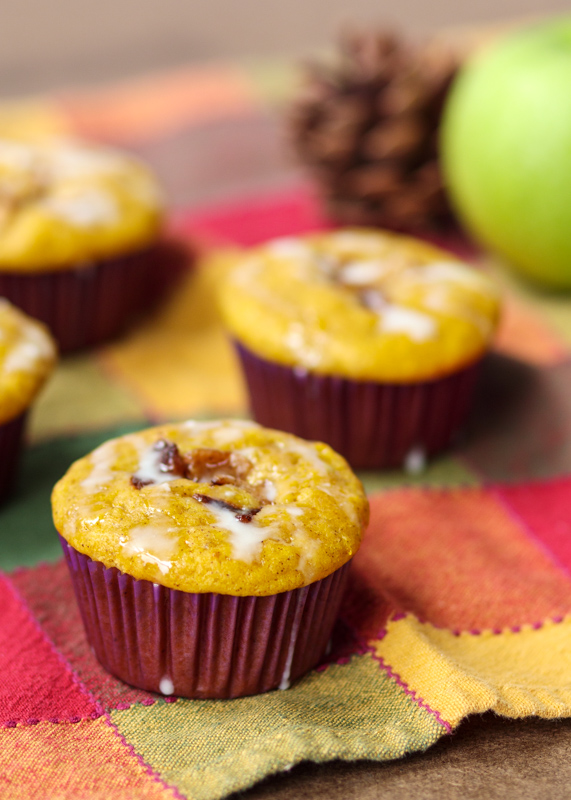 Looking ahead into November and December I have to say that I am not thrilled with the Food Network Magazine's muffin picks for those months. Since I'm underwhelmed by the recipes (and they call for some odd ingredients) I've decided that I am going to create my own perfect November and December muffins so stay tuned!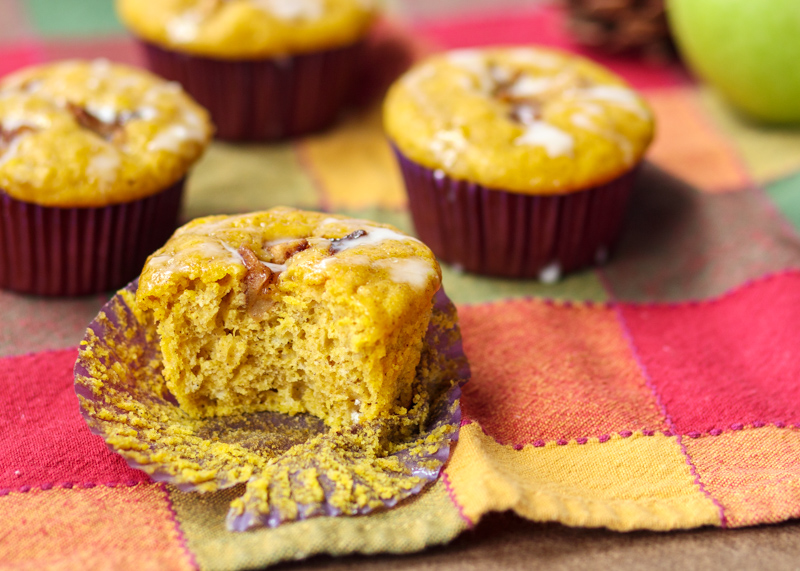 Apple Pumpkin Muffins
Ingredients
for the apple topping
1 granny smith apple
1 tablespoon butter
1 teaspoon sugar
Pinch of ground cinnamon
Pinch of salt
for the muffins
2 cups all-purpose flour
1 tablespoon baking powder
1 teaspoon ground cinnamon
½ teaspoon salt
½ cup sugar
6 tablespoons unsalted butter, melted
1 cup whole milk
½ cup pure pumpkin puree
1 teaspoons vanilla extract
2 large eggs
for the glaze
½ cup confectioners' sugar
2 teaspoons whole milk
¼ teaspoon vanilla extract
Directions
for the apple topping
Peel and core the apple. Cut into 12 wedges then chop each wedge into ½" pieces.
Heat a small skillet over medium-high heat. Melt the tablespoon of butter then add the apple pieces, sugar and pinch of cinnamon and salt. Cook until the apples are cooked and browned, about 5 minutes, stirring occasionally. Let cool while you make the muffin batter.
for the muffins
Preheat the oven to 350 degrees F then line a 12-cup muffin pan with paper liners and set aside.
In a large bowl, sift together the flour, baking powder, cinnamon and salt to combine.
In a medium bowl, whisk together the sugar, melted butter, milk, pumpkin puree, vanilla extract and eggs. Stir into the flour mixture until just combined. Scoop the batter evenly into the prepared baking cups.
Bake the muffins for 2 minutes. Quickly and carefully, pull the muffins out of the oven and top each with some of the apple mixture, dividing among the baking cups. Return the muffins to the oven and bake for 20-22 more minutes, or until a toothpick inserted in the center of the muffin comes out clean. Cool the muffins in the pan for 5 minutes then let them cool completely on a wire cooling rack.
for the glaze
Whisk together the confectioners' sugar, milk and vanilla in a small bowl. If the glaze is too thick, add a little more milk. Drizzle over the cooled muffins and let set for 10 minutes.
 Recipe from January/February 2018 issue of Food Network Magazine
.
Some of the links above are affiliate links, which means I may receive a small commission for my referral. This does not affect the retail cost of the item. Thank you for supporting Lemon & Mocha!