Peanut Butter & Jelly Muffins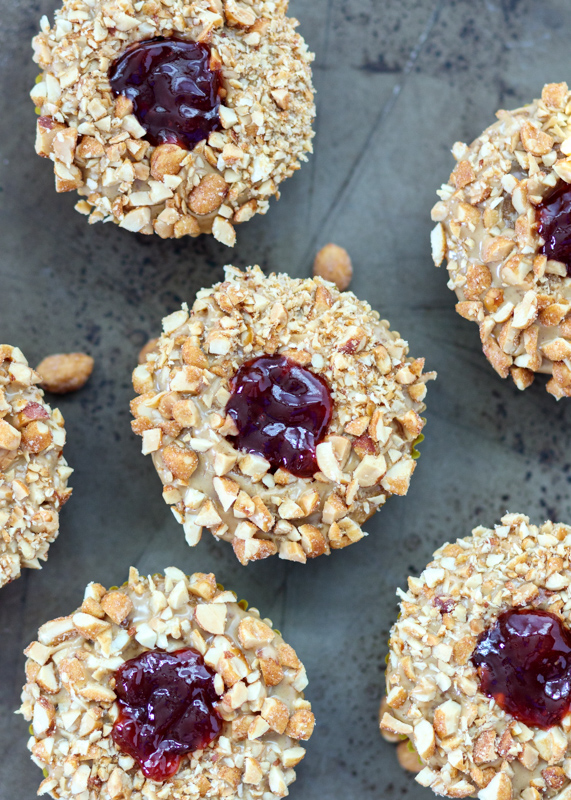 Thank you, Food Network Magazine, for bringing these outrageous Peanut Butter and Jelly Muffins into our lives! As you know from last week's Peanut Butter and Strawberry Wrap, I am a big peanut butter and jelly fan. When I first saw these listed as the September muffins for the Food Network Magazine's Muffin of the Month article, I wasn't sure how my beloved sandwich would translate into muffin form. The answer is very, very, VERY well! Yes, three 'very's and some all-caps because these muffins deserve it.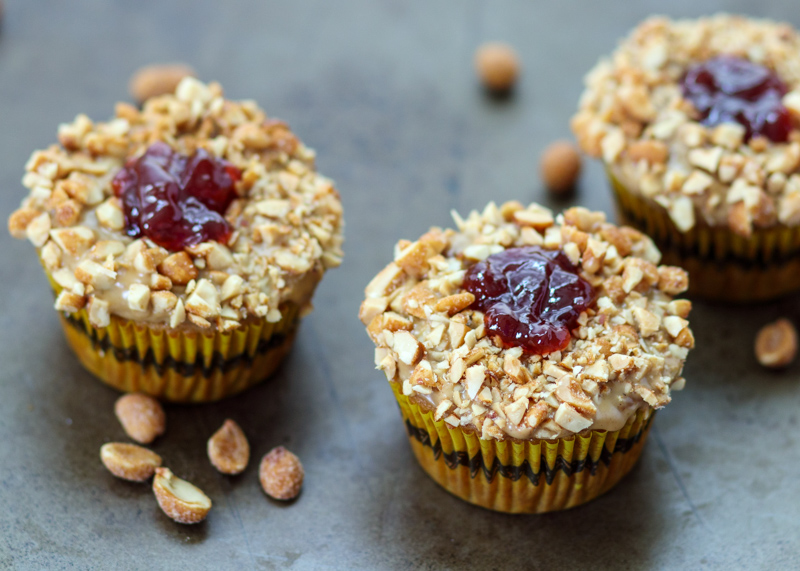 The base is a peanut butter muffin that is made with half whole wheat flour and half all-purpose flour. If that wasn't peanutty enough, the top of the muffin is dipped in melted peanut butter then coated in chopped honey-roasted peanuts. Pure peanut butter heaven.
As if they couldn't get any better, a big dollop of strawberry jam, or your preferred jelly, is loaded into the middle of the muffin. I don't know who the genius was at Food Network Magazine that developed this recipe, but it literally tastes like someone took a peanut butter and jelly sandwich – bread and all – and morphed it into a muffin for your breakfast and snacking pleasure.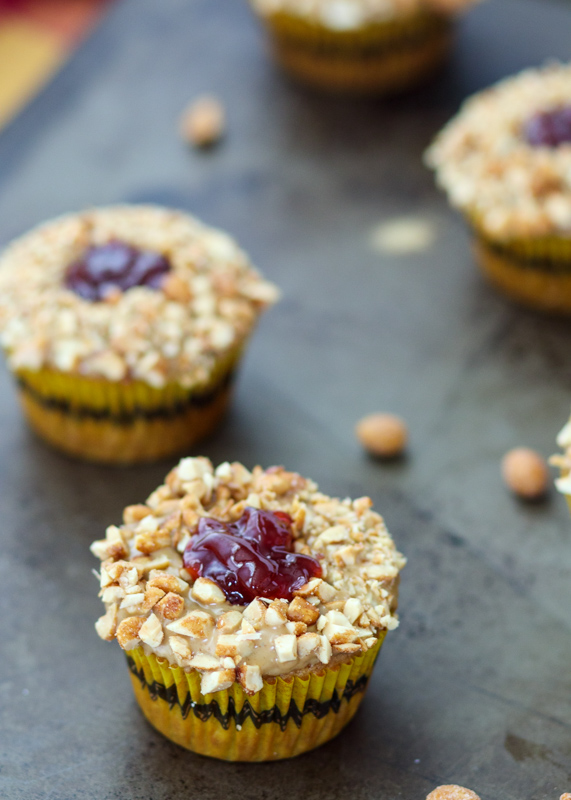 The brown sugar and the honey-roasted peanuts allow for just the right amount of sweetness without them tipping over into the full-on dessert category. I think the combination of the flours really gives it that sandwich taste, in the best way possible.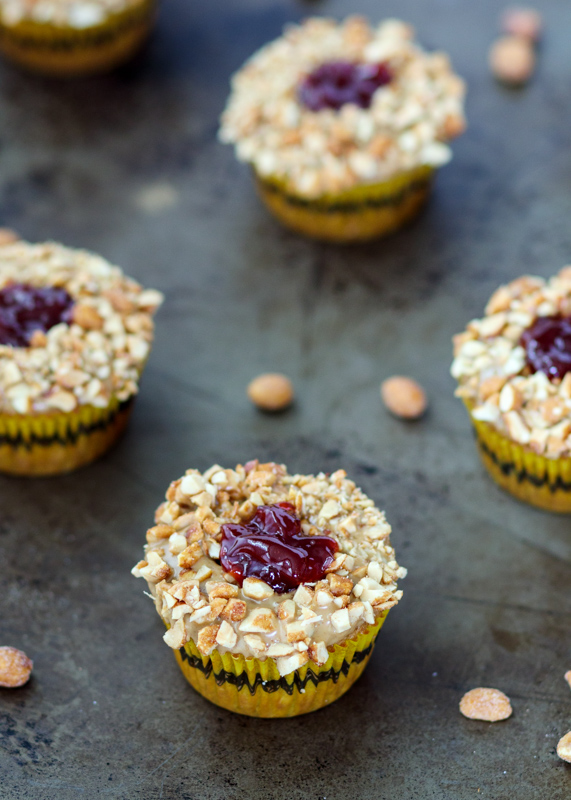 If you don't like jelly or jam you could always skip that part, but I will let you know that is what took the muffins to the next level of deliciousness for me. Everyone who tried these was a big fan and the recipe is definitely going in my make-again pile. If you like a classic PB&J you are going to go nuts for these muffins! See what I did there? 😄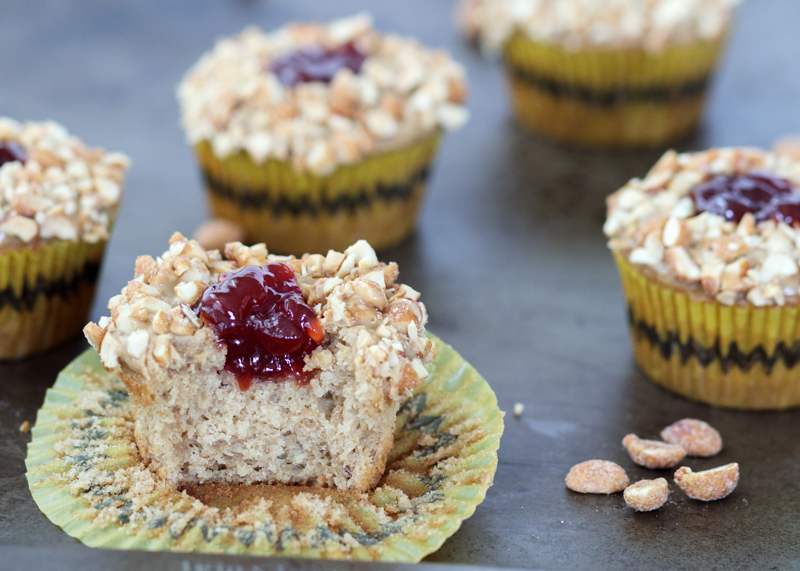 Peanut Butter & Jelly Muffins
Ingredients
⅔ cup whole wheat flour
⅔ cup all-purpose flour
1 tablespoon baking powder
½ teaspoon salt
1 cup creamy peanut butter, divided
1 cup whole milk
½ cup packed light brown sugar
6 tablespoons unsalted butter, melted
1 teaspoon vanilla extract
2 large eggs
¾ cup honey-roasted peanuts, finely chopped
1 cup strawberry jelly or jam
Directions
Preheat the oven to 350 degrees F then line a 12-cup muffin pan with paper liners and set aside.
In a large mixing bowl, sift together both flours, baking powder and salt.
In a medium mixing bowl, whisk together ⅓ cup of the peanut butter, milk, brown sugar, melted butter, vanilla and eggs until combined. Stir in the flour mixture until just combined.
Divide the batter between the prepared muffin cups. Fill them about ¾ of the way full. Bake for about 25 minutes, or until a toothpick inserted in the center comes out clean and the tops are lightly browned. Cool the muffins for 5 minutes in the pan then transfer to a wire cooling rack to cool completely.
Once the muffins are cool, use a melon baller or a teaspoon to scoop out a small, shallow hole in the center of each muffin. Place the chopped peanuts on a small plate. In a small microwave-safe bowl, microwave the remaining ⅔ cup of peanut butter until melted. Start with 20 seconds and then microwave in additional 10 second increments if needed. Dip the top of the muffin in the melted peanut butter, let the excess drip off, then dip into the chopped peanuts. Repeat with the rest of the muffins. Spoon about 1 heaping teaspoon of strawberry jelly or jam into the shallow hole in each muffin. Repeat for the remaining muffins then let set for 5 minutes before serving.
Recipe from January/February 2018 issue of Food Network Magazine
.
Some of the links above are affiliate links, which means I may receive a small commission for my referral. This does not affect the retail cost of the item. Thank you for supporting Lemon & Mocha!