Barbecue Jackfruit Tacos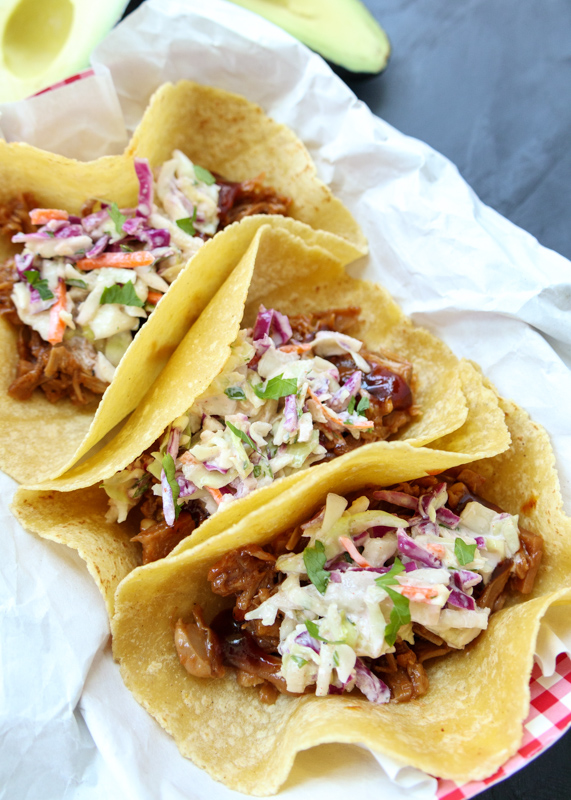 Before I dive into how I came up with this recipe or start describing what it tastes like I first need to address the obvious question: what is jackfruit? I did not know the answer to this until a couple months ago. Technically, jackfruit is a relative of figs and is indeed a fruit. However, the more relevant answer is that it has the texture of chicken and while the fruit is young it has a neutral taste letting it take on the flavor of whatever sauce you slather over it. For these two reasons, in the last year or so jackfruit has become increasingly popular as a meat alternative for vegans and vegetarians. Now, it is important to note that the flesh of the jackfruit does not have much protein at all so I would recommend serving it alongside something high in protein, such as this Three Bean and Roasted Cauliflower Salad.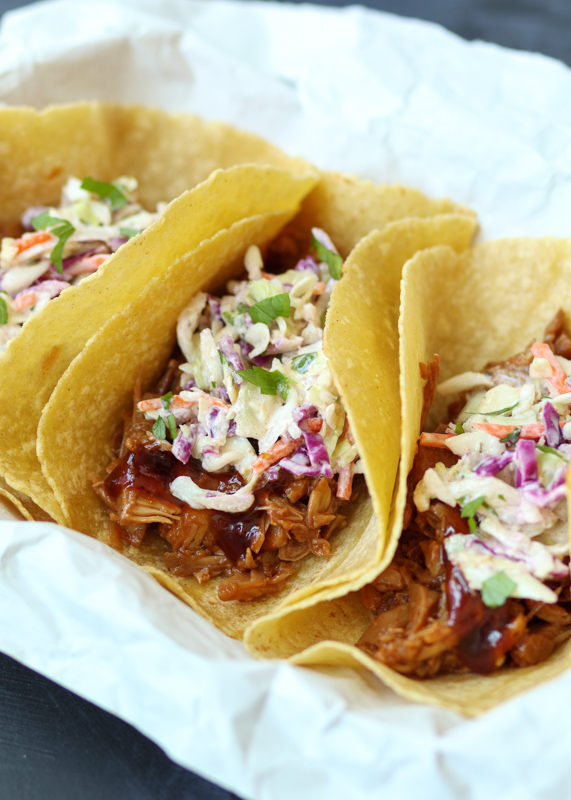 Jackfruit is, however, low in calories, and I can definitely see why it is popular as a meat alternative. Once I shredded up this jackfruit and cooked it in some barbecue sauce, it looked exactly like pulled pork. Matt thought it was pulled pork when I served it and after he took a bite – and after me telling him it was jackfruit – he looked at me and said, "You're sure this isn't pork?" While it doesn't have the richness of pork, the texture is almost identical to a pulled chicken or pork and smothered in barbecue sauce no one would ever be the wiser.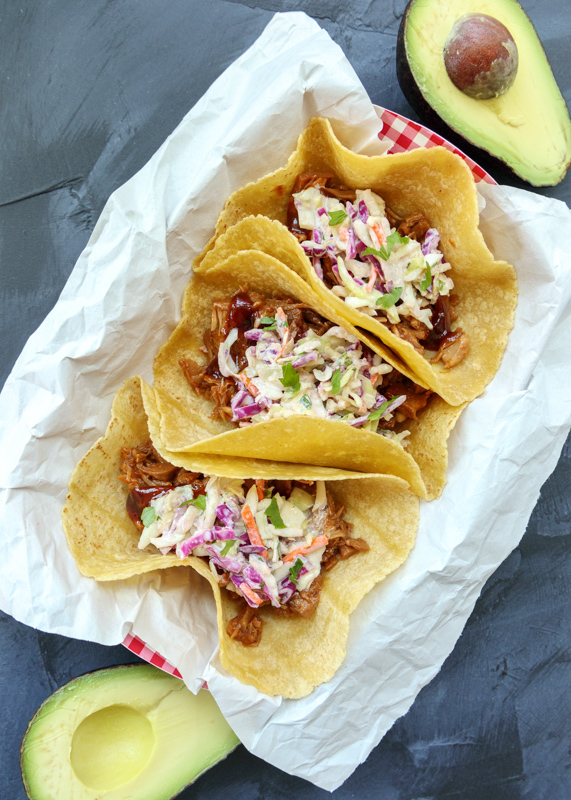 I had heard of jackfruit, but got the opportunity to try it a couple months ago at our Whole Foods. They had it in the burrito bar and let me try a sample. I loved the texture, but it was too spicy for me. I decided I needed to do more research and make my own version so I could enjoy it. Remember how the Elote Hot Dogs came to be? I think I'm noticing a pattern here with my inability to consume spicy foods…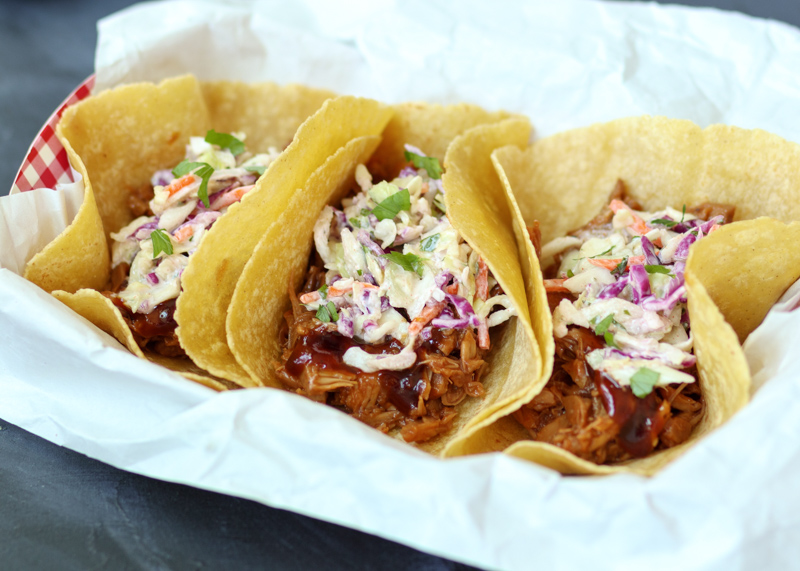 Anyways, I discovered that you can buy jackfruit in a can. I got mine from Trader Joe's. What you are looking for is green jackfruit. Make sure you do not buy the one that comes in syrup. The one from Trader Joe's comes in a brine instead of water so I just made sure I rinsed them well before cutting. For cutting tips check out my little diagram below.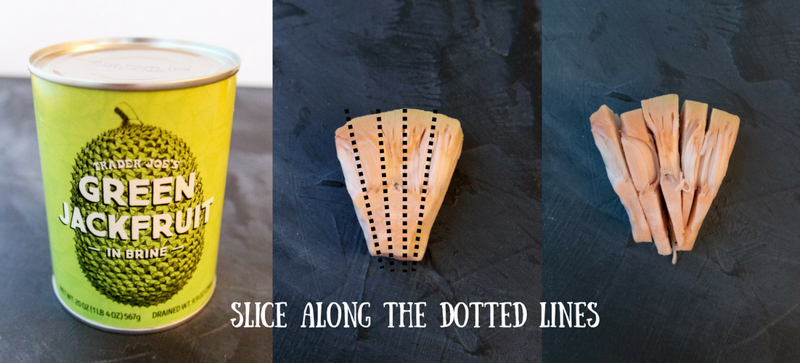 After it's all cut up, the jackfruit gets cooked down with some onion, garlic and barbecue sauce before being shredded and loaded up onto tortillas. I made a quick and healthy slaw for the tacos with nonfat Greek yogurt to balance the flavors of the barbecue sauce. You can use any barbecue sauce you prefer, but I highly recommend my easy homemade barbecue sauce that is free of refined sugar.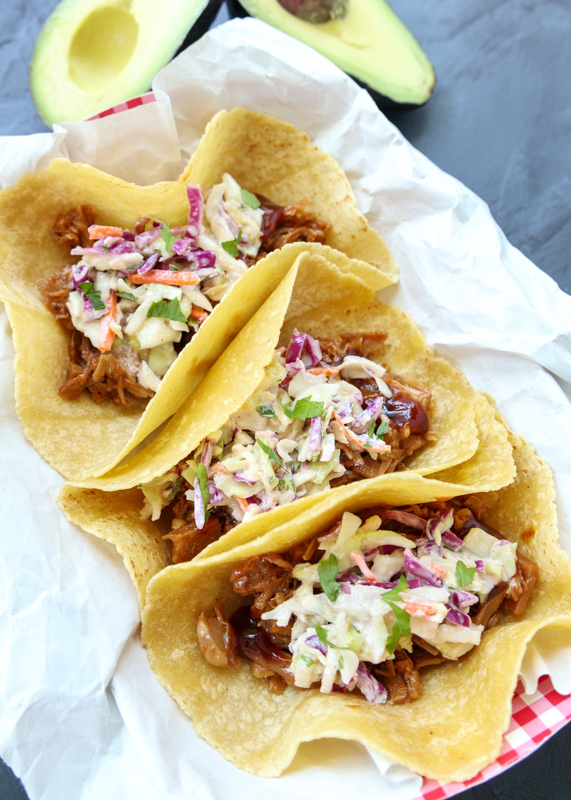 Matt and I both really enjoyed these tacos and I'm looking forward to making them again soon! Have any of you tried jackfruit before?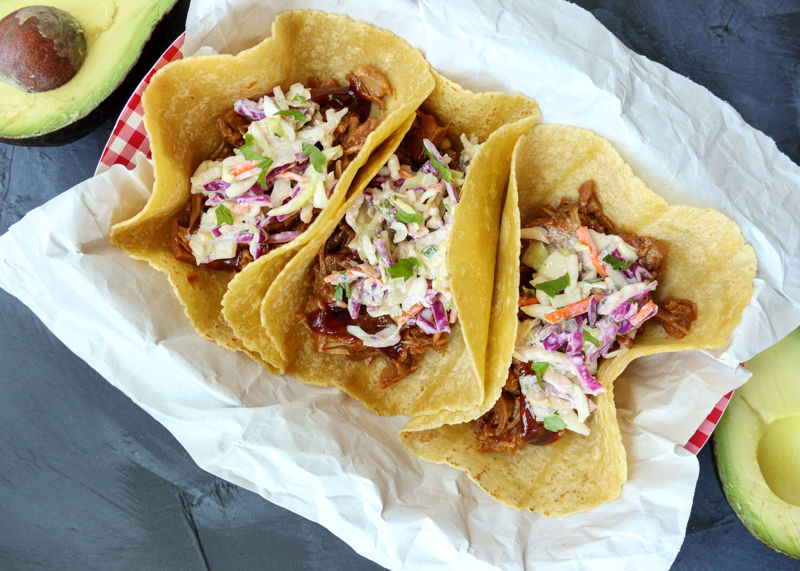 Barbecue Jackfruit Tacos
Yield:
6 servings, 12 mini tacos
Ingredients
for the tacos
2 20-ounce cans jackfruit
1 teaspoon olive oil
½ small red onion, chopped
1 clove garlic, minced
¼ cup water
1 cup barbecue sauce
12 6-inch tortillas, warmed
for the slaw
2 cups shredded cabbage or slaw mix
¼ cup plain nonfat Greek yogurt
1 tablespoon chopped parsley
1 teaspoon lime juice
½ teaspoon Worcestershire
¼ teaspoon salt
⅛ teaspoon garlic powder
⅛ teaspoon onion powder
⅛ teaspoon paprika
Ground black pepper
Directions
for the tacos
Prepare the jackfruit. If your jackfruit is in brine instead of water make sure you rinse it well in a colander then dry completely before cutting. Cut following the diagram pictured above: place a wedge of the jackfruit on a cutting board so the narrow edge is closest to you. Slice from the wide curved edge down to the narrow edge so you have about 5 or so smaller wedges. This will make it easier for shredding later.
Heat the olive oil in a rimmed skillet or medium stock pot over medium-high heat. Add the onion and garlic and sauté until the onions start to turn translucent, about 3 minutes. Reduce the heat to medium then add the jackfruit and the water. Stir and cook for a couple minutes. Add the barbecue sauce, stir, then turn down the heat to low, cover and let simmer for 20 minutes. Remove from the heat and serve over the warmed tortillas topped with the slaw.
for the slaw
Combine all the ingredients in a medium mixing bowl. Season with ground black pepper to taste.