Elote Hot Dogs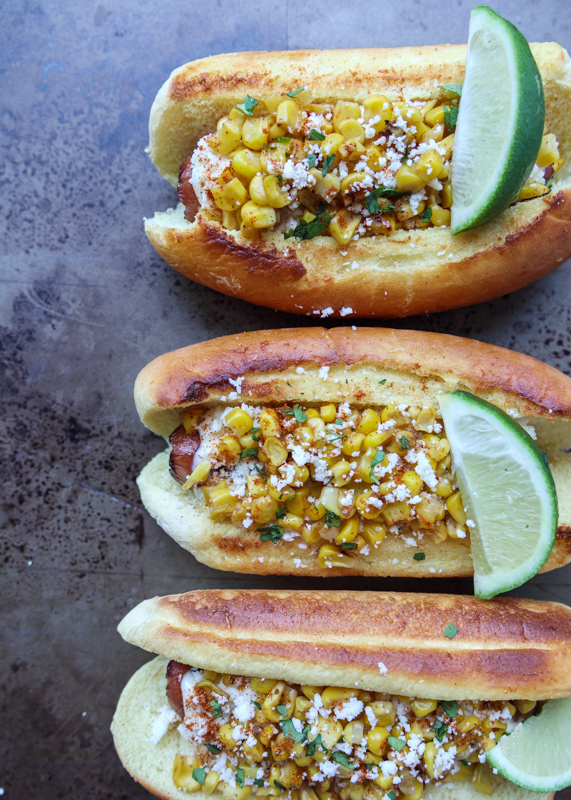 My love for elote knows no bounds. Clearly. Elote is grilled corn on the cob that has been slathered with lime, cotija cheese, chili powder and mayo. It is also known as Mexican street corn and I shared my obsession during my post of the Mexican Street Corn Pasta Salad recipe. Side note: if you haven't tried that pasta salad yet you are seriously missing out! What we have here are Elote Hot Dogs and they are spectacular. Look at them! They are just waiting for you to take a bite. It's all the makings of Mexican street corn, but piled on a hot dog.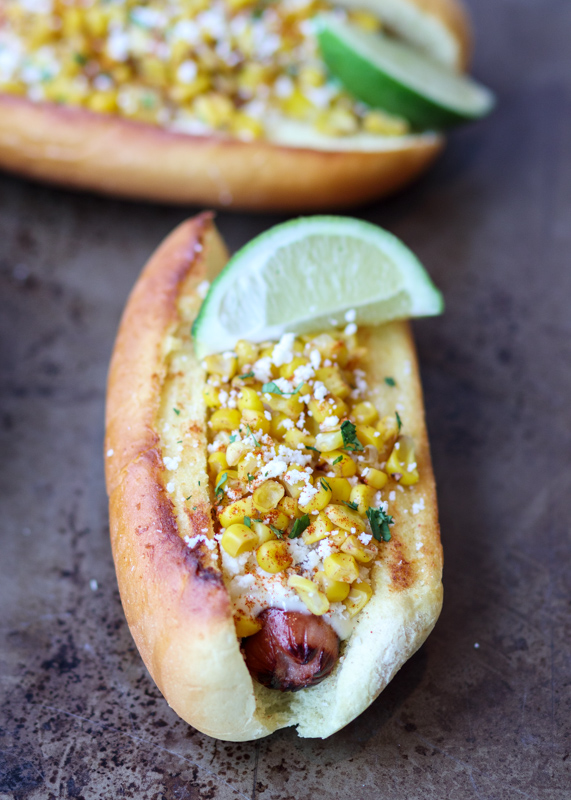 I got the idea for these last fall when Matt and I were in Las Vegas. Prior to our trip I was researching all the outrageous food and I came across a place called Dirt Dog. Their main shop is in Los Angeles, but they have two locations in Vegas. More importantly, they have an elote hot dog on their menu that looked insanely delicious. We were only in Vegas for a few days, but we made sure to seek out that elote dog! It was almost everything I had imagined, except it was too spicy for me; I'm a baby when it comes to spicy food. I decided the concept needed to be recreated at home, but with a manageable spice level so I could enjoy it.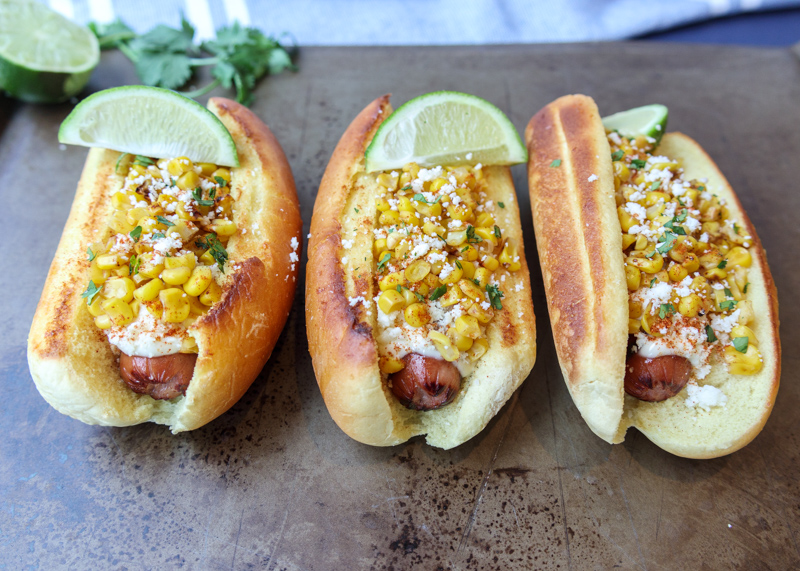 These hot dogs will have you doing an extra happy dance. The grilled hotdogs are topped with a spiced lime mayo, then covered in charred corn, tangy cotija cheese, fresh cilantro leaves (or parsley if you don't like cilantro) and a sprinkling of either smoked paprika or chili powder, whichever your palate would prefer.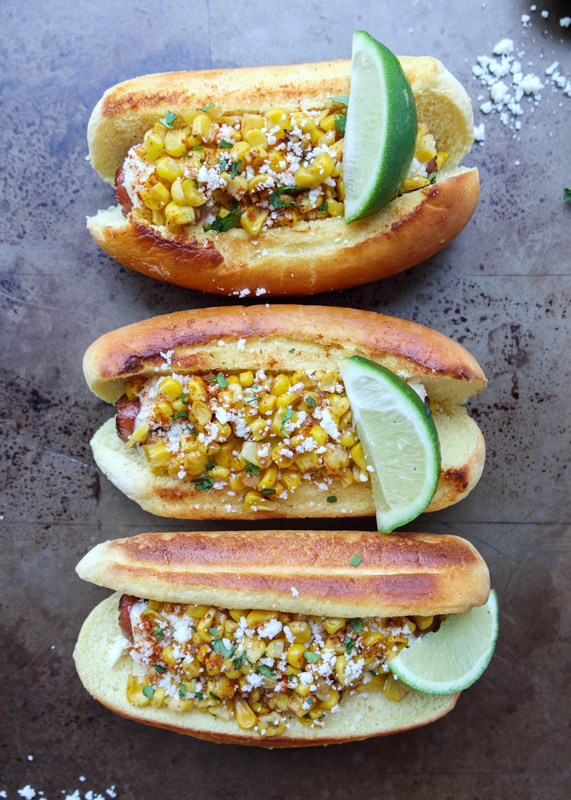 Hot dogs are delicious as is, but I think loaded hot dogs are seriously underrated. It doesn't take much extra time to turn the basic grill staple into a serious party pleaser.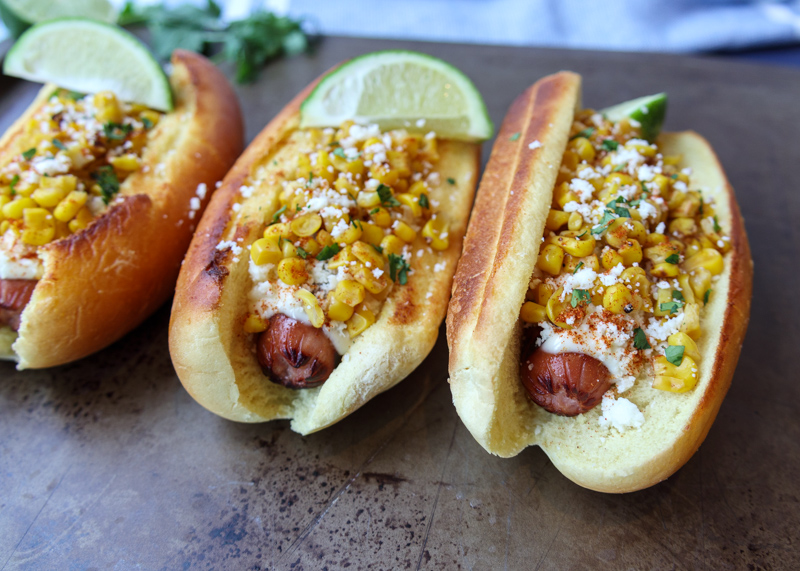 If you're looking for more loaded hot dog inspiration, check out my Bruschetta Hot Dogs I posted a few years ago. I have another exciting to creation to share with you next week and my mouth is watering just thinking about it. I hope you all have a great week ahead! One final comment before you go on your way though- if you thought my love for elote had reached its peak, wait until you see Friday's post! Enjoy, friends!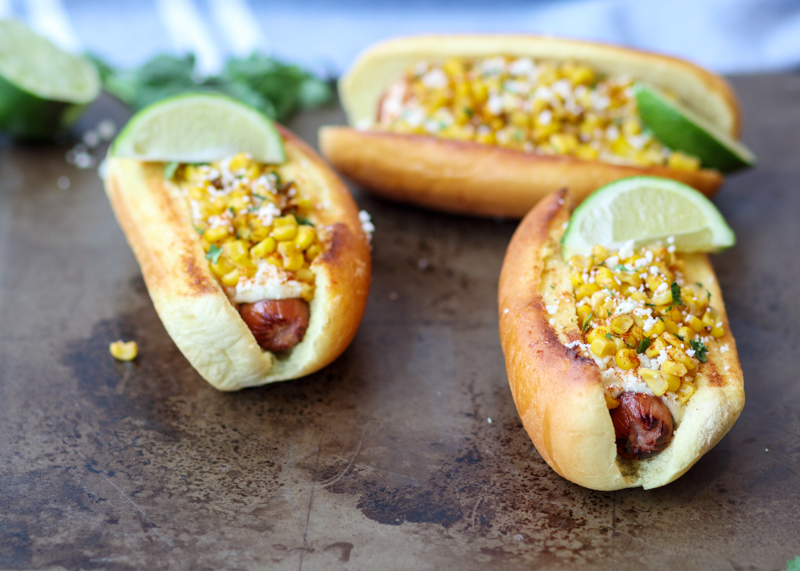 Elote Hot Dogs
Ingredients
for the lime mayo
4 tablespoons mayonnaise
1 teaspoon lime juice
¼ teaspoon smoked paprika
⅛ teaspoon ground cumin
Pinch of chili powder
for the hot dogs
4 hot dogs
¾ cup corn
4 hot dog buns
1 tablespoon butter, melted
Chili powder or smoked paprika
¼ cup crumbled cotija cheese
1 tablespoon cilantro leaves, chopped
Lime wedges, for serving
Directions
for the lime mayo
Stir together the mayonnaise, lime juice, smoked paprika and ground cumin. Add the chili powder to taste.
for the hot dogs
Grill the hot dogs.
While the hot dogs are grilling, char the corn and prepare the buns. Char the corn in a small skillet over medium high-heat, stirring occasionally, until it's lightly browned. Remove from the heat.
Brush the tops of the buns with the melted butter then lightly sprinkle with either chili powder (spicy) or smoked paprika (not spicy) depending on whether your preference. Toast the buns.
Put a hot dog in each bun. Divide the lime mayo between the hot dogs. Use half the cotija cheese to sprinkle over the mayo, reserve the other half. Divide the corn between the hot dogs then top with the remaining cotija cheese. Garnish with the chopped cilantro, lime wedges and a dusting of chili powder and/or smoked paprika.
Notes
Cotija is a Mexican cheese and usually can be found in the fresh cheese section of your grocery store. If you can't find cotija, you could substitute queso fresco. If you can't find either of those, you could try substituting feta.
I used full-fat mayonnaise and all-beef hot dogs.