Sheet Pan Breakfast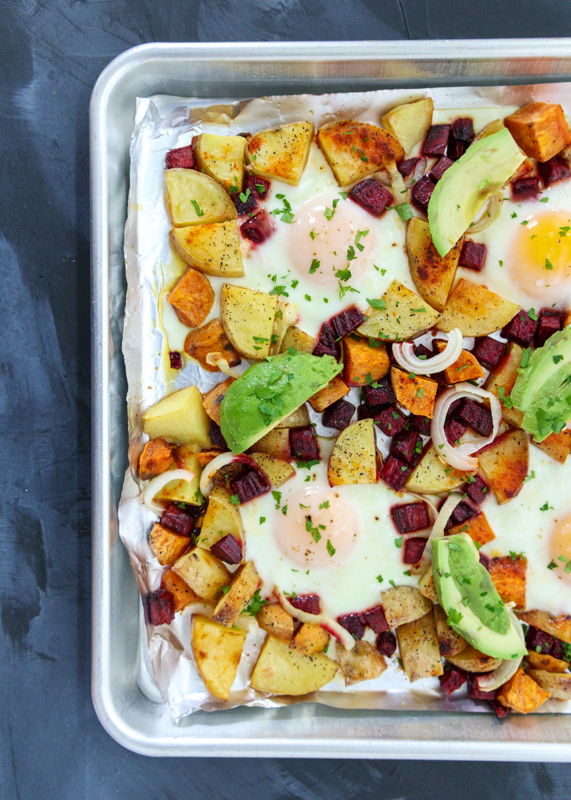 I was on Foodgawker the other month and I came across a recipe concept that blew my mind – a sheet pan breakfast! Basically, you bake the potatoes and eggs in the oven and voila – breakfast! I love breakfast casseroles, but they can get really heavy with all the cheese and dairy. There's so many different combinations you could come up with for a sheet pan breakfast, but ever since I made those Beet Donuts with a Brown Butter Strawberry Rhubarb Glaze I've had beets on my mind. I decided to go with a root vegetable base of roasted Yukon gold potatoes, sweet potatoes and beets. Those get roasted with plenty of seasoning and sliced onion for some additional flavor. When they are almost done, you create little pockets for the eggs, crack them right on the sheet pan then let them bake to their desired done-ness.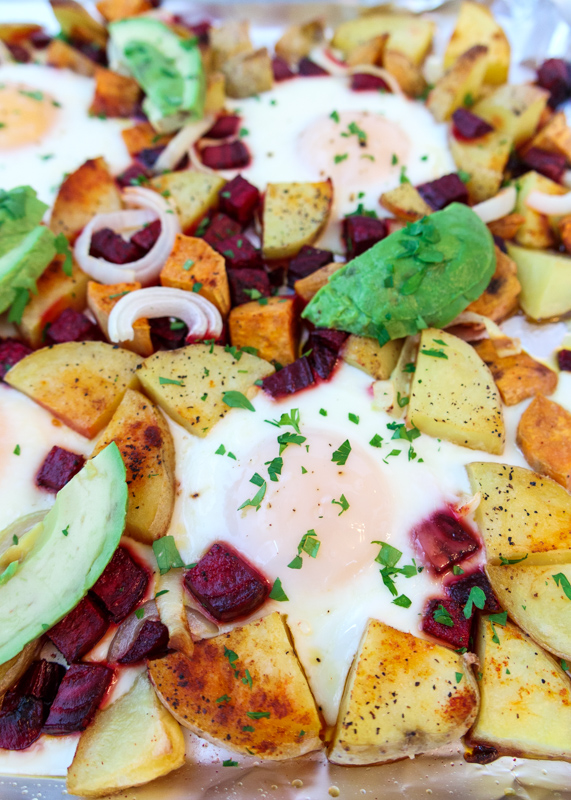 I love runny eggs and I'm slowly getting Matt on the runny egg train as well, but you can cook yours longer if you like the middles firm. I topped it all off with some avocado slices because there's nothing more satisfying to me in the morning than an avocado smothered in runny yolk – see case in point here. Add in the roasted potatoes and beets and I was in pure breakfast heaven.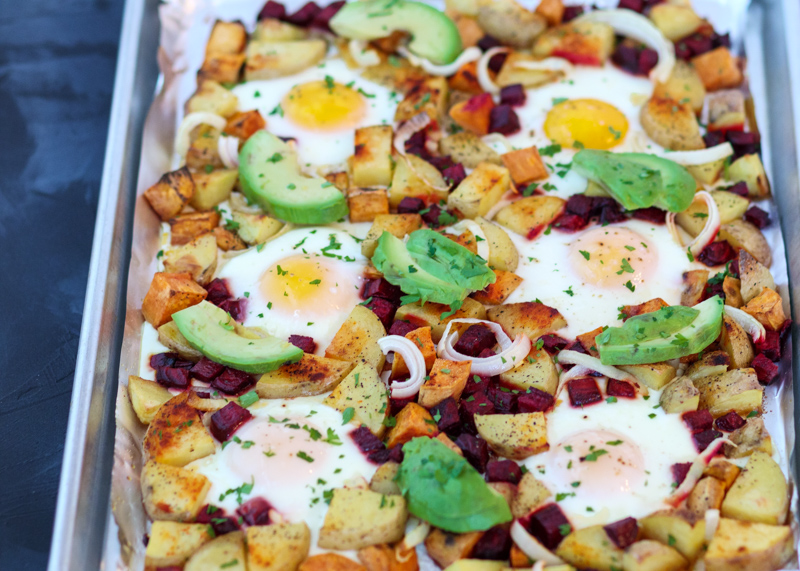 This dish is great for company because you can get everyone eggs without having to stand over the stove, but we saved the other half for ourselves and had it the next day for breakfast. It reheated perfectly in the microwave and the yolks were still runny.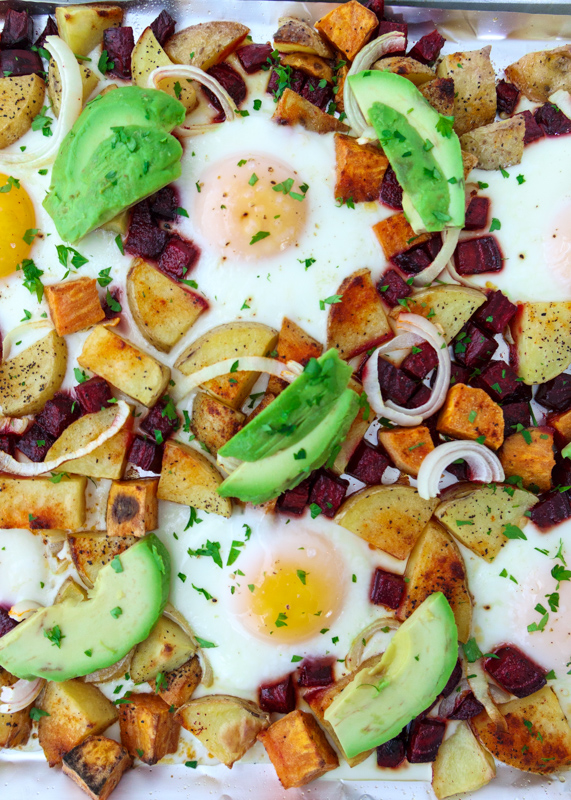 I think I'll be making this again really soon, but this time as breakfast for dinner. Have you ever made a sheet pan breakfast? I'm already brainstorming new combinations like potato, cheddar, scallion and bacon or eggplant, mushrooms, tomatoes and prosciutto – yum!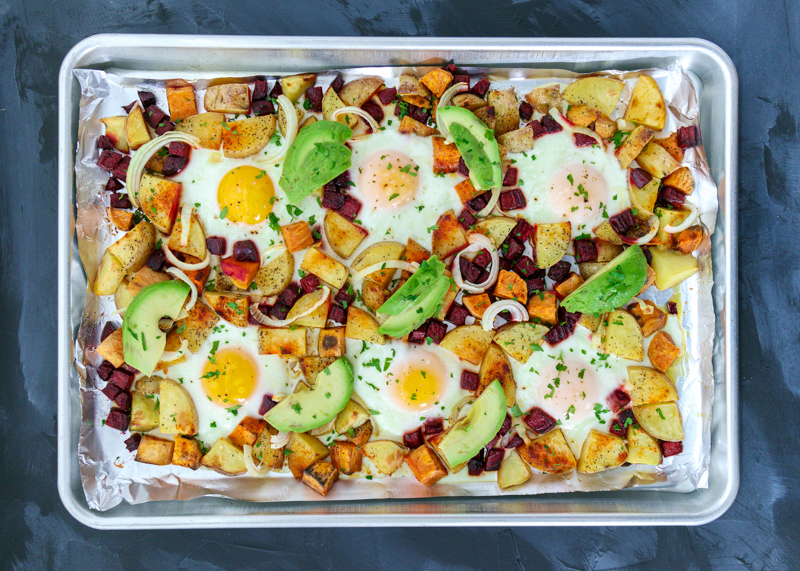 Sheet Pan Breakfast
Ingredients
1 pound yellow thin skin potatoes
2 small sweet potatoes
1 red beet
1-2 tablespoons olive oil
½ teaspoon smoked paprika
¼ teaspoon garlic powder
¼ teaspoon salt
¼ teaspoon ground black pepper
1 small onion
6-8 large eggs
1 avocado, sliced
Chopped fresh parsley, for topping
Directions
Preheat the oven to 425 degrees F. Line a half sheet baking pan with nonstick aluminum foil or spray with nonstick cooking spray. Set aside.
Scrub and dry the potatoes and sweet potatoes. Leaving the skins on, cube the potatoes. Peel the beets. Cut the beets into a small dice; they take longer to cook than the potatoes so you want them smaller so they will be done at the same time. Toss the cut potatoes and beets with the olive oil, smoked paprika, garlic powder, salt and pepper then place evenly on the prepared baking sheet.
Bake the potatoes and beets for 20 minutes. While the potatoes are baking, halve and slice the onion. After the potatoes and beets have cooked for 20 minutes, toss them then place the onion slices on top then put back in the oven for 15-20 minutes.
Remove the pan from the oven and make room for the eggs. I made a little pocket for each egg. If you are using nonstick cooking spray you might want to spray a little into each pocket before putting in the egg. Carefully crack an egg into each pocket then season the eggs with a little salt and pepper. Bake for 3 minutes, or until the eggs are your desired done-ness. Top with the avocado slices and chopped parsley, serve.
Recipe adapted from

The Flavor Bender

.