Blueberry Nectarine Muffins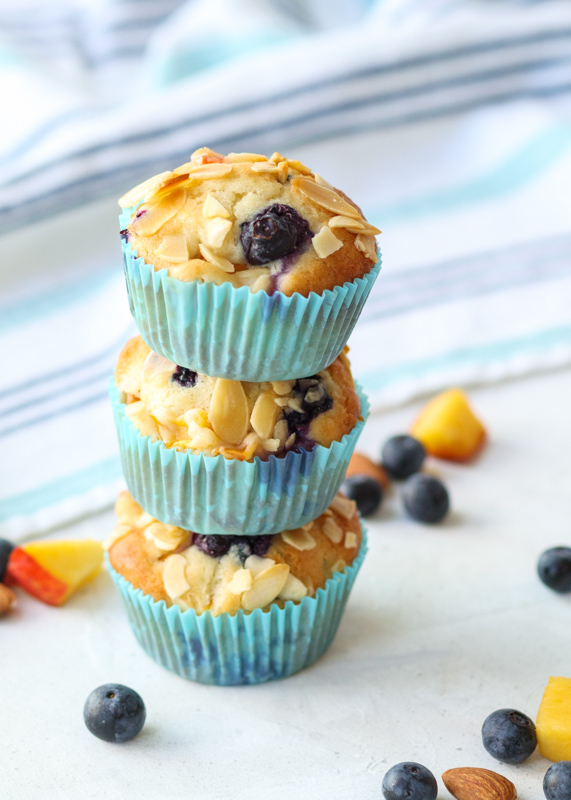 I hope you all had a great 4th of July! I'm not going to waste any time here because your July is about to be off to an amazing start. That is because I am sharing this muffin recipe with you. Now I know I've been sharing the Food Network Magazine's Muffin of the Month recipes in order with you, but I have to skip ahead to the August muffins. Don't worry, I will share the July ones next month. The August muffins for the Food Network Magazine's Muffin of the Month are these Blueberry Nectarine Muffins and, damn, they are glorious!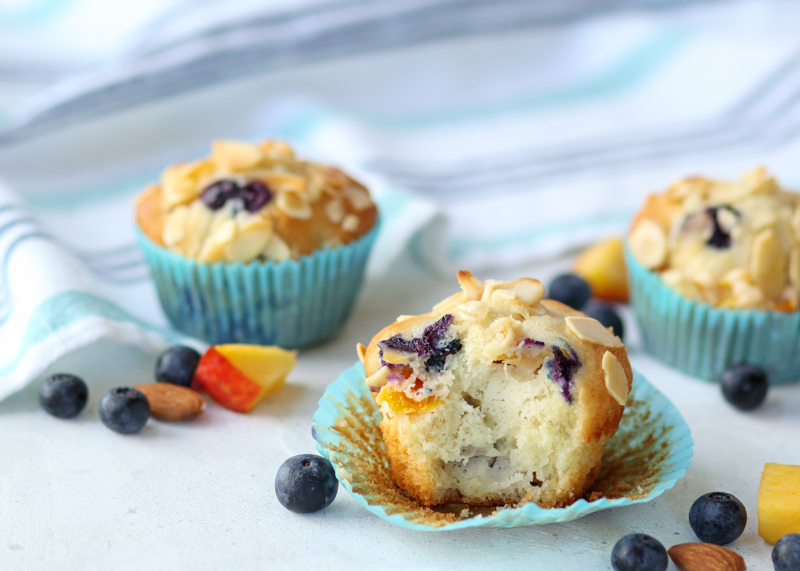 I thought it would be impossible to top the June S'mores Muffins because they were the perfect rendition of s'mores in muffin form complete with gooey chocolate and oozing crispy marshmallow. Now, these didn't necessarily top the S'mores Muffins because, well, chocolate, but they definitely met the raised muffin standard.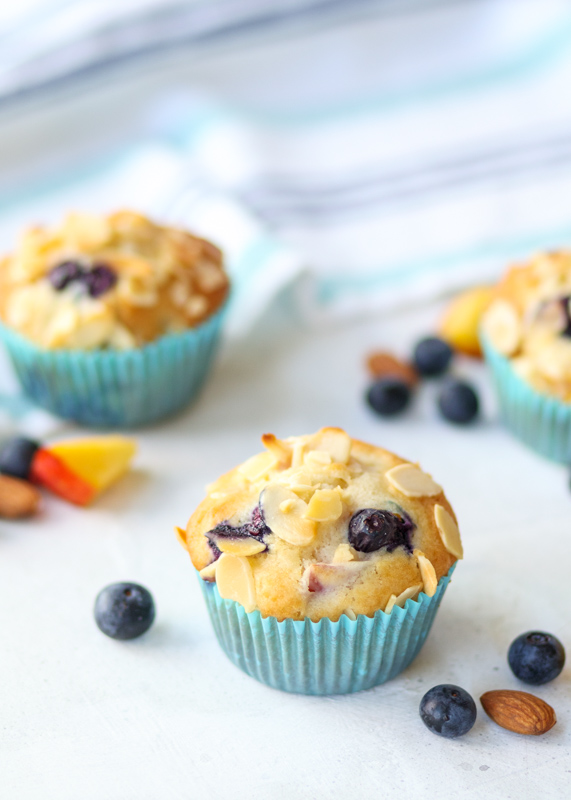 These were the first muffins I've made so far from the Food Network Magazine article that came out looking picture perfect in my opinion. But I'm all about taste over here and these muffins had everyone doing a little happy dance. Quickly followed by grabbing a second one. As I mentioned last week, I had some family visiting and the Blueberry Nectarine Muffins were a big hit. So much so that there were dibs being called on the muffins when they started dwindling!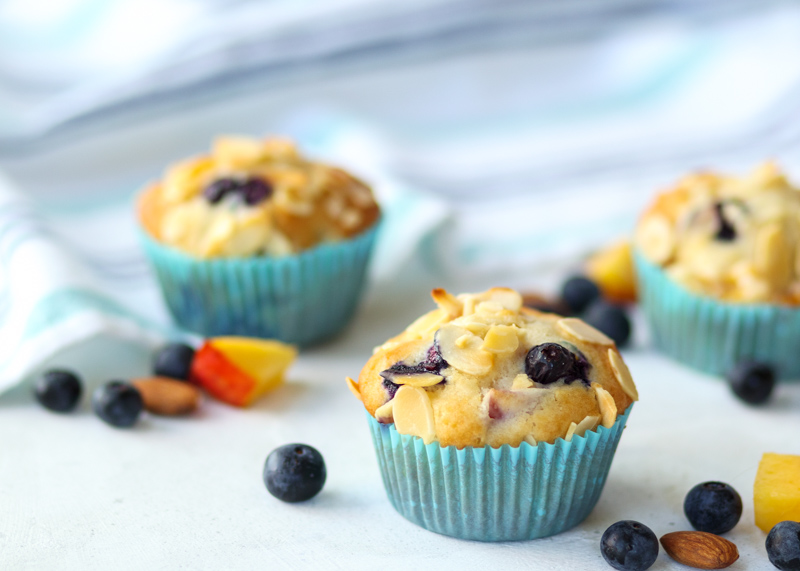 I was happy we had visitors otherwise I would have definitely consumed about 2/3 of these! The muffins have just the right amount of sweetness balanced with the almond taste. The juicy blueberries and crunchy almonds on top really added to the muffin, but the breakout star was the nectarine. Nectarines are in season right now and the chunks in the muffin made it so moist and really took them into the over-the-top-delicious category.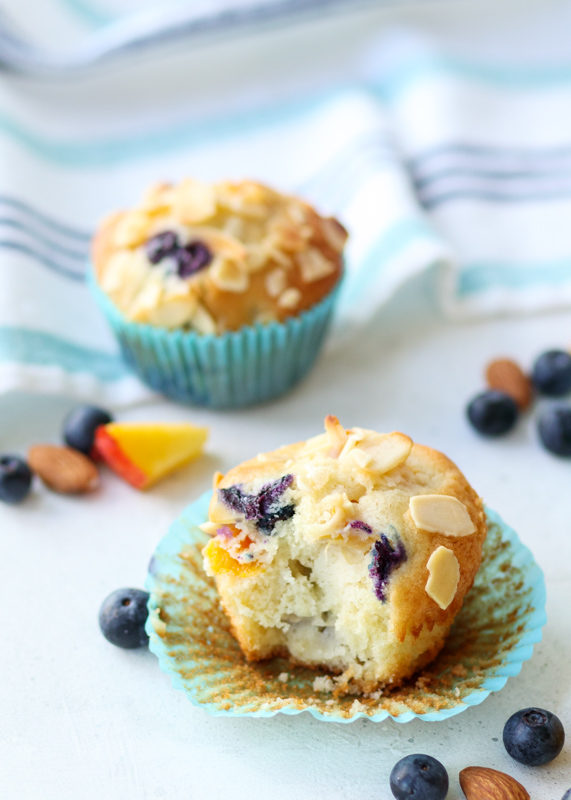 Matt and my goddaughter aren't big on blueberries and they both requested a nectarine-only muffin next time since it was so good. I love blueberries so I'm partial to the combination of the two, but I would definitely be down for an all nectarine muffin as well. If you want your July to get even better then plan to make these as soon as possible! Especially so you have time to make them again and again while nectarines are still in peak season, which is why I went ahead and shared them early. Enjoy!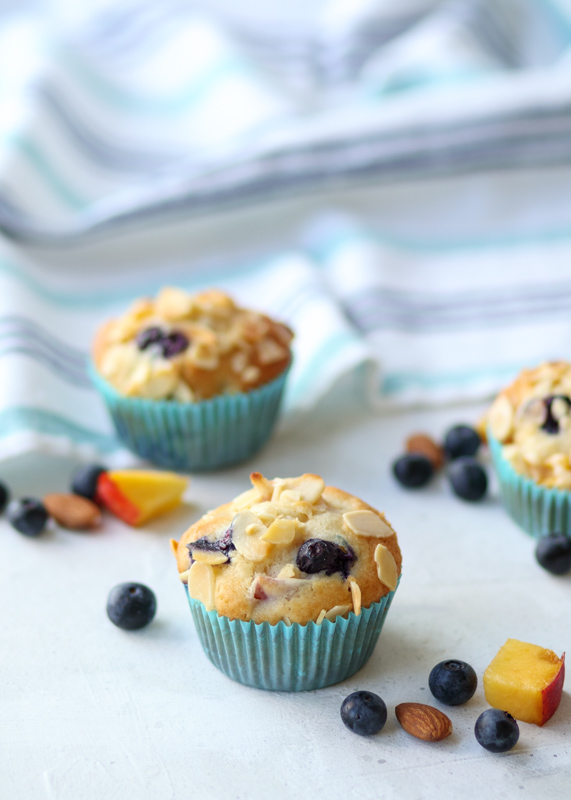 Blueberry Nectarine Muffins
Ingredients
2 cups all-purpose flour
½ teaspoon baking powder
½ teaspoon baking soda
½ teaspoon salt
⅔ cup granulated sugar
½ cup vegetable oil
½ cup plain Greek yogurt
2 large eggs
¼ teaspoon almond extract
2 small nectarines, pitted and chopped (about 1¾ cups)
½ cup blueberries
¼ cup sliced almonds
Coarse sugar, for topping (I just used a light sprinkle of regular sugar)
Directions
Preheat the oven to 400 degrees F then line a 12-cup muffin pan with paper liners and set aside.
In a large bowl, sift together the flour, baking powder, baking soda and salt.
In a medium bowl, whisk together the sugar, vegetable oil, yogurt, eggs and almond extract. Pour into the flour mixture then stir until just combined. Add nectarines and blueberries and stir to incorporate.
Fill the muffin cups with the batter. They should be about ¾ of the way full. Top the muffins with the sliced almonds and a light sprinkle of coarse sugar (or regular sugar if you don't have any). Bake for about 20 minutes, or until the tops are golden and spring back when lightly pressed. Let cool in the pan for 5 minutes then carefully remove to a wire cooling rack to cool completely.
Notes
I used plain nonfat Greek yogurt. You could substitute sour cream or regular plain yogurt if you would prefer.

To get the blueberries to peek through at the top: Let the muffins cook for 1-2 minutes, then carefully (and quickly) remove the pan from the oven, gently top each muffin with 1-2 extra blueberries and return to the oven for the remainder of the cooking time.
 Recipe slightly adapted from January/February 2018 issue of Food Network Magazine
.
Some of the links above are affiliate links, which means I may receive a small commission for my referral. This does not affect the retail cost of the item. Thank you for supporting Lemon & Mocha!