Sheet Pan Chicken Fajita Bowls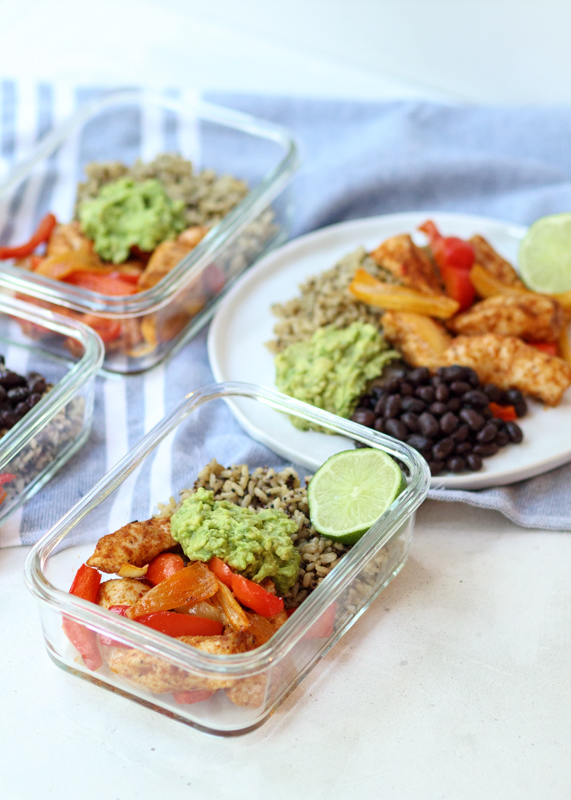 I'm back with another healthy make ahead lunch or dinner recipe for you! It is much needed after Monday's Elote Hot Dog, right? Those hot dogs were so good, but food like that is a treat for Matt and I. Most weeks, lunches and dinners consist of meals like these Sheet Pan Chicken Fajita Bowls. Many people think healthy is boring, but that's only if you let it be boring! You all know I'm obsessed with food so I would never eat healthy every day if it meant sacrificing flavor.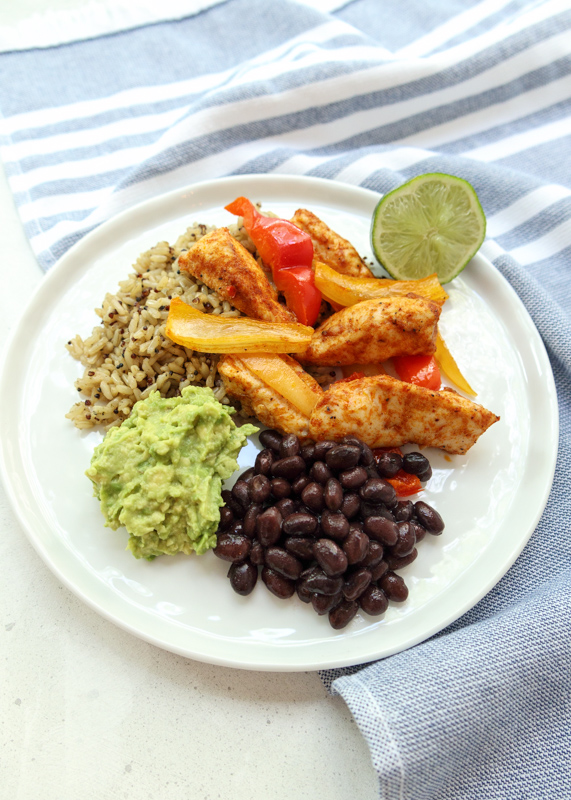 Let me break down these bowls for you. Chicken tenders, red bell pepper and onion get tossed in a simple yet flavor-packed seasoning mix. I find it to taste more earthy and smoky than spicy, but if you like spicy food you can definitely increase the amount of chili powder. It then all gets baked at the same temperature on the same sheet pan.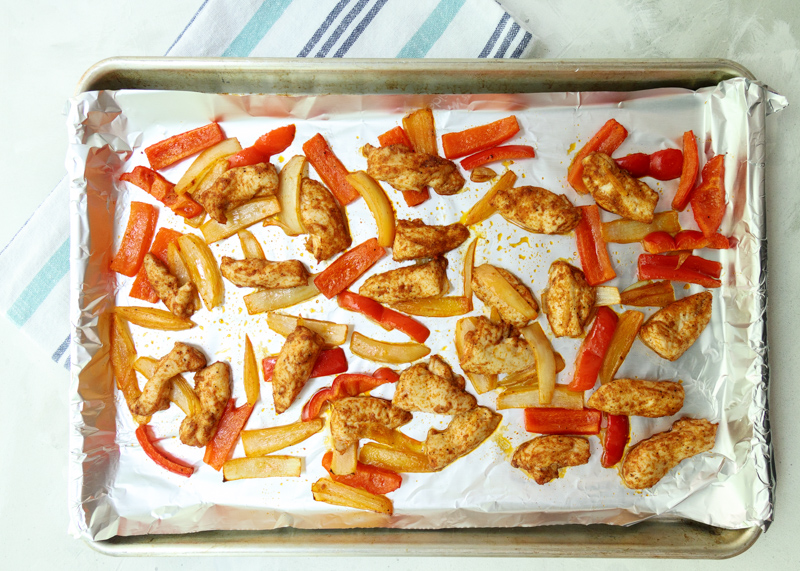 Grains get layered on the bottom of the bowl, topped with the cooked chicken and veggies, black beans, avocado mashed with lime juice and garlic powder. That's it!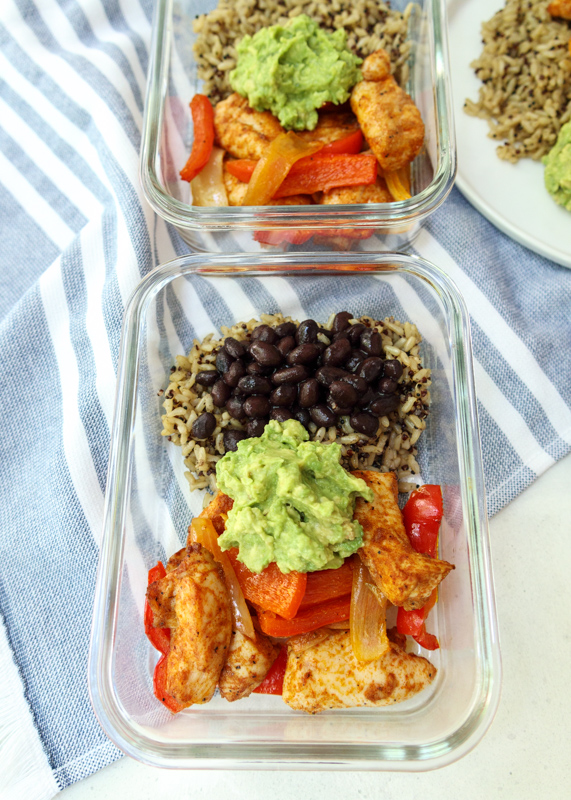 If you notice in the photos that two of the fajita bowls are missing their black beans that is because Matt does not like them. Everyone is all about "doing it for the gram" these days, but I would just rather everyone like and enjoy their food!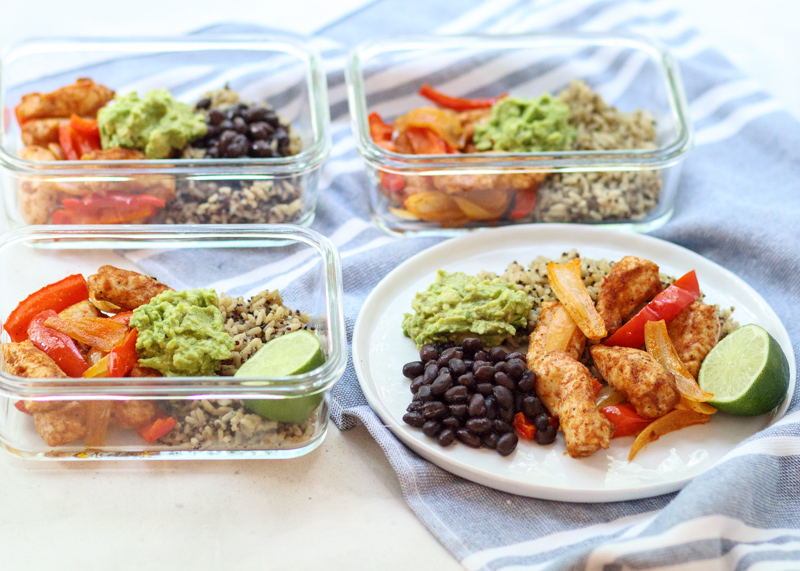 Matt and I have been cooking fajita chicken and veggies over rice for dinner since we first started cooking together. Once we discovered the Seeds of Change brown rice and quinoa microwavable packets we started having this meal nonstop because the rice quinoa packets are so easy and crazy good. No, this is not an ad, we are just long-term obsessed! I have been able to find these packets at almost every grocery store I've been in, including Costco.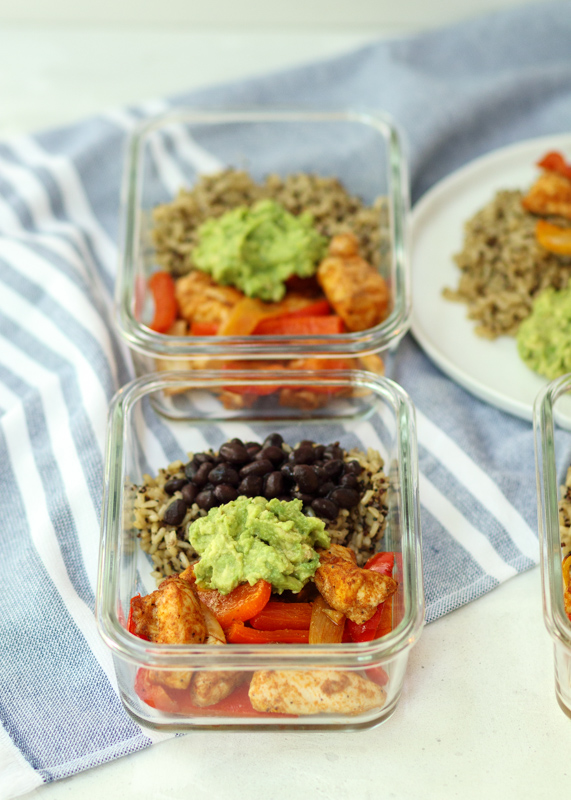 If you would prefer to make plain brown rice or quinoa I would definitely season it a bit. You could even try a different grain, I've been into barley lately, or substitute in some sweet potatoes – yum! Now I'm thinking about how I could roast sweet potatoes wedges on the same pan as the chicken and veggies – keeping that one in mind for later! No matter how you customize your Sheet Pan Chicken Fajita Bowls, after one bite you will making this one on repeat!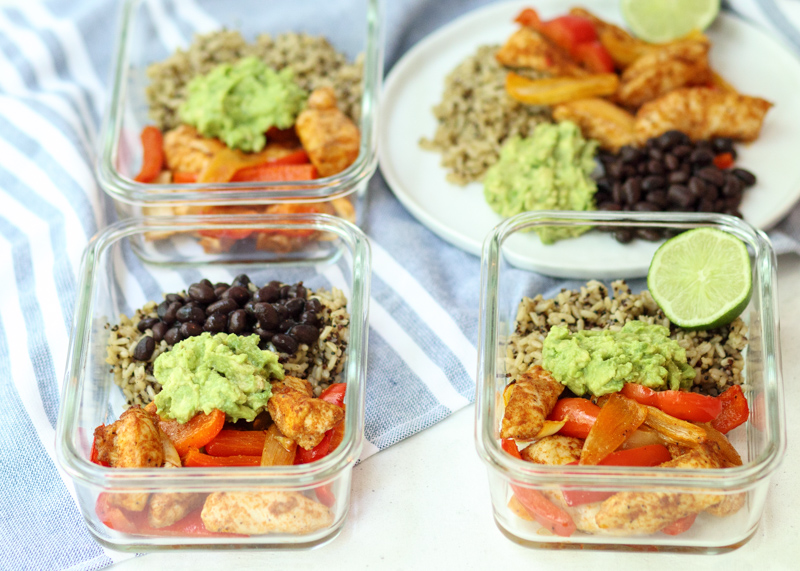 Sheet Pan Chicken Fajita Bowls
Ingredients
for the chicken
1 pound boneless skinless chicken tenderloins
1 red bell pepper
1 small onion
1 teaspoon paprika
½ teaspoon garlic powder
½ teaspoon ground cumin
¼ teaspoon salt
⅛ teaspoon black pepper
Pinch chili powder
1 tablespoon olive oil
for the rice bowl
2 small avocados
1 teaspoon lime juice
¼ teaspoon garlic powder
2 cups Seeds of Change Brown Rice & Quinoa with Garlic
1 cup black beans
1 lime, for garnish
Directions
for the chicken
Preheat the oven to 375 degrees F. Line a half sheet baking sheet with nonstick aluminum foil or spray with nonstick spray and set aside.
In a small bowl, combine the paprika, garlic powder, ground cumin, salt, pepper and chili powder. I don't like spicy foods so if you like yours more spicy, add more chili powder. Just be sure to taste it so you don't over-spice it.
Cut the chicken tenders in half. If they are really wide, you might need to also cut them in half lengthwise so they aren't too big (see my photos for reference of how big mine were). Cut the bell pepper and the onion into slices. You don't want the slices too thin of they will overcook. Add the chicken, bell pepper slices and onion slices to a medium mixing bowl. Add the olive oil then toss to combine. Add the spice mixture then toss to coat. Place the seasoned chicken and veggies on the prepared baking sheet and spread them out so they're touching as little as possible. Bake for 20-25 minutes, or until the chicken reads an internal temperature of 165 degrees F.
for the rice bowl
Put the avocado flesh in a small mixing bowl. Mash with a fork then season with the lime juice and garlic powder. Season with salt and pepper, adding more lime juice or garlic powder as needed. Stir to combine.
To plate the dish, give each bowl ½ cup of the rice and ¼ cup of the black beans. Divide the chicken, veggies and mashed avocado between the 4 bowls. Garnish with a lime wedge.
Notes
We love the Seeds of Change Brown Rice & Quinoa with Garlic in my house. It's microwavable, packed with flavor and I can find it at most stores. If you want to use your own cooked brown rice or quinoa plan for 2 cups cooked total, or ½ cup per serving. You might also want to season the rice or quinoa since I have only tried this dish with the seasoned Seeds of Change packets.
Some of the links above are affiliate links, which means I may receive a small commission for my referral. This does not affect the retail cost of the item. Thank you for supporting Lemon & Mocha!