Elote Pizza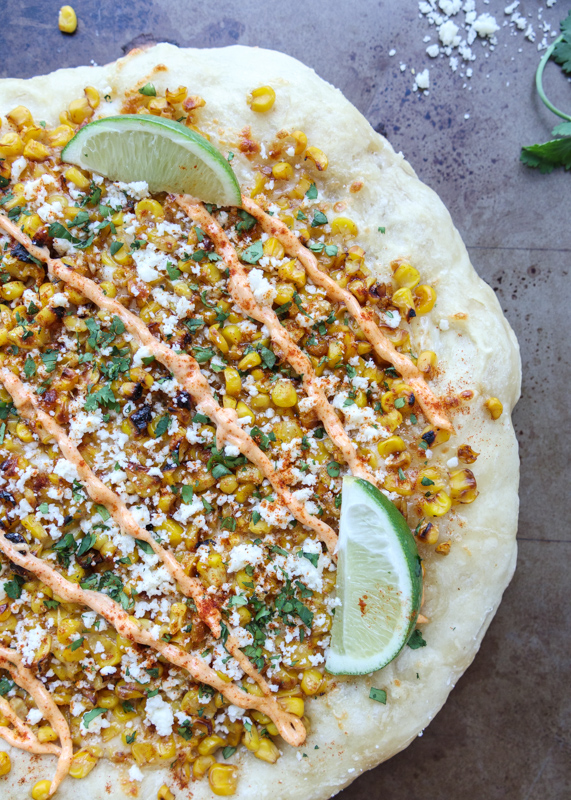 As I'm writing this, it is Monday afternoon. I always write my posts ahead of time so I can get them scheduled. Except normally I write them at least a couple weeks ahead of time, not just days before. Somehow I completely skipped over this post in my calendar! I don't know how because, come on, look at these pizza photos!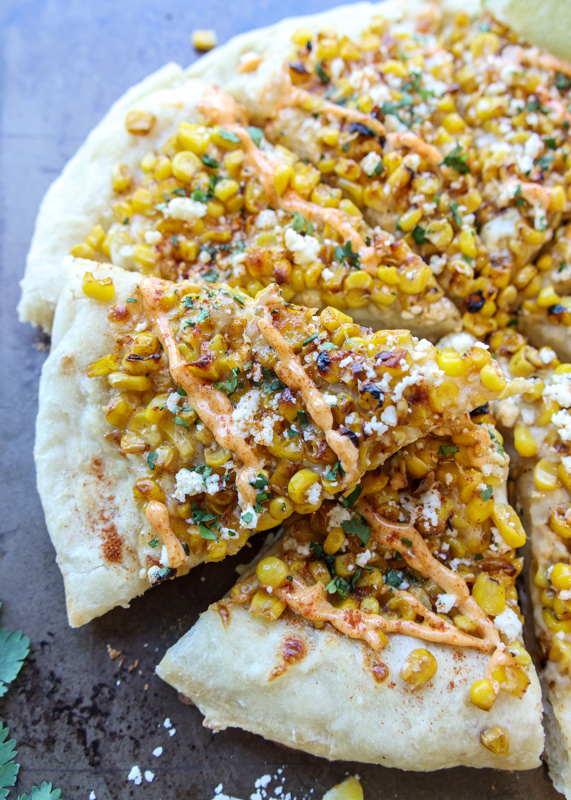 Last week I was busy working away on next week's posts and missed this Friday post entirely. I know I'm probably confusing you so let's just focus on this pizza. Elote Pizza to be exact. Remember Monday's Elote Hot Dogs? Of course you do – they were epic and over-the-top!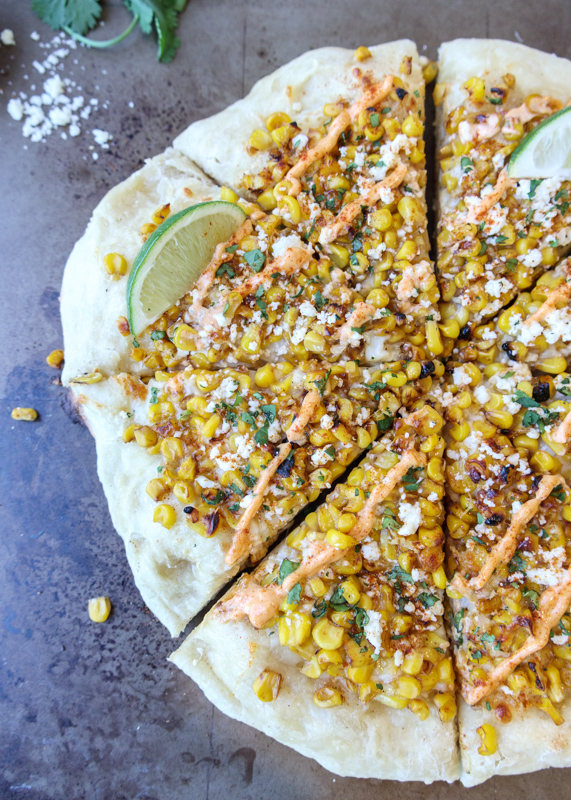 Also, the post came out just a few days ago and hopefully you haven't completely lost track of all sense of days and weeks like apparently I have. This ooey gooey pizza is topped with charred corn, cotija cheese and a lime mayo. It's a little sweet, a little creamy, a little smoky and definitely cheesy.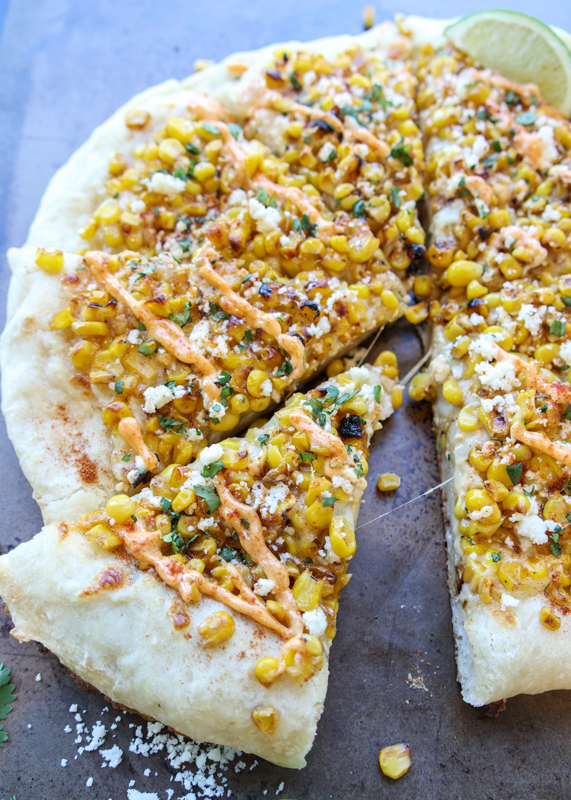 Some of my favorite meals I've made have been born out of ingredients left in the fridge and this Elote Pizza is a perfect example. There was plenty of cotija, corn and cilantro leftover from the Elote Hot Dogs so I decided to rework them into another outrageous celebration of my love for elote. Unlike the Elote Hot Dogs, I've never had Elote Pizza before, but every pizza place should start serving it now! It would be my go-to order, especially during the summer.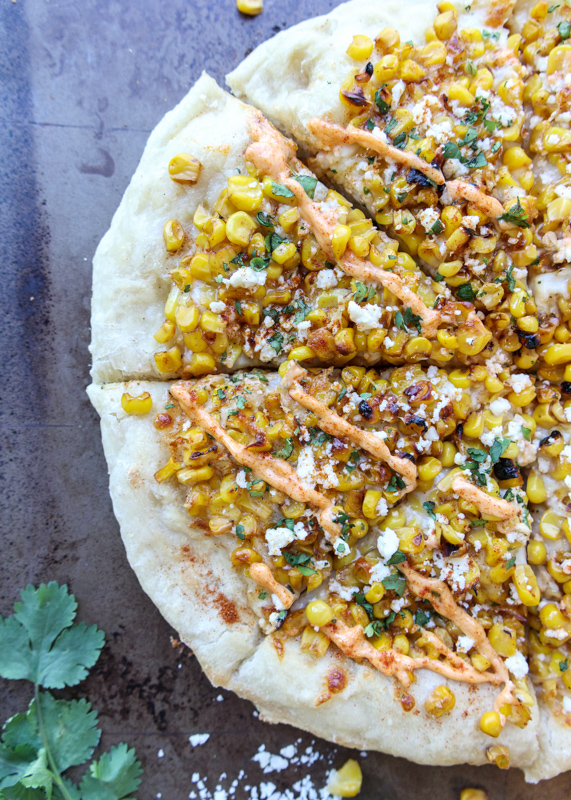 My favorite tip for pizza is something Matt taught me – using cornmeal to flour your surface and the pizza dough instead of all-purpose flour. For years we had been using all-purpose flour because we just assumed that would work best without ever looking it up. It does work really well at keeping the dough from sticking, but you often get a floury taste when the pizza is cooked. Using cornmeal keeps the dough from sticking to the pan and it makes it taste like it just came out of a pizza shop! Who knew? Well, maybe you did, but if you didn't you can thank Matt! Happy Friday everyone!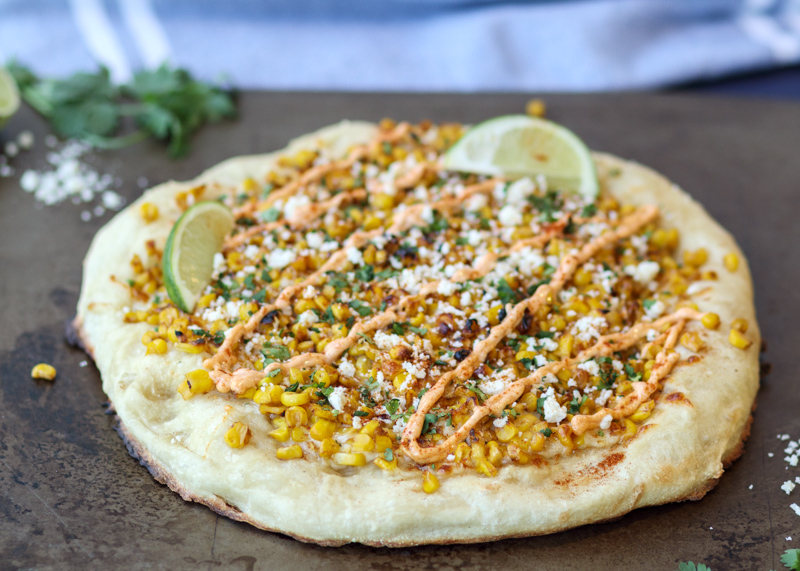 Elote Pizza
Ingredients
for the lime mayo
¼ cup mayonnaise
1 teaspoon lime juice
1 teaspoon paprika
for the pizza
1 can corn kernels, drained and dried
16 ounces pre-made pizza dough, at room temperature for 20 minutes
Cornmeal, for dusting the surface for the dough
2 teaspoons olive oil
1 cup shredded mozzarella cheese
1 tablespoon fresh grated Parmesan cheese
¼ cotija cheese
1 tablespoon cilantro leaves, chopped
Pinch of smoked paprika, ground cumin and chili powder, for top dusting
Directions
for the lime mayo
In a small bowl, combine the mayonnaise, lime juice and paprika. Set aside.
for the pizza
Char the corn in a large skillet over medium-high heat, stirring occasionally. You want the corn to be lightly browned. Remove from the heat.
Preheat your pizza stone in the oven at 475 or 500 degrees F for at least half an hour.
If you are using a pizza peel, generously sprinkle your pizza peel with cornmeal. If you don't have a pizza peel and are using a baking sheet, generously sprinkle your baking sheet with cornmeal. Stretch out the dough - the size depends on the size of your pizza stone. To help get it stretched out, I hold it and let it fall down. I continue doing this, rotating around as I do it so it stretches into an oblong shape. Now that it is most of the way stretched out, place it on the cornmeal surface, whether that is your pizza peel or baking sheet. Use a rolling pin or your hands to form it into the shape your want. Try to get an even thickness all the way around.
Brush the olive oil on the pizza dough. Top with the shredded mozzarella cheese then the charred corn. Sprinkle with the Parmesan. Carefully put the pizza in the oven on top of the pizza stone to cook for 9-10 minutes. If you are using a baking sheet, just put the baking sheet directly on top of the pizza stone.
Once the pizza is cooked, top with the cotija cheese and chopped cilantro. Drizzle with the lime mayo then dust a sprinkle over top of smoked paprika, ground cumin and chili powder. If you don't like spicy food using a very, very small amount of chili powder.
Notes
For added flavor, brush the crust with a little olive oil then sprinkle with Parmesan and smoked paprika before baking.
I used full-fat mayonnaise.