Lemon Poppy Seed Zucchini Muffins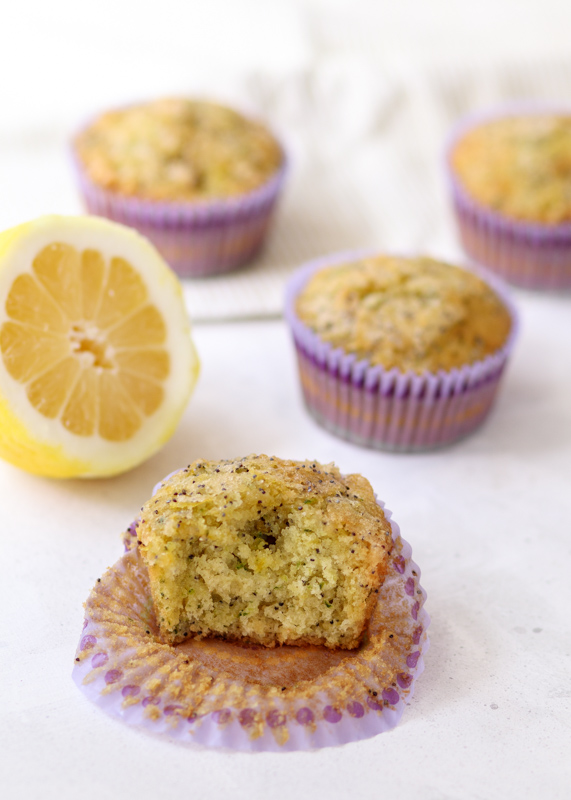 I told you I would make it back to the July muffins in August! The Blueberry Nectarine Muffins were too good not to share early, but today we're talking all about these Lemon Poppy Seed Zucchini Muffins the Food Network Magazine selected for the July muffins. I was really excited for these muffins because I know zucchini can help make baked goods extra moist, just like my Double Chocolate Zucchini Bread. I also love lemon desserts – Lemon Cookie Butter Cheesecake Parfaits or Lemon Curd Tart with Fresh Berries, anyone?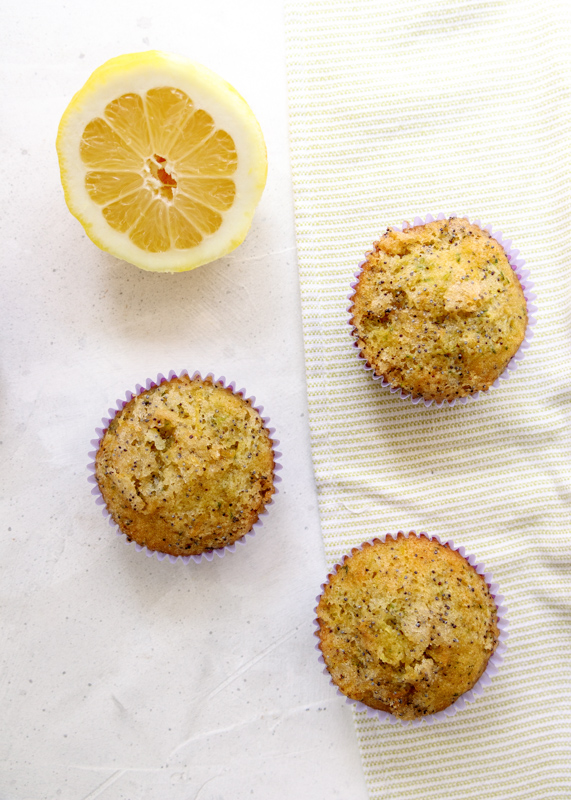 Especially after how amazing the August Blueberry Nectarine Muffins came out my expectations were very high for these Lemon Poppy Seed Zucchini Muffins. I can't say they completely met my expectations. They were really great muffins, though. The grated zucchini and the buttermilk helped make them very moist. The sugary crackly top of the lemon-poppy seed sugar was on point.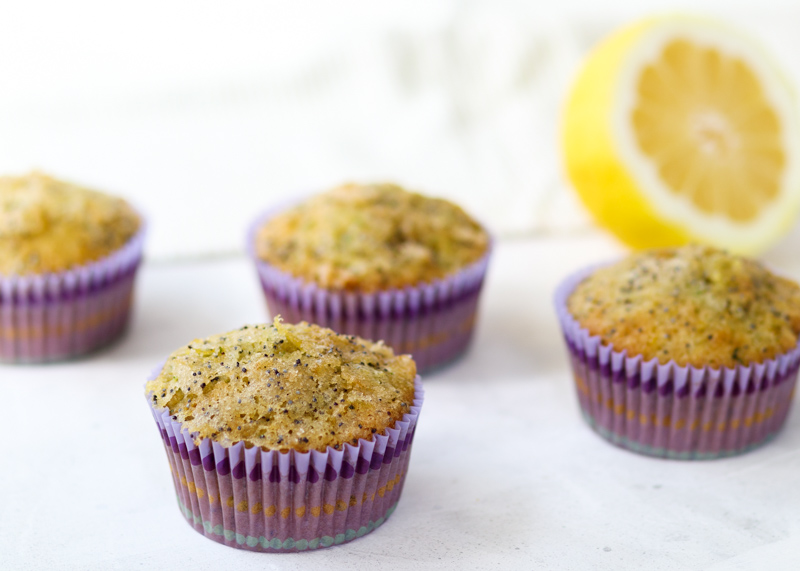 Even still, I felt like they were missing a little something. The topping was full of lemon flavor, but I think the lemon flavor of the actual muffins was a bit more subdued and I prefer lemon to really punch my taste buds. Since it is more subtle, maybe these muffins would be more universally appealing in case someone isn't obsessed with lemon. I think if my expectations weren't so high I would have liked these muffins even more. I did, however, like them a lot better the second day after they had completely cooled and the flavors had a chance to meld than when I first tried them warm out of the oven.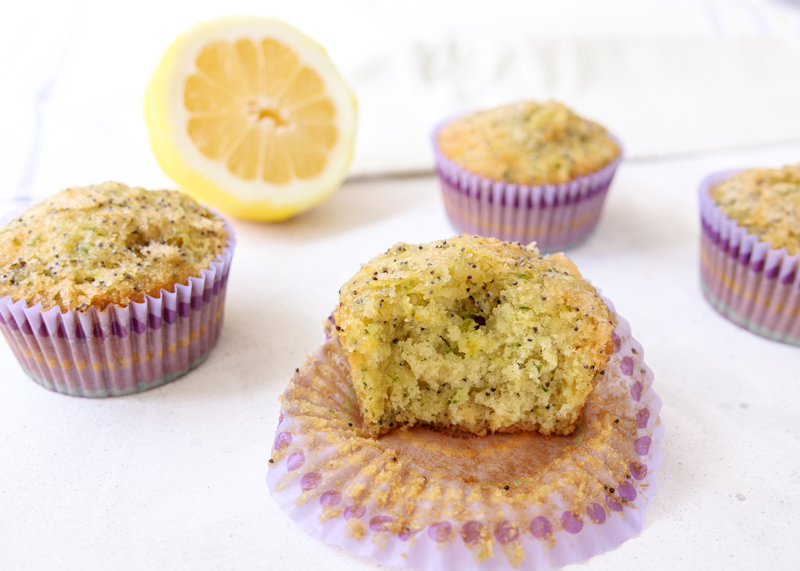 I would still recommend them though because the flavor and the texture was good, although if you really want them to scream lemon I would experiment with adding some more zest or some lemon juice to the batter. You could even try adding lemon yogurt instead of the plain yogurt or buttermilk. I will definitely be giving them a second shot in the future with some added lemony goodness.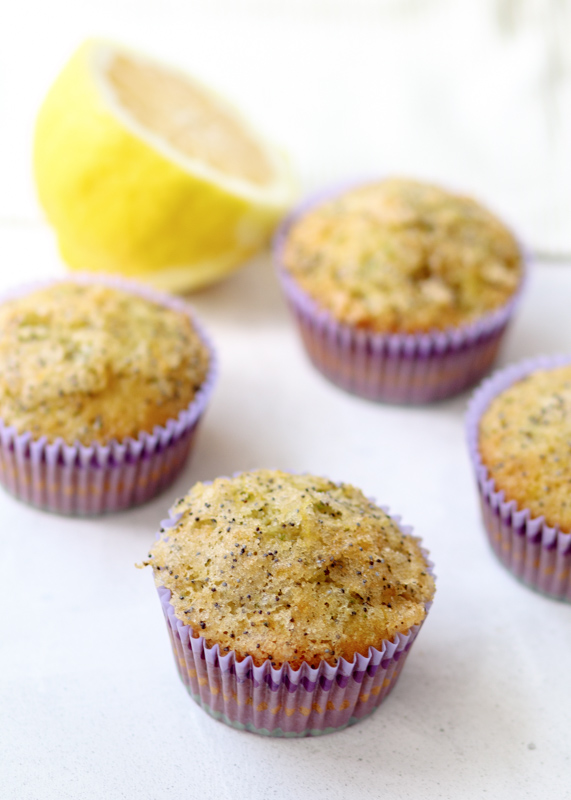 Lemon Poppy Seed Zucchini Muffins
Ingredients
1 lemon, zested
1 cup sugar
2 teaspoons poppy seeds
1½ cups all-purpose flour
½ teaspoon baking soda
½ teaspoon baking powder
½ teaspoon salt
½ cup vegetable oil
¼ cup buttermilk or plain yogurt (not Greek)
½ teaspoon vanilla extract
2 large eggs
1 cup packed grated zucchini (about 1 zucchini)
Directions
Preheat the oven to 350 degrees F then line a 12-cup muffin pan with paper liners and set aside.
In a medium mixing bowl, combine the lemon zest, sugar and poppy seeds. Measure out 3 tablespoons of the lemon-poppy seed sugar and set aside in a small bowl.
In a large mixing bowl, sift together the flour, baking soda, baking powder and salt.
In the medium bowl with the remaining lemon-poppy seed sugar, add the vegetable oil, buttermilk (or yogurt), vanilla and eggs. Whisk to combine then stir into the flour mixture until just combined. Mix in the grated zucchini.
Divide the batter between the prepared muffin cups. Fill the liners about ¾ full then sprinkle the tops of the muffins with the 3 tablespoons of lemon-poppy seed sugar. Bake for 23-25 minutes or until the muffin edges are golden brown and a toothpick inserted in the center of the muffin comes out clean. Cool the muffins for 5 minutes in the pan then transfer to a wire cooling rack to cool completely.
Recipe from January/February 2018 issue of Food Network Magazine
.
Some of the links above are affiliate links, which means I may receive a small commission for my referral. This does not affect the retail cost of the item. Thank you for supporting Lemon & Mocha!