Fall Fruit Salad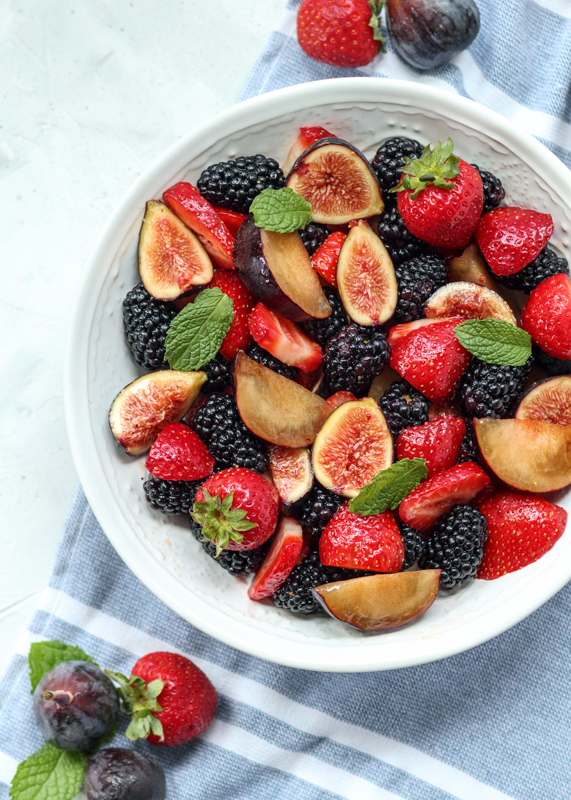 I can't believe it's already late September! Time goes by way too quickly for my liking, but at least it's Friday so I'm not really complaining. I had a completely different recipe scheduled to share today, but then I made this Fall Fruit Salad and it was so good I decided it needed to be shared here on Lemon & Mocha.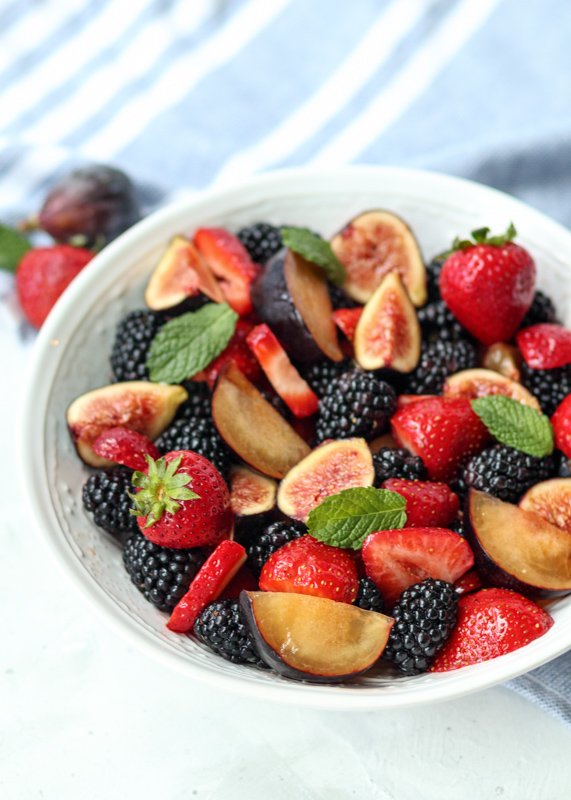 As soon as fall hits, everyone is all about the pumpkins and apples, myself definitely included. As great as those flavors are, there's so many other seasonal fall fruits that often get ignored. I'm here to bring their gorgeous selves to the center stage with this Early Fall Fruit Salad. I'm including the 'early' because most of these fruits are in season right now and won't be in just a week or two. It's hard to keep up with all the seasonal fruits and vegetables going in and out of the stores! Just a few weeks ago I wanted to buy some fresh cherries, but seemingly overnight they had all disappeared from the produce shelves. So take advantage of these juicy fruits while you can!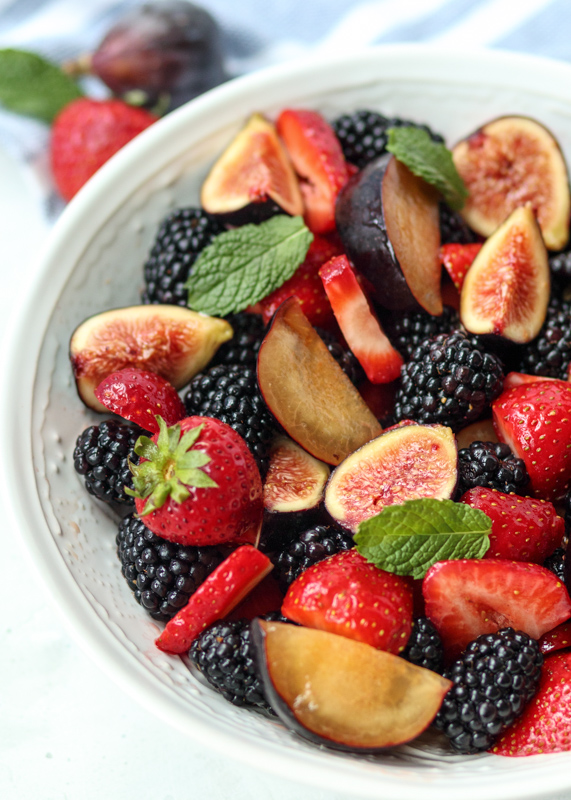 I mixed together blackberries, plums, figs and strawberries. I find that fall fruits and berries aren't as sweet as most summer fruits so I've added a little maple syrup to sweeten them up. You're going to want to use a bold maple syrup for that extra depth of flavor. I used an infused maple syrup, which you can read about in my Instagram post. I also added some lime juice and fresh mint, which really brings the whole fruit salad together.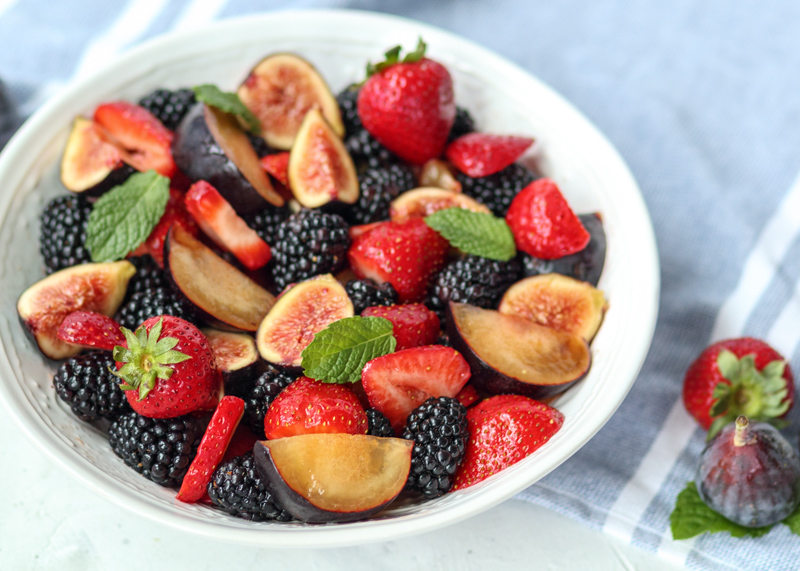 This fruit salad did not last long in our house. Matt opted to eat it as is, while I scooped mine over fluffy pancakes – so good! Another reason I love this fruit salad is having fruit prepped and ready in the fridge makes us much more inclined to reach for them as snacks during the week.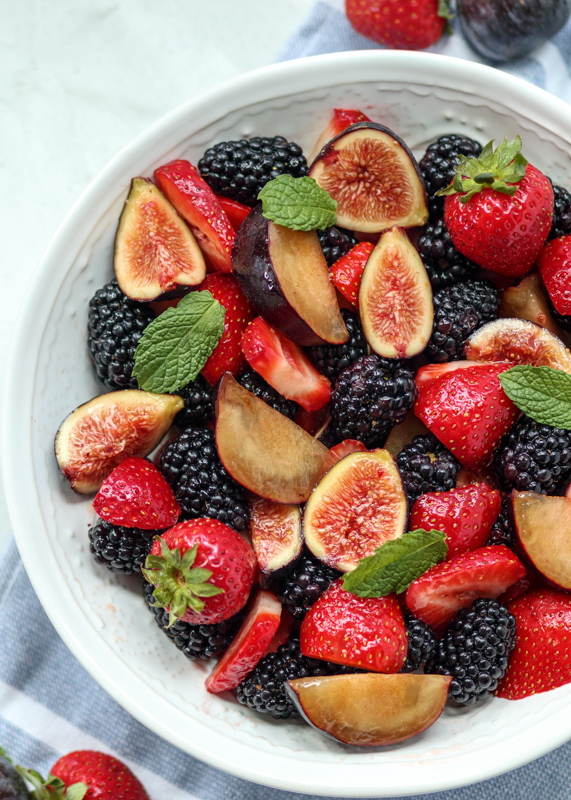 There's a little bit of time left while some of these fruits are still in season so we'll definitely be back to the store soon to make some more Fall Fruit Salad. I hope you all enjoy and have a great weekend!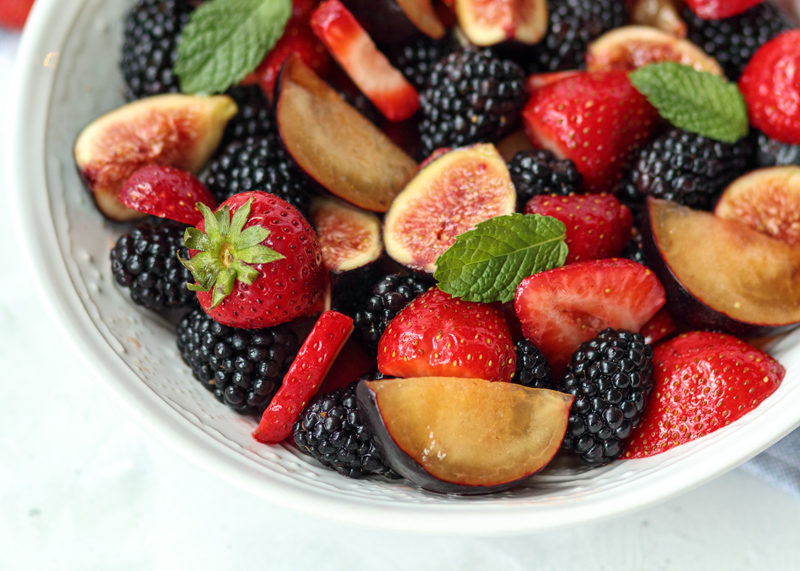 Fall Fruit Salad
Ingredients
6 ounces blackberries
8 ounces strawberries, sliced
2 ripe plums, cored and sliced
8 figs, quartered
3 tablespoons pure maple syrup
Juice from 1 lime
1 tablespoon whole fresh mint leaves
Directions
Combine the fruit in a serving bowl. Pour the maple syrup and lime juice over top. Gently toss to combine. Top with the fresh mint leaves; if they are large cut them in half.