Chocolate Chip Mini Muffins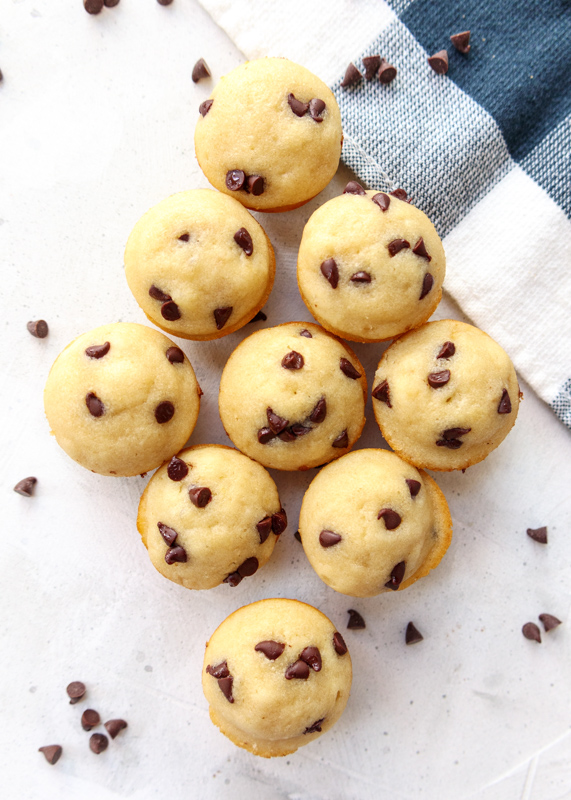 As if the monthly Food Network Magazine muffins weren't enough I'm now introducing even more muffins! That's okay though because these Chocolate Chip Mini Muffins are so worth it. You know those mini muffins you can buy prepackaged at the grocery store? The Little Bites or Little Debbie ones, etc.? These Chocolate Chip Mini Muffins taste just like that so if you are a fan then you will be loving these mini bites. If you've never had them, I would almost describe them as chocolate chip pancakes, but in the form of a muffin. They are light, moist, soft – and chocolatey from all the mini chocolate chips, which is obviously the best part.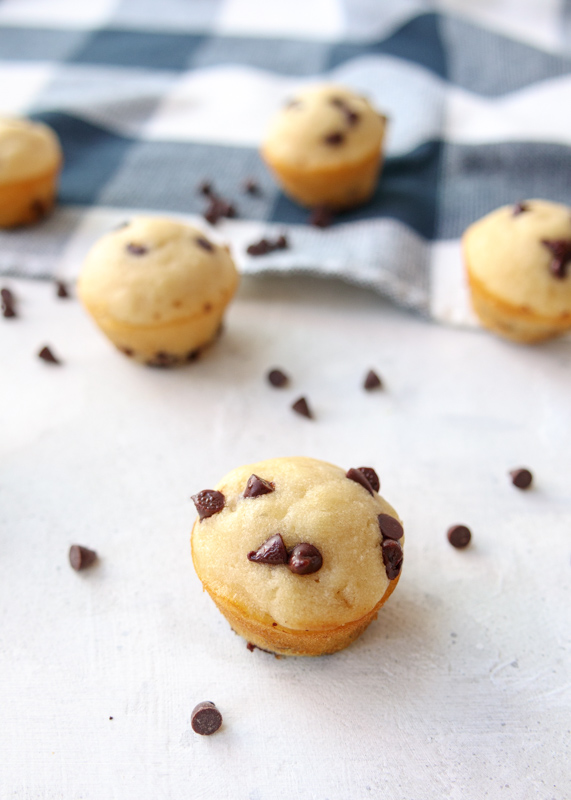 There are two dangerous aspects of this recipe. The first is that they are so easy to make. The second is that they are completely pop-able. As in, you just want to keep popping more and more of them in your mouth until they're all gone. Oops. I first made these muffins to bring to my friend's brunch football tailgate. I wanted something that didn't need to stay hot and that would be a universal hit.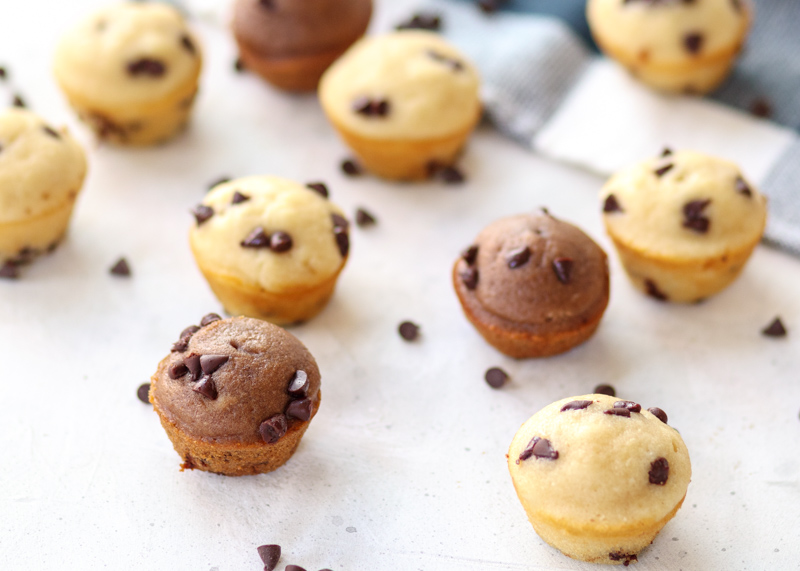 I highly recommend these mini muffins for brunch tailgates, morning potlucks or to have on hand when you're going to be having guests stay with you. Or for eating in the car on a road trip, eating while watching Netflix or eating while biking along the coast. Also for breakfast, snack, lunch or dessert. Did I forget anything?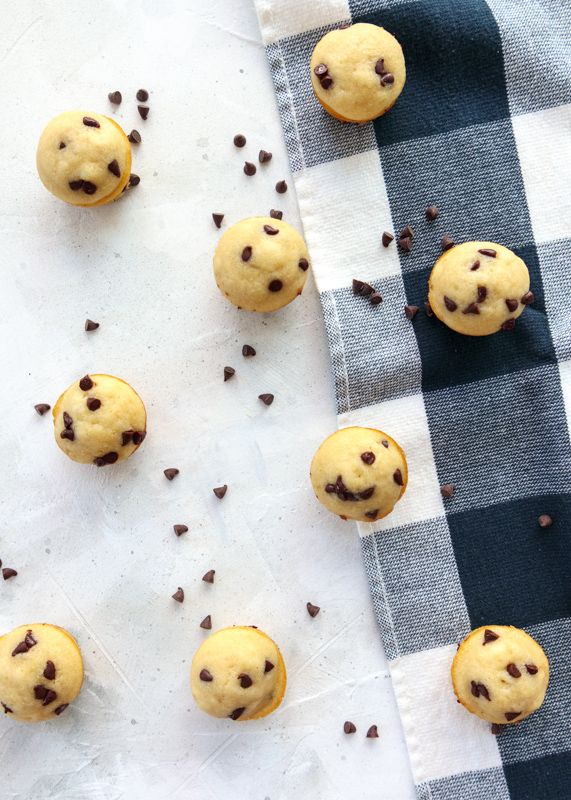 If you want to turn them into double chocolate chip mini muffins check out my note in the recipe. Also, a couple tips for baking and storing the muffins. As you can see in the photos, the muffins stay pale on the top. They do not get golden brown like a lot of other muffin recipes so if you are waiting for that you will overcook them. Just follow the recipe instructions and note so you will have perfectly moist and fluffy mini muffins.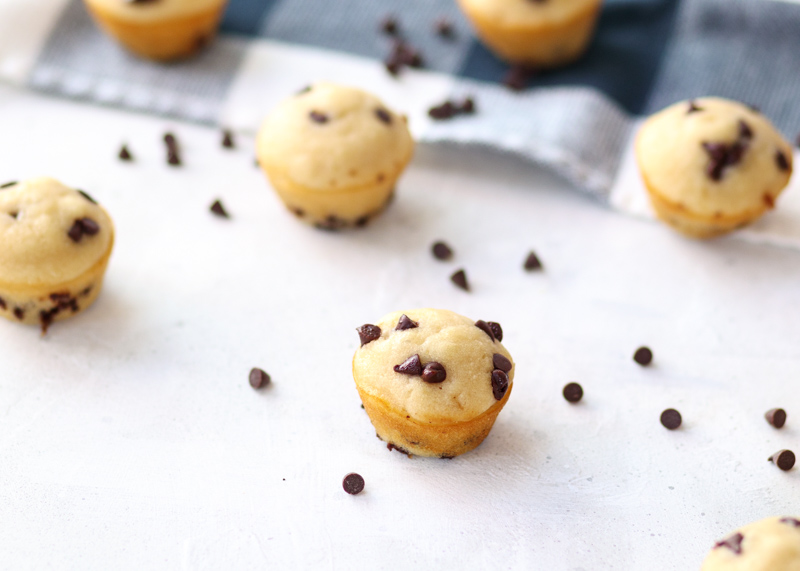 I store the mini muffins at room temperature in a sealed plastic container so they stay soft just like the ones from the grocery store. Normally with muffins you don't want them to get soft because you want the tops to stay nice and crunchy, but this is one case where they taste so good soft all over. I hope you all love these mini muffins as much as we do!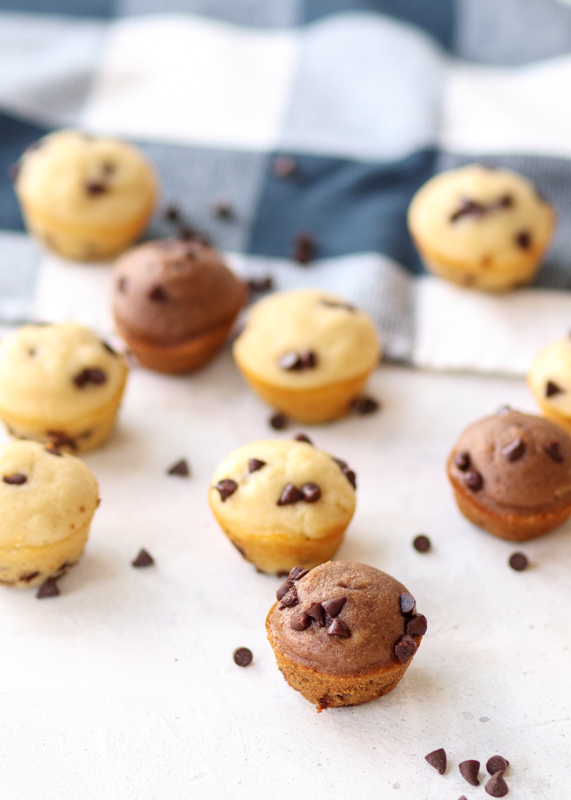 Chocolate Chip Mini Muffins
Ingredients
2 cups all-purpose flour
½ cup granulated sugar
2 tablespoons brown sugar
1 tablespoon baking powder
½ teaspoon salt
1 egg
1¼ cups buttermilk
⅓ cup vegetable oil
2 teaspoons vanilla extract
1 cup mini chocolate chips
Directions
Preheat the oven to 400 degrees F. Lightly spray a 24 cup mini muffin pan with nonstick cooking spray (or 48 cup if you have it). Set aside.
In a large mixing bowl, sift together the flour, sugar, brown sugar, baking powder and salt until combined.
In a medium mixing bowl, beat the egg until frothy. Add the milk, vegetable oil and vanilla extract then beat until combined. Pour into the flour mixture and stir until just combined - try not to over-mix. Fold in the mini chocolate chips.
Scoop the muffin batter into the prepared muffin pan. It makes 48 mini muffins so if you only have one 24 cup mini muffin pan you will have to refill it after the first batch is done and the pan has had a chance to cool. Fill the muffin cups ¾ full. Bake for 9-11 minutes, or until a toothpick inserted in the center of the muffins comes out clean or with a crumb or two. Let cool for 1 minute in the pan before carefully transferring the muffins to a wire cooling rack.
Notes
The tops of the muffins stay pale so don't wait for them to get golden or the muffins will be overcooked. Just check them with a toothpick at 9 minutes and see if they need more time or not from there.
If you want some chocolate chips right on the top of your mini muffins for presentation purposes, carefully pull out the muffin pan after they have been baking for about 2 minutes and quickly place a couple mini chips on the top of the muffins before returning to the oven.
If you want to make double chocolate mini muffins, you could add 2 tablespoons of sifted cocoa powder to the flour mixture. I haven't experimented with this version enough, but you might want to add a little espresso powder to emphasize the chocolate flavor and a little more vegetable oil (maybe ½ to 1 tablespoon?) to keep them moist. I will try the chocolate version again soon and report back. Everyone that ate them liked them, I'm just extra picky when it comes to my own baking!
Recipe slightly adapted from

All Recipes

.
Some of the links above are affiliate links, which means I may receive a small commission for my referral. This does not affect the retail cost of the item. Thank you for supporting Lemon & Mocha!