Sheet Pan Honey Mustard Roasted Salmon & Broccoli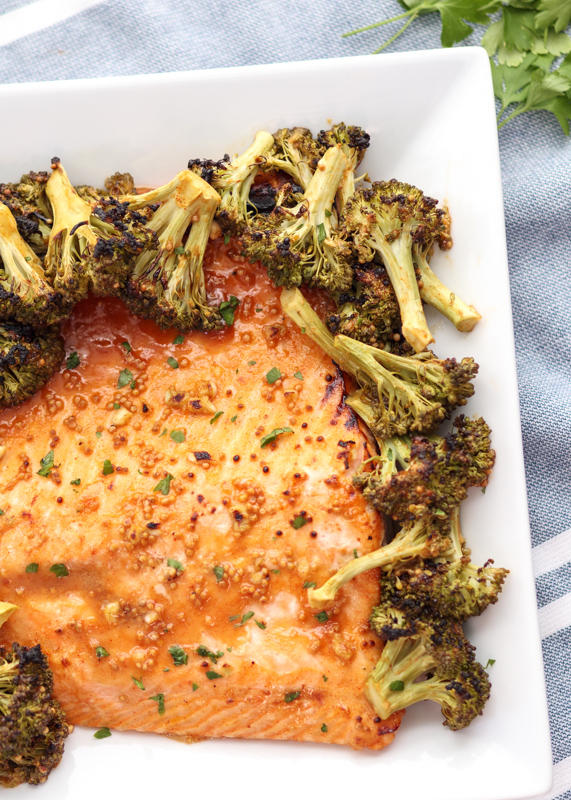 Look at this salmon! It is so tender and sticky and sweet and I'm drooling all over my keyboard just writing about it.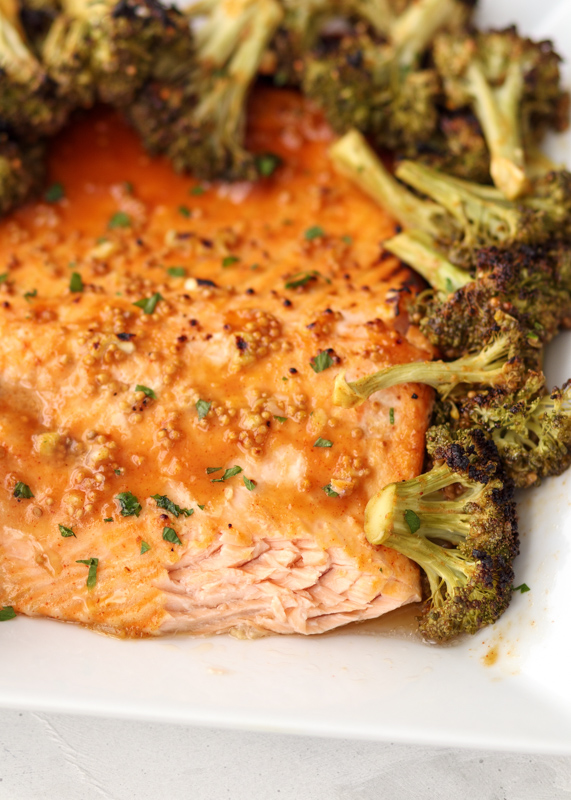 Salmon lovers and salmon haters alike, rejoice! Even the pickiest fish eater will love this meal and I have proof. I've been trying to incorporate more fish into my diet over the last couple months. Now I love salmon and plenty of other fish, but Matt usually does not share my sentiments unless it's sushi. He agreed to try salmon once a week for dinner with me so I set out gathering some recipes to try.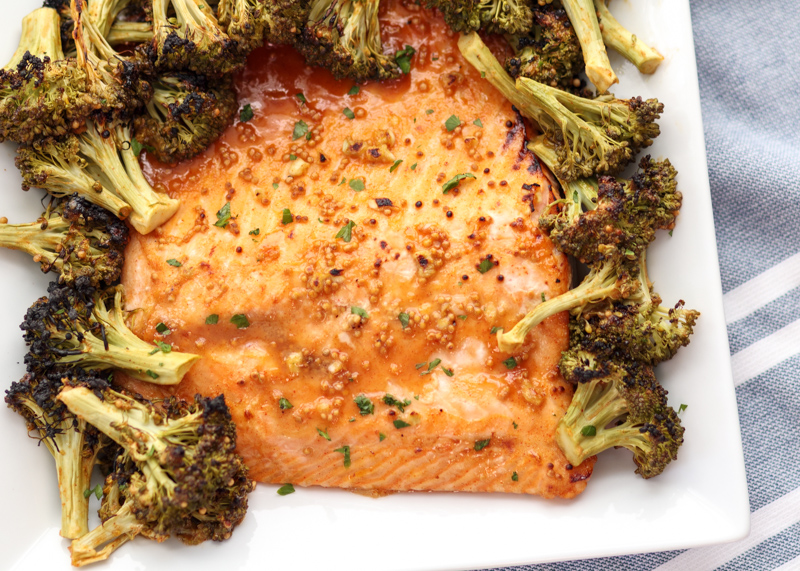 The first week I tried this honey mustard baked salmon and it was a big hit for both the salmon lover (me) and the salmon somewhat dis-liker (Matt). The next week when salmon night rolled around Matt requested the honey mustard salmon again instead of a few other recipes I had found. The next week it happened again and soon enough we were having this recipe every week. And let me tell you, I am not mad about this one bit and still can't get enough of this dish! Every time I get another taste of it I start craving it all over again.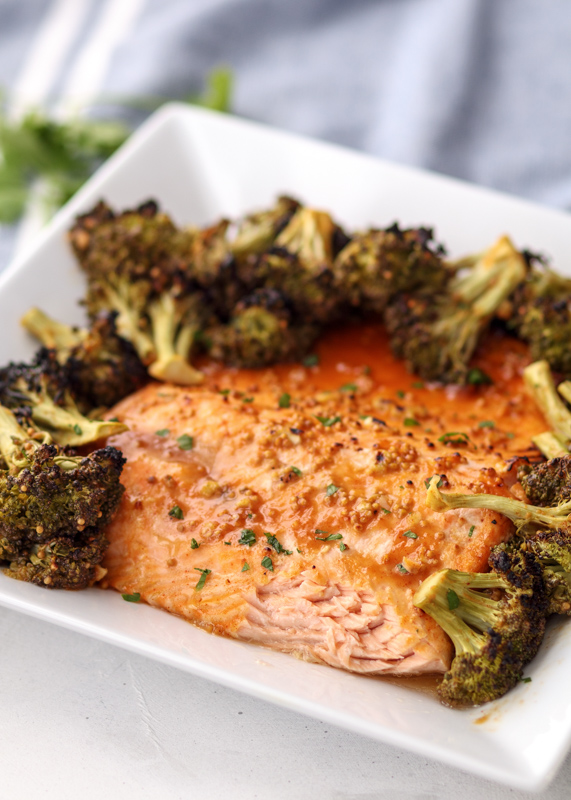 The salmon filet is baked in a foil semi-packet, which traps the steam and keeps the salmon incredibly moist and tender.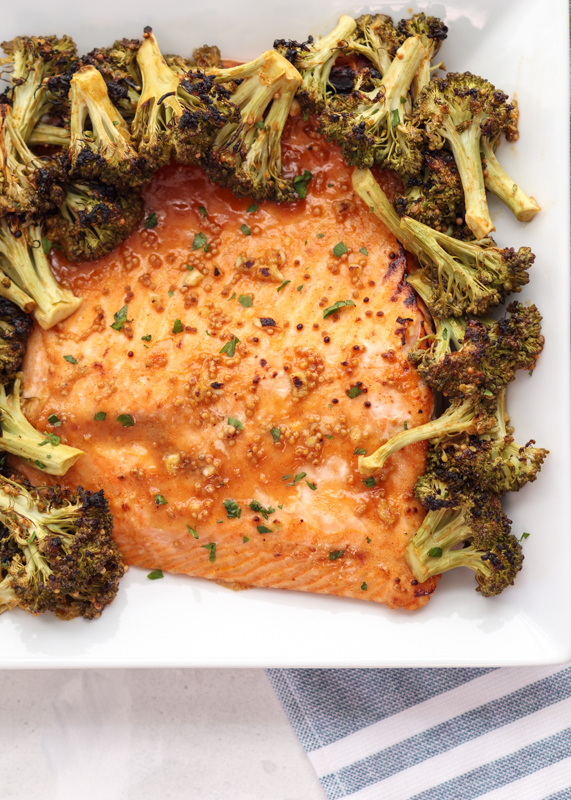 I turned the dish into a sheet pan supper by roasting the broccoli along with the salmon so I could make our side dish at the same time without any extra steps. Also, because this honey mustard sauce is so good I wanted to smother everything in it. The honey brings sweetness while the Dijon and apple cider vinegar help balance it out so it's not overly sweet. I love the pop of crunch the whole mustard seeds give so definitely don't skip those! I hope you all try this salmon soon and love it as much as we do!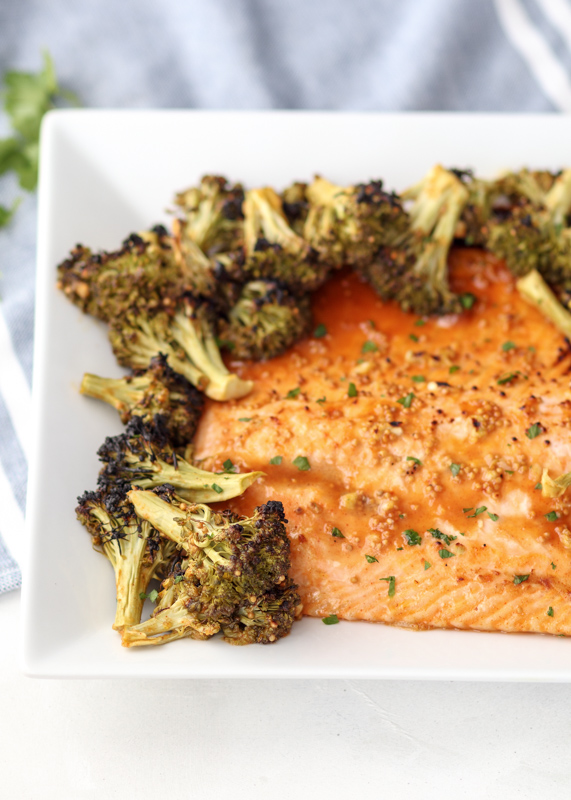 Sheet Pan Honey Mustard Roasted Salmon & Broccoli
Ingredients
¼ cup Dijon mustard
¼ cup honey
3 cloves garlic, minced
2 tablespoons apple cider vinegar
1 tablespoon whole mustard seeds
½ teaspoon smoked paprika
¼ teaspoon salt
⅛ teaspoon ground black pepper
1½ pound salmon filet, skinless and boneless
2 heads broccoli, cut into florets
Chopped fresh parsley, for serving
Directions
Preheat the oven to 375 degrees F. Line a sheet pan with nonstick aluminum foil, with enough overhang on one short side that you will be able to fold it up and over the salmon (the salmon will be on one half of the baking sheet, the broccoli will be on the other). Set aside.
In a small mixing bowl, whisk together the honey, garlic, apple cider vinegar, mustard seeds, smoked paprika, salt and pepper.
Place the salmon filet on the half of the baking sheet with the overhang. Place the broccoli florets on the other. Spoon ½ of the honey mustard mixture over the broccoli florets and toss well so they are fully coated. I usually rub the tops of the florets into the sauce to make sure they get really well coated. Spoon the remaining half of the honey mustard sauce over the salmon filet and brush/spoon so the whole filet is coated, including the sides. Take the overhang of foil and fold it over the salmon like you are making a foil packet that just won't be sealed on all sides.
Bake in the oven for 22 minutes or until the salmon flakes easily. Be careful when you pull back the foil because there will be a lot of steam. My salmon filet was about an 1½ inches thick so adjust your time accordingly based on the thickness of your filet. I have found that wild salmon tends to cook much quicker than farm raised (I used farm raised), mostly because wild salmon tends to be thinner. Fold back the foil and broil the salmon and broccoli for 1-2 minutes. Make sure the sauce and broccoli doesn't burn, but gets slightly browned. Serve as is or alongside some rice or quinoa.
Recipe adapted from

Gimme Some Oven

.