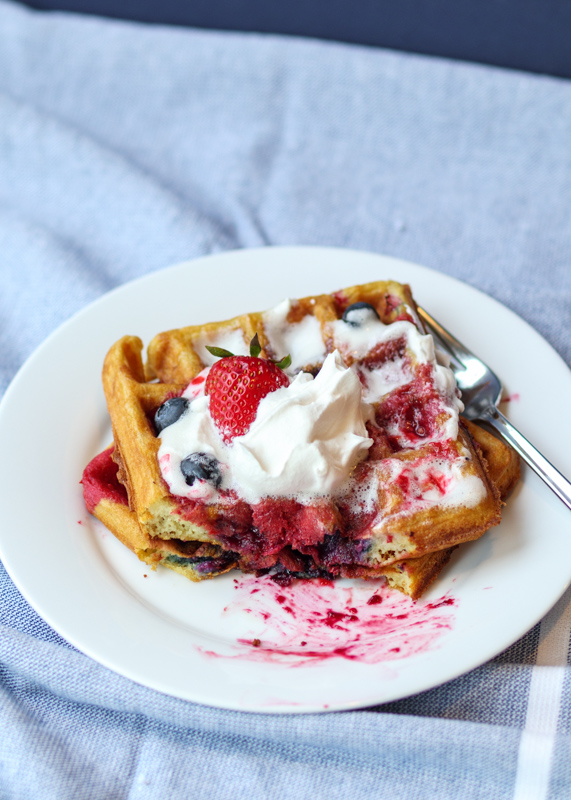 My Dad's birthday was this past weekend and whenever I think about my Dad I think about waffles. Or maybe it's whenever I think about waffles I think about my Dad. Either way, this morning we're doing Triple Berry Waffles in honor of my Dad.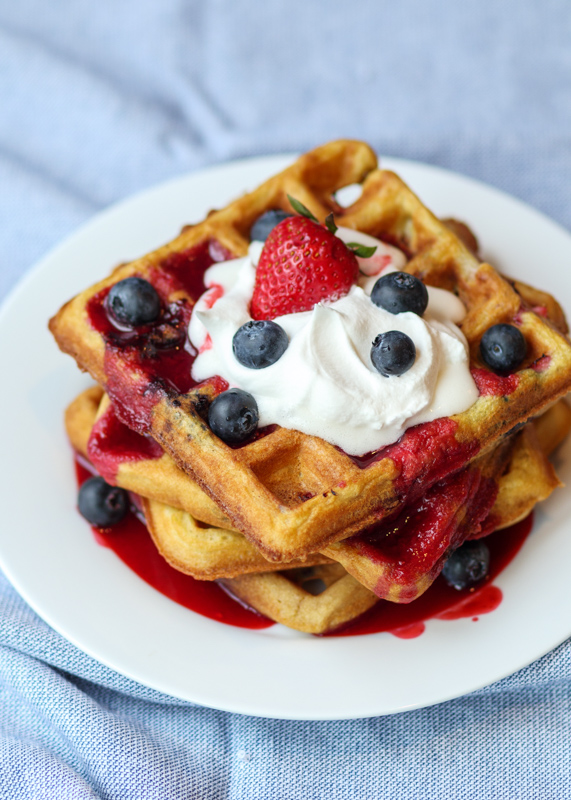 Now, not to make it confusing, but we're doing triple berries two ways. The first way is that we are using three types of berries. I went with a classic strawberry, blueberry and raspberry combination. The second way is that we are using the berries three different ways in this recipe. We have berries in the waffle batter, we have fresh berries on the waffles and then we have a berry sauce drizzled on top! So they're really like Double Triple Berry Waffles, but that doesn't make much sense so Triple Berry Waffles it is. Have I confused you yet? I hope not, I'm just really excited about all these berries!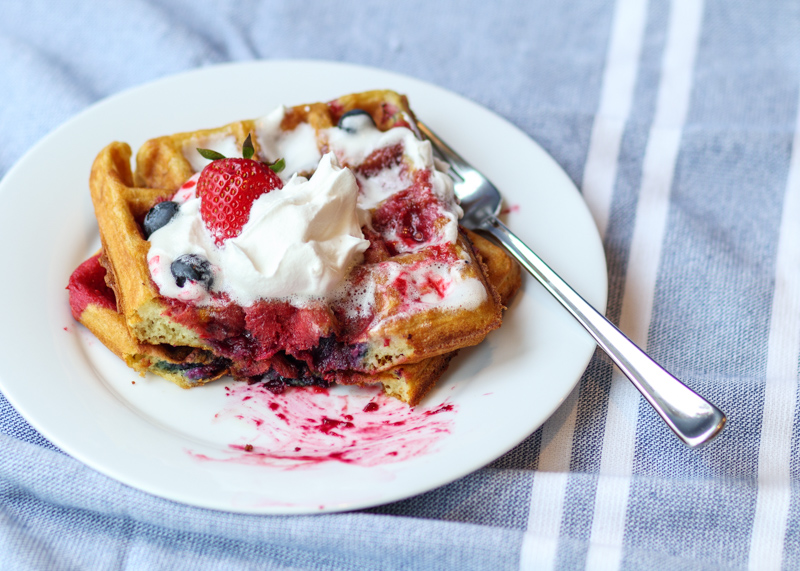 I used my Perfect Buttermilk Waffles as the base before loading them with the strawberries and blueberries. I used raspberries for the sauce only, but you could substitute raspberries for some of the strawberries or blueberries that are inside the waffle batter or fresh on top.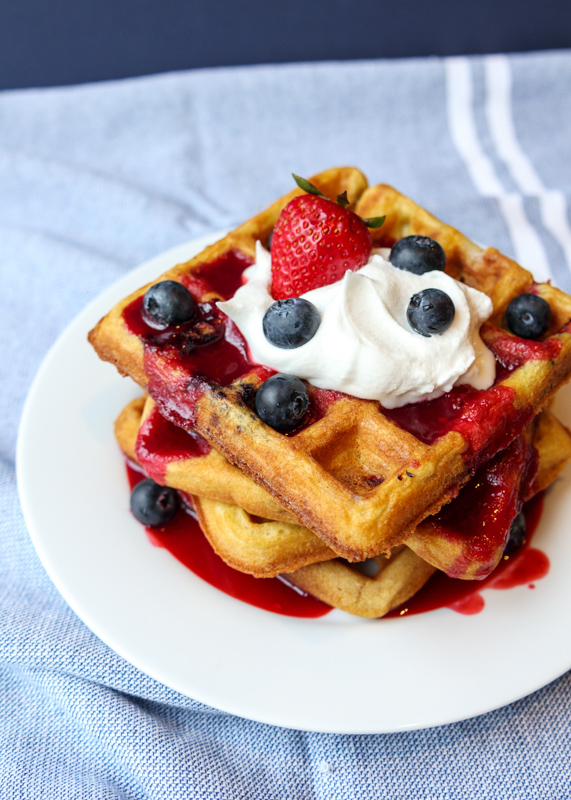 As always, if you don't have a waffle maker you could thin the batter with a little milk and make them into pancakes, but waffles are so fun! So definitely think about getting a waffle maker if you don't have one. This is the one we have.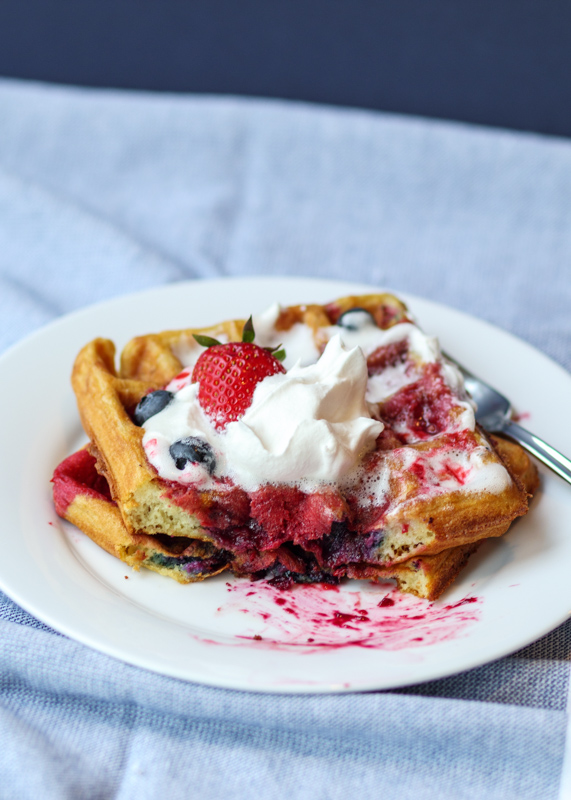 In addition to the Perfect Buttermilk Waffles and the Churro Waffles with Raspberry Sauce, I also have a recipe for savory waffles. Remember the Cheddar Scallion Waffles I made into an epic eggs benedict? Yum! I need to make that one again soon! If you're in the mood for something sweet this week though I highly recommend these Triple Berry Waffles that are bursting with fresh berry flavor and were inspired by my Dad. Do waffles make you think of anyone special? Other than Donkey from Shrek, of course!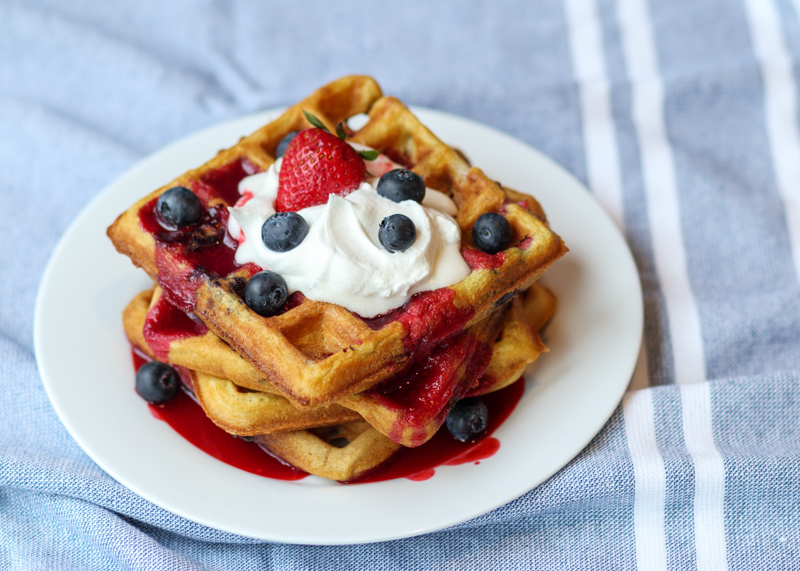 Triple Berry Waffles
Yield:
8-10 waffles and ¾ cup raspberry sauce
Ingredients
for the waffles
½ cup unsalted butter, melted and cooled in a medium mixing bowl
1¾ cups all-purpose flour
2 teaspoons baking powder
1 teaspoon baking soda
1 teaspoon sugar
½ teaspoon salt
3 large eggs, room temperature
1½ cups buttermilk, room temperature
1 teaspoon vanilla extract
½ cup chopped fresh strawberries, plus more for topping
½ cup blueberries, plus more for topping
for the raspberry sauce
12 ounces frozen unsweetened raspberries
¼ cup sugar
½ teaspoon lemon juice
Directions
for the waffles
Turn on the waffle iron to get it hot and spray with nonstick cooking spray, depending on manufacturer's instructions.
Sift the flour, baking powder, baking soda, sugar and salt into a large mixing bowl. Stir to combine then create a well in the center for the liquid ingredients.
Add the eggs to the cooled butter mixing bowl and beat until frothy. Add the buttermilk and vanilla extract. Beat again until well-combined.
Pour the buttermilk mixture into the well in the dry ingredients. Stir with a wooden spoon until just combined. The buttermilk and leavening will create a batter full of air bubbles. Lightly fold in the chopped strawberries and blueberries.
Pour the batter onto your waffle iron in batches and cook according to manufacturer's instructions. If working in batches, let waffles rest on a cooling rack after they are cooked, or place them directly on the rack of your oven or toaster oven on a low heat to stay warm. Top with the raspberry sauce, fresh berries and whipped cream.
for the raspberry sauce
Thaw the raspberries in the microwave or on the stovetop. Once thawed, place a fine mesh strainer over a small saucepan. Press the raspberries through the strainer by pressing with the back of a spoon. Scoop the seeds off the strainer as needed. When all the raspberries have been pushed through and left only the seeds, all the sugar and lemon juice to the sauce pan. Heat over medium-low heat and stir until the sugar has dissolved and the raspberry sauce is heated through. Serve warm.
Notes
If you don't have buttermilk handy, you can use the following substitution. Put 1 tablespoon of lemon juice in a liquid measuring cup. Fill the measuring cup with milk (I use skim, any milk-fat percentage should work) until it equals 1½ cups. Let sit for 5 minutes before using in the recipe.
Waffle recipe slightly adapted from

Food.com

.
Raspberry sauce recipe from

Joy of Baking

.
Some of the links above are affiliate links, which means I may receive a small commission for my referral. This does not affect the retail cost of the item. Thank you for supporting Lemon & Mocha!