Breakfast Salad Bowls with Grapefruit & Avocado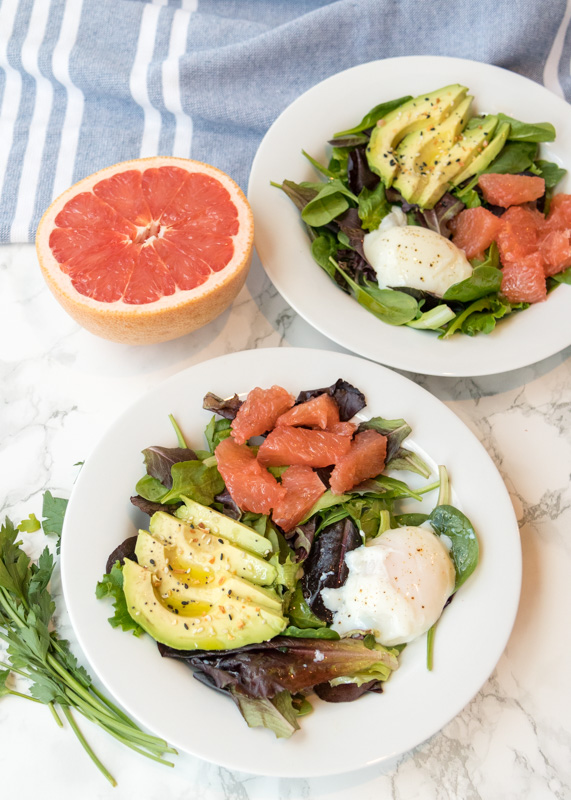 I never thought I would see the words breakfast and salad together, unless we were talking about a fruit salad or it was opposite day and breakfast actually meant dinner. However, the day has come and I am not talking about a fruit salad, although there is fruit in this salad, and it is not opposite day, at least the last time I checked. No, today we are legitimately talking about a salad for breakfast. I often find myself stuck in a breakfast rut. Lately it's been a banana and a Greek yogurt every. single. morning. Anyone else? Then I started seeing breakfast salads popping up all over Instagram. You would think with my salad aversion I would have kept scrolling, but the possibilities for combinations of toppings drew me in. Salads for breakfast are actually awesome and don't let anyone tell you otherwise!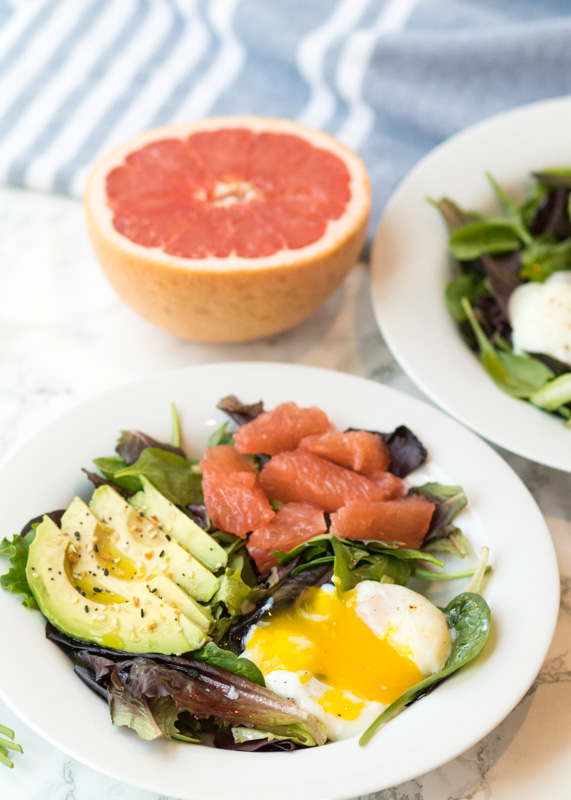 Here are three reasons I think salads for breakfast are pretty cool: 1. Salads are quick and easy to make, especially when almost everything is prepped ahead of time. This checks a serious box for weekday breakfast approved.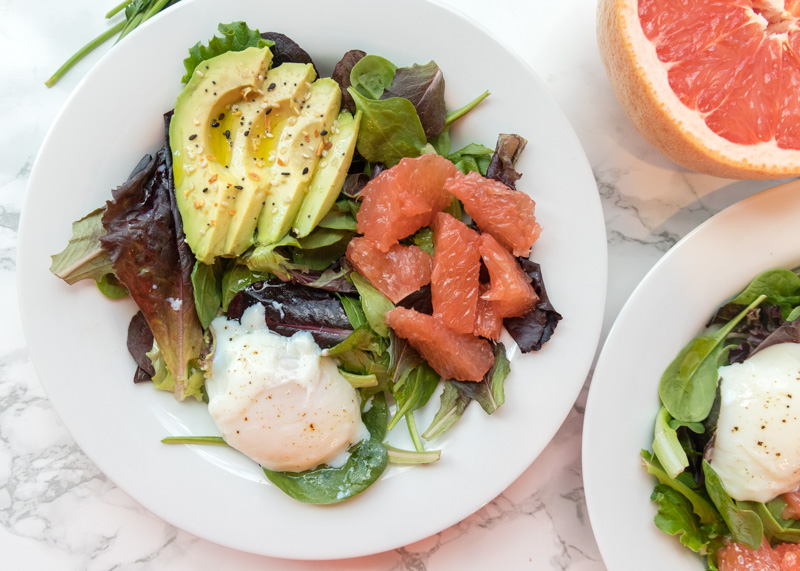 2. The topping ideas are endless! If you wake up craving something sweet then you could load it up with some fresh berries. Feeling savory? Throw in some chicken sausage.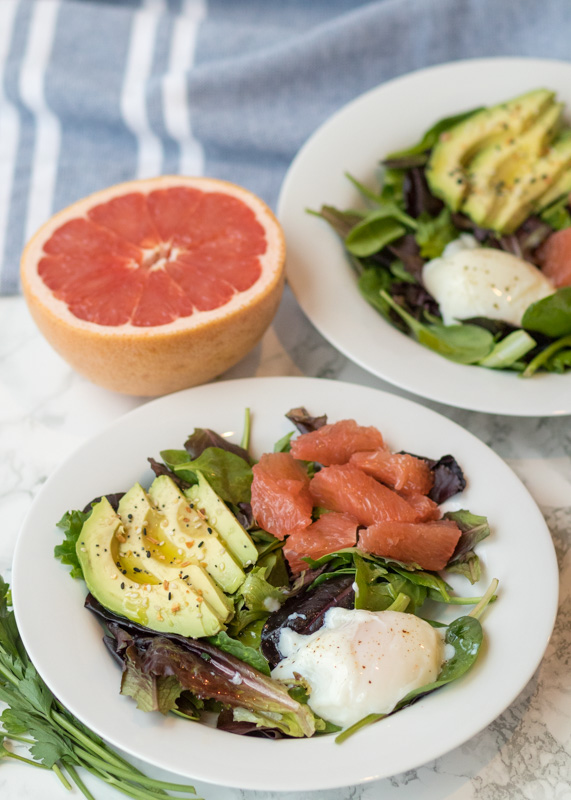 3. This is the most boring reason, but a very important one. I find breakfast to be a hard meal to sneak veggies into and a breakfast salad is a perfect way to get more vegetables into the first meal of the day. For the first Lemon & Mocha breakfast salad bowl I went with a grapefruit and avocado pairing along with a runny egg, of course, because the runny yolk mixed with the dressing takes it to a whole new flavor dimension. The dressing is my favorite quick shallot vinaigrette. It's flavorful, has the right amount of acid and beautifully complements these breakfast salad bowls.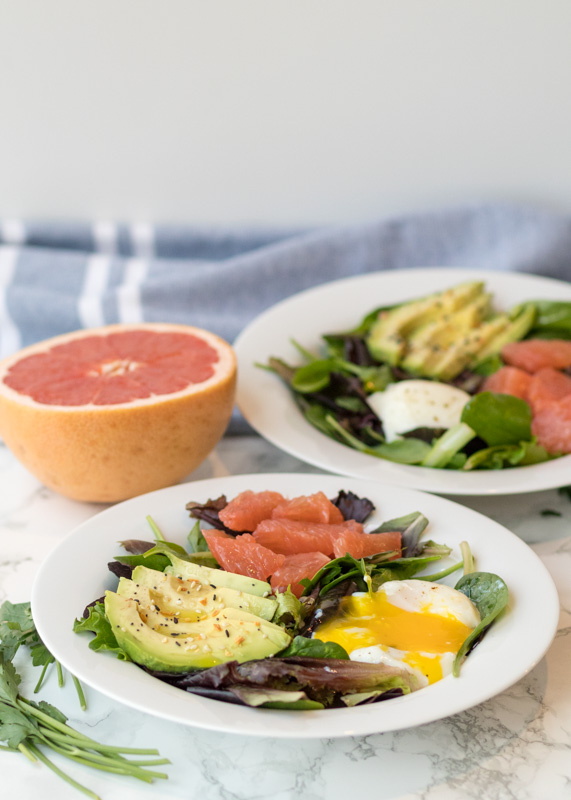 Although there are no grains in the photos, when I usually make this dish I add quinoa. I forgot it when I was rushing to take my photos, but it adds some heartiness to the dish and soaks up the yolk really well. Farro or barley would both be good substitutions as well. So, do you think you're going to try a breakfast salad bowl soon?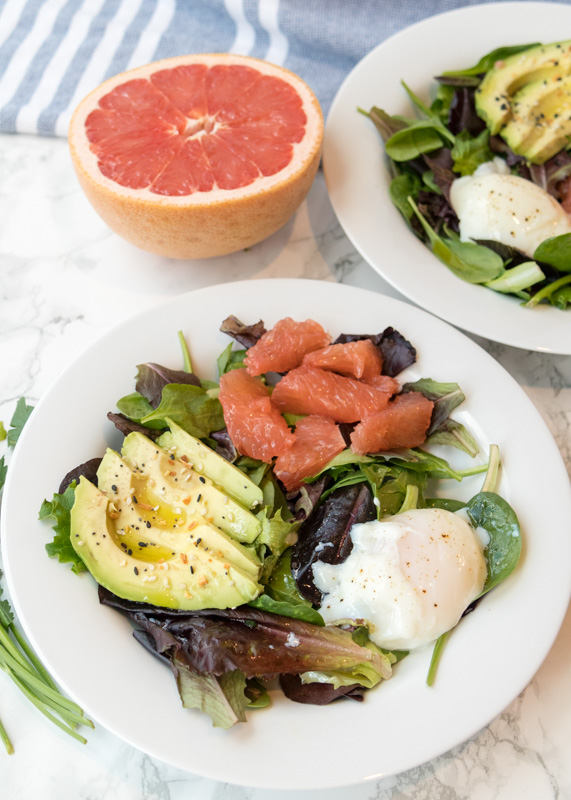 Breakfast Salad Bowls with Grapefruit & Avocado
Ingredients
for the salad
12 cups salad greens
1 grapefruit, segmented and seeds removed
1 avocado, sliced
1 cup cooked quinoa, optional (see note)
4 eggs, poached or fried over-easy
1 teaspoon everything bagel seasoning
for the dressing
¼ cup olive oil
1 tablespoon white wine vinegar
1 tablespoon lemon juice
2 teaspoons honey
1 tablespoon minced shallot
Salt and pepper to taste
Directions
for the salad
Place 3 cups of the washed salad greens in 4 shallow bowls. Divide the grapefruit segments, avocado slices and eggs between each bowl. If you are using quinoa add it now. Sprinkle the everything bagel seasoning over the avocado slices. Top with the dressing and enjoy.
for the dressing
Whisk all ingredients together. Salt and pepper according to taste.
Notes
I included the quinoa in the recipe because that was my original vision for this breakfast salad, but I forgot when I made it to take photos - oops! The grains go nicely with the salad, especially to soak up the egg, and make it more filling. If you don't want to use quinoa, farro or barley would both be good substitutes.