Breakfast Salad Bowls with Grapefruit & Avocado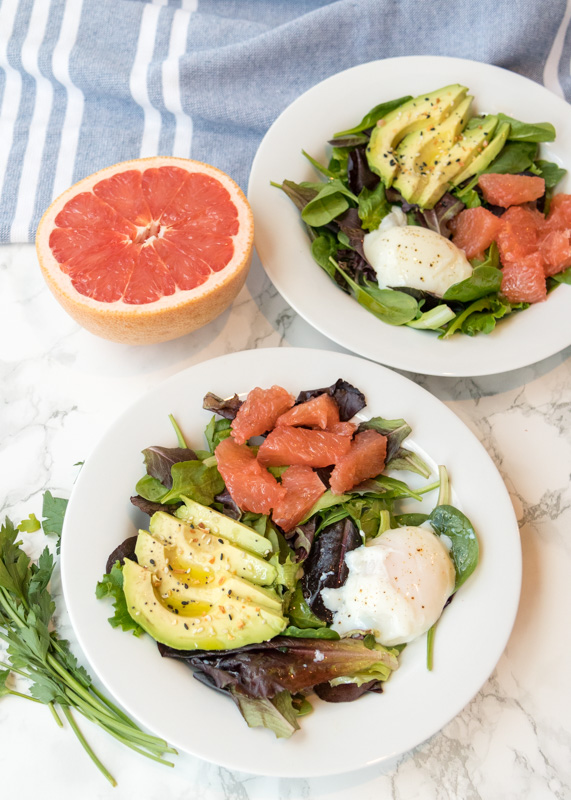 12 cups salad greens
1 grapefruit, segmented and seeds removed
1 avocado, sliced
1 cup cooked quinoa, optional (see note)
4 eggs, poached or fried over-easy
1 teaspoon everything bagel seasoning
¼ cup olive oil
1 tablespoon white wine vinegar
1 tablespoon lemon juice
2 teaspoons honey
1 tablespoon minced shallot
Salt and pepper to taste
Place 3 cups of the washed salad greens in 4 shallow bowls. Divide the grapefruit segments, avocado slices and eggs between each bowl. If you are using quinoa add it now. Sprinkle the everything bagel seasoning over the avocado slices. Top with the dressing and enjoy.
Whisk all ingredients together. Salt and pepper according to taste.
I included the quinoa in the recipe because that was my original vision for this breakfast salad, but I forgot when I made it to take photos - oops! The grains go nicely with the salad, especially to soak up the egg, and make it more filling. If you don't want to use quinoa, farro or barley would both be good substitutes.
Recipe by
Lemon & Mocha
at http://www.lemonandmocha.com/2018/05/09/breakfast-salad-bowls-with-grapefruit-avocado/