Pineapple Mojitos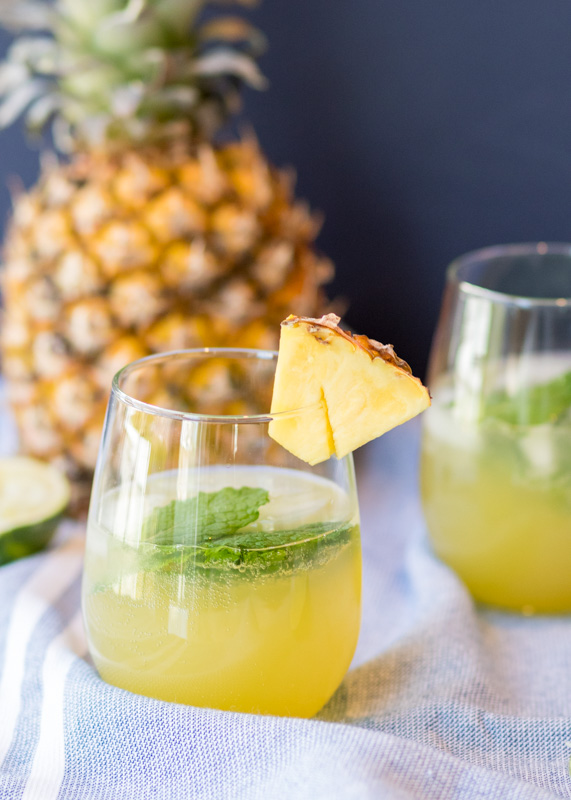 A lot of people ask me where I get the inspiration for the recipes that I post. Recipes from cookbooks, food magazines and other food blogs are common, as well as inspiration from dining out. However, a lot of the time the recipe idea comes from using what I already have in my kitchen. These Pineapple Mojitos are one of those times and I could not be more excited about it! I wanted to post a delicious cocktail before Mother's Day so you all could have something fun to brunch with this Sunday. I came up with what I thought sounded like a perfect springtime cocktail – a strawberry mint rosé drink – but I wasn't having much success getting it to taste just right. The next night, Matt mentioned he was thinking about making a mojito with the leftover mint leaves from my cocktail experiment. The wheels started turning and when I saw the small cans of pineapple juice on the counter (used for a tasty recipe I will be posting on Monday!) these Pineapple Mojitos were born.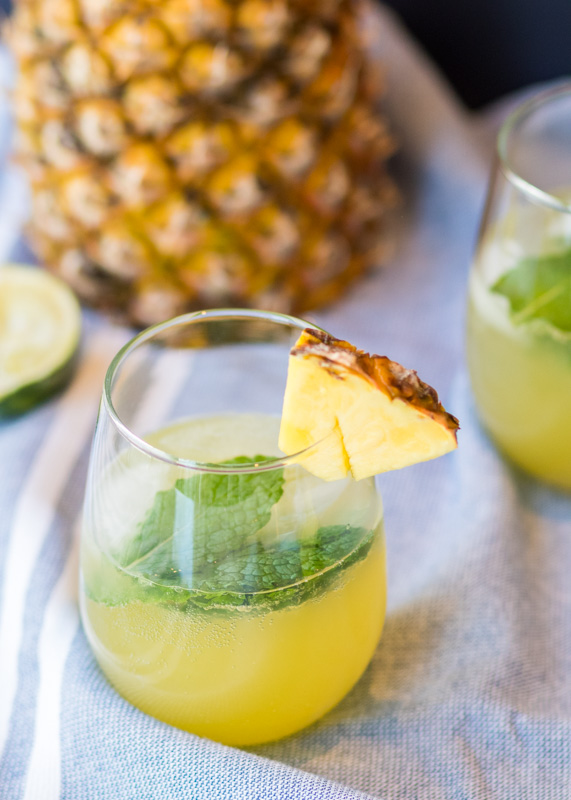 A basic mojito consists of mint, white rum, sugar, lime juice and soda water, but basic won't cut it. After fiddling around with the recipe and trying different variations I came up with the one below. It's simple, but so refreshing. I used agave as the sweetener because it mixes really well into the drink and who wants to stand over a stove making simple syrup when there are drinks in your immediate future?! The tropical boldness of the pineapple juice is both sweet and tart, bringing even more of an island vibe to your happy hour. I used Polar's seasonal Pineapple Pomelo seltzer to bring in even more pineapple flavor, but you can use the seltzer of your choice.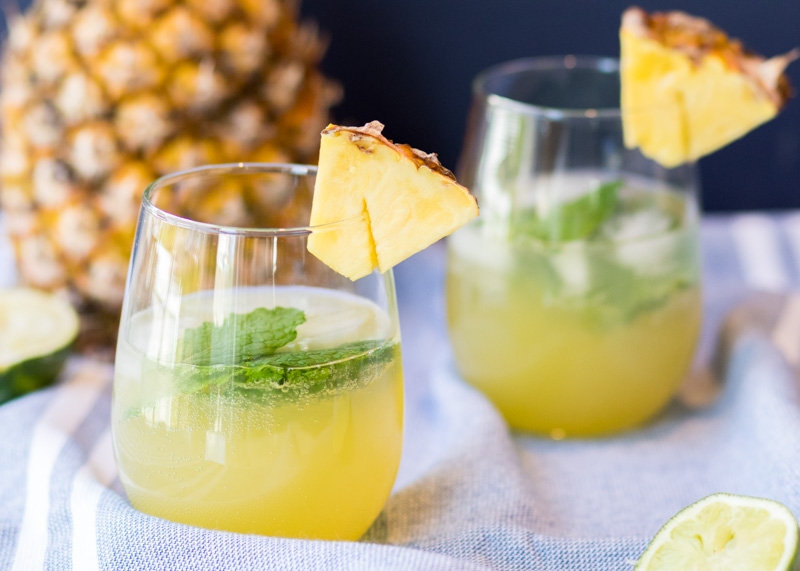 I am not a big mint fan, but I love this cocktail. The mint is present enough to deepen the flavor of the drink while being subtle enough to not be the dominant flavor. If you love mint, feel free to add more. I made this for a few friends and a couple of them had it without the mint and still loved it so you can certainly omit it if you wish, but I would suggest trying it with the mint first since it is a mojito after all! I will be making this many, many more times this summer. I hate to say it, but this just bumped the Leebreeze as my go-to cocktail at home – sorry Dad!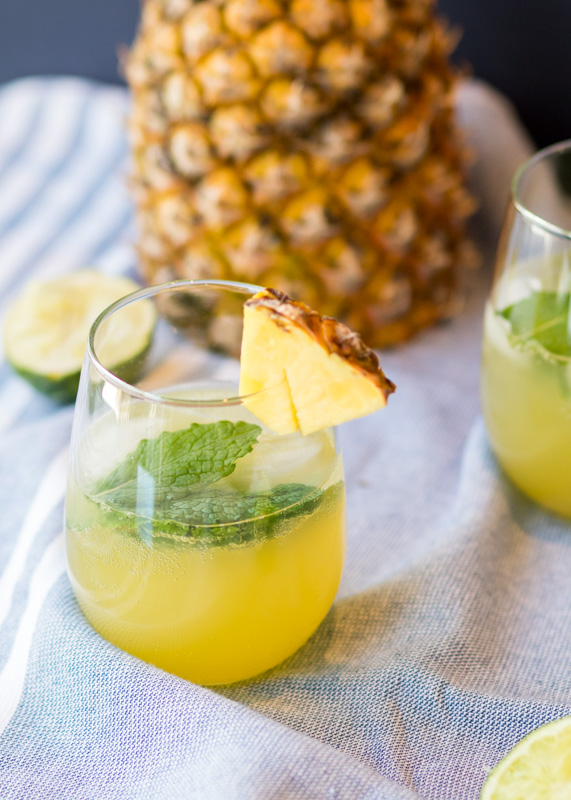 I hope you enjoy this tropical sparkling cocktail! Happy Mother's Day to all the fabulous Moms out there, and a special shout-out to my amazing step-mom, Diane, and my wonderful mother-in-law, Theresa!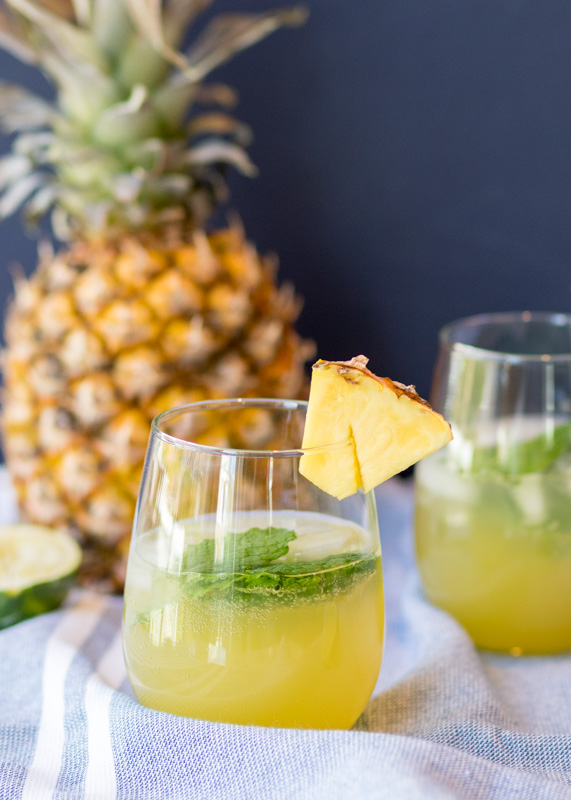 Pineapple Mojitos
Yield:
1 drink or 8 servings in a pitcher
Ingredients
for one drink
6 fresh mint leaves, washed
4 ice cubes
2 ounces white rum
2 ounces pineapple juice
1 tablespoon agave
1 teaspoon lime juice
2-4 ounces sparking water
1 pineapple wedge, for garnish
for 8 servings in a pitcher
2 cups roughly packed fresh mint leaves, washed
2 cups white rum
2 cups pineapple juice
½ cup agave
3 tablespoons lime juice
Ice, for serving
16-32 ounces sparkling water, for serving
8 fresh mint leaves, for serving
Pineapple wedges, for serving
Directions
for one drink
Lightly muddle the mint leaves in the bottom of your glass. I did this with the opposite end of a wooden spoon. You want to press it just enough to release their minty scent; if you tear or bruise mint leaves they turn bitter. Add the ice cubes.
In a liquid measuring cup or cocktail shaker, add the rum, pineapple juice, agave and lime juice. Mix or shake to combine then pour over the ice in your glass. Top with the sparkling water and garnish with the pineapple wedge.
for 8 servings in a pitcher
Lightly muddle the mint leaves in the bottom of the pitcher with the handle end of a wooden spoon. Make sure to do this very lightly; when mint leaves bruise or tear they turn bitter.
Add the rum, pineapple juice, agave and lime juice. Stir until combined. Keep chilled until ready to serve.
To serve, add 4 ice cubes to each glass. Add the rum mixture then top off with 4 ounces of sparkling water each. Garnish with the mint leaf and pineapple wedge. To release the oils of the mint leaf before adding to the glass, clap it in between your hands.
Notes
The range on the sparkling water is to account for personal preference and glass size differences. When I made them in these stemless wine glasses I had plenty of room so I did 4 ounces per drink and they tasted really good. I made them again using short glasses that didn't have as much room so I only used 2 ounces per drink and they also tasted really good. Start with the 2 ounces, try a sip (or two!) and add more if desired.