Hawaiian Barbecue Slow Cooker Pulled Pork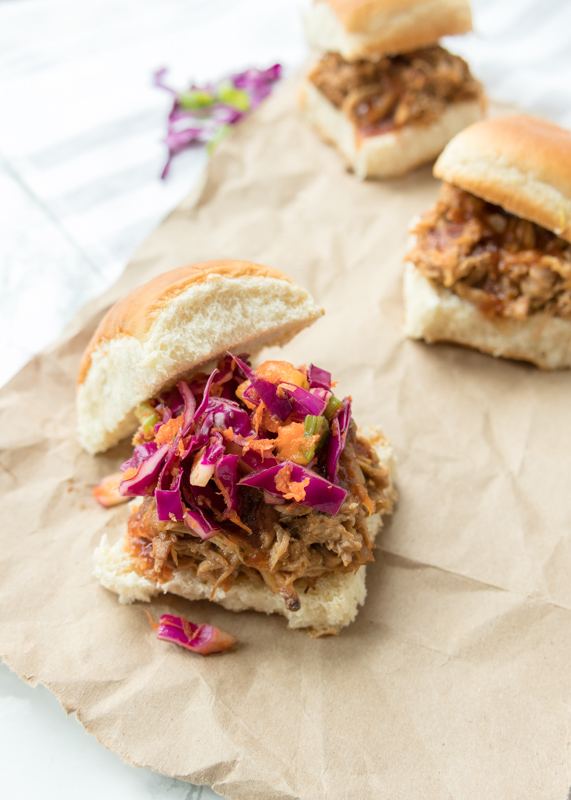 Oftentimes I will make a dish that's really good, but because I have so many different recipes that I want to try I won't make the dish again for a year or more. This is not one of those times. Even though I'm like a squirrel when it comes to recipes and meal ideas, constantly getting distracted by the next delicious thing, there are a few recipes out there that get our attention so much they end up on our exclusive rotation. This Hawaiian Barbecue Slow Cooker Pulled Pork is on that short list.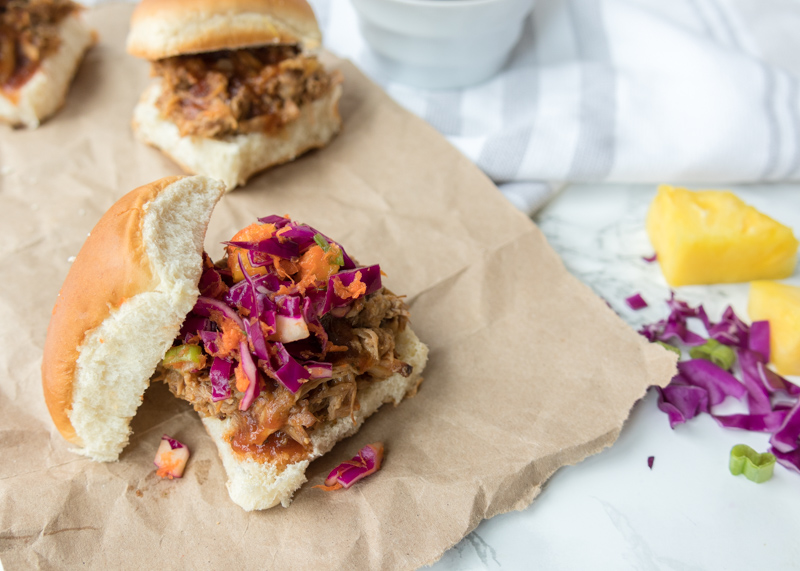 It's savory, succulent and sweet. The savory umami-ness of the pork comes from the soy sauce and rich beef broth. The pork is slow cooked with lots of liquid ingredients making it incredibly moist and tender. I love when pork has a little sweetness to it and we get that with the pineapple juice, brown sugar and ketchup.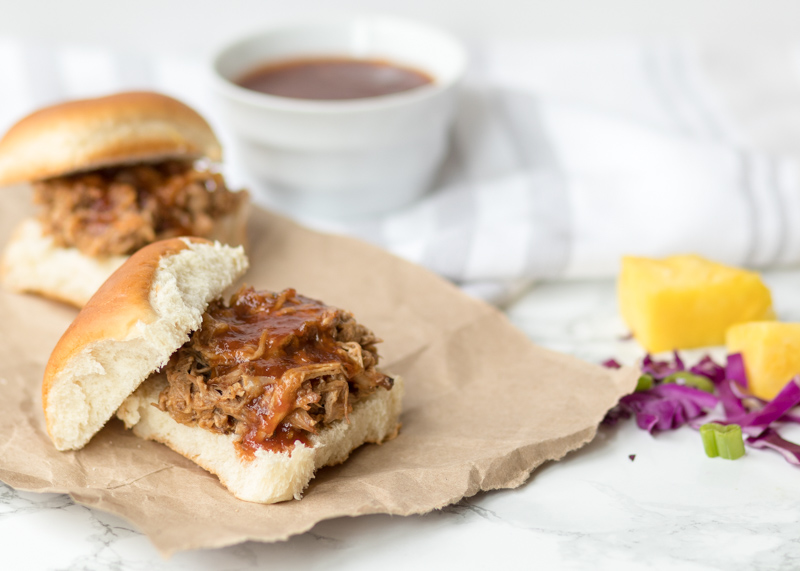 My favorite part about the pork is the thick sauce that gets drizzled on top. After combining the pineapple mixture you pour half over the pork while it cooks, while the other half gets cooked down separately on the stovetop along with some garlic and ginger to make a concentrated savory-sweet explosion of a sauce.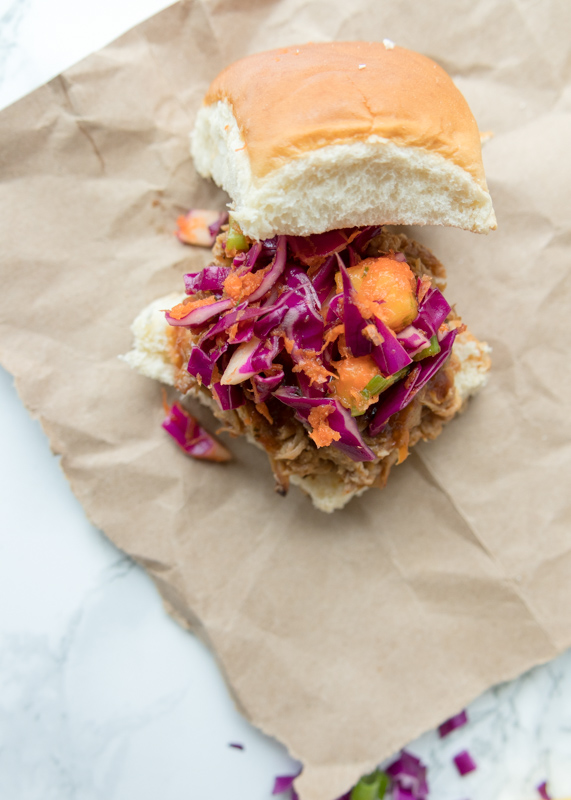 Other than being lick-your-fingers delicious, the other reason this Hawaiian Barbecue Slow Cooker Pulled Pork made the list is because it's very easy to make (hello, slow cooker!) and other than the pork and pineapple juice I always have everything already in my kitchen. Sometimes Matt and I will eat the BBQ pulled pork with the Hawaiian rolls, like in these photos, but usually we will just eat it with the Asian Pineapple Slaw and Grilled Asparagus with Chimichurri sides I'm going to share later this week as our attempt to keep it "low-carb".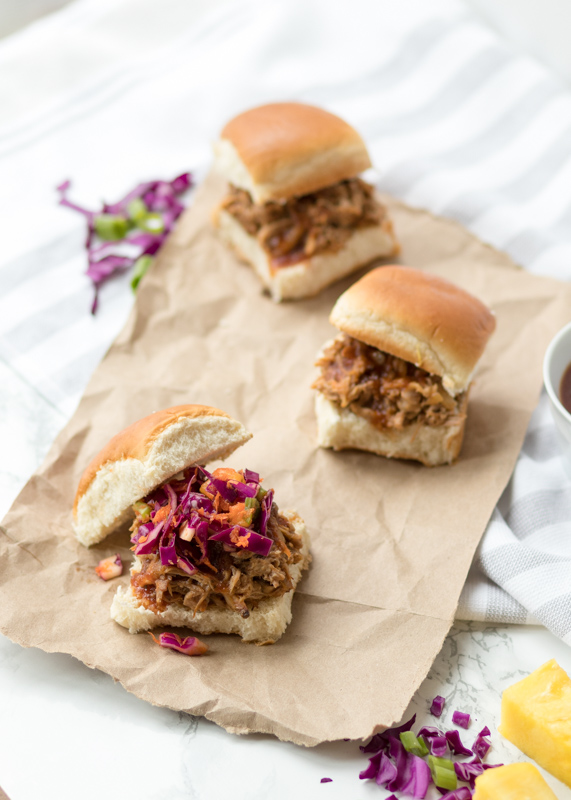 We usually get a few nights out of it and then freeze the rest. If you don't eat pork, I've made this with boneless skinless chicken breasts before and it tasted really good. Not as good as the pork, because it's pork vs a chicken breast, but still good. If you really want to get into the island mood, pair this dish with the Pineapple Mojitos from last week!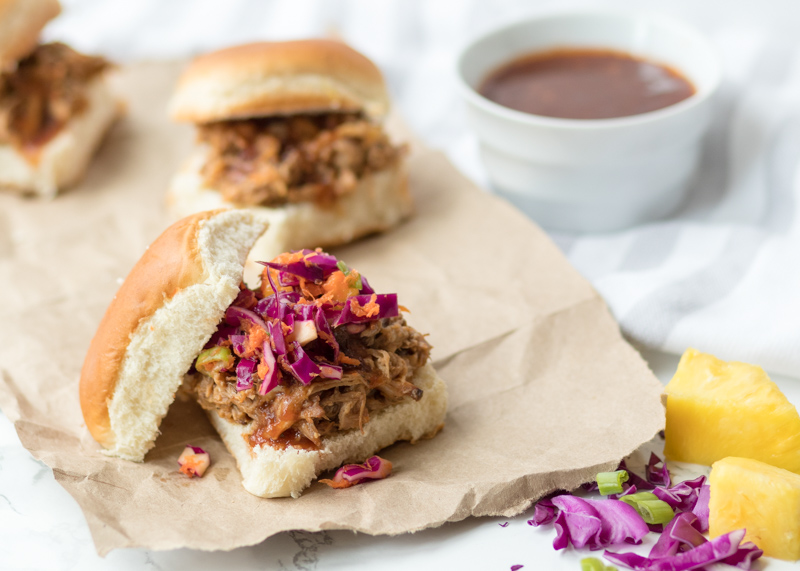 Hawaiian Barbecue Slow Cooker Pulled Pork
Ingredients
for the dry rub
2 tablespoons brown sugar
1 tablespoon paprika
1 teaspoon salt
1 teaspoon ground black pepper
1 teaspoon ground ginger
for the pulled pork and sauce
1 6-ounce can pineapple juice
⅓ cup beef broth
⅔ cup ketchup
⅓ cup brown sugar
3 tablespoons soy sauce
3 tablespoons hot sauce
½ medium onion, chopped
1 carrot, peeled and chopped
2 ½ pounds boneless pork shoulder or pork butt
2 teaspoons canola oil
1 clove garlic, minced
1 ½ teaspoons grated ginger
King Hawaiian rolls for serving, if desired
Directions
for the dry rub
In a small bowl, mix together the brown sugar, paprika, salt, black pepper and ground ginger. Set aside.
for the pulled pork and sauce
In a medium bowl, whisk together the pineapple juice, beef broth, ketchup, brown sugar, soy sauce and hot sauce. Set aside.
Place the chopped onion and carrots in the bottom of the slow cooker. Coat the pork completely with the dry rub and continue to rub it into the pork until it has all been used up. Place the pork on top of the onion and carrots. Pour half of the pineapple juice mixture over the pork. Cover the remaining reserved half and place in the fridge. Cover and slow cook the pork on low for 7-8 hours.
Remove the pork from the slow cooker and place on a large cutting board. The meat should be falling apart. Shred the pork using two forks. Place the pork in a serving bowl or storage container and add a few tablespoons of liquid from the slow cooker, stirring to combine.
Heat the canola oil in a small saucepan over medium heat. Add the minced garlic and grated ginger and sauté for about 2 minutes. Add the other half of the pineapple mixture and stir to combine. Bring to a boil then reduce to low and let simmer for 10 minutes. Remove from the heat and serve drizzled over the pulled pork.
Recipe adapted from

Sandra Lee

.
Some of the links above are affiliate links, which means I may receive a small commission for my referral. This does not affect the retail cost of the item. Thank you for supporting Lemon & Mocha!