S'mores Muffins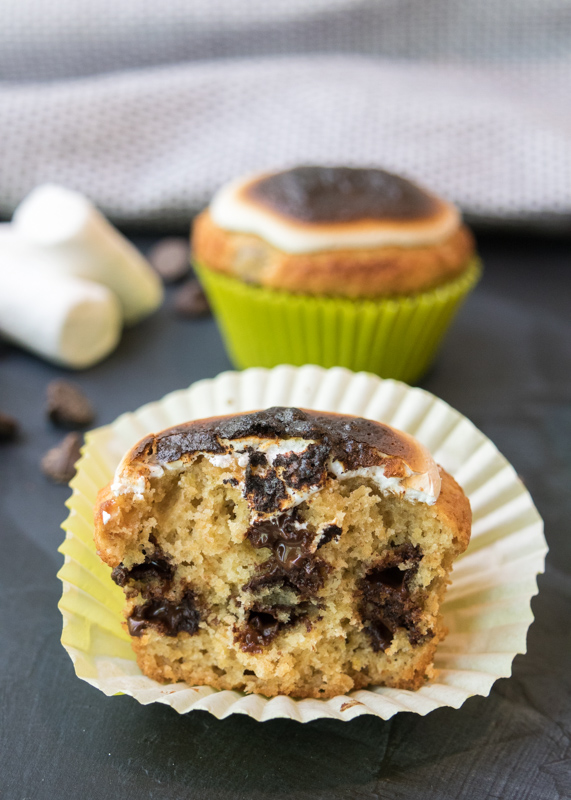 1 cup milk chocolate chips
1 cup all-purpose flour
1½ cups graham cracker crumbs, from about 15 full-size crackers
2 teaspoons baking powder
½ teaspoon salt
¾ cup sugar
1 stick unsalted butter, melted and cooled slightly
½ cup whole milk
1 teaspoon pure vanilla extract
2 large eggs
¾ cup marshmallow cream, or 1 tablespoon per muffin
Preheat the oven to 350 degrees F. Line a 12-cup muffin pan with paper liners and set aside. In a small bowl, combine the chocolate chips with 2 teaspoons of the flour and set aside.
In a large bowl, combine the flour, graham cracker crumbs, baking powder and salt.
In a separate medium bowl, whisk together the melted butter, sugar, milk, vanilla and eggs until smooth. Pour into the flour mixture and stir until just combined. Add the chocolate chip mixture and stir.
Divide the muffin batter among the lined cups. They should fill the liners ¾ full. Lightly tap the bottom of the pan on a hard surface so the top of the batter smooths out slightly. Bake the muffins for 20-25 minutes, or until a toothpick inserted in the center comes out clean and the tops are lightly browned. Cool the muffins for 5 minutes in the pan then remove to a wire cooling rack. Once completely cool, top each muffin with a tablespoon of the marshmallow cream. To toast your marshmallow cream, use a kitchen torch or place them under a broiler for 5-10 minutes, making sure to watch them carefully.