Irish Cheddar, Bacon & Potato Muffins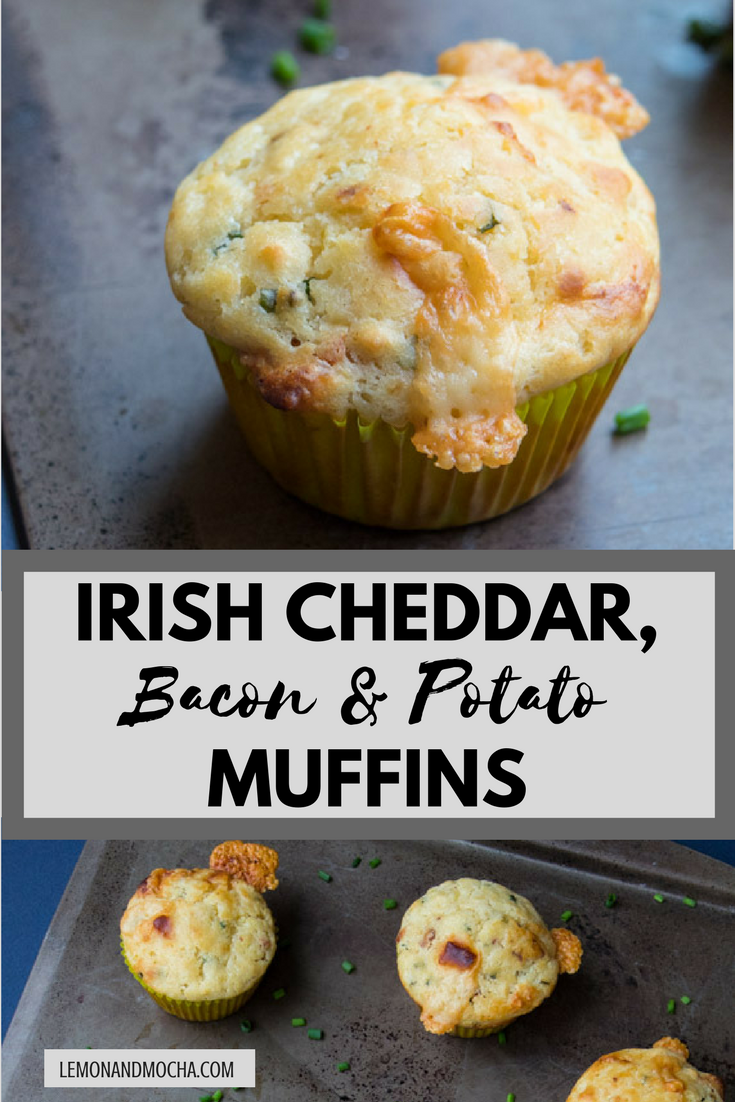 Normally when I think of muffins my mind goes to sweet baked goods. Cinnamon-crumbed, definitely chocolatey, maybe even citrus-infused, but definitely not savory. Until March. Now I am fully on-board the savory muffin train, even if it's just to make these Irish Cheddar, Bacon, and Potato Muffins over and over again. Yes, these muffins are that amazing.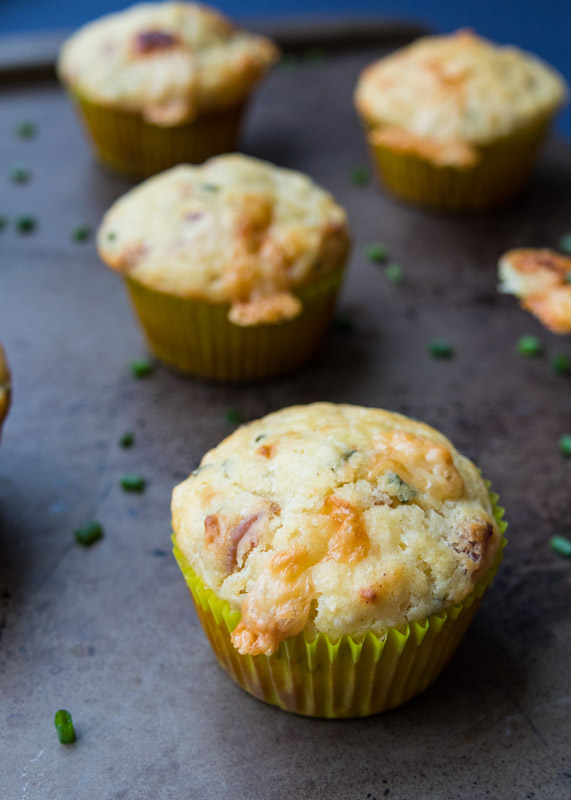 The smell when they came out of the oven was so hypnotizing that Matt and I each ate one as soon as we could get the muffin paper liners off without burning ourselves (or at least until it was just minor pain). Then, the flavor was so outrageous that we were each forced to have a second one. It wasn't our fault; we were hypnotized!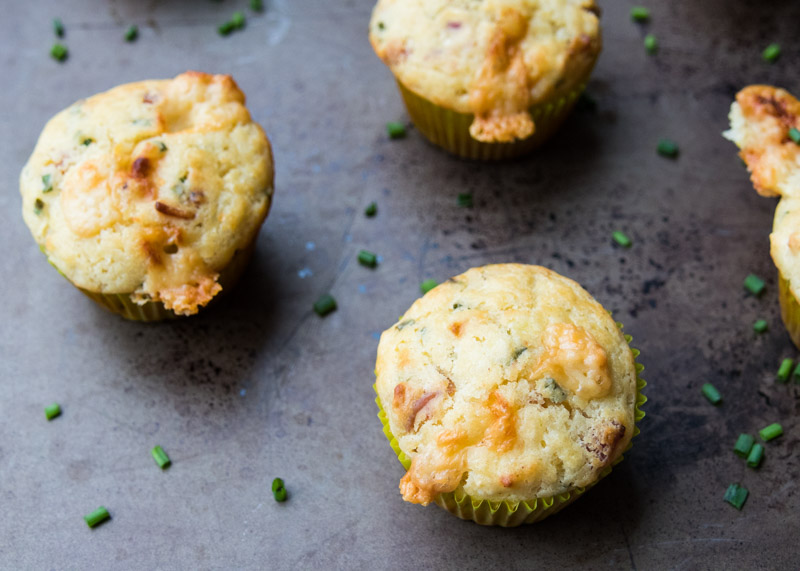 When I first saw the March muffins in the Food Network Magazine's Muffin of the Month article, I thought they sounded heavy, but instead they are light and fluffy, while still being loaded with gooey cheese and bacon. Bacon doesn't need a descriptor; everyone knows how bacony delicious bacon is.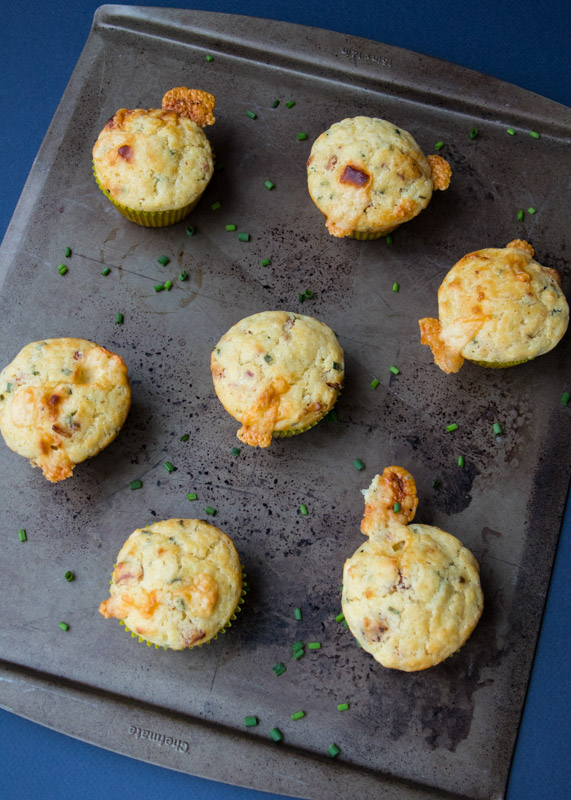 In addition to the cooked bacon, there is a very small amount of bacon grease in the actual muffin batter so it helps bring that bacon flavor to every bite. I cooked a package of bacon on the griddle on a Sunday, which gave Matt and I some bacon for breakfast (a treat since we don't cook bacon that often!), the three slices of bacon and one tablespoon of bacon grease I needed for this recipe, as well as cooked bacon for sandwiches and salads for lunches throughout the week.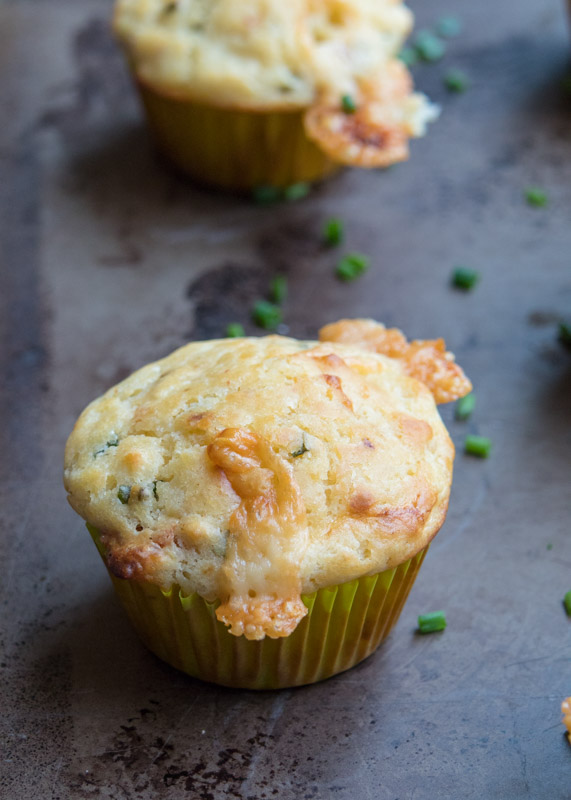 Perfect as a grab and go breakfast, these Irish Cheddar, Bacon and Potato Muffins are even better after being warmed briefly in the microwave. Please do yourself a favor and make these muffins! Then do me a favor and bring them to my house so I can eat them with you! Enjoy!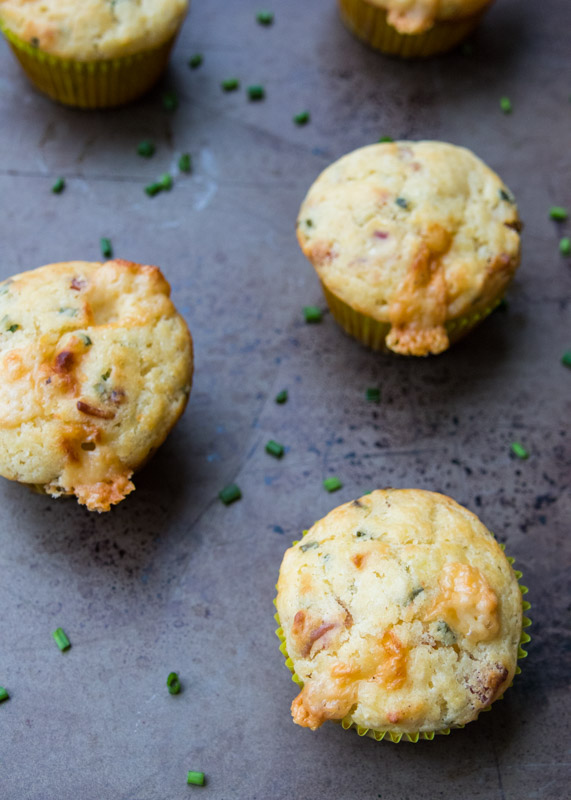 Irish Cheddar, Bacon & Potato Muffins
Ingredients
1 large Yukon Gold potato (8 ounces)
¼ teaspoon salt
1½ cups all-purpose flour
1 tablespoon sugar
1 tablespoon baking powder
1¼ cups buttermilk
4 tablespoons unsalted butter, melted
1 large egg
3 slices bacon, cooked with 1 tablespoon bacon grease reserved
4 ounces Irish cheddar cheese, diced
¼ cup chopped fresh chives (about ½ a bunch)
Directions
Preheat the oven to 400 degrees F. Line a 12-cup cupcake pan with paper liners and set aside.
Cook the potato in the microwave. Poke the potato 5-6 times with a fork and wrap in a damp paper towel. Cook until the potato is just cooked through, about 4-5 minutes, being sure to turn it once during cooking. Let the potato cool. Once you can handle it carefully peel off the skin and grate the potato. Lightly season the grated potato with salt and pepper; toss to combine.
In a large bowl, sift together the flour, sugar, baking powder, and ¼ teaspoon salt. Make a well in the center of the flour mixture.
In a medium bowl, whisk together the buttermilk, melted butter, egg, and tablespoon of bacon drippings. Pour the mixture into the well of the flour mixture and stir until just combined. Carefully fold in the grated potato, bacon, cheese, and chives.
Evenly divide the batter among the prepared paper liners. The batter should fill each to the top. Bake for 22-25 minutes, or until the top of the muffin is golden and a toothpick inserted into the center of the muffin comes out clean. Cool the muffins in the pan for 5 minutes, then remove to a cooling rack to completely cool.
Notes
Every time a recipe calls for buttermilk, I use this trick instead: Put a tablespoon of lemon juice in a liquid measuring cup. Add milk until the desired amount of buttermilk is reached (in this case 1¼ cups). Let sit 5 minutes. You can use whatever kind of milk you have in your fridge - I use nonfat milk. If the recipe calls for more than 1¼ cups buttermilk, you will need to use a little more lemon juice.
I used Kerrygold Dubliner cheese.
I had a hard time getting the paper liners off of these muffins. It was definitely worse when they were hot, so let them cool completely before eating. I plan to experiment during future baking of these muffins to see if I can adjust the recipe to get them to stick less or if it would be better to bake them directly in the pan with cooking spray. I will keep you all posted!
To fully savor these muffins, reheat them in the microwave for 15-30 seconds before eating.
Recipe from January/February 2018 issue of Food Network Magazine
.