Breakfast Bulgur with Warm Berries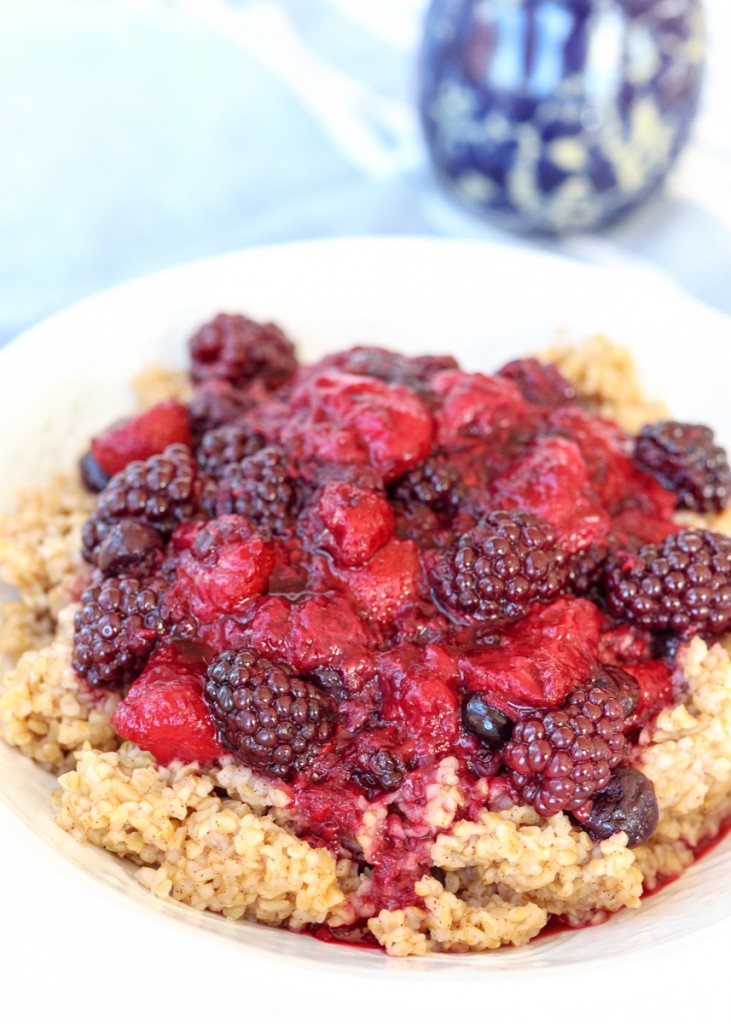 Happy Friday, everyone! I don't know about you, but this has been a long week. Both Matt and I were sick and all the snow, ice and cold didn't help. Having lived in New England my whole life I'm never surprised when we get bad winter weather, but that doesn't mean we can't complain about it, right?! This healthy breakfast dish is perfect for those cold winter mornings because it's warm and full of bright berry flavors.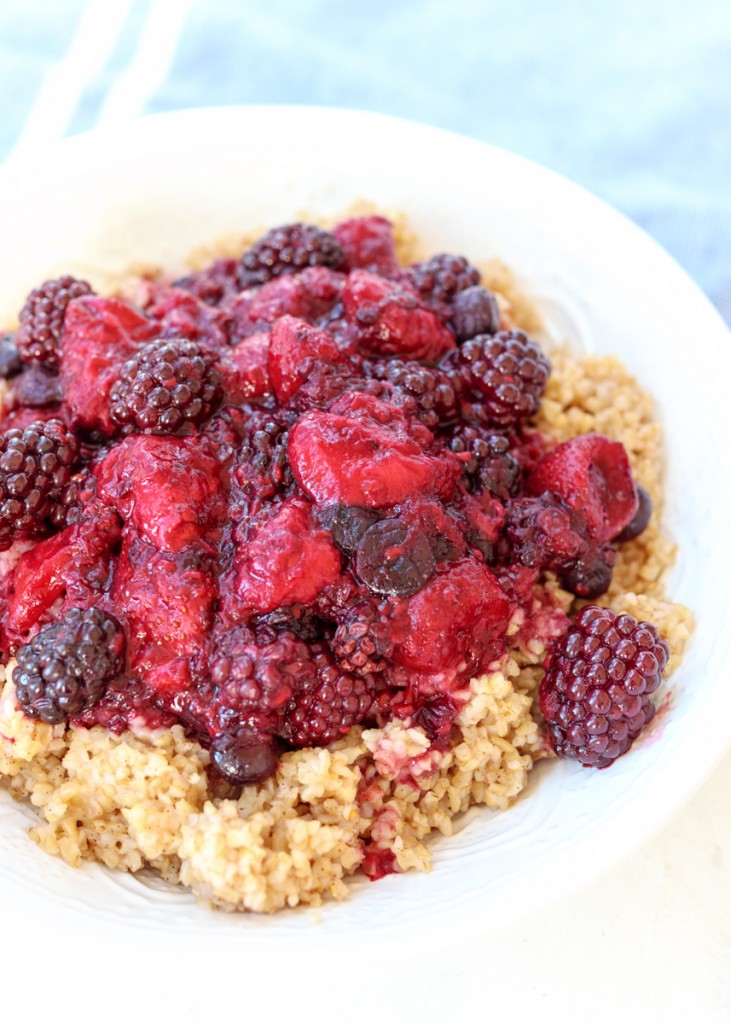 I'm always on the hunt for warm breakfast ideas since I am allergic to oats so oatmeal is out. A while back I stumbled across a recipe in Giada's Feel Good Food cookbook for a breakfast bulgur. Bulgur wheat is a whole grain that is a smaller grain than rolled oats, but it has a similar chewy texture. I cook it up with some vanilla and cinnamon then pour berries that have been cooked down with maple syrup over top.
As with most of the recipes on Lemon & Mocha, this breakfast bulgur is ideal as a make-ahead meal. Usually I make a big batch of the bulgur and the berries then divide it all between eight small reusable containers. That way Matt and I can each just microwave our little container for one minute for a quick and healthy breakfast without having to guess at the serving size.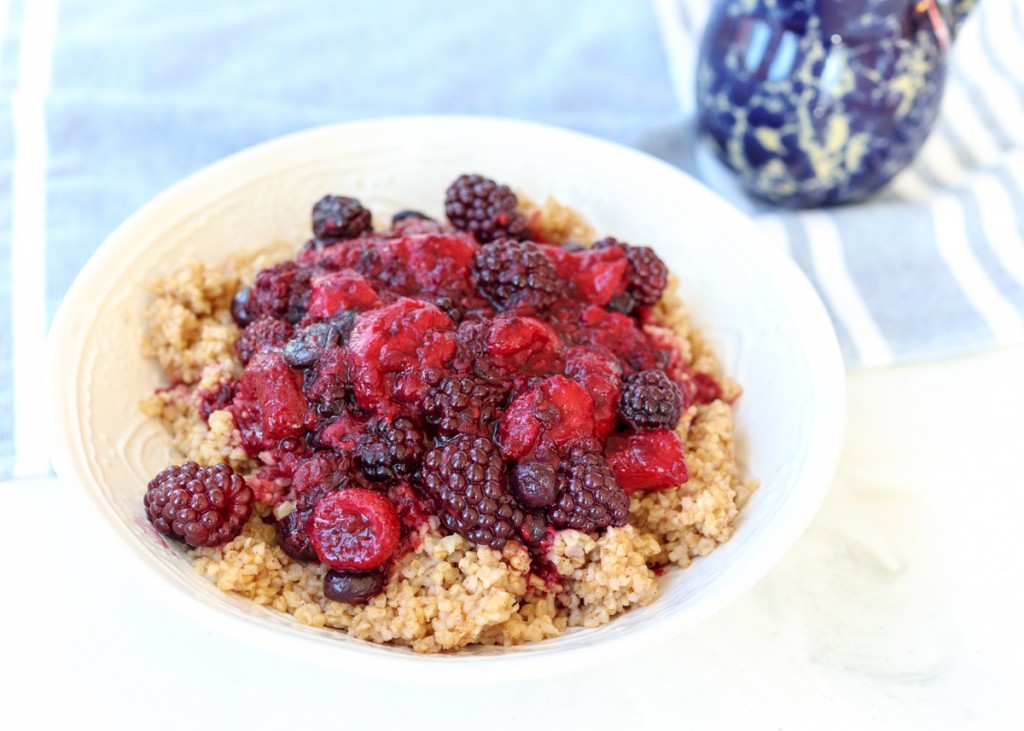 I've also frozen the little containers once when we were going to be away and they still tasted good when we defrosted and ate them the next week. If you didn't want to make quite so much you could easily halve the recipe. I've been wanting to try other variations of bulgur wheat for breakfast, but I'm so hooked on this original berry version that in the few years I've been making it I have yet to try it any other way. Do you ever have bulgur for breakfast? What's your favorite way to eat it?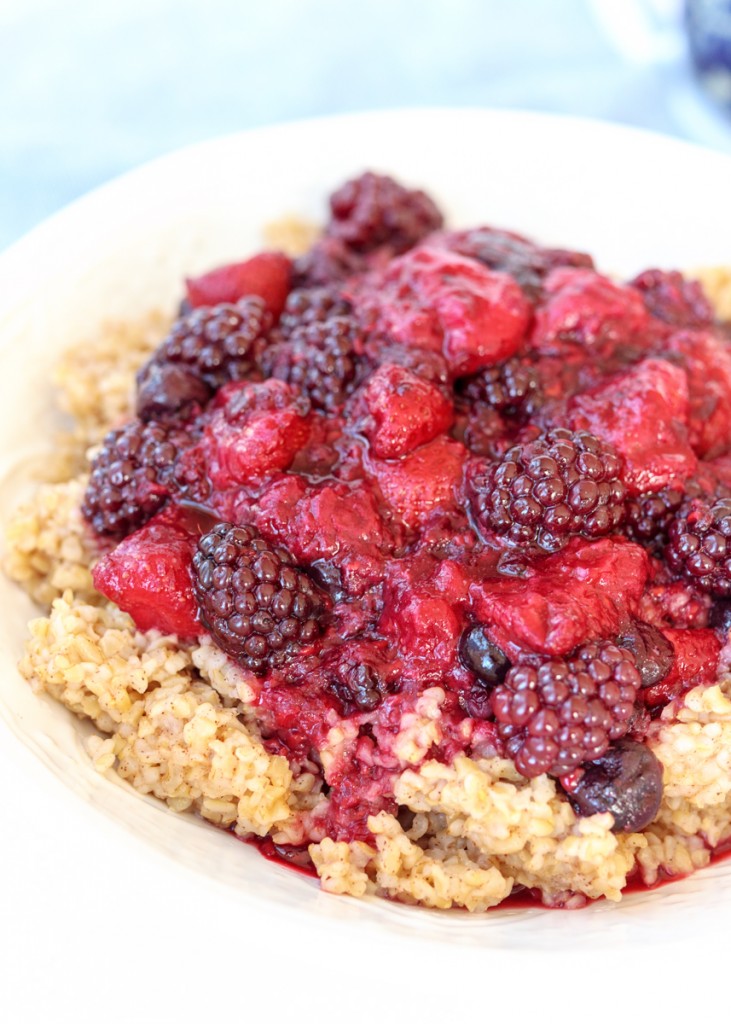 Also, in case you are new to bulgur and are looking for a visual for when you're at the grocery store, I buy this Bob's Red Mill version. Whole Foods also sells it in the bulk bins if you wanted to try it first; that's what I did when I first made it before I graduated to buying the Bob's Red Mill bags in bulk from Amazon!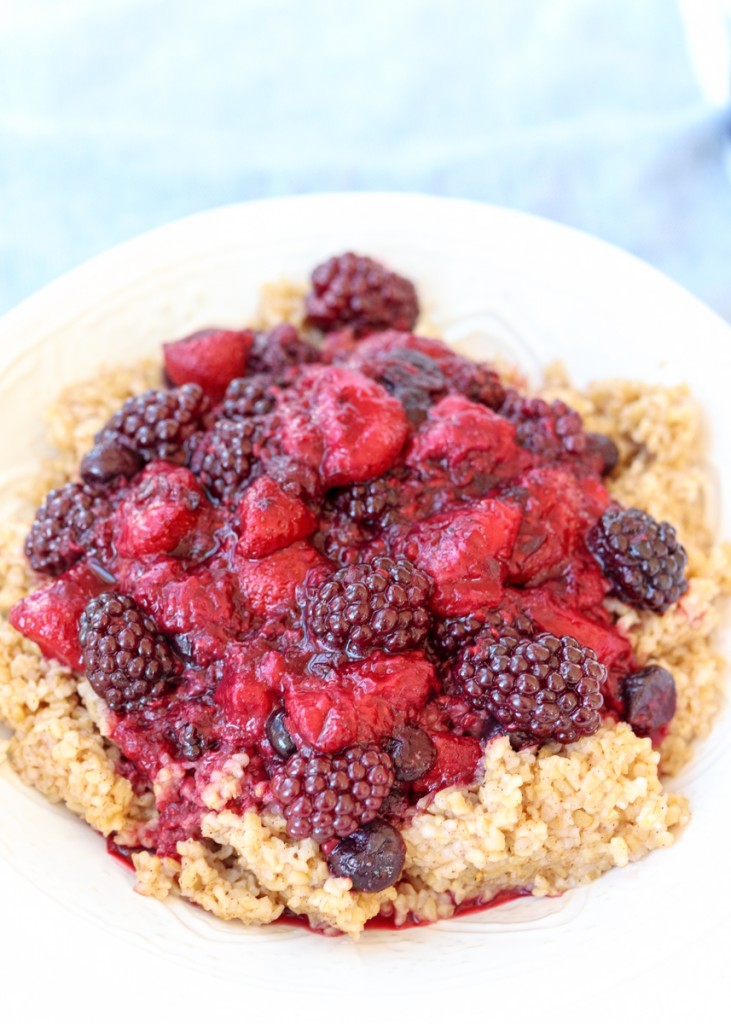 Breakfast Bulgur with Warm Berries
Ingredients
for the bulgur
2 cups golden bulgur wheat
1 teaspoon vanilla extract
1 teaspoon ground cinnamon
¼ teaspoon salt
for the berries
10 ounces frozen strawberries
16 ounces frozen mixed berries
6 ounces fresh blackberries
2 tablespoons maple syrup
¼ teaspoon ground cinnamon
Directions
for the bulgur
Add 4 cups of water, the bulgur, vanilla, cinnamon and salt to a medium saucepan. Bring to a boil then cover, reduce heat to low and simmer for 12 minutes. Stir together; the water should be absorbed.
for the berries
Heat all the frozen berries over medium heat in a medium saucepan. Let cook for 8 minutes, or until the berries are almost thawed. All the fresh berries, maple syrup and the cinnamon. Bring to a boil then reduce heat to low and let simmer for 8 to 10 minutes, stirring occasionally and lightly smashing the strawberries as you stir. Remove from the heat and eat over the bulgur.
Recipe slightly adapted from

Giada's Feel Good Food

.
Some of the links above are affiliate links, which means I may receive a small commission for my referral. This does not affect the retail cost of the item. Thank you for supporting Lemon & Mocha!